Interior:
I have always been a sound junkie. Always. I love bass, and sound clarity. I'm 30 and graduated from Cumberland Valley in '96. Performance parts for imports hadn't caught on in the mid 90's. Or they might have been starting to. Can't remember, but anyways, the only thing to do to a car was get a loud system. I'm one of those guys that in the old student parking lot would back their vehicle in the back row. Everyone did it that had a loud stereo, and you were nothing unless you were hitting over 130dbinside. That's back when Kicker Comp 15's, Lanzar, and Alpine were at their prime.
When I was choosing audio equipment, I wanted 2things. Most importantly was sound clarity, and 2nd was bass. I love the feeling of a baseball bat hitting the back of my seat. Old school Dre and Eazy E are one's that have hard hitting bass. Remember Techmaster PEB? That CD was the **** back in the day.
I went with a Kenwood DNX8120 that was just released last April, beginning of May. I had been on Crutchfield's waiting list for 4 months to get it. I had found out that Kenwood was releasing only 5 units to them before any other retailer would get them. I was one of the 5 who got one. I have used some touch screen double din units in the past, but this one(i think) is the best of all. I love this unit and won't be upgrading for awhile. Here are some pics: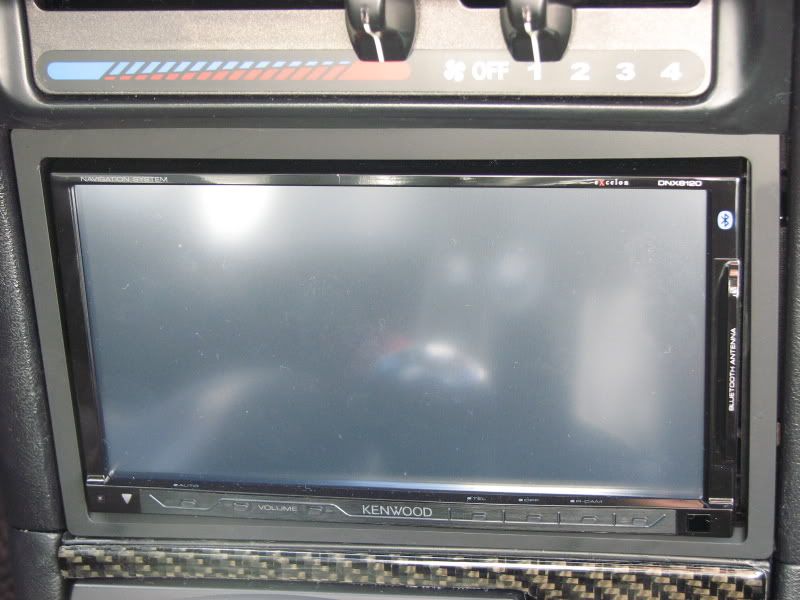 Youcan see the VAFC II in the second pic. I brought this over from my oldintegra, and never re-tuned it. Piggy backs are a thing of the past,and will be promptly replacing this, hopefully with my future mod plans.
For the low end frequencies, I have 3 MTX Blue Thunder 10's in my sparetire well. They are each a 12ohm sub, which when wired in parallel,the amp will see a 4 ohm load. JL Audio made a "stealth" enclosure for the integra's and quit making these in '02 I believe. The sold for$299 new and were unloaded (no drivers installed). I found this new one ebay for $75. I couldn't pass this up. The enclosure was promptly bolted to the chassis. It's a little small in spec for what the subs call for, but a little poly-fill, and they sound awesome. These hit HARD.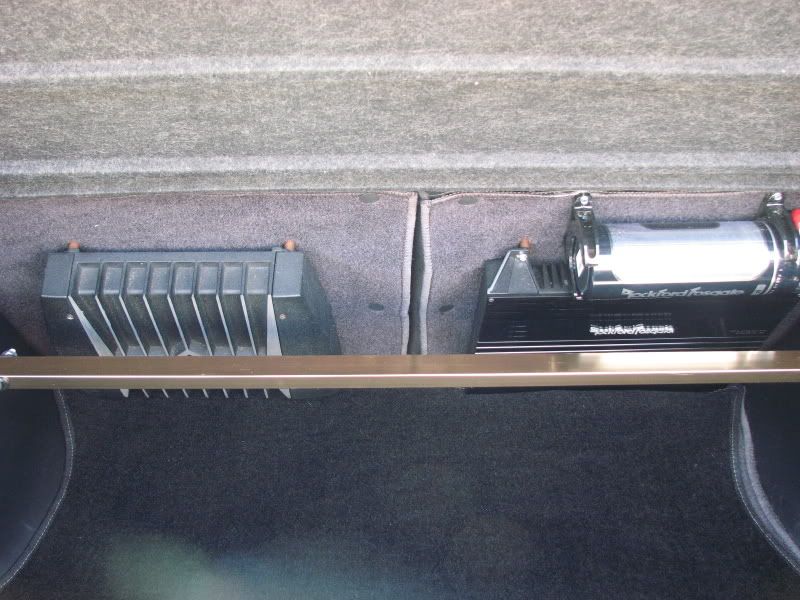 Some other odds and ends:
JDM integra pedals. The gas and the brake pedal are actual assemblies taken out of a Japanese Honda Integra. The clutch pedal is just the cover, but taken off of a clutch pedal in Japan. You can't use the clutch pedal on USDM due to the right hand drive configuration.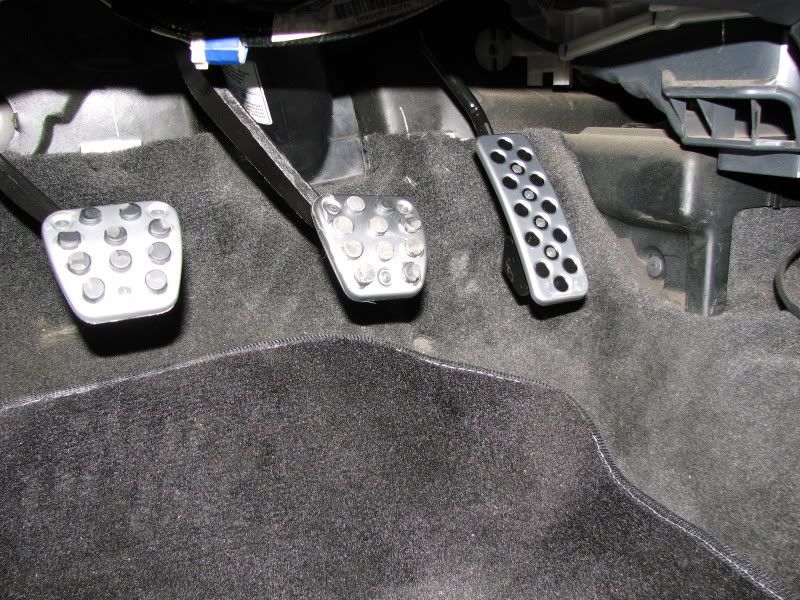 My wife had these made for me. A guy in Texas made them. Complete black floor mats with the "INTEGRA" logo in the correct font stitched in them, front & rear.
JDM shift boot. This is not a U.S. part number.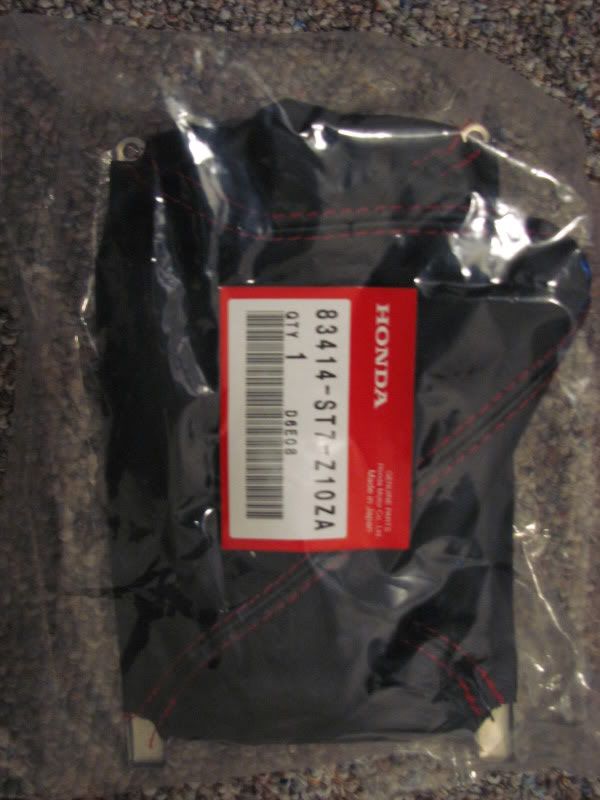 That's really about it. I know I missed a **** load of parts, so here they are:
Apexi N-1 Cat Back Exhaust
B&M Fuel Pressure Gauge
B&M Adjustable Fuel PressureRegulator
Skunk2 Cam Gears
VAFC-II Fuel/VTEC Controller
Polished Intake
Password JDM 3-pt. Front StrutBar
JDM Integra Type-R Rear UpperStrut Bar
JDM Road Flare
JDM Oil Cap
JDM Civic Type-R Cams
JDM Integra Type R Pedals
JDM Rear Lower Window Decal
JDM Integra Type R Shift Boot
JDM Integra Type R E-Brake Handlew/Boot
Carbon Fiber Dash Overlay
Mugen Resevoir covers
Spoon C-Pillar Bar
OEM Optional Side Skirts
OEM Optional Rear Valences
OEM Integra Type-R Front Lip
OEM Integra Type-R Rear Spoiler
OEM Optional Fog Lamps
OEM Optional Leather SteeringWheel Cover
OEM Optional Carbon Fiber ShiftKnob
OEM Keyless Entry
O-NEX 6K HID Headlights
Tokico RAK-502 Full Coilovers
Tokico Illumina 5-Way AdjustableShocks
Skunk2 Front Camber Kit
BLOX Rear Camber Kit
Rota Circuit 10's 16" Bronze
Gorilla 20 pc Lug Nuts
Toyo Proxy 4's 205/45/16
Power Slot Plus Big Brake Upgrade(front) 12" Rotors
Power Slot Plus Big Brake Upgrade(rear) 11.1" Rotors
Painted Brake Calipers withCustom "Acura" Logo
JDM Side Markers (stanley 4340)
Custom "Integra" Floor mats
Custom "Integra" Trunk Mat
Rockford Fosgate Punch P550.2
Rockford Fosgate Punch 400
Rockford Fosgate 1-FaradCapacitor
JL Stealth Box in the Spare TireWell
(3) 10" MTX Blue Thunder Subs
Polk DB Separates 6 ½" Front& Rear
Sirius Connect SC-C1 Satellite Radio Tuner
Western Digital Scorpio 80GB 5400RPM ATA-6 Notebook Hard Drive
Kenwood DNX8120 DVD Player 5.1Dolby Digital Surround
City Lights (amber)