Well, I finally decided to do a little write up on my vehicle and show you some pics of the build process up until now, and what I plan on doing to it. I plan on updating this as I continue to do more stuff to it. I'm not sure if I have a "final" goal for the car, as building a car, at least for me, is never finished nor called completed.
This is a 2000 Integra GS-R. I purchased it with 75k sitting on the odometer. I found it one day sitting at a local car dealership. I at the time, had a '94 GSR with paint that was severely fading, rust was starting to come through the rear quarters, had 155k on it. I went to the dealership the following day on my lunch break to drive it. They were asking 12k if I remember correctly. I talked him down to $9800, and he gave me $1800 for my old GSR. I think I got a pretty good deal on it, considering it was completely stock and un-modified. I retired this vehicle from it's daily driving duties in June of 2007. It see's maybe 1300 miles in a year's time. Needless to say I'm emissions exempt every year
My goals for this car were simple. Build something to my taste and don't go cheap. I wanted something that if I worked for Honda, and I were in charge of designing a trim model that was "above and beyond" stock, to build it what I thought was streetable, and driveable like any "stock" vehicle. This build I think reflects that and is exactly what I had imagined. Another thing, I'm not trying to be a Type R wannabe. Although there are a lot of parts on here from an R, it's not what I had been planning. I think "R"parts are great OEM upgrades that Honda designed beautifully and are fully functional.
Here are some pics from when I first purchased it.
My original plans was to keep this completely stock, and just have a normal, nice everyday driver. I was starting to get out of building cars, and just wanted to be a spectator at that point. one day, I came across a set of wheels that I thought would look nice on it. I pointed them out to my girlfriend at the time (currently, my wife), and low and behold, she bought them for me for Christmas in 2006. They were Rota Circuit 10's.
I have gotten flamed in the past for putting something as "original" as rota's on my vehicle. And for not spending a lot of money on wheels. The hell with everyone else. I like the wheels, and I figure why do I need wheels that cost 4k? I can use the extra $$ and put it in to something else.
After getting the wheels, I got the "bug" again. I can't just have wheels on it. At that point, I knew I was going to build another car.
I knew I needed to do something with the ridiculous wheel gap that I knew that I would have by putting these wheels on. You can see it in the pic above with the stock wheels. Looks as if I can do some off-roading in it. My goals for the suspension were simple. I wanted a good suspension without doing the cheap slip over coil-overs from ebay. I wanted something with a spring rate around the same as a stock Type R, or a little more. Stock integra's have a spring rate of :212 lbs/inch in the front, and 117 in the rear. Type R's have : have a 246 lbs/inch front, and anywhere from 140-246 in the rear. After doing a lot of heavy research I found the Tokico RAK-502 setup shown below: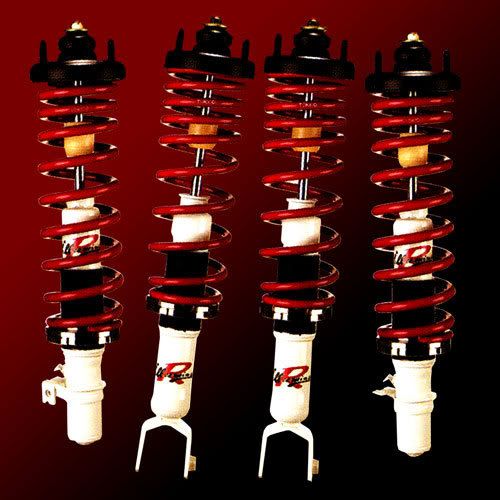 That entire winter I collected aftermarket parts that I wanted. My spare bedroom of my house looked like a performance shop with all new parts laying around.
Needed an exhaust, so I decided to go with an Apexi-N1. I had it before on my old integra, and I was happy with it. So, I ended up purchasing the same exhaust with this one:
After having a collecting a **** load of parts over the winter, spring came around and it was time to start planning installation of everything. I believe it was April. My goal was to have the car ready for the import show in Carlisle in May, '07. Here are some pics of getting some of the stuff installed: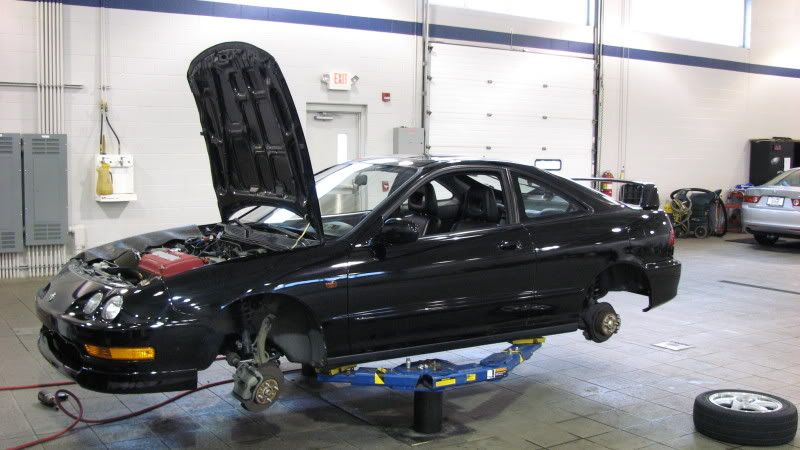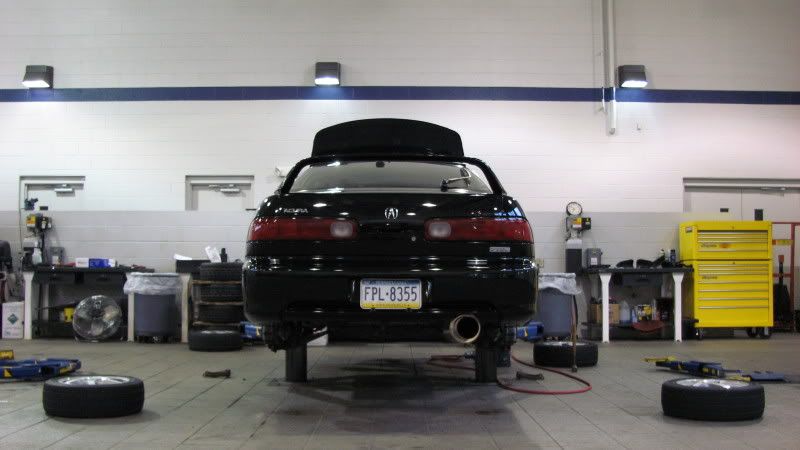 Stock suspension:
New suspension:
Skunk2 front & rear camber kit. All new OEM bushings.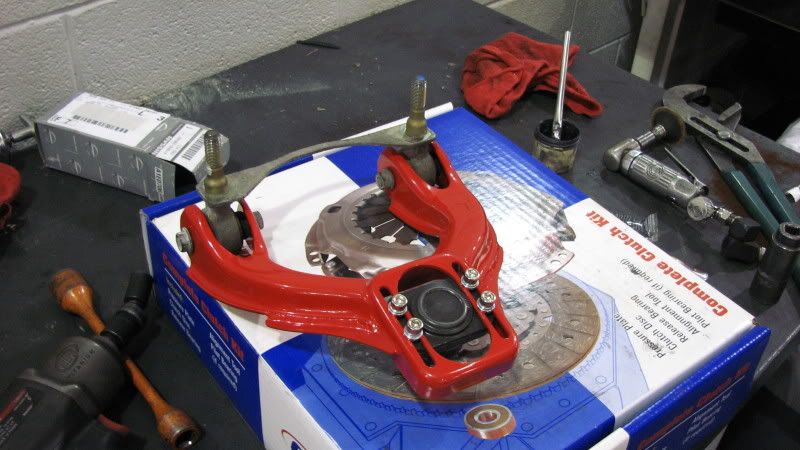 JDM Side markers. I was actually able to find a full size template on the internet that some had posted. They are cut exactly how a Japanese fender would be. I hated taking a whiz-wheel and a dremel to my fenders. Here's the install: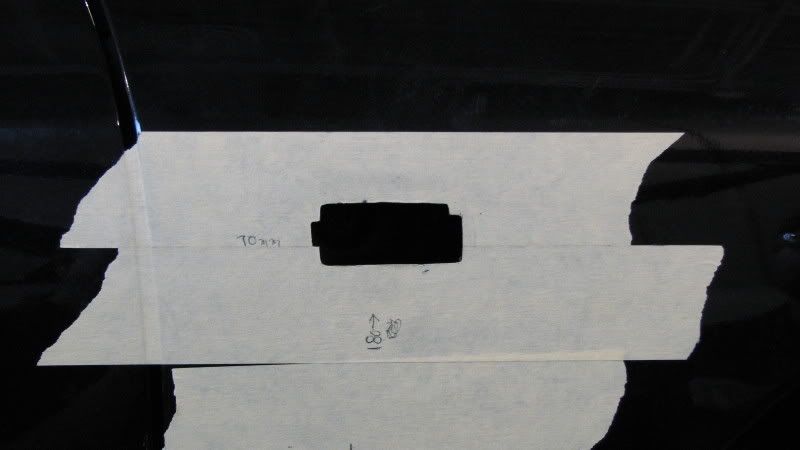 Password JDM front tower bar: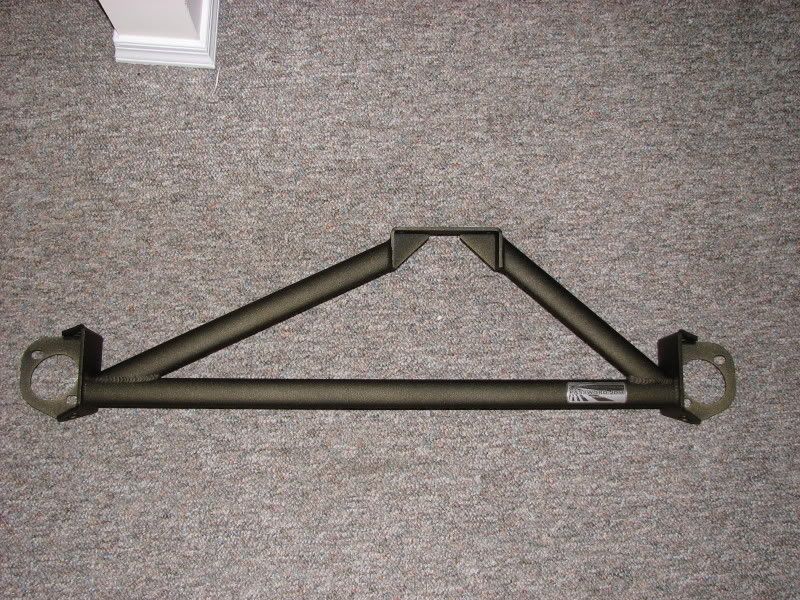 Exhaust install:
Finished product at that point after the suspension install: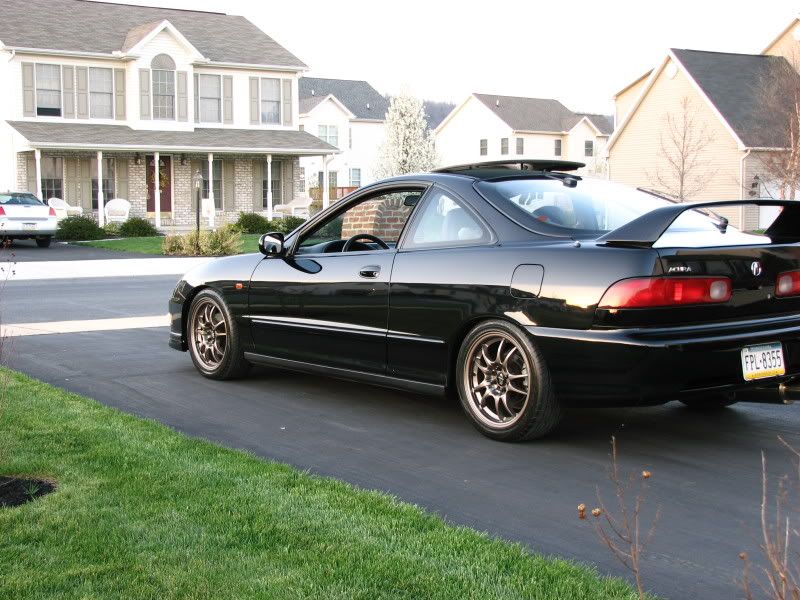 The outside was missing something. I didn't want a corny body rice kit. I wanted something subtle, minor, and that flows with the car. Honda made OEM optional side skirts and rear valences for the integra. A lot of people think that these were only options for the Type R. They were available for all integra's, no matter what trim model. They were a ***** to find because they don't make them anymore, and when you do find them, be prepared to spend some $$. I found the sides and the rears. I also wanted something for the front. I really liked the Type R lips. I was going to do a replica, but found out that they all fit like ****. I went through 3 of them until I decided to bite the bullet and buy an OEM piece from the Acura dealer. They come already painted with paint that matches perfectly (as it should). So, almost $400 later, I picked one up. I also purchased an OEM Type-R rear spoiler. It came painted, and again was expensive as hell. Here is a shot of the side skirts:
Brakes.
These wheels really show off what's behind them. My stock stuff looked like ****, and knowing that I wanted to show the car, I quickly found some replacement. I went with PowerSlot's Big Brake Upgrade front & rear. The calipers were brushed with a high temp laquer in black. The stock rotor sizes are: 10.31"/front & 9.41"/rear.
This kit has rotor sizes of: 12.00"/front & 11.1"/rear. This is a substantial upgrade over stock. The stock calipers are completely adequate for what I do with the vehicle, along with new OEM pads front & rear.