An update about my GSR, it's been a few years since I've last written on this thread and it's been a shame since I'm always lurking the forums all the time. The car largely sat the last few years while I was off finishing school, I can't believe I first was building this up from the shell when I was 18 with Meltman, and now I'm 23. I'm trying to retrieve my old photos to fill into this build wherever I can because my imageshack account from that time has taken a **** on me. But for now here are some verbal updates:
-The salvage title was a HUGE pain in the ass to get into a rebuilt title, so there was lots of paper work and mailing back and forth to the state and paying lots of fees to an insurance company, getting a rebuilder to endorse my build on paper, tax fees, processing fee, titling fee, plates, and city sticker. (hundreds of dollars)
-I paid a crap ton of money, as in $150 a month when I first brought the car home for a year for this parking spot that I never really even used, I just wanted the car to be protected as I couldn't park it on the street in the city at the time. ($1800 total)
-At one point my ignition coil went out, so I just bought a $85 generic distributor from eBay to swap in, it started up perfectly.
-My hood latch rusted up and wouldn't open after the horrible winter of 2014, so I had to slam on the hood to get it opened and cut the hook with a reciprocating saw, open the hood and replace the hood latch. ($30)
-I can't forget all the batteries I've had to exchange to autozone under warranty whenever they went flat and wouldn't recharge. ($130ish?)
-Remember when I had to redo my brake line? Well about 2 weeks ago I had the other brake line pop on me and it was pouring out brake fluid, rather than trying to fix it, I drove it to the shop with no brake pedal and only a hand brake, IN THE CITY OF CHICAGO almost hitting a few people going 5mph in first gear down the street to the shop. That got fixed for a cool hundred dollars.
-I took my car to the shop, and they wouldn't do an alignment for me because my tires were too far gone, so I bought Yokohoma S Drives for $380 and got them mounted, the sizing is 205-45-16.
-Rusty ABS sensor bolts, **** them! Way too much time and money put into the whole process over the course of several weeks from breaking them trying to replace them myself to driving the car to the shop to have them remove the broken bolts. Then me trying to clean the ABS sensors and reinstalling them and resetting the code like some article on this site says it's so easy to do. It definitely didn't work for me.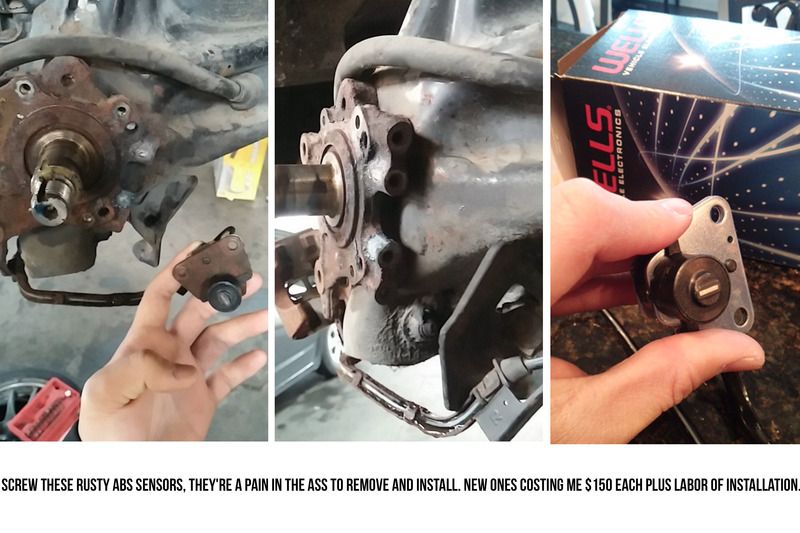 As for right now, I am working on fixing my sticky door locks that don't always lock and unlock when I use the key from the outside, or use the electronic switch on the door panel. Sometimes the drivers side door unlocks, sometimes it doesn't want to lock, sometimes it won't unlock at all. The passenger side door unlocks but won't unlock the drivers side door, the red unlock switches are hard to rotate and get the doors open.
I also am swapping in my black leather door panels I bought on craigslist a while back for $90, a better conditioned OEM 98-01 steering wheel ($120) since my current one was rotted to heck and I hated it for the last few years, and the black leather seats I bought for $200 a few years back that have been sitting in storage. A Viper 5706v alarm is going into the car sometime next week which was another $210 with the tilt sensor.
Overall she's such a labor of love, I have come to accept that nothing is easy on this car, everyone gives me grief about her, but I still haven't given up on the old gal. There are so many love and hate moments but every time I stand back I look at the car and remember why I love Integras so much.
.... oh and I have a bunch of turbo parts ready to go but that's for the next picture post =]