Discussion Starter
·
#1
·
MISSIoN ACCOMPLISHED 2/28
Going on 600hp!
UPDATE-Page 3-Pics of Turbo, first day of wrenching
UPDATE-Page 4-More of the same, Turbo mounted on manifold
UPDATE-Page 5-New Intercooler
UPDATE-Page 6-Manifold Intalled, Front Bumper Off
UPDATE-Page 7-Turbo bolted up and turbine housing clocked, radiator brackets made
UPDATE-Page 9- Carbon TI Muffler, 3" Inlet
UPDATE-Page 10- New Type R Valve Cover and Shifter + Linkage
UPDATE-Page 12- Valve Cover Cut
UPDATE-Page 13- New V/C on, random goodness
UPDATE-Page 15- New Intake Manifold Installed, Charge Piping and BOV on, Downpipe mounted, turbo clocked, etc
UPDATE-Page 21- New Turbo Filter, check it
PSUEDO-UPDATE-Page 34- New Pics of Rims, and Misc Teg shots
UPDATE-Page 49- Headed to the Shop for Fabrication
PESUDO-UPDATE-Page 58- The Shop FINALLY starts Fabbing
UPDATE-Page 63- Charge Pipes Fabbed, Intercooler Mounted FINALLY
UPDATE-Page 64-Bumper back on, Catch Can Hooked up, and VC back on, Exhaust Coming this week then we are FINISHED!!!!
UPDATE-Page 70-Back From Fabrication, only thing left is the tune.
UPDATE-Page 72-More Finished Pics.
UPDATE-Page 75-Washed & Waxed, First Videos.
UPDATE-Page 84-First Numbers
UPDATE-Page 85-First Videos After Preliminary Tune
UPDATE-Page 90-First Video Outside the Car
UPDATE-Page 98-Revised Dyno Numbers
UPDATE-Page 99-New Engine Bay Shots
UPDATE-Page 102-First Dyno Printout, New Videos
UPDATE-Page 114-Some Fun in the Rain
UPDATE-Page 127-Took my Grandma for a Ride
UPDATE-Page 128-More of the Same
UPDATE-Page 137-Replaced Bum Synchro
UPDATE-Page 144- Relocated New 44mm Wastegate
UPDATE-Page 153- First Pump Numbers
UPDATE-Page 156- King Tune Numbers
UPDATE-Page 167- Dyno Printouts
UPDATE-Page 169- Hondata Screenshots
UPDATE-Page 185- Good News Everyone!
UPDATE-Page 194- Pump Numers In! 433hp/300tq, Dyno Videos
UPDATE-Page 197- 433hp Street Videos
UPDATE-Page 200- First Video Outside the Car
UPDATE-Page 226- Forgotten Dyno Video
UPDATE-Page 238- 503hp Glory Pull
UPDATE-Page 239- 500hp Street Pull #1
UPDATE-Page 256- 2 Step Video
UPDATE-Page 258- Hondata Screens
UPDATE-Page 258- Highway Pull
UPDATE-Page 264- Some night time pics
UPDATE-Page 272- Photoshoot with Malhon's Green Machine
UPDATE-Page 279- 40-90mph Pull, and my Mom driving the car
UPDATE-Page 280- Greatest Hits
UPDATE-Page 282- Ripping the Tires in 3rd
UPDATE-Page 298- IL Meetup Pt. 1
UPDATE-Page 299- IL Meetup Pt. 2
UPDATE-Page 301- Some More Highway Fun
UPDATE-Page 308- Boosting under an Overpass
UPDATE-Page 332- GIANT recap
UPDATE-Page 341- FINALLY out of storage
UPDATE-Page 343- Pics of the damage and the new yellow top
UPDATE-Page 344- Front End Fixed, Looks Good as New
UPDATE-Page 344-More of the Same
Long Story Short, My 00 GSR Hydrolocked in a bad flood so I rebuilt the motor with some friends,
Darton 84mm Sleeves
CP 9:1 Pistons
Eagle H Beams
Eagle 4340 Knife-Edged crank
ACL Bearings
ARP Head/Main Studs
TODA Head Gasket
Ferrea Superflow Stainless Valves
Skunk2 Springs and Retainers
Ported Head
TODA Timing Belt
Skunk2 Cam Gears
Competition Stage 5 Clutch
Exedy 9lb Flywheel
Now the fun begins. Going into the car:
PeakBoost Topmount Turbo Kit with a GT3076R
44mm TIAL Wastegate
Precision 750hp FMIC 27"x8"x4" Core
Hondata S300 w/Boost Option
OBDII-OBDI conversion harness
P72 OBDI ECU
1000cc RC Injectors with Driver/Resistor
Blitz Filter w/Custom Intake
Quaife 1.5 way LSD
Carbon Coated Synchros
Bronze 16" Rota Circuit 8s wrapped in Falken azenies RT615 215/45/16 with Black Buddy Club Lugs
Walbro 255 Fuel Pump
Koyo Civic Half Radiator with Buddy Club Cap
Skunk2 Intake Manifold
K Sport Pro Kontrol Coilovers
Skunk2 LCAs
Skunk2 Front Camber Kit
Cuzco Catch Can
Golden Eagle Vac Manifold
JDM ITR Valve Cover
Cutsom 3" Turbo Back Exhaust with HKS Carbon Ti Muffler
Autometer Cobalt Boost/Oil Pressure/Volt Gauges
AEM Wideband Gauge
OEM ITR Shifter and Linkage
---------------------------------------------------------------------------
I have been getting a lot of PMs recently, so here is the whole story regarding the tune:
Danny50 on Feb/07/09 said:

This whole process has completely redeemed King Motorsports in my eyes. Their tuner Tim shook my hand after he was done and said "Sorry for wasting your time".

They couldnt have handled this situation any better, and I am going to be a customer there for a very long time.

The reason for the false positives on the plugs was the extreme retard, which actually ended up raising the temperature in the combustion chamber, so it made it look as if the car could not take any more timing. But, as soon as we increased the timing, the numbers shot up.
The false reading on the plugs was telling them the car could not take any more timing, and they did not want to have to call me telling me there was a hole in my piston. But they rectified their mistake, and both because of the quality of the new tune, as well as the way they handled the situation, I give them the highest possible recommendation. I am very happy with my decision to take my car there and would not hesitate to recommend anyone else do the same.
2/7/09
King Motorsports Tuned
110 Octane: 503.13hp/372.88tq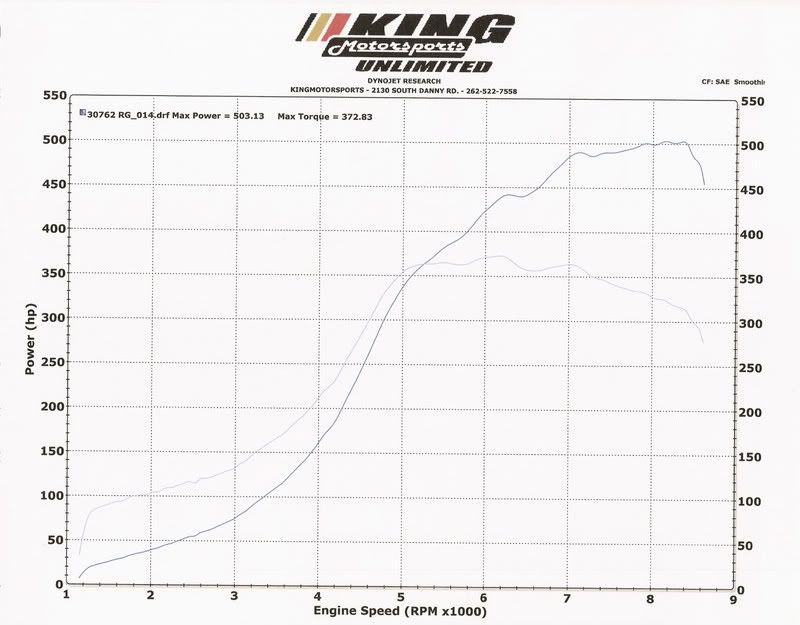 http://www.youtube.com/v/tf0MNKIBf3I&hl=en&fs=1&
93 Octane: 433.33hp/300.77tq