Discussion Starter
•
#1
•
This thread will hopefully help serve as a guide for those wanting to install an LSD into their trans but need a bit of a walkthrough along the way.
Neither I nor T-I will take any responsibility for anything that may go wrong while an inexperienced person uses this thread to attempt an LSD install. The user of this thread should assume all responsibility for their actions. If you feel this task is outside of your abilities please get a professional to complete your install.
Begin with removing the transmission from the vehicle. This could be a whole thread in itself, but should be easily accomplished in a couple of hours with a jack, jack stands, some basic hand tools, and maybe a friend to lend some muscle.
I will be installing my LSD into my GSR trans, there may be some differences between the GSR/LS trans as far as specs and internal components go. Consult your service manual for your applicable model for appropriate specs.
once removed from the car your engine bay should look like this: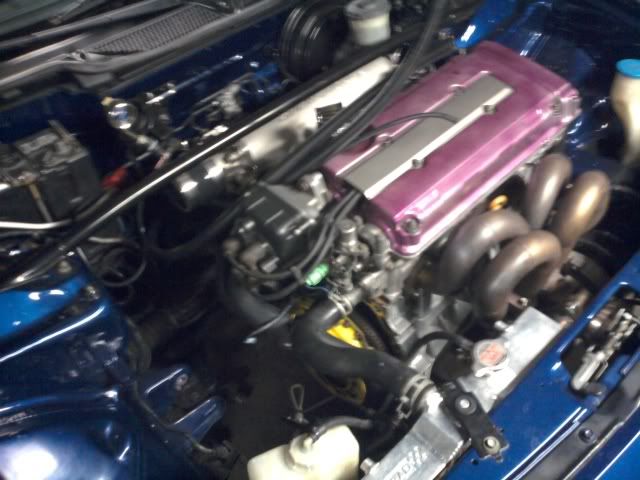 This is your GSR manual transmission on the floor of your garage:
Then place your transmission on a workbench or appropriate work surface with a block of wood (2X4 or something) under each side. This is very important because the transmission's input shaft extends out past the bell housing. If you attempt to place the transmission bell housing side down on your work surface without your wood blocks, input shaft damage can occur.
Here is how it should look when sitting on your bench: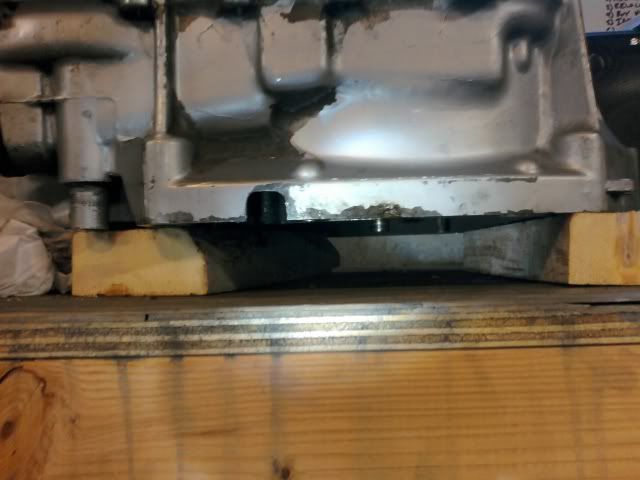 A few pics of all sides of the transmission may help you with remembering where all bolts/brackets/components go later when your memory has failed you.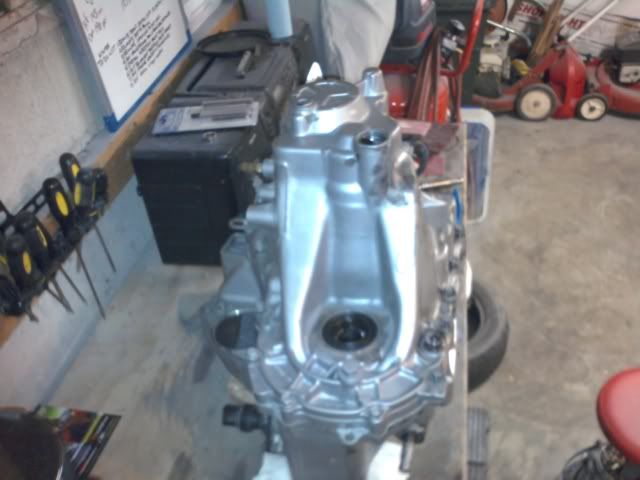 Next remove the back-up light switch w/ a 19mm wrench: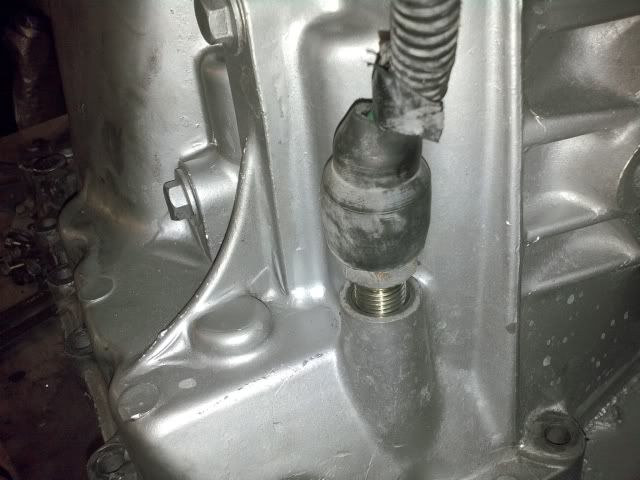 Then I mark and remove the reverse idler gear shaft bolt and detent bolts springs and steel balls.
This is the reverse idler gear shaft bolt I have marked the bolt head and case with one mark:
I have marked the detent bolt heads and case with two and three marks: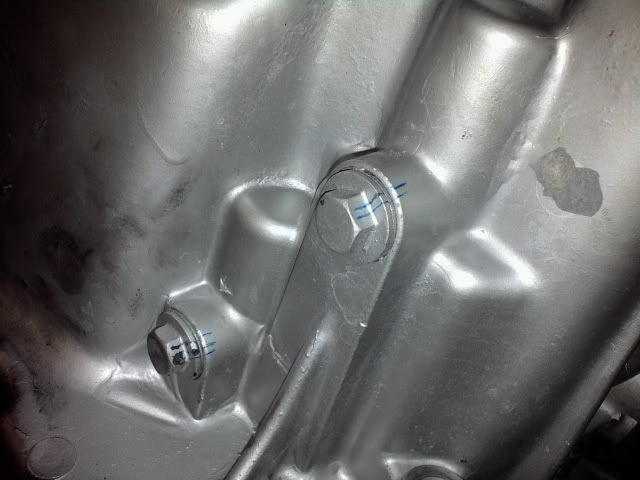 once removed these three should look like this:
Make sure the detent bolts/springs/balls are all out of the trans. You may use a magnet to get the balls out, I just tipped the case toward me and it fell out in my hand.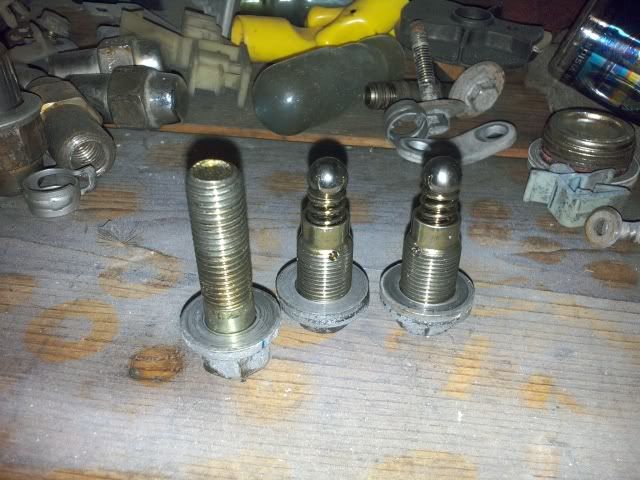 Remove all the brackets from the outer case and remove 16 case bolts with a 12mm socket.
The case bolts wrap around the entire perimeter of the case and here is a picture of where a portion of them are located. I highlighted a few of them with my handy MS paint skills lol! Just follow this row of bolts around the case and make sure you get them all.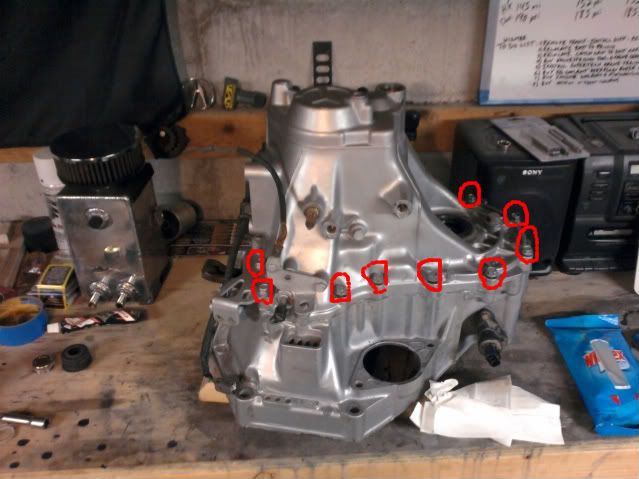 Remove the plug that gives you access to the countershaft snap ring. This plug is a square 1/2 drive. Use a 1/2 drive ratchet or breaker bar to remove this. DO NOT USE YOUR IMPACT!!! You will very easily crack the case if you use your impact on this plug to remove or install it.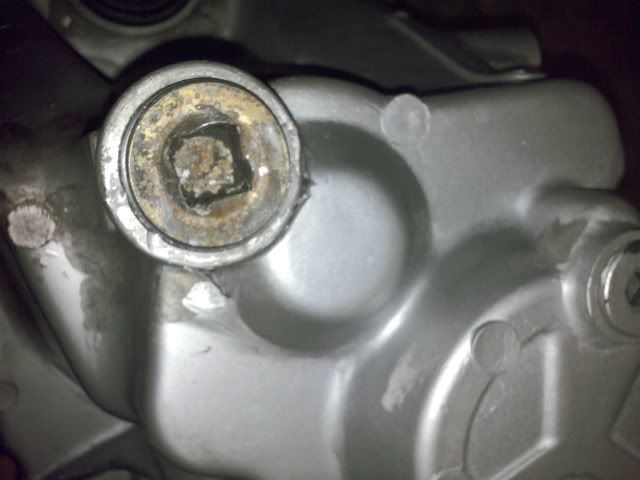 once removed you should be staring at this:
Use snap ring pliers or just some needle nose and hold this snap ring open as wide as possible
While holding this snap ring open, begin to gently pry the outer case off of the bell housing like so: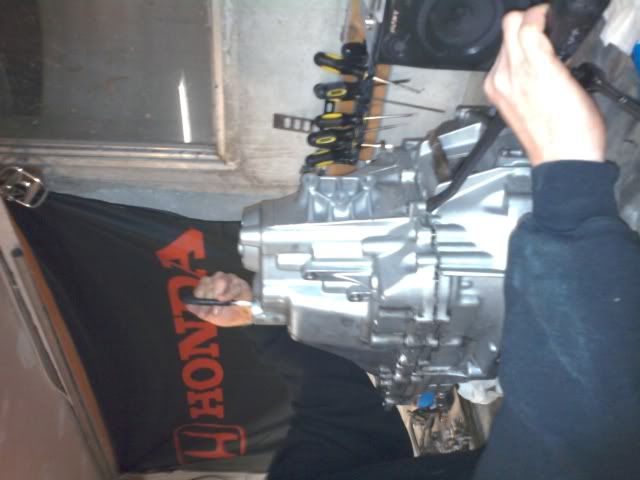 And Voila the outer case comes off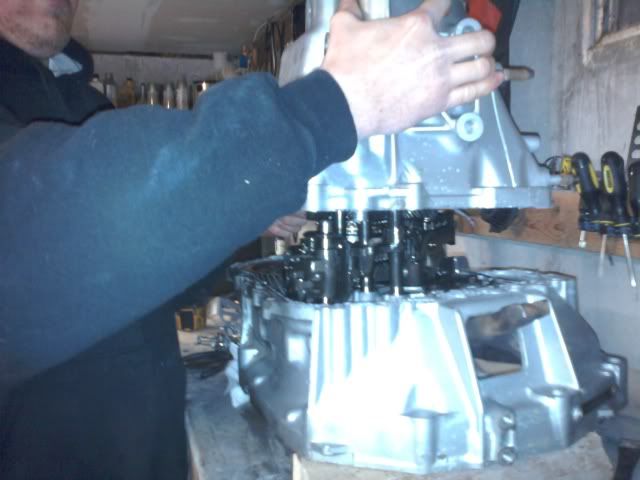 Here is what your now exposed gear stacks should look like:
More to come!