Discussion Starter
·
#1
·
I'm reluctantly selling my Integra because I moved to Colorado and need something more logical for the weather here. The teg is still in MD at my parents house though. I'll actually be happy if it doesn't sell, but I do need the money
Try this link for a bunch of pics, let me know if it doesn't work
Itr Expo Pics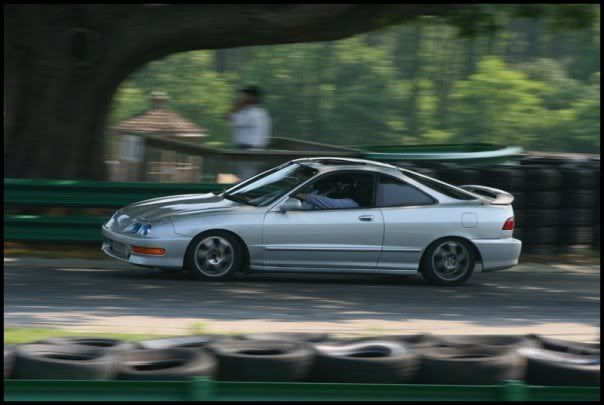 This car appears completely stock except for the intercooler which I had planned to paint black. I ran consistent 13.3s before when it had the LS Motor/Gsr tranny combo. It feels a lot faster now but I never got a chance to take it to the track.
1999 LS w/ 100+k miles on Chassis
Gsr Blades
Mods: (in no particular order)
-Jdm Gsr Motor & Trans (from Hmotors) 10.6:1 Compression ( Just payed $3,000 for the full swap and it has around 3 hundred miles since)
-ITR LSD
-Garrett T3/T04E - 60 Trim - .63 AR (No Shaft Play at all, perfect condition)
-TIAL 38MM wastegate
-Apexi AVC-R Boost Controller
-Innovative Wideband o2 sensor with Display Guage & monitoring software.
-Fastturbo Complete Oil Line Kit
-GM 3 bar map sensor
-autometer boost gauge
-precision 350 intercooler
-walbro 255lph fuel pump
-Custom 3" Downpipe
-Greddy Type s bov
-Rywire Obd2a>>Obd1 conversion harness
-OBDI Chipped ECU Tuned with Neptune
-GE Vacuum Manifold w/ Barb Fittings
-Competition Stage 4 Clutch (Six Puck) (Brand New, installed with motor swap)
-ACT Prolite Flywheel (12.5lbs)
-custom Aluminum IC piping
-Precision 750cc injectors
-resistor box
-3" Exhaust w/Flowmaster Chambered Muffler (Painted Black)
Sounds System:
-2 Rockford Fosgate 12" Woofers
-1500w Rockford Amp
-4 Pioneer in car speakers
-Pioneer Head Unit
-1 Farad Rockford Power Cap
Problems:
Security:
Clifford Matrix 3.5 Alarm system w/ Remote for locks and Autostart
Custom fuel cutoffs in car. Very inconspicuous!
Issues:
Door handle broke off of the drivers side.
Drivers side door locking mechanism is broken and need to be fixed.
Right now the drivers side door does not lock.
Turbo manifold has a hairline crack along one of the welds (Car drives fine but manifold could use a weld repair)
Getting a random "Throttle Position" CEL (I thing the TPS needs Calibrating)
Misc Dents and scratches, nothing too bad.
Shifter has a little play to it.
I may have left a few things out because I haven't been home in over 3 months and cant remember everything. But I think this is pretty complete. PM me if you want to see it, and I can work it out with you.