Discussion Starter
•
#1
•
My final project for Engine Repair class is about electric cars, so that got me thinking. I was just wondering whether anyone has ever put some thought into building an electric Integra. I mean obviously, yes, because the following cars exist...
-----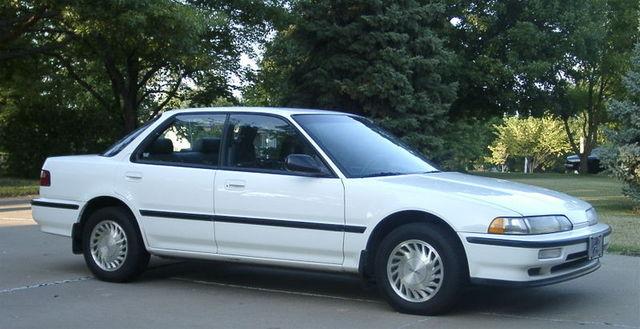 http://www.youtube.com/v/Y2UfTd3eXtE?fs=1&hl=en_US
Vehicle: 1990 Acura Integra. Just your run of the mill Integra
Motor: General Electric Series Wound DC
Drivetrain:9" GE motor from blackdogfx.com
Controller: Curtis 1231-8602c 500amp
Batteries: 12 Odyssey PC1500T, 12.00 Volt, Lead-Acid, AGM
System Voltage: 144 Volts
Charger: ProMariner promite
4 chargers that charge 3 batteries per charger
Heater: ceramic
DC/DC Converter: Iota dsl55 55 amp model #?
Instrumentation: Xantex Link 10
Top Speed: 95 MPH (152 KPH)
This car is fast
Acceleration: 0-60 in 5 sec on a full charge, but if you do that all the time then the batts last about 15 miles
Range: 30 Miles (48 Kilometers)
Seating Capacity: 5 adults
Curb Weight: 3,100 Pounds (1,409 Kilograms)
Conversion Time: just started 3-22-08, finished 6-25-08
Conversion Cost: 19,500
Electegra
[Where did Electra II go?]
Electegra III
-----
It's also interesting to look at the two Electegras and note what was done differently in the second iteration. I have always been a lover of the Integras with a little extra weight on them, so to find a pair of electric Integra sedans was fascinating and inspiring. In the commentary for the Electegra III, it says that 80% of the trunk space was retained!
Like I said earlier, I was wondering whether anyone else had thought about what it would entail to build an electric Integra. I'm interested in hearing thoughts from others on this topic. I know of two completed electric Integras, and an electric Civic Wagon, so I know that we will see more of these as time goes on. Besides, it looks like a fun alternative to going K.