Discussion Starter
·
#1
·
This is what I did basically in a nut shell.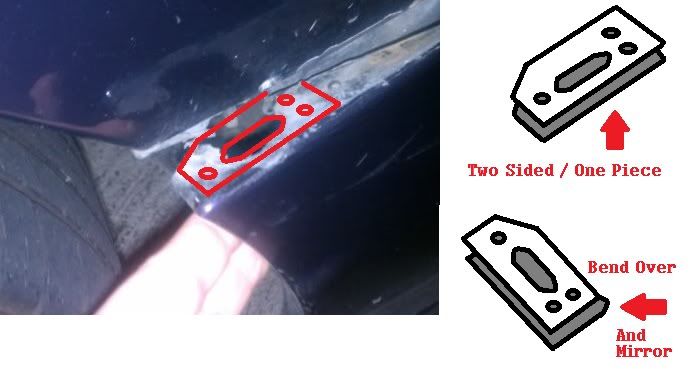 I used a Rivet Gun with the appropriate length and size rivets.
And bought a small Roll of Aluminum Sheet at Home Depot or Lowes. Can also be small sheets that cost 35 cents ( Roll is about $7).
Use a drill with the appropriate size bit to match the size rivet you choose. Drill your holes and rivet the aluminum sheet shaped as above and make sure the rivet goes all the way through with a bit of overhang to grip when compressed. Drill a couple holes or dremel the bigger hole for the 10mm bolt and your done. You can also try filling in the missing section with some plastic or glue or something to make the inside more solid like
Permapoxy Plastic Weld
or some type of plastic glue that dries hard. I didn't and it still holding strong although I will be doing this just to give it strength inside the metal brace and just dremel the hole where the 10mm bolt goes or use a drill in a way as a dremel.
There you go. Easy fix for plastic and fiberglass bumpers. Mine is fiberglass although I fixed my wifed Mazdaspeed 3 bumper this way as well and that one is plastic.