Discussion Starter
·
#1
·
TABLE OF CONTENTS

Dante and car, reunited!
Inspection and initial tear down
A floating GSR and MOAR Tear Down
Chassis Saving the...ummmm....Chassis
Chassis Saving Continued and Undercoated!
Moving Day!
Coated Fuel Tank and Misc. Pieces
Engine Tear Down Part 1
Subframe Pulled, Stripped Block Threads Repaired
Rattle Can Engine Bay
New Fuel Lines, Brake Lines, and Coolant Hoses
Subframe Back in, Transmission Out
ITR Oil Cooler Install, Evap Canister Re-Install, Speed of Science LMA Install
Timing Belt and Water Pump Kit, Valve Lash, New Fuel Meter and Fuel Pump
Valve Cover, Cap and Rotor, Plugs and Wires, New Drive Belts, Start of Body Work
Re-install Intake Manifold, Throttle body, misc vacuum and fuel lines, and start slicing the body!
Front Wheel Arch Repair Completed, Alarm Work, and Security Measures
No Good Bodywork Update + Shaved Door Mouldings and Front Bumper Repair
The Beginnings of an Electrical Nightmare and MOAR Bodywork
Minor Painting and Passenger Wheel Arch Replacement
Passenger Rear Wheel Arch Replacement Complete and Rear Bumper Install
Electrical Demon Captured!
First Start and Front Bumper Install
Uninstalling things I have already installed....diagnosing poorly running motor
Misc. Underhood work and Exterior Work
ECU Wire Harness Repair = Success + First Trip Out of the Garage in 2 years
So close....then it came crashing down...literally.
Out and about!
Random Pics and 4,000 mile since restoration
6,000 miles since restoration, winter storage and winter plans
Starting winter work: access to core support and investigating DIY Ice Box Intake with AEM Short ram piping
Window Motor and Door Glass Replacements
Bent Core Support Removal
Core Support Replacement and More Rust...
Front Windshield Removal and Rust Repair
New Front and Rear Windshields Installed!
Air Conditioning Diagnosing and Open Loop Error Diagnosing
Installed Wheelskin Cover and Road Trip to Melt Bar!
Mileage Milestone and Away for the Winter 2018
Beginning Tear Down and Body Work and Paint Prep!
Dashboard out for Wiring Harness Swap, and Seat Cover Swap!
Finally....FINALLY the Bad Harness is Out and Shows Where my Electrical Issues Came From!
For rust repair and working with rusty parts, just reference every page here...
First i'd like to warn people up front. This will probably be the longest, slowest moving build thread ever. I just bought a house that needs some attention to say the least, so the car will have her turn when i'm sure the roof over my head is secure.
Anyways, here is my story. I'm not sure how many people on here even would remember me. I bought my 96 DB8 with 64K miles on the clock back in the spring or early summer of 2003. put well over 100k miles on the car and then i decided to part ways with her in 2009. i had just graduate college, had a "real" job and the integra with 172K miles on her was starting to concern me. i sold the car, and i picked up a 2009 Tacoma. Well, maybe a year after that i started really regretting my decision selling that car but i was in no financial status to go out and buy another one.
Here is my old for sale thread, you can see all of the hard work i put into her.
https://www.team-integra.net/forum/69-pa-forum/196308-fs-96-gsr-sedan-4500-sold.html
This year and some of last year i've been telling my fiance how much i regretted selling that car and how rare it was and how i would never find one again. with our wedding coming up this fall, $$$ is tight so even when i did find something that peaked my interest, reality set in and i realized it would have to wait.
So lets fast forward to this past Friday. I have my usual routine at work. Get in, log in the computer, check woot and craigslist just to see what is out there. For whatever reason, i searched for integra. The first ad that popped up said 1996 Gsr $2500. I started thinking, same year as mine...i should look at it. I clicked the ad and HOLY CRAP. There was my car. I immediately started texting the seller. Sure enough,he bought the car 2 years ago from the guy i sold it to. I HAD to get her back, this wasnt just some other car that i could make like mine. This was my old car. I talked to the future wife, and she said she would be really upset if I didn't go get it. Worked out a deal with a small personal loan, and yesterday i brought her home.
Needless to say, i was grinning from ear to ear all day yesterday lol.
I do have my work cut out for me. She has been neglected and needs some TLC. motor wise though, she runs great. still pushing great oil pressure, no terrible sounds, no knocks etc... 214K on the clock now, transmission still shifts great (noticed it definitely needs new shifter bushings). the body is where it needs the most attention.
Here is a few pics of what she looked like when i picked her up. These are the sad pics...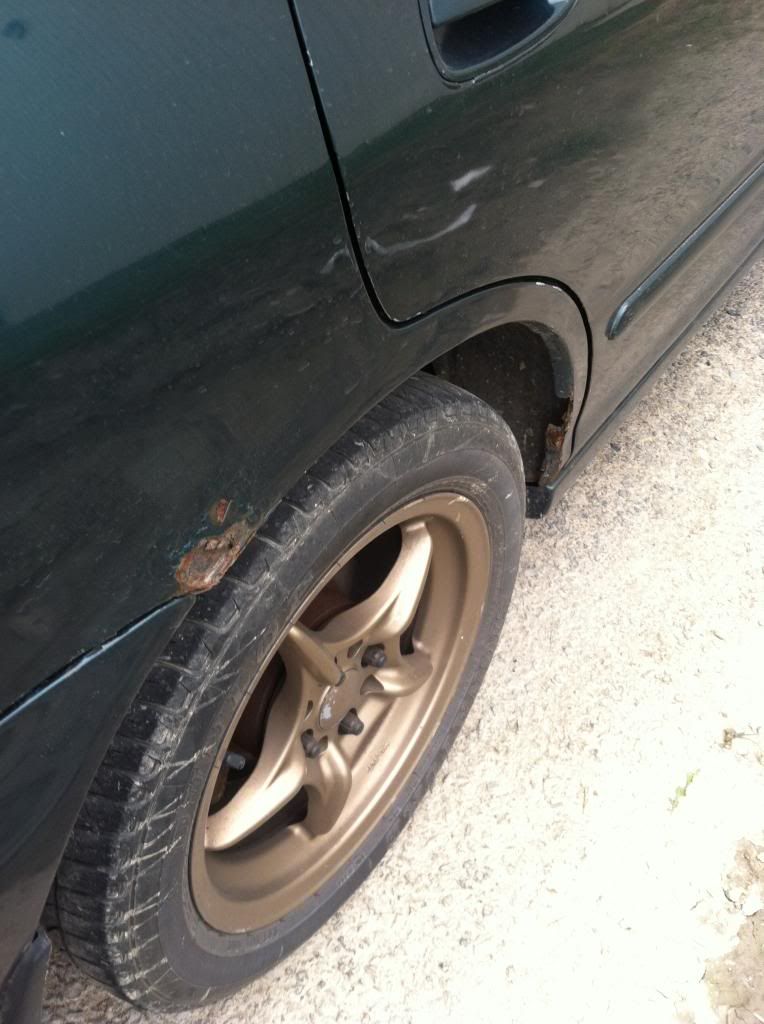 You can see my tacoma in this one