Well the time has come, I guess I will start a thread.
To start I will say my car is a work in progress it is not near done and probably wont be for awhile.
Well in February 2008 after looking for months for an integra on craigslist I decided to post a WTB ad, all it says was WTB 94-01 Integra needs to be clean title preferably under 100,000 miles. I knew the odds of me actually getting a response were very slim when out of nowhere I got an email from a guy selling his wife's milano red gsr,well my friend and my dad and I went out and looked at it and realized that this car was mint, it only had one other owner prior to the owner I bought it from, had all the records and maintenance, it was bone stock except for some enkei DM5 wheels. Well I test drove it and everything was perfect. I sat in the car and checked everything out while the owner went and sat in the car with my dad while they found out that the owner and my uncle worked together (coincidence).
Pic of the car when we met up to test drive it.
Later that night we called the owner and made an offer of 5,500 which he accepted. He did however not let me have it because it had a leak on the inside and he insisted he get it taken care of before it was in my possession, I did not have a problem with that. So I waited a week and the next Sunday another one of my friends along with my parents drove out to go get the car.
Well I loved this car so I washed it at least 5 times a week in and out, I also took a ton of pictures of it.
When I got home I washed it,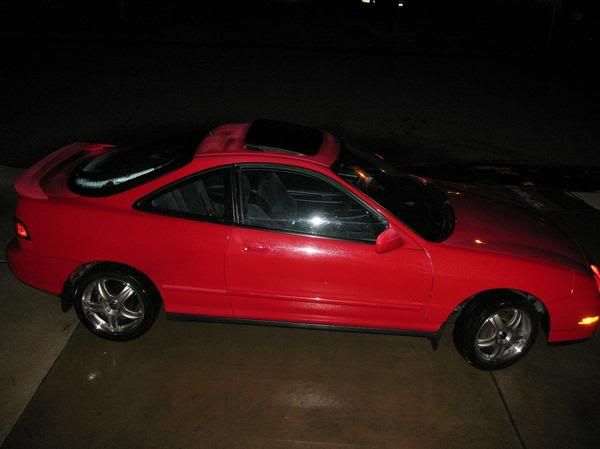 My friend also owns a 94 civic that I liked to take pictures of.
Well after owning this car only a month I was merging onto I-5 South to go to work the from the highway 14 (I guess only locals know where I am talking about) when I looked over my shoulder to change lanes and make sure I was clear when the truck in front of me decided to stop. Well I rear-ended him. Pretty much the sadest day of my life, but I was ok, my airbags deployed and saved me from smacking my head on the steering wheel, well I called my dad right away and he called and got my a flatbed.
Pics of the wreckage
at the scene
and at the Auto body shop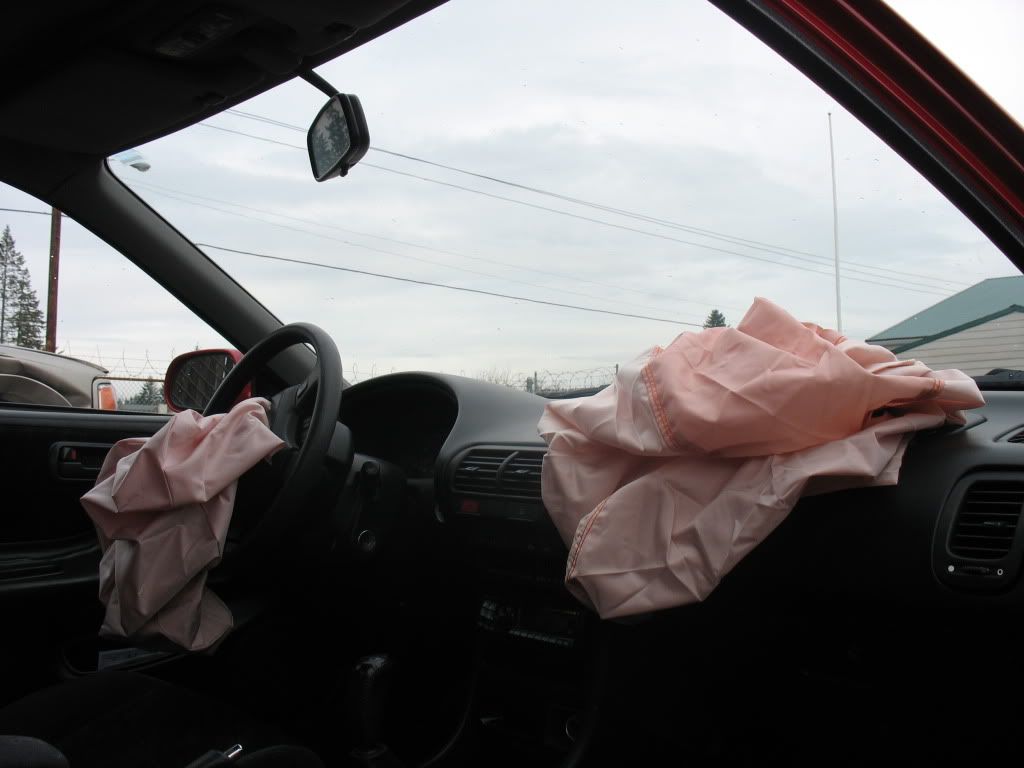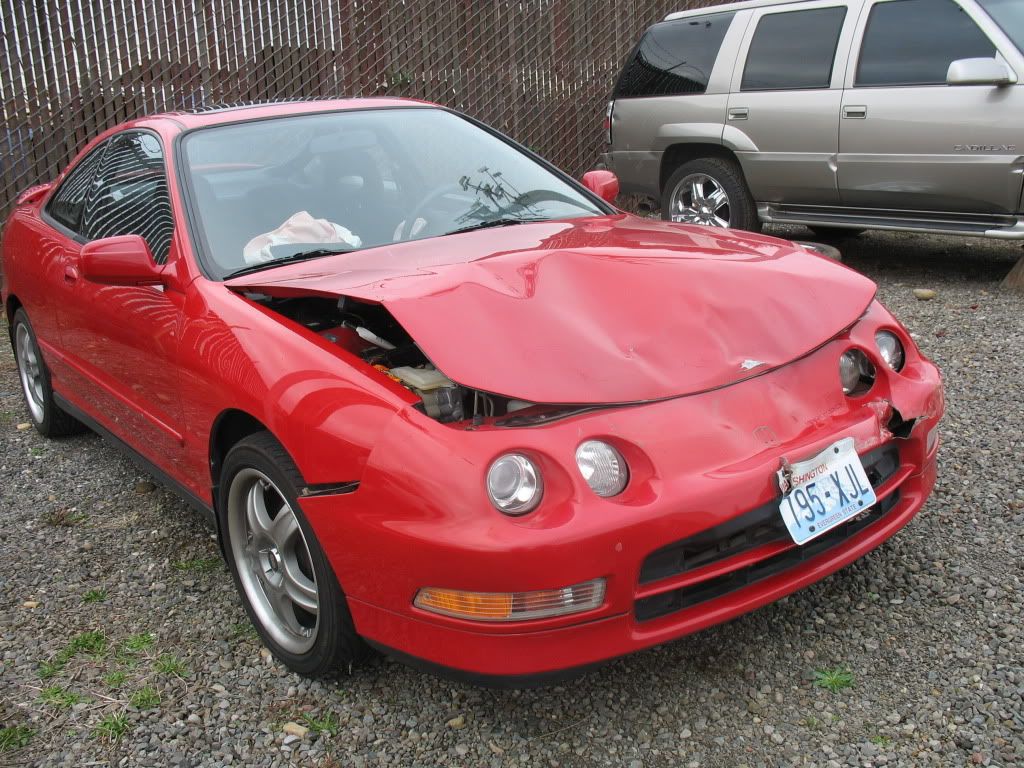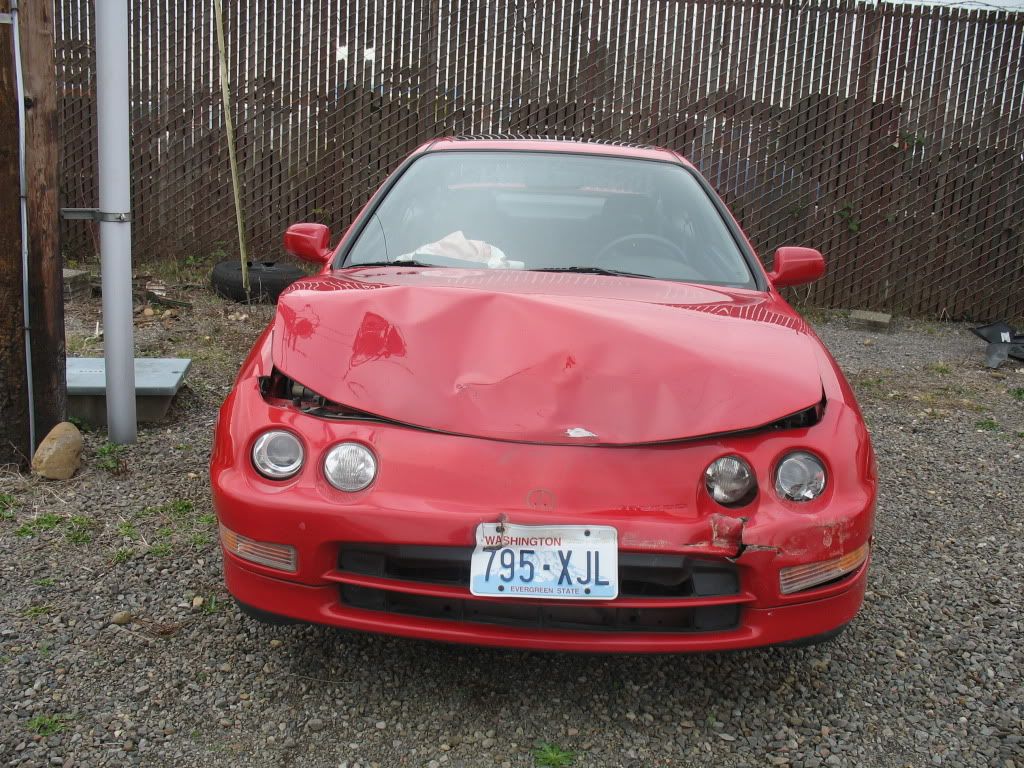 Well after the insurance company decided to total it (big shocker...not) I decided to buy it back and put a JDM front on it. I got a good check for about 7,000 and got my frame straightened out, and the new radiator support welded on for about a 1000 dollars, I bought my jdm front from Auto Adventure, a place in Portland that has just about every part for an import you can imagine, and payed 1,500 for non hid black housing front. The front was in perfect condition no scratches no dents nothing, they also threw in an itr front strut bar I did not complain. The rest of my money went to buying parts to fix the car, new airbags new fender liners, wires etc and I maid some car payments with it.
The only bad thing was the front end was white and well, the rest of the car was red.
Well my friend (the one who drives the civic) came over the night I got my car back from the frame shop and we stayed up til about 3am putting my front end together.
Well after it was all said and done we got the car re-insured and I was back driving my car again in mid April.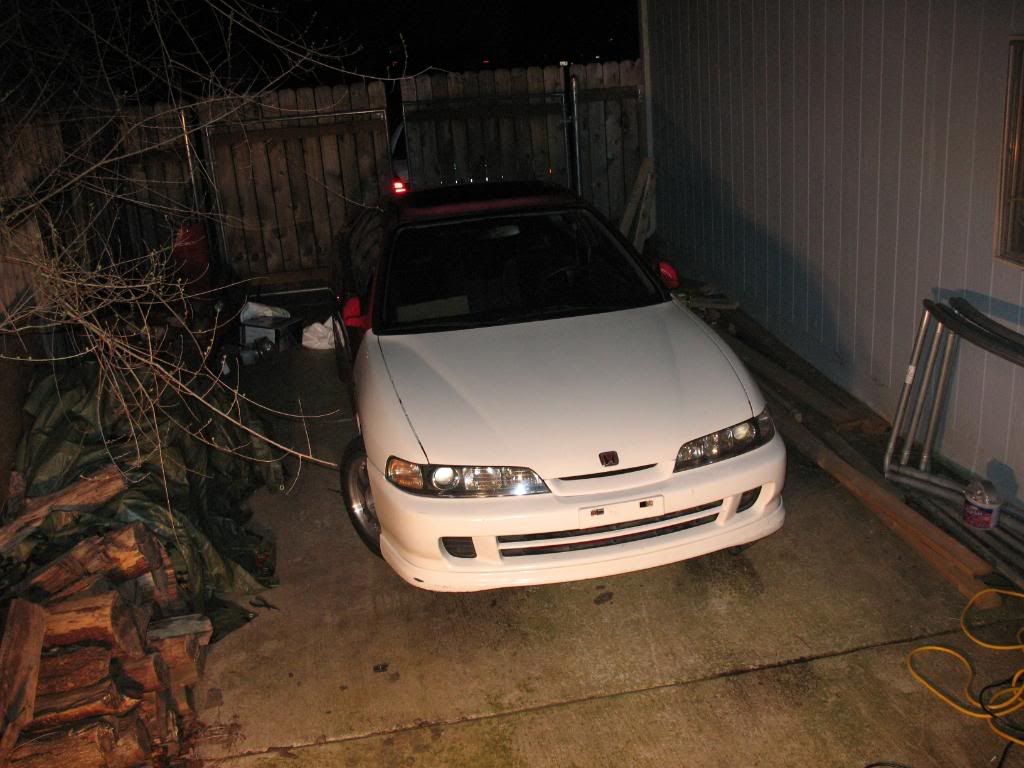 Well after get hassled I finally lowered it....Worst mistake I ever made, I read and read and read and read...and well you get the point DO NOT PUT COILOVERS oN STOCK STRUTS, well I did anyway thinking I have a good job this will be temporary, until I got less and less hours at my job and eventually due to the economy got laid off. But live and learn trust me I have learned my lesson.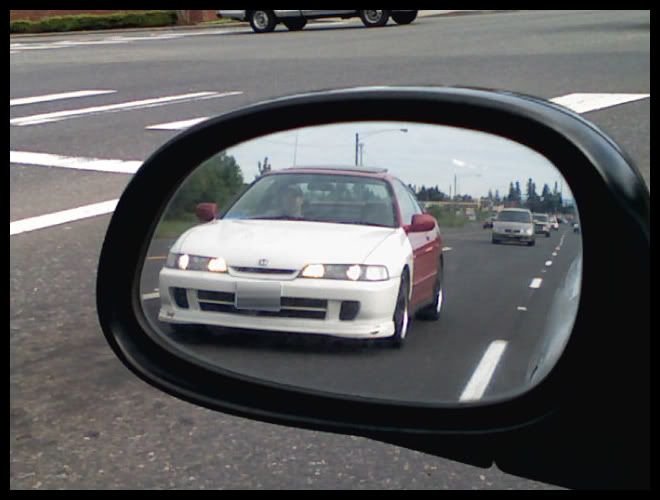 In the meantime I ended up effing up my itr lip so I ended up taking it off cause it got so bad (stupid driving an not paying attention FTL)
Well I ended up buying a OEM ITR wing off ebay for a whopping 128 dollars! in perfect shape. However it was also white, So I figured what the hell my front ends white why not put in on too.
Well for my 19th birthday present, Christmas and 20th birthday present my parents promised to help out and pay for my car to get painted.
Well in April of 2009 my Girlfriend's uncle who mainly works on old VW's said he would paint my front end for me! all it would cost me was materials and an extra 200 for him using his shop and whatever else he used. So I got my car back later that week and put it all back together.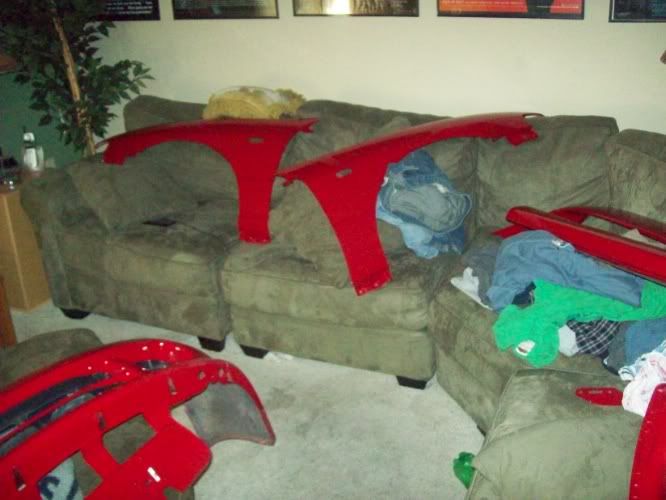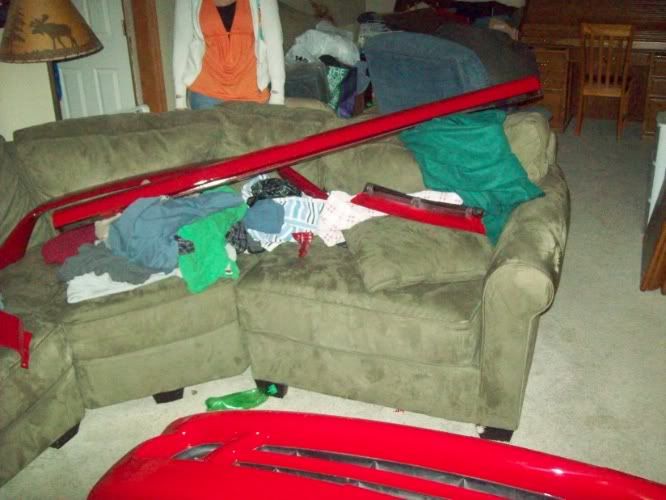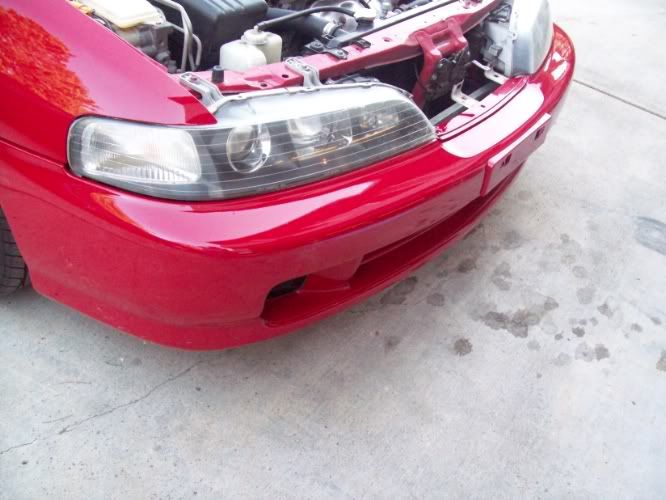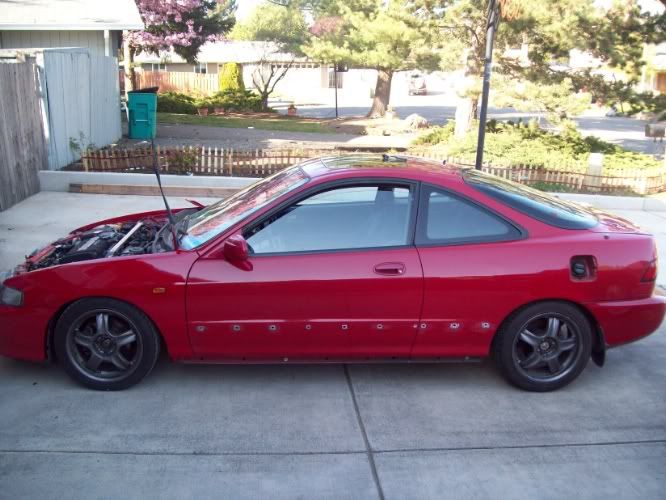 So I guess Current mods are:
Engine: Bone stock GSR with ITR front strut bar
Interior: JDM Recaro SRD's, ITR climate control, cupholders, ashtry, jdm armrest delete.
Audio: Alpine deck, and amp, Diamond audio speakers and crossovers
Exterior: JDM front, POS window visors that I bought used off here
Suspension and wheels: Function and Form type 1 and Drag dr16s
Security: A lot!
Future Plans:
Exterior: Nice window visors, OEM ITR lip,
Suspension: Skunk2 LCA's Asr subframe itr sway bars.
Interior: Hopefully a steering wheel!
Any comments, question are appreciated.
I would like to thank my friends and family for helping me out.