Discussion Starter
•
#1
•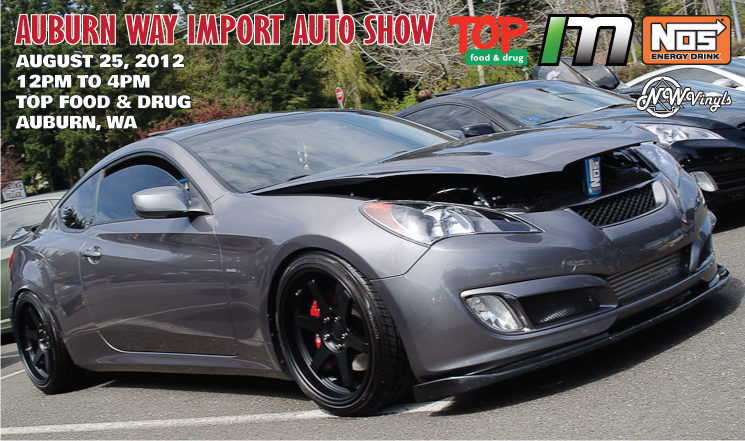 On August 25th 2012, ImportMeet.com and Top Food and Drug will be hosting an import car show and BBQ. All makes, models, and styles of import cars are welcome. The show will be held from 12pm – 4pm at the Auburn Top Food and Drug. This car show is FREE to the public and you are only required to pay if you want to reserve a spot in the show.
There will be a BBQ with bratwursts and hot buttered corn. NOS Energy Drink will be giving away FREE energy drinks. Bratwursts will be $3 each and hot buttered corn will be 2 for $3.
DJ Lil Shonn from Imperial Car Club will be the DJ for this show.
There are ~150 reserved spots available for car show participants. $10 will reserve a spot in the show for ImportMeet.com members. If you wait and register the day of the show, it will be $15 cash.
Please use the form at the bottom of
this page
to reserve your spot at the Auburn Way Import Auto Show. Make sure you login to your ImportMeet.com account before clicking on the PayPal button below to ensure that you aren't overcharged.
Various prizes from the show sponsors will be raffled off during the event and all of the money received from the raffle will be donated to Childhaven in Auburn, WA.
Location:
Top Food and Drug
1702 Auburn Way N
Auburn, WA 98002
Time:
10am – 11:30am (Parking and registration)
12pm – 4pm (Show and BBQ)
Cost:
$10.00 pre-registration
$15.00 for morning of registration
Awards for the Auburn Way Import Auto Show will be listed below 2 weeks prior to the show.
Cars will be judged by all of the other people who have registered for the car show. Each person who enters will vote for the car they think deserves to win in each category. Near the end of the day these votes will be tallied and the winner in each category will be announced.
We will be trying a form of electronic voting this time which should speed up the process of tallying the votes. If you don't have a smartphone, we will have hard copies available for people to vote with.
Awards:
Best Engine Bay
Best Stance
Best Exterior Finish (Paint or vinyl wrap)
Best Classic Import (1987 and older)
Best Modern Import (1988 and newer)
Best OEM/Stock (Cleanest OEM car)
Best Race Style (Requires slips, photos/video, or cage)
Best Street Style
Best Japanese
Best European
Best Team Representation (Top number of team pre-registrations)
Best of Show
Make specific awards will be created if enough of a particular make pre-registers.
Previous car shows organized by ImportMeet.com:
2011 End of Summer Car Show
(a similar event held in Bellingham, WA)
2012 Spring Show & Shine
(a similar event held in Bellingham, WA)

Facebook event page:
https://www.facebook.com/events/322350297858191/
Sponsors:
ImportMeet.com
Top Food and Drug
NOS Energy Drink