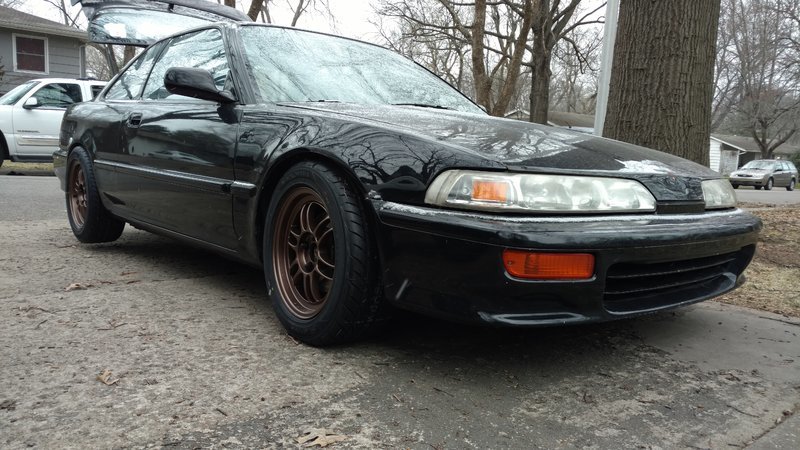 Engine/Trans:
2004 RSX-S K20A2 w/ 6sp Transmission
ACT Street-Lite Flywheel (11lbs)
ACT HD Clutch Kit (AR1-HDSS: 255Ft/Lb Capacity)
K-Tuned Ram Style Header
K-Tuned Throttle Cable & Bracket
K-Tuned Shifter Cable Grommet
K-Tuned Universal 3" CAI w/ Velocity Stack
K-Tuned RSX Billet Shifter w/ Shifter Stops & Race Spec Shifter Cables
K-Tuned IAT Adapter
Hush Performance Cable To Hydro Setup
Innovative K-swap Mounts
Thermal R&D 3" Exhaust
Insane Axles Intermediate Shaft (500hp)
Insane Axles (500hp)
Jackson Racing Power Steering Pulley (052-154)
K-Tuned Adjustable EP3 Pulley (Removed for powersteering)
Fuel:
Karcepts Fuel Rail
AEM Fuel Pump 320LPH, E85 Compatible (50-1220)
Aeromotive A1000-6 FPR
Aeromotive Inline 40 Micron Fuel Filter (SKU:12348)
Misc AN Fittings to 3/8 in Hose Barbs
Jegs Fuel Pressure Gauge
Cooling:
Mishimoto RSX Full Size Radiator (2 core)
Mishimoto RSX Fan Shroud w/ E-Fans
K-Tuned RSX Silicone Hoses
K-Tuned RSX Fan Switch
K-Tuned Coolant Temp Sensor
K-Tuned Temp Sensor Adapter
K-Tuned Heater Hose Adapter
K-Tuned Bolt On Radiator Stays
Suspension:
Skunk2 Front UCAs
Ground Control Special Purpose Coilovers 550F/450R lb/in springs. (consist of custom valved Koni yellow shocks, extended top hats, bumpstops, 94-01 integra front shock forks)
K-Tuned Traction Bar
Hard Race Full Bushing Set
Hard Race Rear Camber Arms
Hard Race Rear Toe Arms
Blackworks Racing Billet Rear Lower Control Arms
Wheels:
15x7+35 Enkei RPF1
205/55/15 Yokohama S-Drives
Karcepts 36mm Kswap Hubs
Brakes:
ITR Front Calipers
Mini-Cooper Front Rotors (280mm, non-s cooper)
TSX Front Pads
RSX Rear Calipers
EP3 Si Rear Rotors
Electrical:
Rywire K-swap Adapter Harness
Hondata Kpro v4
K-Tuned Engine Harness
Prosport JDM Style Oil Pressure Gauge
Prosport JDM Style Wideband Gauge
Ultragauge EM+
Other:
StrutKing Pedal Covers
Hybrid Racing Power Steering Conversion Kit
Corbeau Forza Seats
AutoPower 4pt Race Roll Bar
G-Force 5pt Cam Lock Harness
Seibon CF OEM Style Hood
JDP Rear Lip Spoiler
NRG 320mm Steering Wheel w/ Quick Release 2.0 & Hub Adapter
Acuity BPST to NPT Adaptor (Not Installed)
Blox Oil Filter Relocate (Not Installed)
IntegraXSI Front Manual Seatbelts/Panels (waiting from HmotorsOnline)
ORIGINAL POST
Suuuup T-I,

Small intro - I used to be a member here back in my high school days (been a minute) with a 94 DC2 GSR. Loved that car but ended up moving on to a rwd platform which came about as a 91 240sx (POS) but fun when I got it turbocharged with ~300hp/300tq. Eventually moved onto a 350z as a DD before getting out of the car scene for the past 4 years and into offroad (toyota tacoma)

Currently I picked up a 93 DA9 LS with a pretty clean body, minor rust on the front fenders and hood. Interior was missing a few pieces.

Mechanically the car needed work but ran albeit rough. Synchros going out and low compression, enough to drive it home and around for a while before the alternator went dead.