so this is my running log... check the last page for the latest updates
Long story short i like to rebuild my car a lot and end up taking it apart a lot due to me breaking parts if its something i havent replaced myself already.... in the end though i love my teg and always end up rebuilding it... i like to look at my integra as a learning experience that has always taught me a lot and pushed me to think in new ways.
it all started in September of 06
this was my first car, which i ended up buying because i loved the meshies on it and because of a few mods the car already had.. later id regret not buying a stock car, but ive stuck with it and ended up building a car that im happy with
heres the first picture i took of it: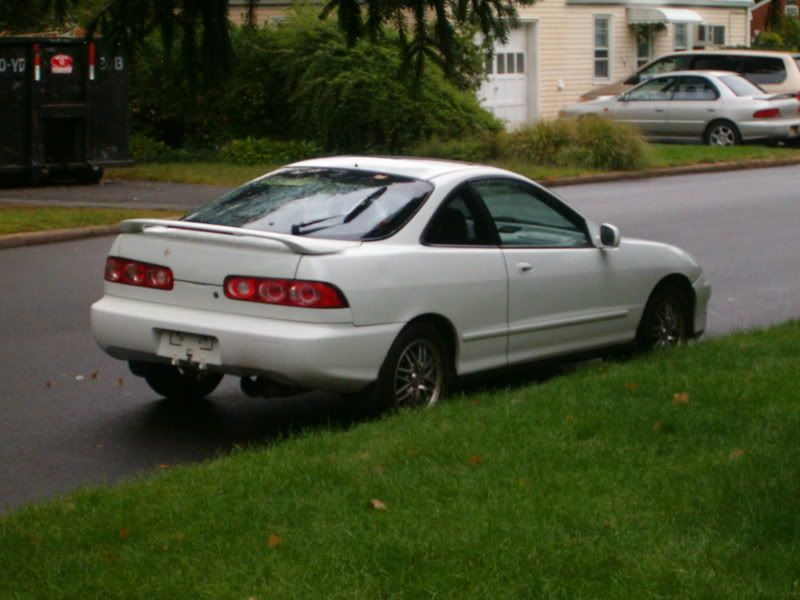 bought the car with no shift knob, ripped boot, and awesome APC tails and muffler!!
page 2: header and exhaust
page 3: new valvecover
page 4: abs lip and vc installed
page 7 : steering wheel swap
page 9: lowered, auto-x, JDM Recaros
page 10: lowered more (H&R sports) and new tires
page 12: comptech ITR lip
page 13: new valvecover color
page 14: gsr trans, ACT streetlight flywheel, oem shifter, buddyclub shift knob
pg 15: track day pictures & new blox filter
page 17: motor blown, head taken off
page 18: motor completely removed, bay cleaned up
page 19: replacement LS longblock dropped in
pg 20: trouble after starting the replacement LS
pg 23: looped steering rack w/ breather & new jdm b20b motor
pg 25: both axles break, remove fenderliners, modified fender seam
pg 26: engine bay detailed
pg 27: original motor carnage pictures and shaved valvecover
pg 27: koni yellows & extended tophats
Page 31::vtec228::vtec228::vtec228: