RIP Diana Gilboy (MorningZ's Wife)
---
It is with great sadness that I have to share with everyone the news of my friend, and Steve's (MorningZ) wife, Diana.
On Sunday morning, October 4th, 2015, she was involved in a motorcycle accident with her best friend, Sarah. Unfortunately, they both lost their lives. While we lost our friend too soon, it was while doing something she was so passionate about and loved.
Diana was an amazing soul. A true spitfire on the exterior, but inside she was a caring mother and wife, dear friend, and just an all around amazing person. The room actually got brighter when she walked in.... probably from her beaming, infectious smile.
Here is the news article for those that wish to know more details.
But, I would like this thread to remain positive and full of great memories of Diana. If you have a story, share it. Pictures? Even better! Let's all share our great times with Diana below.
Super Moderator
Join Date: Apr 2002
Location: Chicago, IL
Posts: 21,509
Feedback Score: 36 reviews
This is an absolute tragedy.
Senior Member
Join Date: Sep 2006
Location: Mechanicsburg, PA
Posts: 3,206
Feedback Score: 8 reviews
@
MorningZ
- Steve, I'm so, so, sorry for your loss. I have absolutely no idea what you must be going through. I'm sure I can speak for all of the T.I. community that you & your family are in our thoughts and our prayers. Please reach out to any of us, should you need anything at all.
---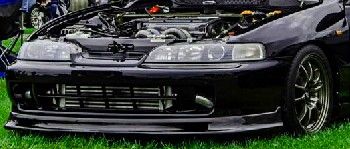 770whp/500wtq @31psi E85
2013 Carlisle P&S 1st Place Acura Integra Class Winner
2011 Carlisle P&S 1st Place Acura Integra Class Winner
2010 Carlisle P&S 1st Place Acura Class Winner
2009 Carlisle P&S 2nd Place Acura Class Winner
2007 Tuner-Evolution 1st Place Acura Class Winner


Click Me: Check Out My Build Thread - From Stock to 770WHP
I'll start....
My favorite memory of Diana is riding at the dragon this passed August. This year, it was just her and I on our bikes, which made things a lot smoother and even more fun
And while the riding was fun, the best times were while we were waiting for the integras to catch up or park. Being able to park the bikes anywhere definitely has it's advantages.
(Clearly, I need to purchase this picture still)
This was our last run back on the Cherohala Skyway. Steve was leading, then Diana, then myself. Behind me was Kablookie Brian and then Travis TLangy. This run was EPIC!!!! Steve was like "Ohhh we're going to take it easy on the way back." YEAH RIGHT! After just eating huge sandwiches, Diana and I were both like "Uggggh I can't move, I don't want to ride that fast, let's take it easy." That lasted for all of 5 minutes.
Some of my favorite times of the trip were not on the bikes or in the cars though.
We climbed all the way to the top in riding boots.
I'll miss my friend, but I'll forever cherish these memories and more.
---
Last edited by MorningZ; 01-18-2016 at

03:45 PM

.
My deepest sympathies go out to you and your family. May God give you the comfort and peace that you seek and may the soul of your loved one rest in peace.
This is so terrible, i cant even imagine what you are going through Steve. You definitely will be in my prayers during this difficult time.
---
1996 DB8 Bought 2003--->Sold 2010--->Bought Back May 2014
Restoration in Process!!
Senior Member
Join Date: Aug 2006
Location: , GA
Posts: 203
Feedback Score: 5 reviews
Steve, I am so sorry to hear about your loss, know that you are in our prayers.
Senior Member
Join Date: Feb 2002
Location: Orlando, FL
Posts: 1,682
Feedback Score: 0 reviews
There are very few people that you can meet and talk to, and when you see them again a year later it's like you've known each other for 10 years. That was Diana. She didn't make acquaintances, she made friends.

After lunch at the Dragon Pitt BBQ at this year's Dragon Run, I wanted Diana to drive my car back to Fontana Village. As she drove, we talked like old friends. We talked about family, life, her passion for riding and driving, all while she navigated the corners with more confidence than I have on the Dragon. It was a joy to share that time with her.

I've been numb for the past 24 hours. Team-Integra is family. MorningZ is hurting now and can use our support.
---
While surfing Team-Integra.net I listen to
Pandora.com
Super Moderator
Join Date: Dec 2011
Location: Chicagoland
Posts: 3,182
Feedback Score: 7 reviews
I'm very sorry for your sudden loss Steve. You have my deepest condolences.
Senior Member
Join Date: Jan 2012
Location: Tampa
Posts: 625
Feedback Score: 2 reviews
I was shocked and saddened when I saw that Josh posted it on fb, I never got to meet her, but from the posts in Steve's thread about codriving at the track and the posts with Josh when he was buying his bike a few months ago, I thought it was awesome to see someone share the same motorsports hobbies with their spouse.
Senior Member
Join Date: Dec 2007
Location: Waleska, GA
Posts: 2,135
Feedback Score: 1 reviews
Diana was an amazing woman. So many people have said that when she would walk into a room, her presence and smile would brighten the atmosphere. 3 years ago, Steve was so excited to tell us about the engagement at the Dragon Run. I always loved how Diana would talk to everyone, and instantly made you feel welcome.

Spending time with all of you and Diana at the Dragon this year was very special. I remember all of us at Bust your Butt falls. As I was staring up at the jump spot, Diana says "so, you gonna do it!?" Giving me the chance to beat her to it, haha. So many other memories as well. She will always be remembered and cherished. May God bless and comfort you Steve, and the entire family.
---
My Running Log
"For God so loved the world that he gave his only begotten son, that whoever believes in Him shall not perish, but have everlasting life" John 3:16(NIV)
Senior Member
Join Date: Oct 2008
Location: volusia county, fl
Posts: 278
Feedback Score: 0 reviews
Stephen, somewhere on this site is a picture of Diana and I talking about some beer at the dragon exchange, one of my favorite subjects! I now wish I'd been there this year to hang out, drive and enjoy the extended family that is team Integra, before we lost a big part of that family. Just want to let you know if you would like to paddle board or kayak, drive some cool roads or just have a few cold ones to try to ease the pain, I'm here as are the rest of the team Integra family. We will all miss her!
* Edit: this pic *
---
Last edited by MorningZ; 10-29-2015 at

10:38 AM

.
No words can ever make up for how you feel. Losing a loved one is always hard. You stay strong for you and your family.

I'm still dealing with my moms death but my partner.......I can't even.