Are these GSR Blades/Swirlies repairable?
---
Found some blades on CL, but am kind of concerned if they will be fully repairable.. Seller says theres no curb rash or deep scratches but definitely corrosion and light scratches.
For those of you that have refinished Blades or any wheel in general, what should i be looking out for when I go take a look at these wheels? Will these wheels be able to come back to life or is there just too much corrosion? I want them to look as close to brand new as possible!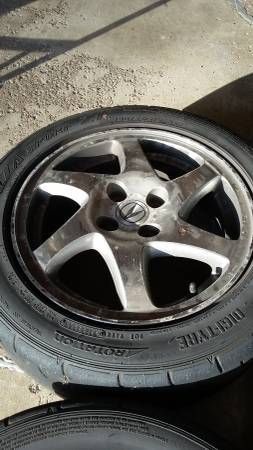 Ill upload more pics in a sec I have to take them off my phone ~,~
For me its hard to tell from the pics. It looks like a lot of surface corrosion more than anything (protective coating is wearing off). So long as they don't have any deep gouges, and so long as you are prepared to do a LOT of wet sanding and polishing, they should clean up pretty good. Personally, I enjoy polishing. Its a very time consuming, and finger / mind numbing task if you're up to it.
thanks for the reply buddy.
He said the clear coat is stripping off and its mostly corrosion. How deep is too deep? If I can catch my finger nail on it? I guess the deeper it is the more ill have to sand...
Another question - Can the center caps be saved or do I have to just order new ones?
Im mostly concerned about the ring that I can see in 2 of them around the holes for the studs.. Anyways Im about to go check em out hopefully theyre legit!
Seeing the rings, looks like someone was rough as hell with a tire machine if its that perfectly circular (didn't notice it until you mentioned it above). Hard for me to say how deep is too deep. You ought to be able to "see" and "feel" the difference of a corrosion / coating issue, versus deep gouges / scrapes. You'll be able to feel both with your finger nail, but it should be obvious if something round into the metal, or just scratched the surface. Wish I could tell you more, just hard to say without seeing them in person, and without knowing your level of comfort with sand paper and polish.

How much are they going for?
Yeah I'll just have to use good judgement I guess. I found em for $250! I'll let you know in a sec if I grabbed em!
I grabbed the blades. They were way nicer than I had anticipated. Man am I excited! I got a killer deal for the shape that they are in. No deep scratches at all, came off his 98 gsr. I'll post my own pics and maybe a video tonight
Member
Join Date: Dec 2012
Posts: 72
Feedback Score: 0 reviews
My blades were much, much worse than that and came out great. I had mine done by a specialist wheel shop. The big difference is longevity as they should spray a new coat of clear which will be way more durable than anything you do at home.
If all else fails you can always paint them
-stockgs-r
How much did it cost you to have a shop do it?
-drmix
Thanks for helping me with the wheel setup dude! Hadn't thought about painting them as I was going for that sleeper look I was talking about but i wouldn't mind them in gunmetal/charcoal!

Ill upload pics/video in a bit!
The original pictures I posted that the seller sent me did not do them justice, and im not sure that these pictures and video do either. I realized after the fact that I probably should have given them a quick wipe so you could see it clearer because there is a small film of dust on them, since they were stored for 4 years.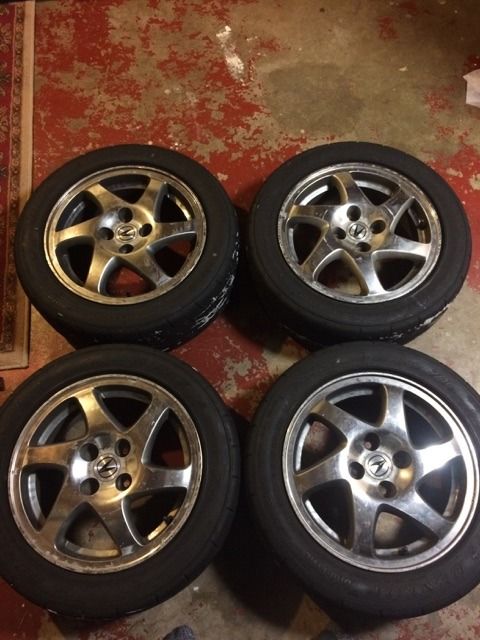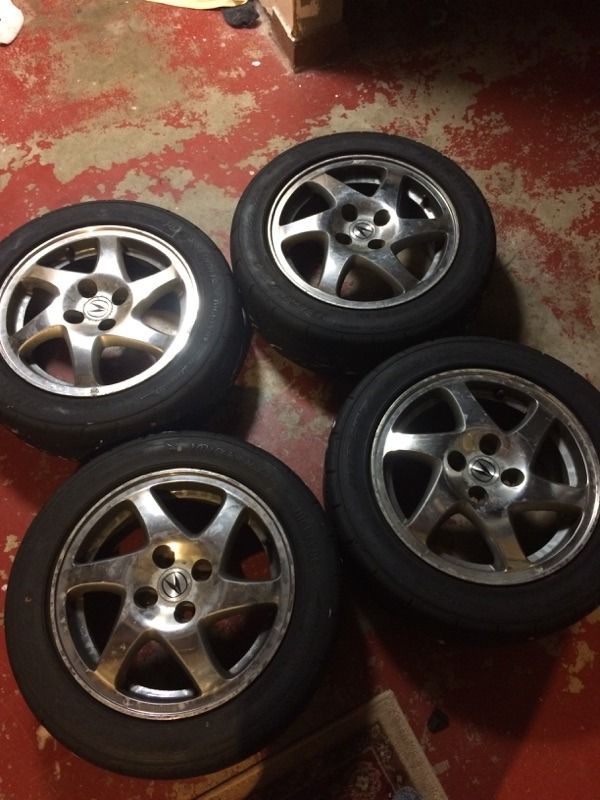 (not sure how the quality of the video will be I uploaded it onto photobucket...)
Member
Join Date: Dec 2012
Posts: 72
Feedback Score: 0 reviews
Quote:
-stockgs-r
How much did it cost you to have a shop do it?
$150/wheel plus tax
=O yeah I'm gonna do it myself then. Just found an article. Thanks buddy