"InTechra" Jdm B18C Turbo GS-R - Coilovers in
---
So, let's start from the beginning.. 3 years back i bought a GSR swap. The body was at 17x,xxx, which was a GS shell. It had a GSR motor in it with 12x,xxx -
So the guy says.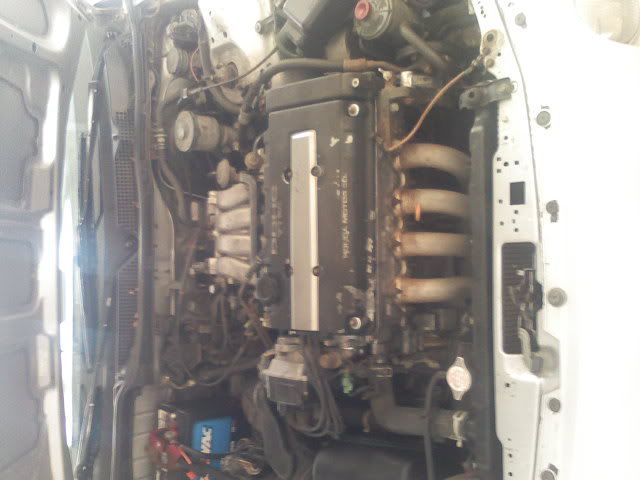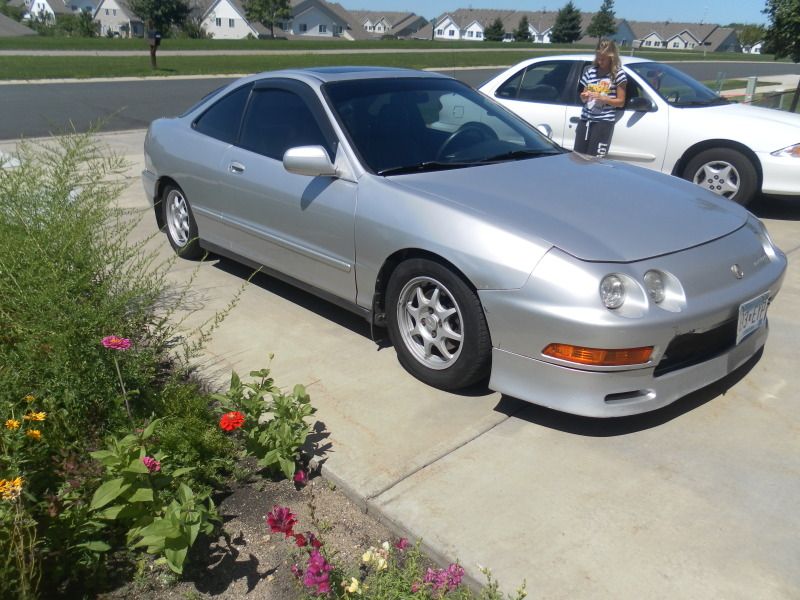 Anyways fast forward a bit. Went off to college after a year of having it. I had issues here and there, nothing too major. There was already some things wrong with it like the E-brake not working and a ricey bumper zip tied on the front... I treated this teg with so much care. I replaced a bunch of things on it besides regular maintence.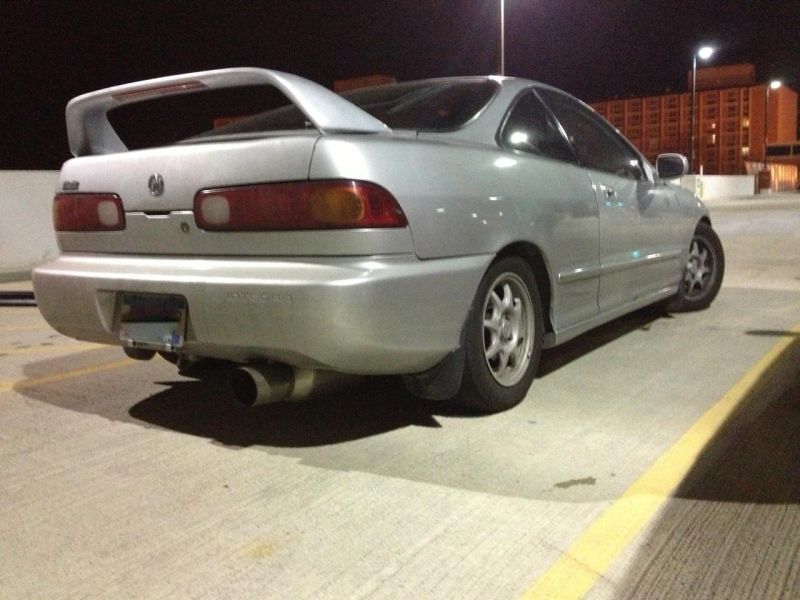 Then, last spring my headgasket went out. I took the leap and decided to do it in my dirt driveway rather than paying Honda
$1900
for it... I mean i bought the car for $3500. I could almost buy a new teg for that! K so i ended up fixing it, although it slowly and slowly kept going downhill.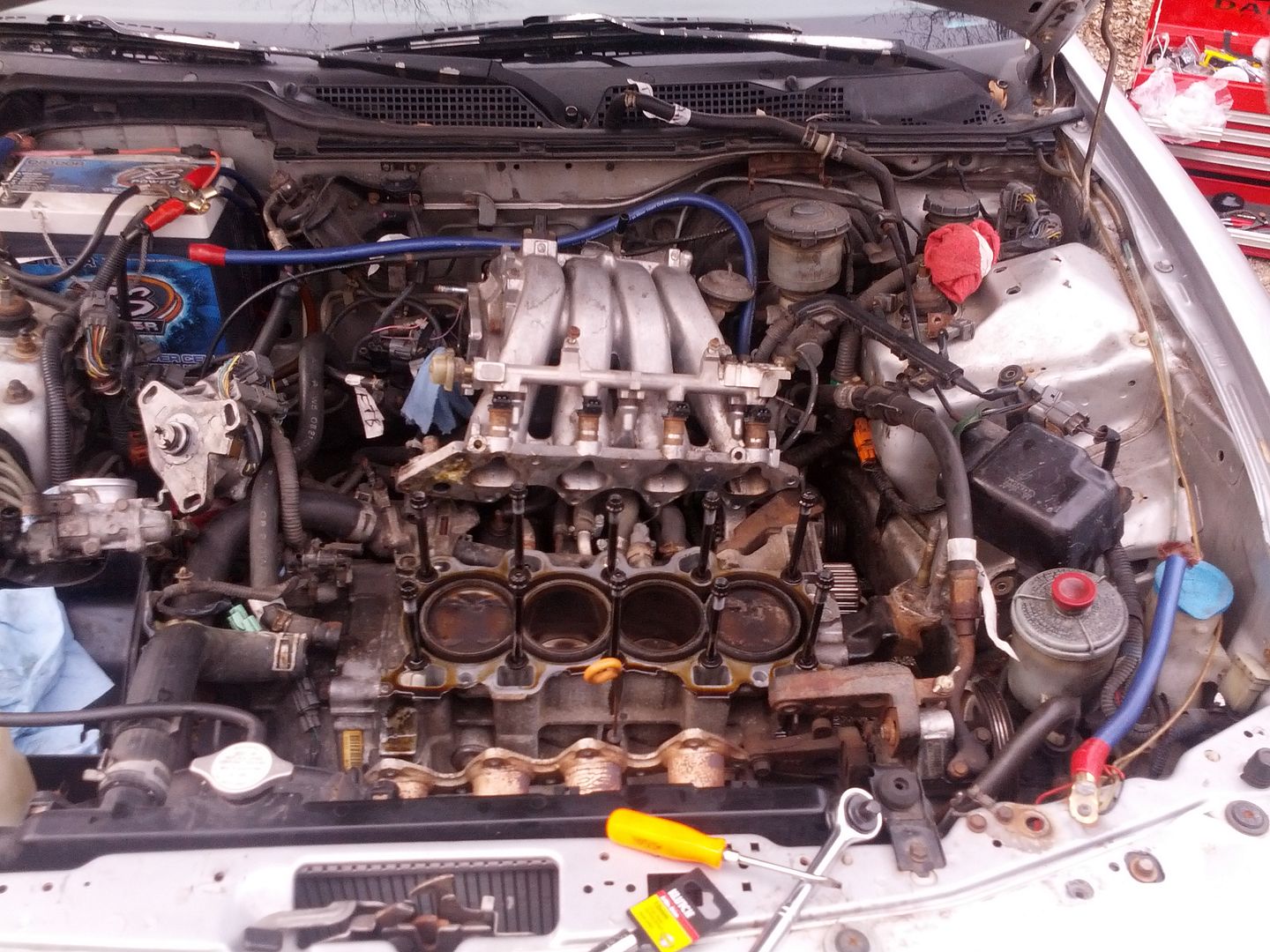 Fast forward to about 2 months ago. The teg is at 200k, my neighbors grandma ends up hitting it while its parked. I got $1900 for the insurance on that after buying the car back because it was a "total loss". Screw insurance companies.....
.
I took the insurance money and the money i had been saving up and bought myself a new teg! I paid $4000 for this one. I feel like i got a pretty good deal for what i got. He was originally asking $5000 for it but i talked him down and brought my own wheels.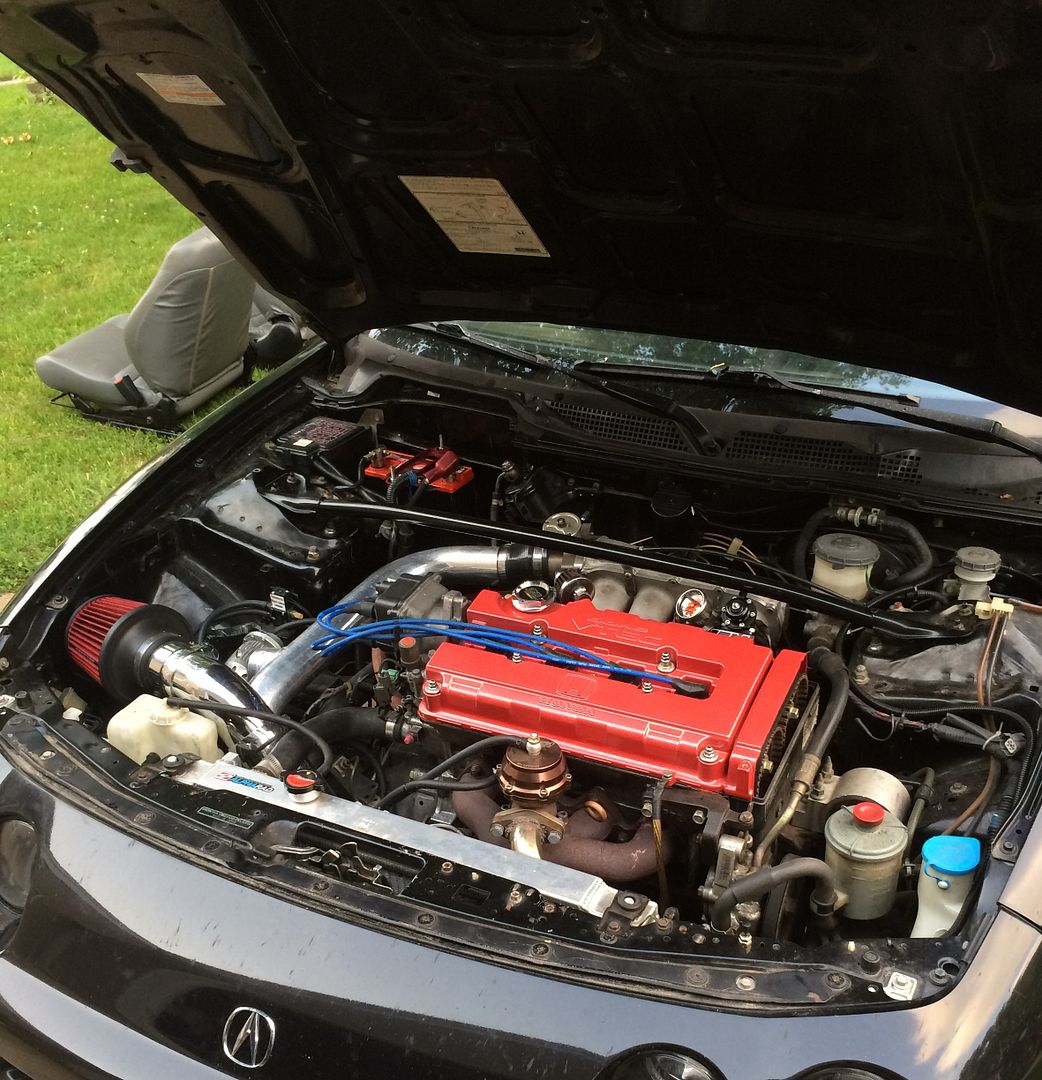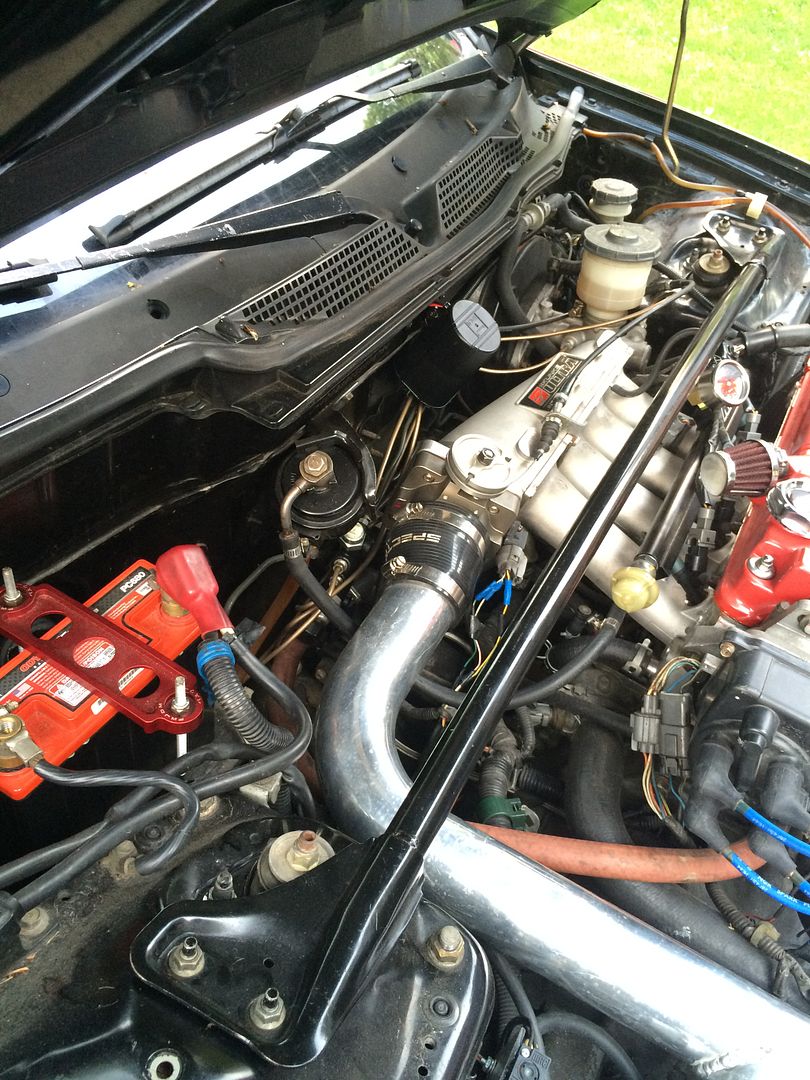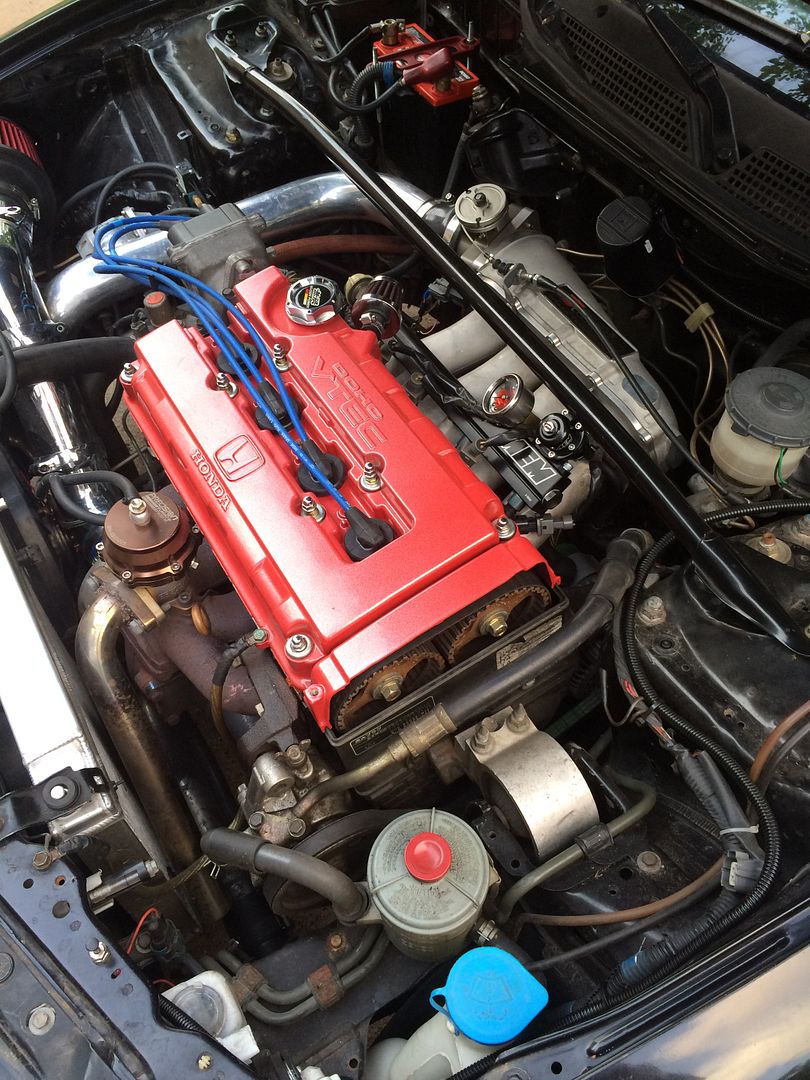 Ill upload more about the car when i get a chance, thanks for looking!
---
Last edited by 9TechNine9; 03-08-2017 at

04:57 PM

.
Ok continuing where I left off!
Pros -
Texas car and never seen a winter 150k miles
No rust!!
JDM B18C motor, 80k miles
Turbo'd and done right
S80 LSD tranny 100k miles
Recent maintenance like timing belt, water pump, plugs, dizzy, power steering belt, brakes, shaved rotors, lightweight battery, all new fluids, thermostat
Has a viper alarm
Hondata s300 and hondata 4 port boost controller along with a MAP sensor I believe
Brand new exedy stage 2 clutch, lightweight flywheel and new TOB
Drives phenomenally. Motor feels strong, shifts beautifully
At least has clean, dark carpet
Obviously a TON of aftermarket parts
Did I say NO RUST?!?

Cons -
Ripped CV boot
Leaking oil from oil pan gasket
Hairline crack on tranny drain plug...
Running super lean (he says because of the mods he did and didn't get it retuned)
While cleaning the car I found out that there is a hole going straight through the floor behind drivers seat... And also the ignition is cracked and being held up by ZIP TIES........ Obviously broken into at some point
2 keys, 1 for door 1 for ignition
Paint is super faded and scratched
Only a couple very small "dings" in the body
Interior is thrashed.. Plastics are cracked, broken and even missing
Cloth interior
Just found out I'm getting white smoke out of the exhaust last night
Had to bring my own wheels
No a/c, abs or cruise control
---
Last edited by 9TechNine9; 02-08-2017 at

05:34 PM

.
Looks like a nice build. The fact that you kept a full size radiator is a plus.

What's the specs on the turbo? How do you know it's running lean? What kind of mods did he do to require a retune?

I notice you have some interior pieces missing -- if you want to replace them, hit me up. I'm currently getting rid of stuff in mine.
Thanks buddy! I think it's a 6262 precision turbo. I have an afr gauge in the cab. When idling I'm at about 13-14 when I'm cruising it will go to 17+... Even unreadable past 18 (as far as the gauge goes). On the way home, which was a 2h drive... It stalled out twice after coming to a stop from cruising in 5th (assuming this is because it's running lean) Could this be causing the white smoke??? It's putting out a good bit of smoke and it's not the kind that goes away right away.
I'm pretty sure he added the fuel rail setup, the HKS bov, custom dump pipe and the intake to the turbo

For those of you that have a B18C where can I get the parts for the JDM motor??? Need to order my axles soon before it gets tuned.
---
Last edited by 9TechNine9; 02-08-2017 at

05:26 PM

.
I haven't addressed my goals with this teg yet, but I'm going to swap out the interior of the silver one with the black one. I will let you know if I need some pieces though! Thanks!
The JDM motor should use similar parts to its USDM counterpart. You can use the same axle unless you have a 36mm 5-lug conversion.

That's slightly rich for idle but the smoke may be throwing off your readings. White smoke at cold start-up is somewhat normal -- it's just condensation burning off. White smoke after warm-up is trouble (sign of burning coolant). First thing to check is for loss of coolant. Then check for a milky consistency in the coolant and oil.

Either case, my cruising AFRs are usually in the 14s and 15s.
K so here's what I found out about the smoke. At startup im getting no white smoke at all. After it warms up then it starts smoking and it looks like there's condensation inside my exhaust...? My AFR is at 12 on a cold start up then slowly climbs to 13-14 when it starts smoking.

I checked my oil and coolant. Coolant looks fine, oil looks fine although it could probably use a change. I'm going to keep an eye on the levels. I'll change the oil when I do the oil pan gasket. Any ideas what this could be?? Can't really find anything online so far. Search bar is giving me nothing..

Don't have time to upload pics to photobucjet so I just attached them, sorry!
---
Last edited by 9TechNine9; 07-09-2015 at

10:06 AM

.
I'd keep my eyes on the coolant and do an oil change when you get to it.

When you say white smoke -- is it light and almost transparent or thick?
The smoke is not thick it's pretty light when at idle. Im going to change the oil when I replace the oil pan gasket. I ordered a myhondahabit gasket after reading numerous good reviews on it.

I'm looking at yonaka axles right now to replace my bad drivers side. A few questions I have -
Would I need upgraded axles for this build? They say they are rated 10-15% above stock. I figured it wouldn't be a bad idea to replace both of them but I'm short on money ATM so don't know if I want to spend the $150 on it..
I'm also looking at replacing the half shaft with a yonaka half shaft that is $80. Is it worth it??

Anyone have experience or insight with these products?

Thank you TI!! Thinking about getting a banner for the teg!
Quick update!
I got the new oil pan gasket in this weekend. I used the myhondahabit gasket after reading numerous great reviews. I'll let you guys know how it worked! Hopefully it resolved the very common issue. It took me about 7-8 hours of time with taking breaks of course. I had to drop the downpipe, which was a real b*tch.
I'll update with comparison pics tonight

Next, I plan on replacing the axles. I have a scheduled tune on August 4th, I want the teg to be in its prime for that!
As for the smoke issue I'm still trying to resolve that. I drove it around for 15 mins and the smoke seems to mostly go away but still some very light white smoke comin from the exhaust. Hopefully the fresh oil change will help fix the problem or at least help me diagnose it! I now have it switched over to Castrol Edge 5w-30 full synthetic. A guy at o Reilly's talked to me for 30 mins about oil and said he's been studying oil longer than I've been alive and recommended this to me (I believed him he looked older than dirt lol)
Old-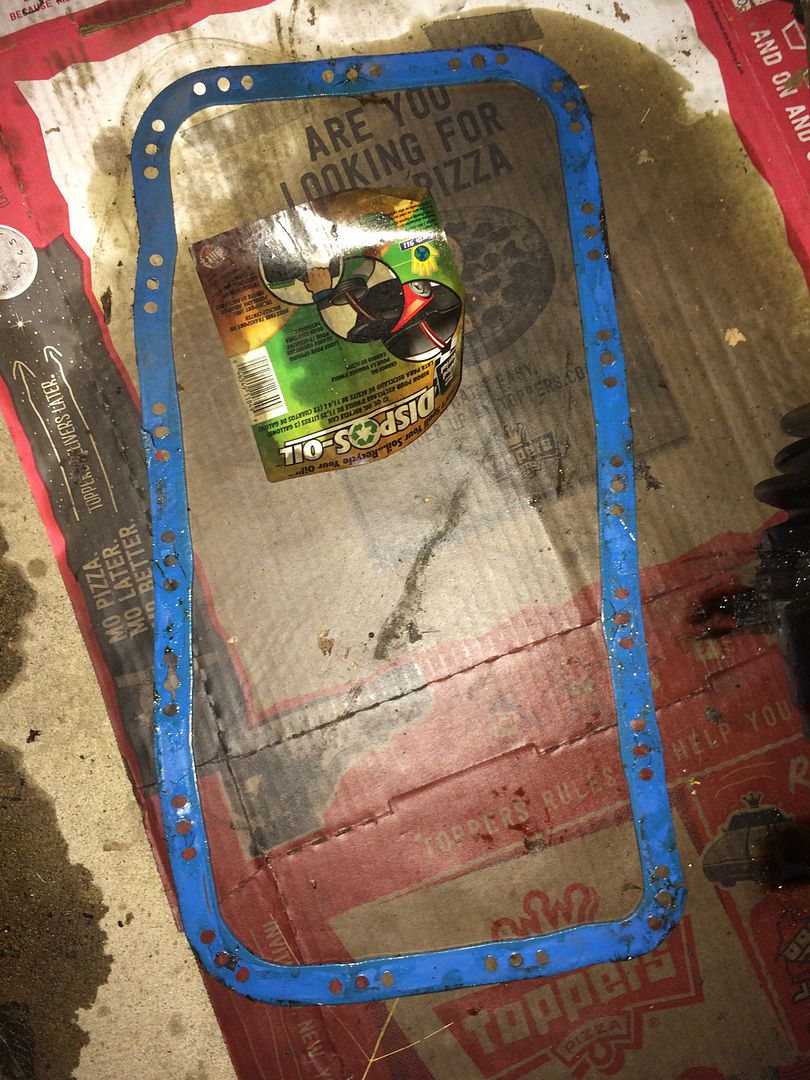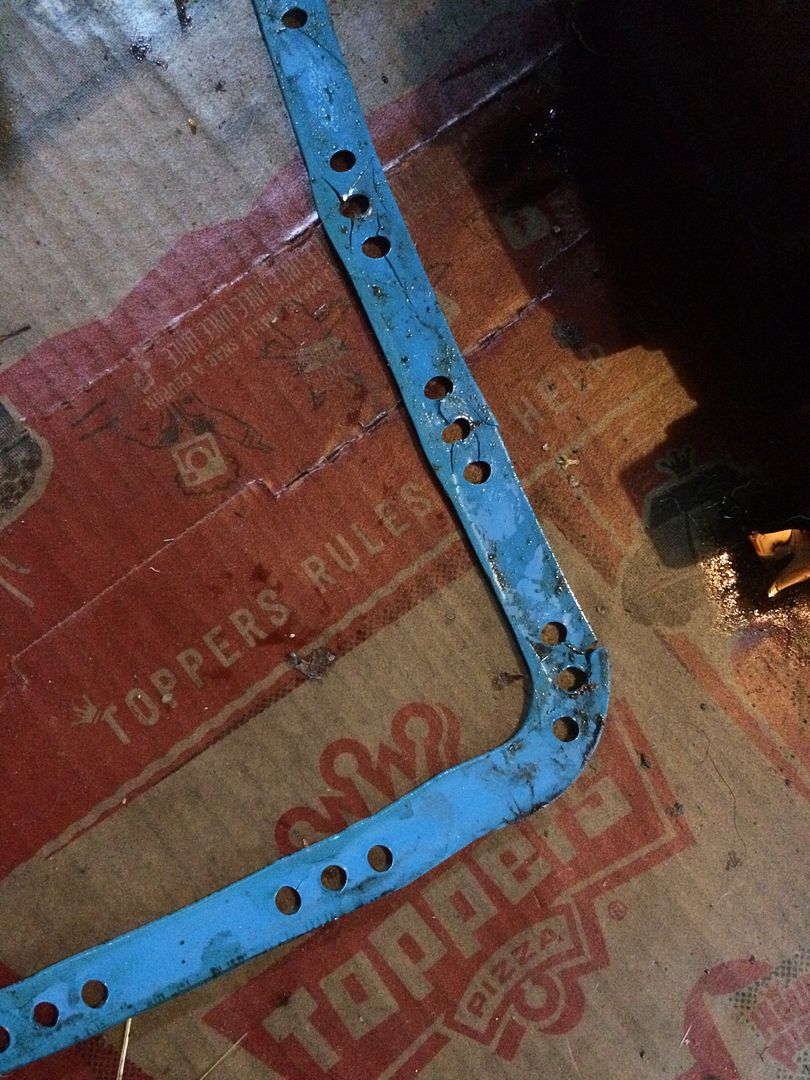 New-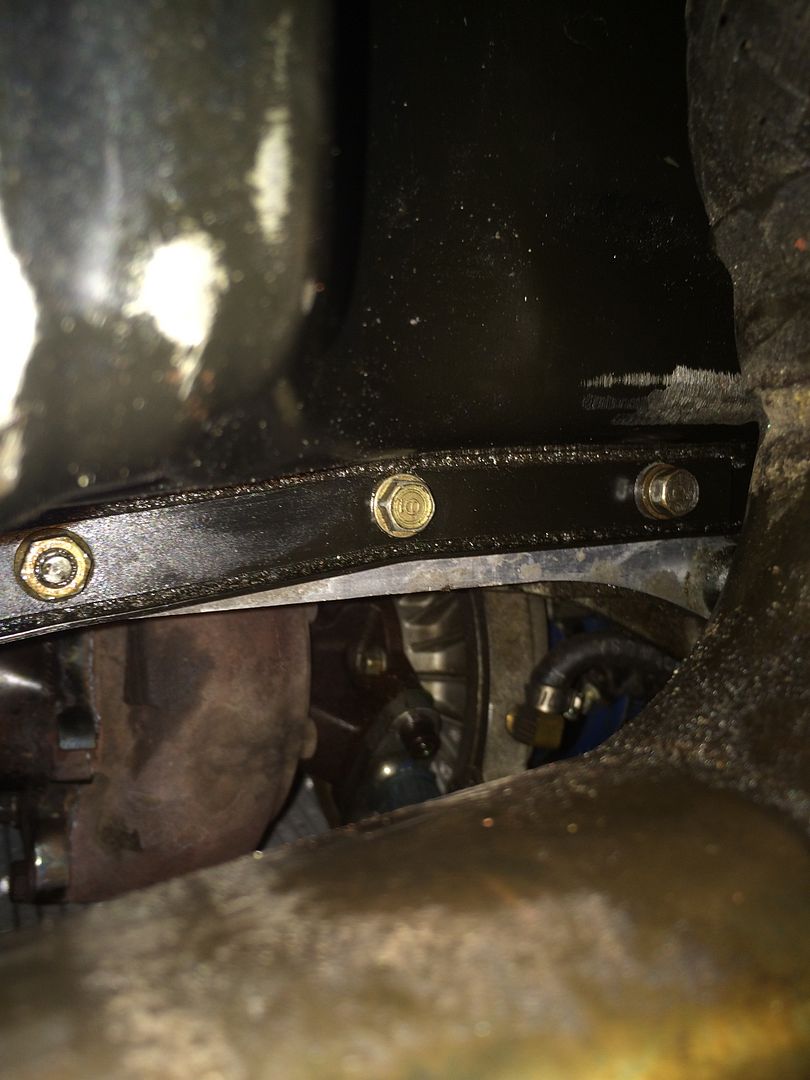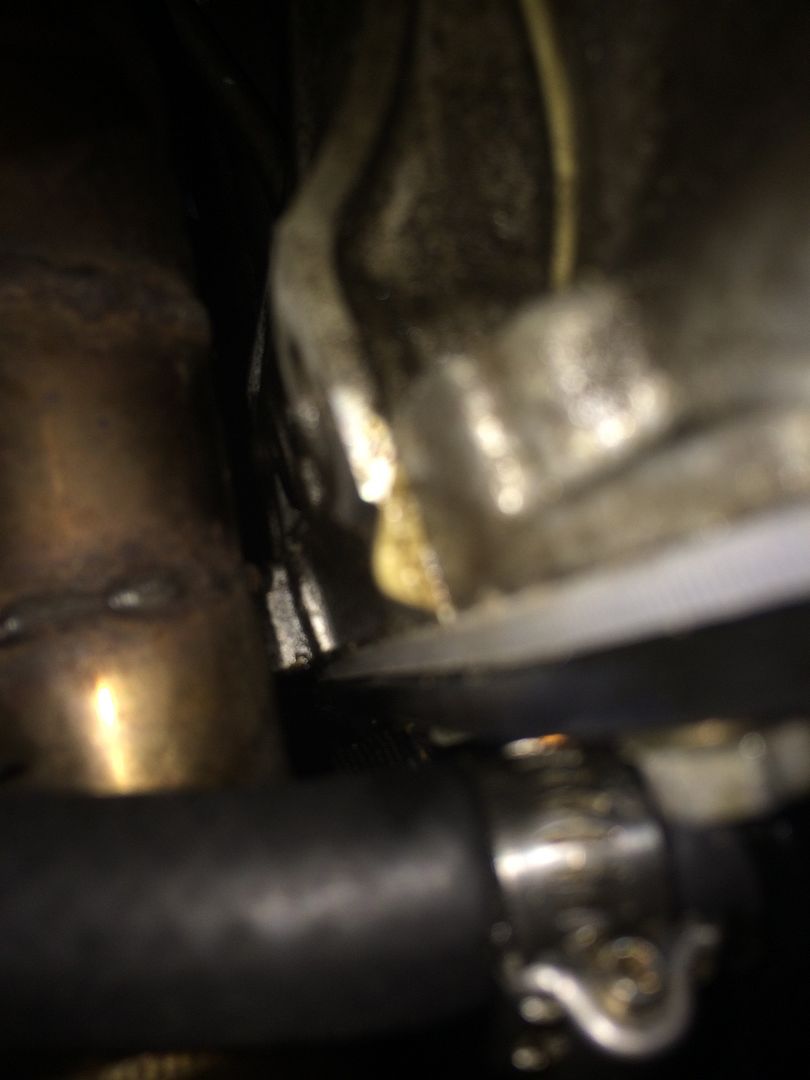 As you can see the old rubber one is in pretty rough shape.. The new myhondahabit gasket doesn't have any bulges at all. I took this pic 24 hours after filling it up with oil for reference. I can see its swelled up just enough to make a perfect seal around my indefinitely warped oil pan. It's stopped all the leaks for now =]
After the oil pan gasket replacement and oil change I have stopped seeing smoke out of my exhaust almost completely. Couldn't be more than happy about that right now. I'll have to keep on eye on it. We'll see what my tuner is going to say about it. I'm going to RS motors in Burnsville. They do a lot of work on Hondas, Soobies and Evos. They've done previous work on my silver teg so I know they are good shit!
Quick update -
I've started to work on replacing the axle this weekend. So far I've put about 4-5 hours, not counting breaks, into it. The control arm won't come off of the ball joint. I have limited tools at my place unfortunately. My girlfriends dad is loaning me a crobar and mall to pop it off. I rented a ball joint press and it's too big to fit on right because the axle is in the way
well I'll be hopefully making more progress tomorrow. Here's some progress pictures.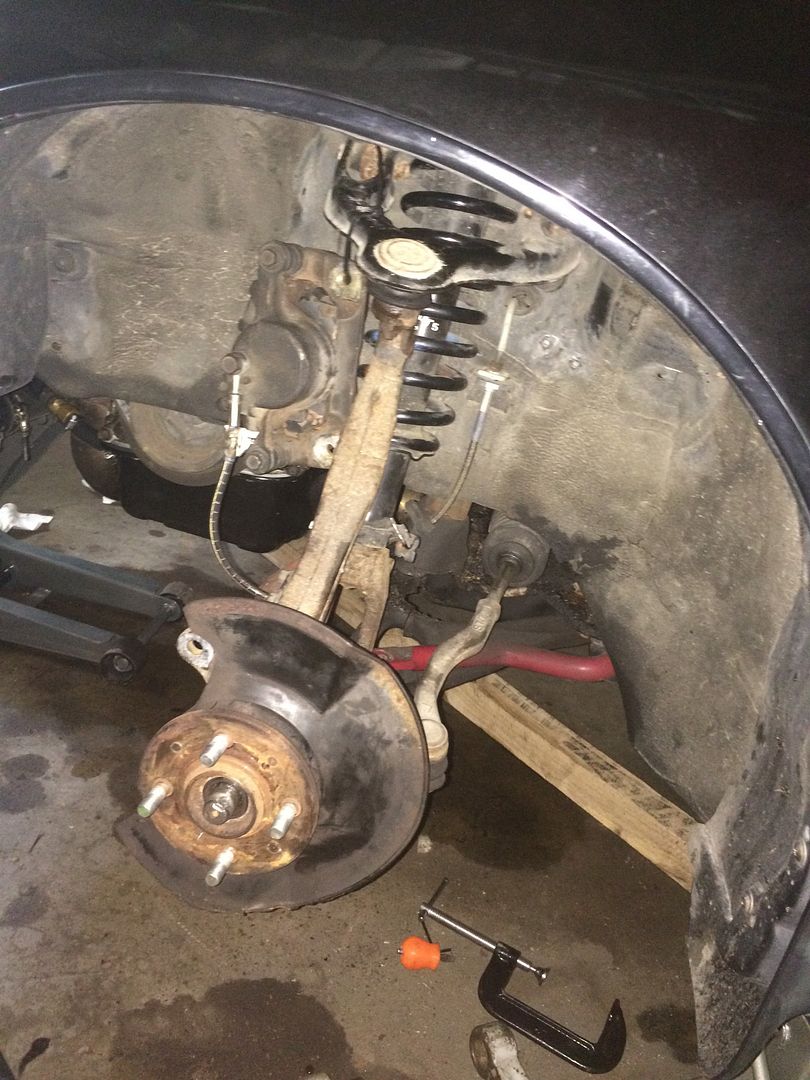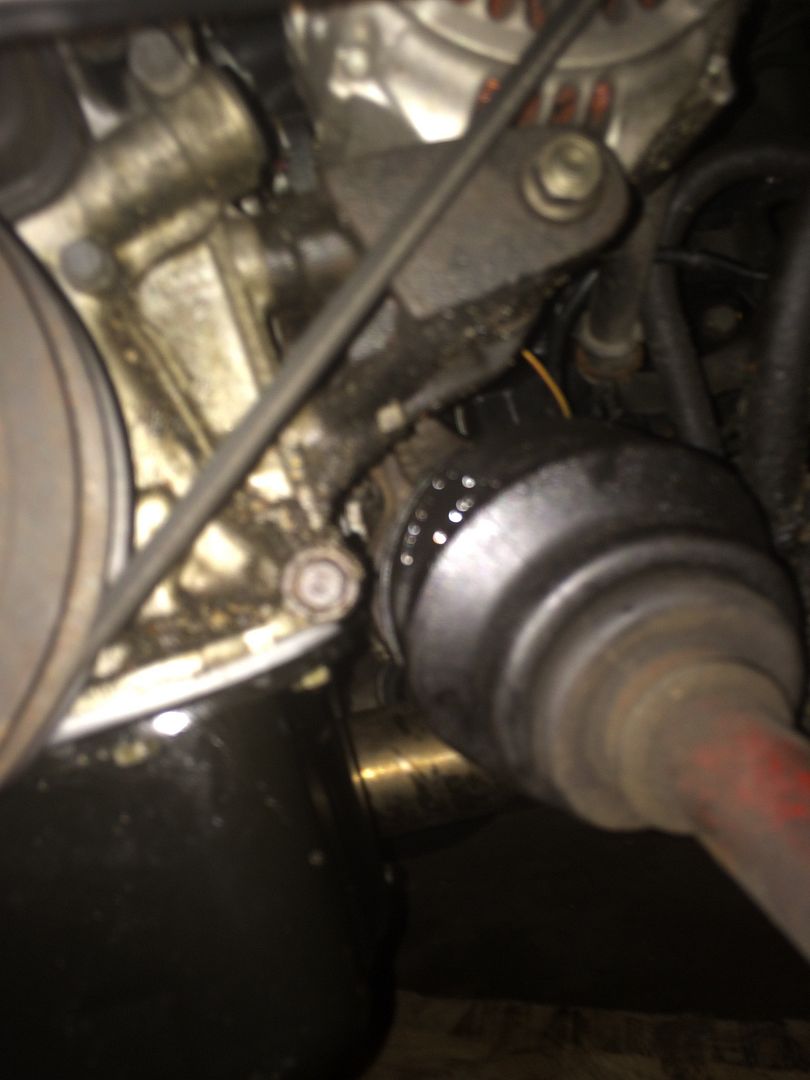 Member
Join Date: Mar 2015
Location: Texas
Posts: 86
Feedback Score: 0 reviews
If you pop to upper ball joint it will be easier