your trunk leak is probably because of your taillight gaskets.
---
My Integra
--------------------
Stylin' on you ///
"Enrich your understanding in the ever going process of discovery to find the cause of your ignorance."
Quote:
your trunk leak is probably because of your taillight gaskets.
I pulled out the tails and siliconed them as well. Poop.
How She Sits as of This Second
---
Just a few pics after majority of the work. Still gotta throw on the highbeam tints and the strut bars. Still wanna do the door trims suede soon too. Paint came out looking great. The only complaint I have is that I didn't have enough. Definitely get more than one bottle when doing this many things. Wanna repaint my rims a unique color where no one really has too. And scoop some Honda centercaps.
Nice looking good, all those part boxes i love it.
---
Don't care what anybody else thinks
, do what you want to it
( just don't overkill)
Little Cosmetic Updates
---
Finally got a chance to put on my yellow tints.
Got my door panel trims in
Spray painted my wheels
Spray painted my lip supports
Everything turned out alright. Lesson learned though.. never painting in the rain again.
Shit's starting to look good though. Holding my lip with zip ties for moar low. Hahahah
UPDATE ON ROSE! One Year Later! Part 1/2!
---
Okay ricers, it's time to get back on the grind. It's been awhile since I've updated but I have been busy over this last year with school and all. But that just means that I have a lot more to say, so bare with me. A lot has changed with Rosie, not only the looks but on the performance as well. I'll do it all in order so you guys can see a bit of transformation. It's not just an update, more like a really really long story of the last year.
This is how she sat the first time y'all seen her.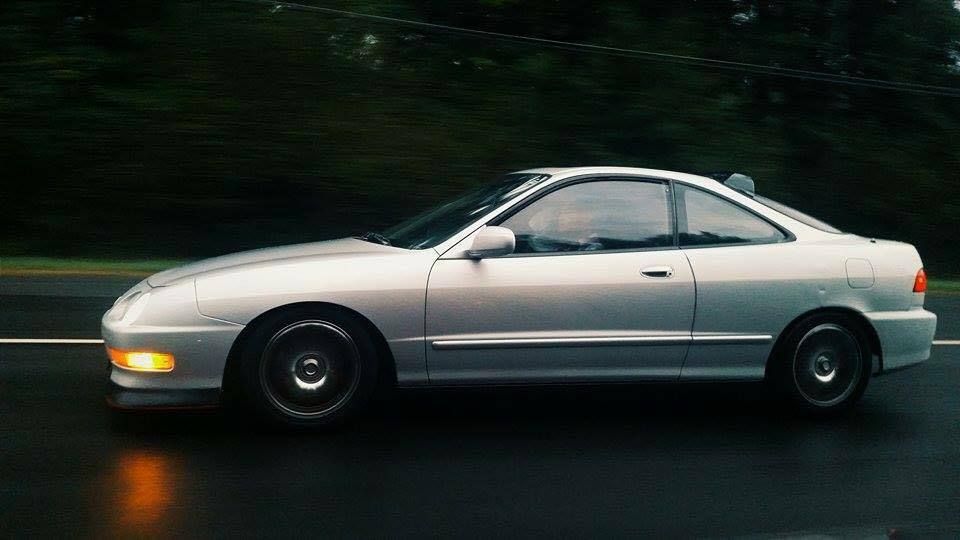 It was a rolling shot that I never got my hands since my friend decided to not tell me he had until long after the post. But anyway, that was how she was with the yonaka exhaust setup. But as time went on I got bored, so as a typical ricer I pulled the O2 sensor I had off of the test pipe I had on it, man did that thing sound beast. It really resembled a boxer motor if any of you new guys wanted something like that, there it is. But long after I pluged it back up and it seemed like it gained more low end on the butt dyno
.
Eventually I got bored of the look it had, even though that's when it was the "nicest." Anyway, here are a few more shots of when you guys saw it last.
Another one with a little edit for my instagram. Which btw is @
swagmaster
2k if anyone of you guys were wondering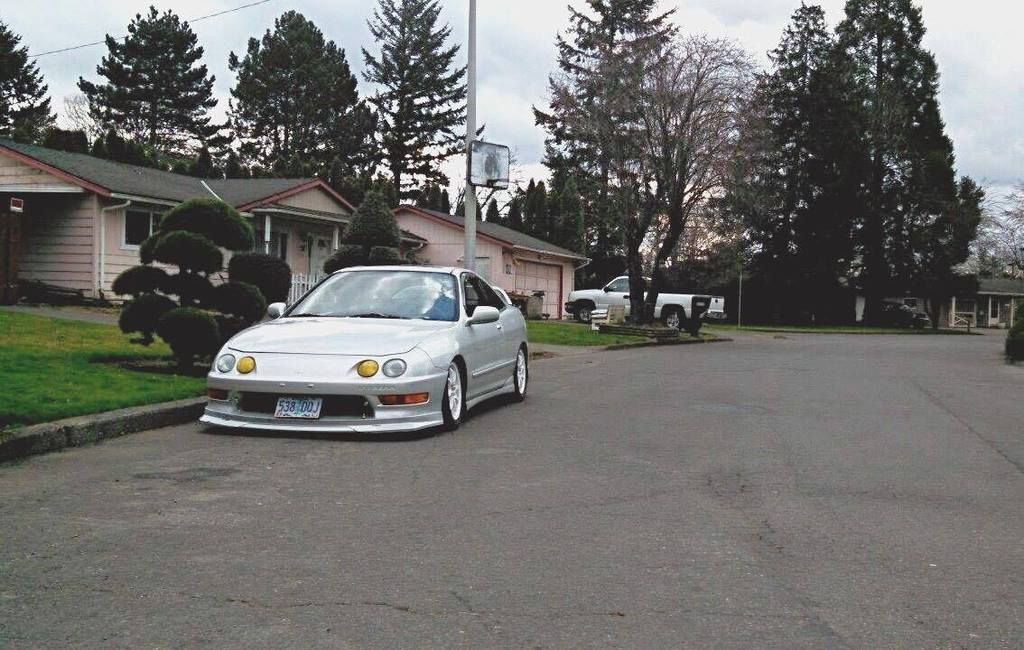 Geez I miss these wheels. Even with them being ce28 reps I still really liked the look, hoping to find another set of these, and maybe one day a real set! Haha
One of my favorite rolling shots that I got off of a screenshot at a local IKEA meet that really came out of the blue. I was so down though, lol.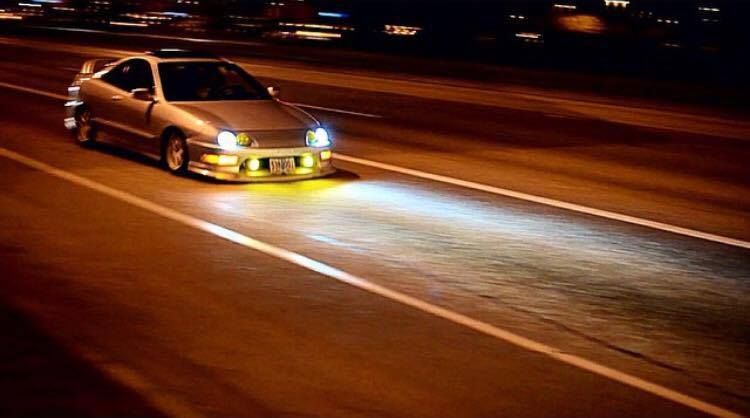 Since I realized I was a total ricer, I ordered a buddy club spec 2 exhaust... but it was on backorder just about everywhere and wouldn't arrive for nearly a month
... So after hearing my buddie's brother's eg hatch with an LS swap run on a straight pipe, it sounded nearly identical to the spec 2. Which was also confirmed by my cousin that actually had a BC2 exhaust and said mine sounded pretty much exactly like his after I went and deleted the muffler. So I saved myself about 2/3 of the money I would've bought the BC2 for and just went with the end axleback with just a 2.5in pipe bended and welded. It really was really farty and loud, which I actually really liked because it gave it character.. and because I'm a ricer. For a little it was nice and shiny.. Lol, but after a few months it looked like this. (Don't mind the rice my friend did it as a joke.. a mean joke. Haha, but of course I brushed it off before starting her up for all you butthurts).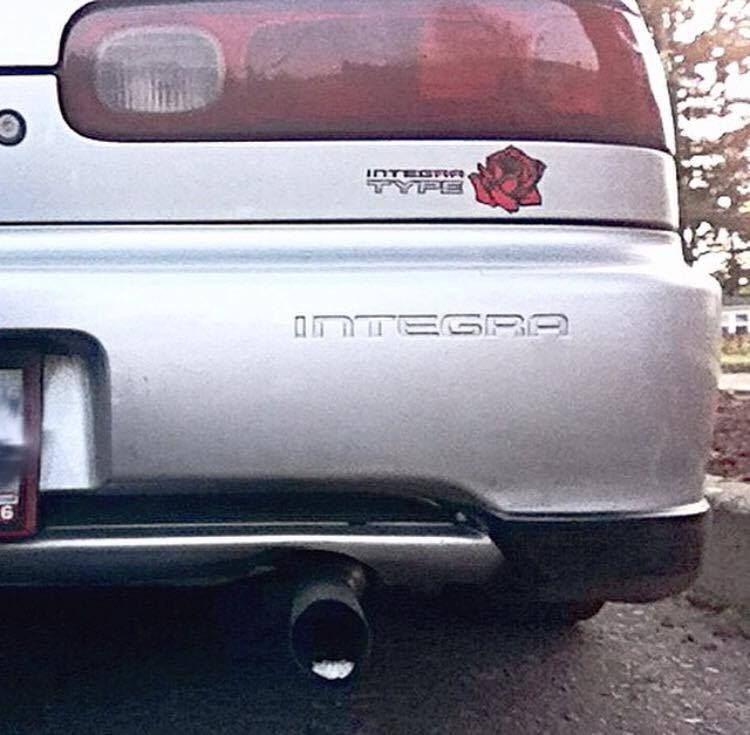 Later ended up replacing my stock cat instead of running the test pipe because I got tired of the CEL and people asking why it's on (O2 sensor of course). So that happened, but one of my studs got stripped so I picked up another test pipe not too long ago
)
Unfortunately my car started having problems in this part of the story. It ended up running super low on oil (my fault for not checking) and it started knocking. I got really scared so I almost immediately shut it off right when I heard it. Told my dad and the next day we went back to my friends (where my car sat that night) and added 2 WHOLE quarts of oil! After that it ran fine... except that it now had a different sound. It was almost like a rock was stuck in the head flopping around. So we took it out to my dad's friends shop right away and after realizing that it was leaking coolant he pointed out that it was the water pump that went out. Great, I was broke as hell and now had over $300 worth of repair on my hands. Mostly because he replaced all the belts and replaced an axle as well
. Keep in mind that this was the guy that built my dad's 10 second civic back in the day, so he's the only person I let come close to touching my car. And he gives me fat deals on labor because he was also my dad's childhood friend and even to this day. So without a single dollar in my pocket, I was forced to part out a bit of what I had. I sold the ce28 reps for $400 and american racing wheels as trade. Really good deal if you ask me.. on my end
. I pulled the ITR spoiler off long before to pay gas for going to HondaFest... so worth it, lmao. Sold the american racing wheels and picked up a set of steelies and 2 .98 cent cans at Walmart and went in.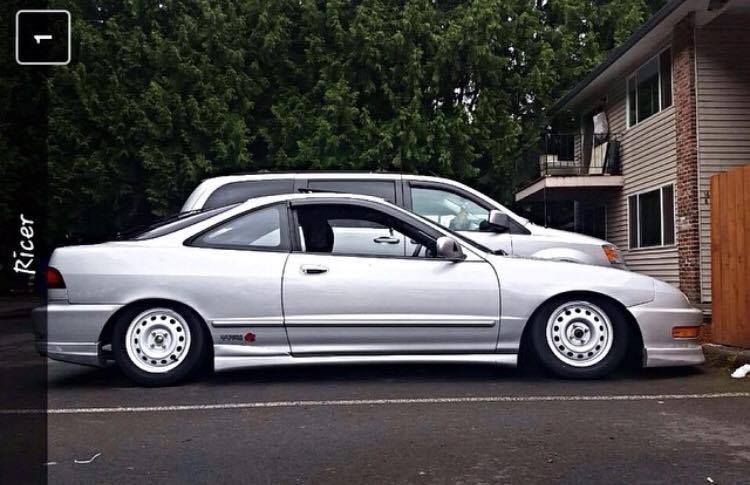 A shot with my buddies y8 swapped hatch, that thing murdered on my LS no doubt.. when my clutch was slipping that is, lol.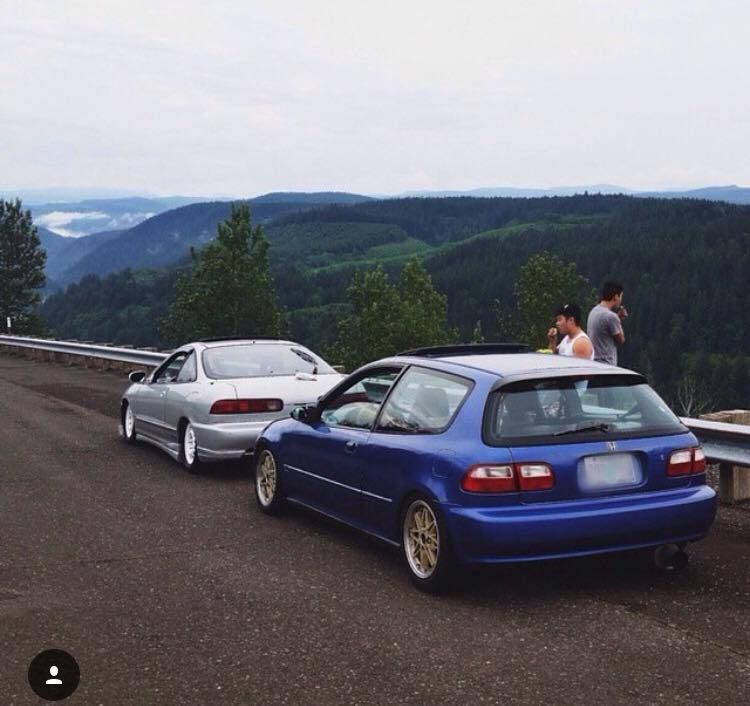 Next I got rid of the straightpipe and midpiping and ordered myself an ebay special $98 N1 style cat-back exhaust. But that didn't last long. My dad failed to mention that he had actually paid my mechanic (his name is Bo), so I basically parted my car for no apparent reason. Ended up wasting the money on other stupid stuff. But the next month it came my birthday. Since I turned in late July, the family came through and threw me a party. And that meant money... and that meant car parts of course! I had the local muffler shop cut and weld another straight pipe on (stock cat this time) and it was less rasping this time, but it sounded louder.. maybe it was just in my head since I got used to the boo boo N1 style exhaust? Idk
But straight pipe was life. The N1 style wasn't bad, just wasn't my style since the exhaust leak from my stripped cat made it sound ricey.. so I just went full rice. I traded my sideskirts and rear valances for some wheels without tires (regret). They were Enkei RP01's, they were all super curbed up but I just couldn't take the steelies anymore. And picked myself up a Mugen Gen 2, super mad JDM and on sale on Ebay for $150. Haha, but I didn't really like it, ended up selling it months ago. It certainly looked better on other peoples cars and especially in pictures.. it just wasn't for me on my car I guess.
Like I told my Instagram followers... Ignore my crusty fingers please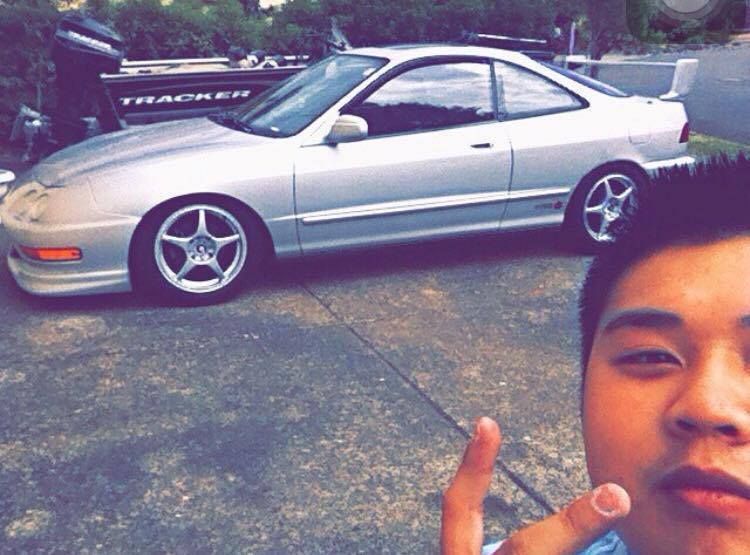 The RP01's werent all that bad, they were in a way better than steelies because they weren't steelies.. but tbh I liked the steelies way better. But I got tired of everyone saying I was on steelies. Lol.. the RP01's weren't hidious.. but I figured I could do better. After Fall term started I received a good amount of money in refund and was in the market for wheels. At first I really wanted GSR blades as those are my all time favorite OEM wheels. But after posting in the local honda classifieds on a Facebook group this guy messaged me about some wheels he had. Lol, so I picked up his set of wheels that were dirt cheap if you ask me. DR-31's also known as CR Lies (CR Kai Reps, lol). The tread was terrible, but I figured I just needed them as temporaries so tread didn't matter (ended up running them for months, haha), and they were only $200 so I said F**k it why not?
This is how she sat for a little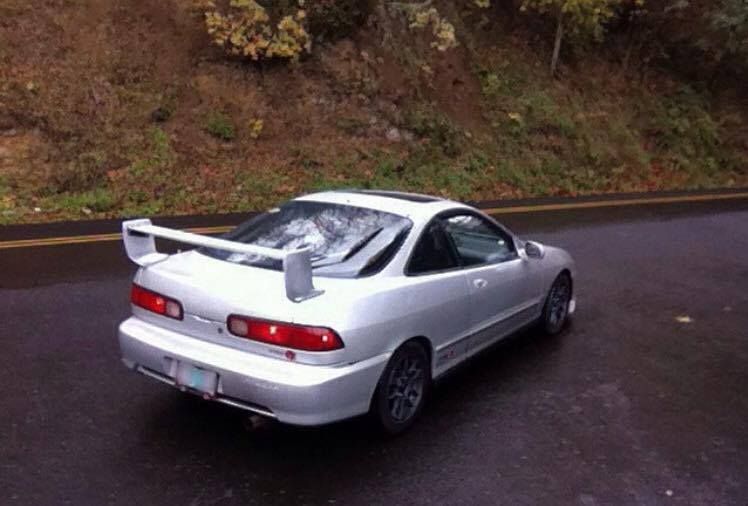 Got a little tired of the look. Plus this is around the time that I actually got my first job working as a dishwasher at a local Korean BBQ joint. The job was ass but the food was good and the paychecks were great for car parts.. so I went for it. So that's when I decisively (like usual) changed it. I went with the good ol' Rustoleom gold that I had used before. Oh yeah and I forgot to mention I traded my 12" sub I had laying around for a OEM looking lip. Much cleaner if you ask me, but much less aggresive.. whateves.
After 6 months of slipping only every now and then romping on it.. the clutch finally felt like it was going out-out. You know it's bad when it slips in 5th gear on you cruising 40mph. Lol, so of course I told my dad and the next day we were off to Bo's shop. He replaced the clutch with an Exedy stage 1, as well as the other components included a resurfaced flywheel and such. (No lightened flywheel I know, bummer. Haha) But after the install everything was smooth and it grabbed completely different. Basically had to relearn driving Rose, lol.
During this time I also ditched the wing. Ordered a set of ITR rep side skirts and rear valances again.. man I missed the look. Got some "universal lip winglets." Also grabbed 5D carbon fiber wrap and went to work on them. And I also got a universal type M3 trunk lip as well as EVO spikes... Before you say anything.. yes, I'm a ricer. Lol, I just really liked the small little things that makes the car pop. And I always wanted to try the EVO spikes and never saw a teggy with them so I decided to spray em and pop em on. Also got myself a rear visor, and it came out looking something like this. [Forgot to mention I ordered myself a set of ek yellow fogs if you guys didn't notice in previous pics (ebay of course, lol) and custom fitted them in].
(Don't mind the fat chip on the mirror... just make sure you don't text and drive especially at low speeds
)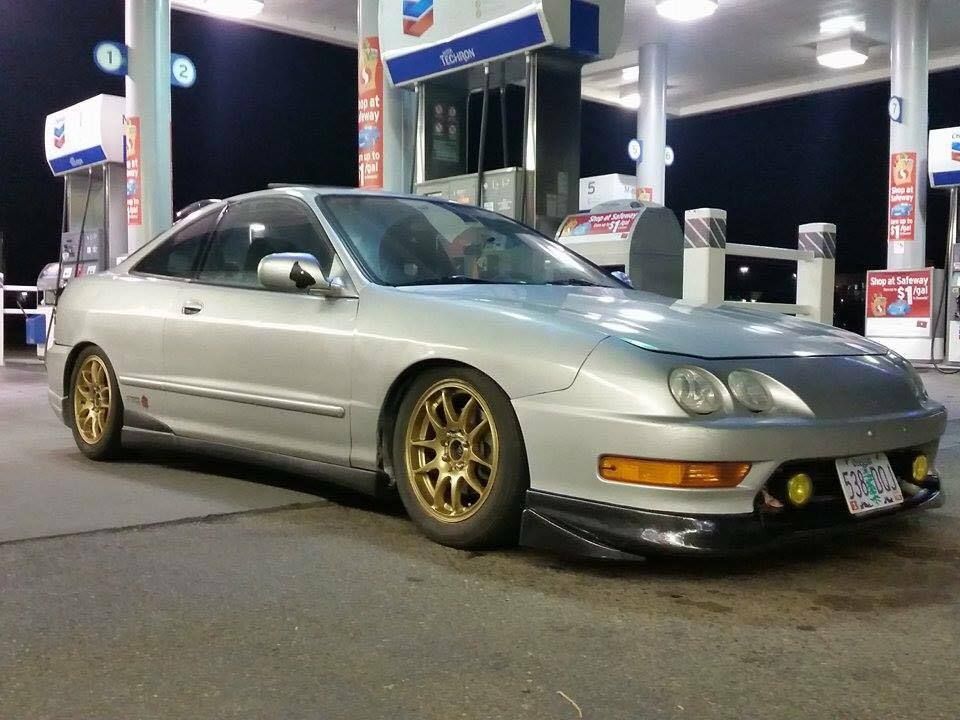 ---
Last edited by RoseTheTeg; 03-02-2016 at

07:45 AM

.
UPDATE ON ROSE! One Year Later! Part 2/2!
---
Booty shot
One of my little winglets flew off during this dumb Portland floods we had so that's why there's 2 screws popping out if you were wondering... I actually still need to remove my passenger side one now that I think of it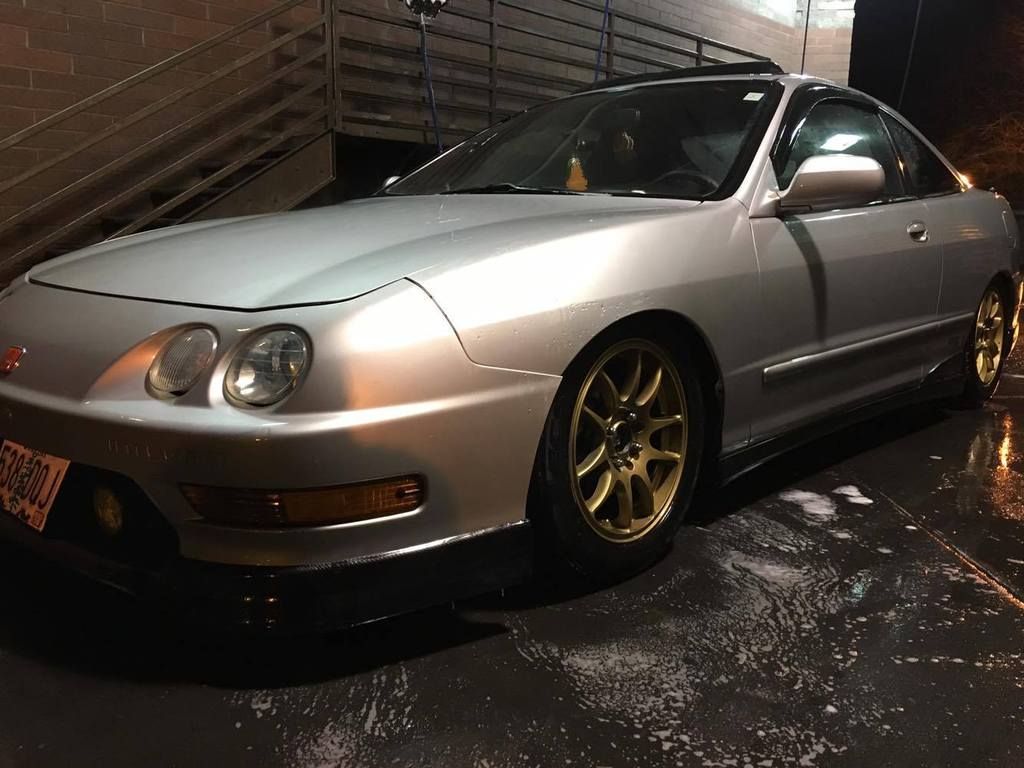 A little photoshoot we got bored one night and had. Same friend with the eg hatch ended up picking up this Poor Man's Type R Red EM1! And another good friend of mine in the Blue EM1. And before you say it, no I'm not gonna get an EM1. Lol, I love my Integgy too much
Here's another shot of me and my buddy Sam with a nice little Oregon background.
And here's a couple nice shots showing the EVO spikes off after my rear visor broke off from the wind at Crown Point.. lol.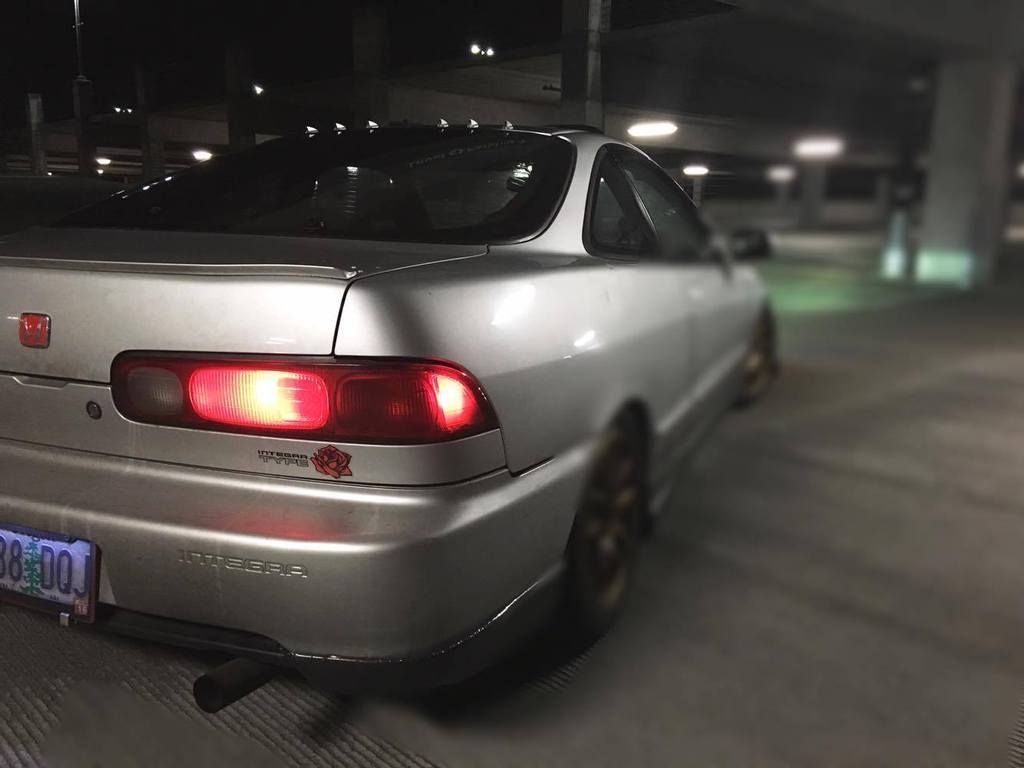 A quick shot of the front before I got rid of the fogs from cracking.. This was my 2nd set btw. Shoutout to ebay for paying twice as much... but not twice as much as OEM Raybrigs, I got my total of $60 from 2 sets of these. Lmao
At this point I wasn't working at the Korean BBQ place anymore and was just coasting through life. Wondering what I was gonna do with the rest of my life. You know, the usual life contemplating stuff. Lol, this is the last pic I have of the car sitting on the CR Lies. A little snow out at Crown Point but
#yolo
, nice car pic place. Haha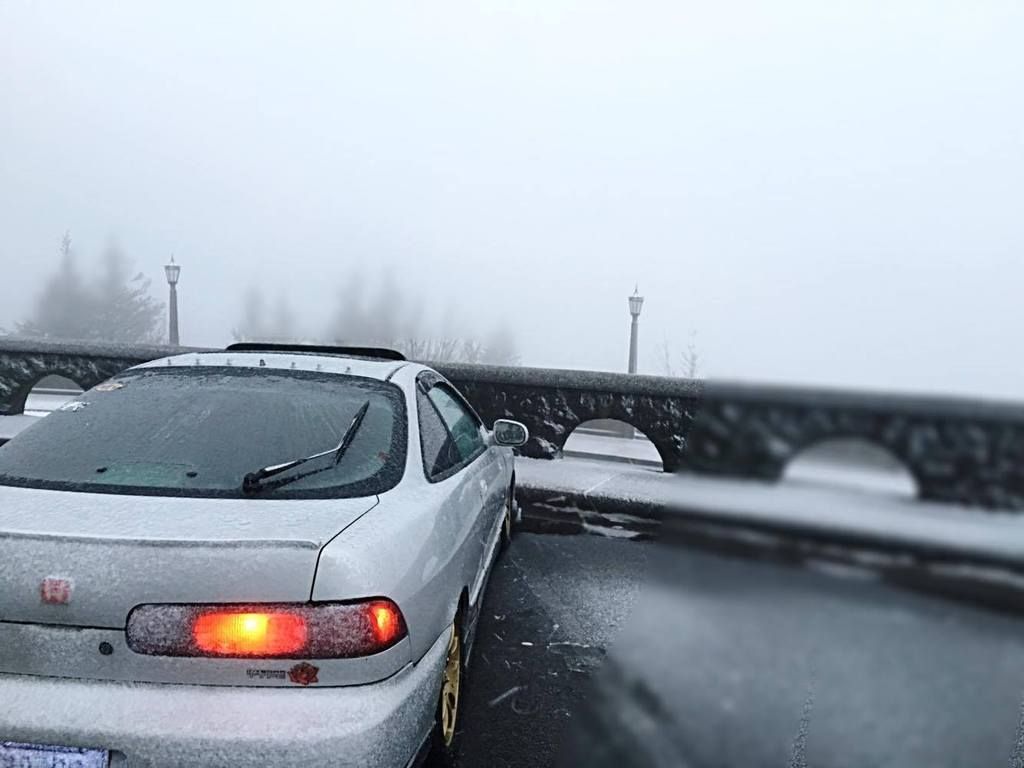 So after months of being on those I posted them up on the local Facebook classifieds again and ended up finding a guy that was willing to trade me for plastidipped white blades with cash on my end. The only reason I agreed to cash on my end was because my tread was low. Now if you remember my remarks on these wheels much earlier in the post, the tread was garbage. And after months of burning the rubber off these babies I traded them for the blades. The plastidip job is complete sh*t.. but I didn't really care at the time since my tires were superrrr bald. So $70 on top I put and 80% tread white blades I came out with. Not too bad if you ask me, once again. Lol, and here the car sits... ish.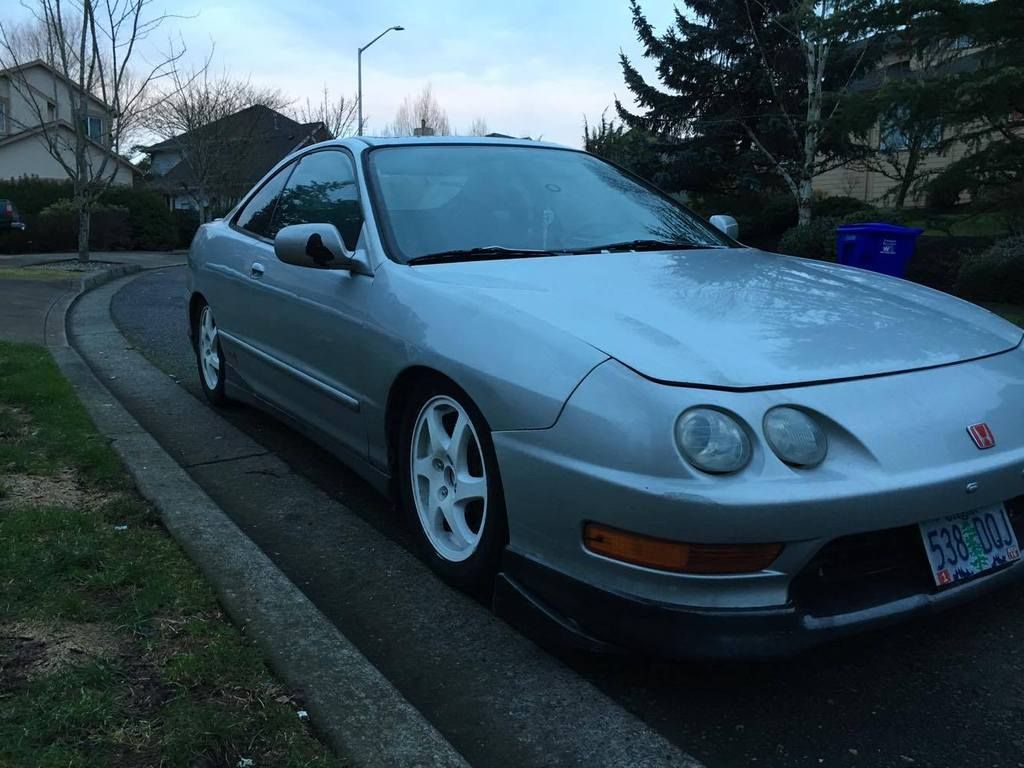 If you've made it this far and were actually following along I salute to you!
So now onto the main course. The last couple weeks has kind been a turn of events for my family.. especially for myself. I'm currently still 19, and I have a younger sister that's 17. A couple years ago my dad purchased this '99 CRV which was basically a rolling shell, the motor was no good at all. But I believe he picked it up for less than a grand, clean title and all. So we went out to Corvallis to get it (1.5ish hours away). Towed it back home and him and Bo went to work on it. They had a JDM B20b shipped in and swapped it in and everything was gravy. This was going to be my sisters car when she got her license. So she had it and was driving for over a year. But just a couple weeks ago she ended up wrecking it. Right into a ditch. The airbags deployed and the front end was completely done. Luckily she was alright aside from being sore and having a seatbelt rash. But she was fine. The next week I did a little 40 roll showing off to my co-worker, and oh yeah btw I have a job rn delivering pizza's. I know it's very typical but we youngin's gotta afford car parts somehow!
Anywho, I did that pull and all of a sudden my car felt... different. While turning it made this weird almost clunking sound and felt like something was holding it back. I delivered my pizza that route and leaving the parking lot it seemed normal, so I figured it was just me, well it wasn't. The next turn I took was all bad too. And it was in both directions. I thought maybe my steering rack and pinion had gone bad. Or maybe even both axles. I told my dad and he said to have Bo look at it once again. I am no mechanic by any means, just a car enthusiast, but that doesn't mean I don't know my way around a wrench. Just that when there's about 10 tools at home and 100 at the shop for minimal labor price or sometimes even free, I just tend to lean towards that route. Haha. But the next day I still had to work, so I took the next day easy and tried not cranking the wheel all the way as that was the only time it really started happening. Lately my gears also felt like they were grinding more and more as well, usually it'd just be going from 2nd-3rd, but it was doing it in other gears sometimes now too. After dropping my car off at Bo's and taking my dad's Nissan Titan home (v8 is life btw, except the gas
lol). My dad has me on snapchat, for any of you that don't know it's this app on your smartphone that basically lets you send messages or pictures with messages on them or even videos with messages. And later that day I'm in class and my dad sends me this Snapchat video of them draining the tranny oil and there was only about 2 CUPS of oil in that thing. I was aware that the tranny leaked, but by no means that it was leaking as much to empty the thing in only 2-3 months time. I guess I asked for it.. and apparently I'm a very bad maintainer, eh.. oh well. I checked my oil all the time after the rod knock, so I guess I'll be watching tranny fluid now too. Which brings me to the next point. Bo said my diff was probably effed' and my tranny was done. While I was working the following week in my mom's 2015 Accord Sport
I got a random snapchat from him. Usually we don't Snapchat unless it's something urgent or whatever.. so I opened it and it was this..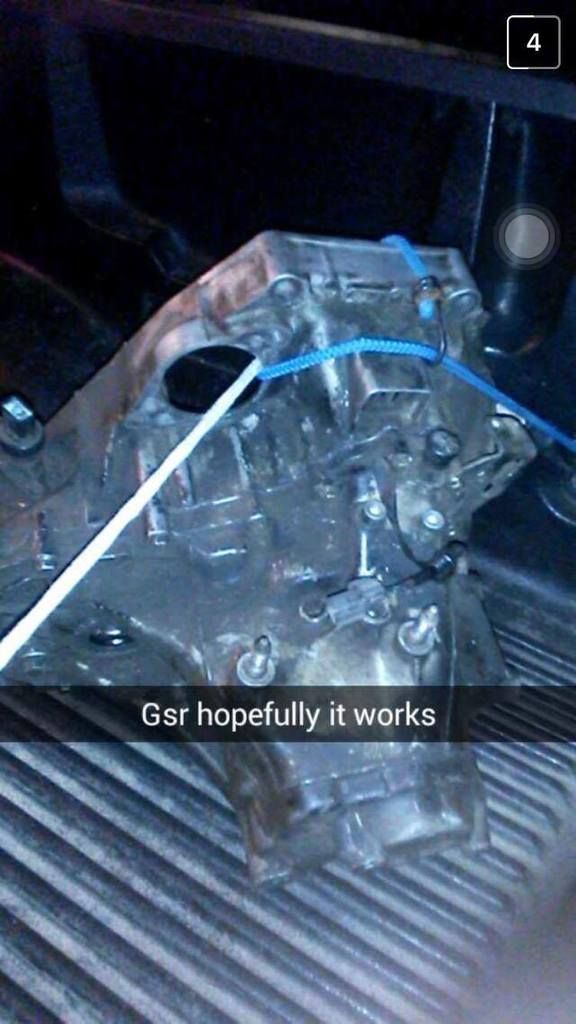 So my dad ended up grabbing a GSR tranny for $400 on a local craigslist ad! A decent deal, and of course I refunded him immediately. He told me to go off to Bo's first thing in the morning when he opened at 10am. And that's exactly what I did.
The next morning I'm at the shop and Bo turns to me before we actually get down and dirty and says "So are we putting the b20 in?" (referring to my sister's motor, as it's in his shop). And I looked at him thinking he was joking but all I saw was a serious face. I looked at him and said "what? Ended up calling my dad and he said "Yeah have him put the GSR tranny on the B20." I was stoked! During the swap I didn't get a chance to get any real pics or anything. Bo had me do some of the tedious work like getting the harness off the B20 and swapping intake mani's (as anyone should with these) while he was pulling the motor. Lubing up the tranny, stuff like that. But all in all it was a great learning experience and was quite simple as I imagined. Complete drop in. All together it took about 7 hours with a 45 min McDonalds lunch break with 1.5 mechanics. The half being me
Motor Out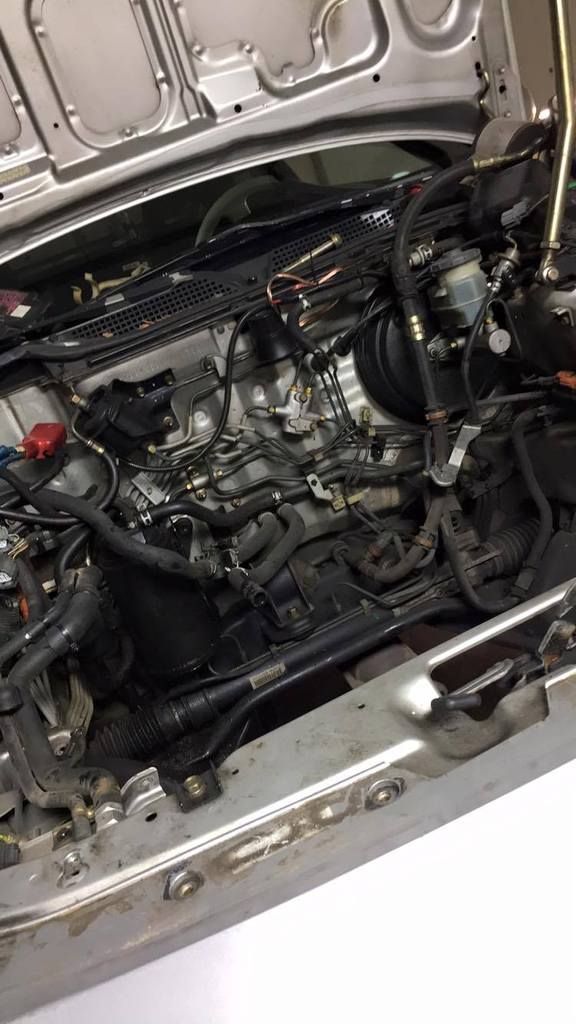 GSR Tranny getting ready to be mounted
And that day I also had work. I called in telling them I was gonna come in late. But I was glad I worked that day... driving all night in a b20 teg delivering pizza was definitely a different experience after the swap. After driving my car stock (other than bolt ons) for over 3 years the taste of a little better torque and torque curve is amazing, especially paired with a non-LS tranny. I mean the 1st-2nd gear as you guys may know is almost identical other than about 1mph and tougher synchros, but going into 3rd is completely different. The car also has much more torque low end and I now understand why people love b20's. My plan was to build a b20v from the get go. But with just a b20 it's already exhilarating.
Oh and I forgot to mention.. My car is weight reduced currently as I don't have a need for 2 rear seats, some of you guys understand, some will ask why. Doesn't really matter to me. I just don't use them and don't car that it's "ugly," although I've always envied the look with "gutted" cars. But that might just be me. Anyway, at the local truck weigh station my car was weighing in with about 1/4 gas 2350 without me in it. Still full ps and ac btw, and no cutting of any sort. So maybe about a full interior eg with a couple subs in the back.
And btw this is a 2000 B20B for any of you are wondering with the phk pistons, comp at 9:6:1. It's loads of fun and is definitely an upgrade from the stock b18b1. I now know what people talk about first hand when they say the torque curves are different, and the power under the curve. It definitely feels more responsive, and a lot faster on the butt dyno
Lol, but even with my ls motor and ls trans I was able to pull away from a full interior gsr from a 20 roll all the way to 4th before I let off after the weight reduction. I also raced an 02-04 type s (K20A2) from a dig and took him pretty good all the way until almost the END of 4th gear, which in the LS is about 115ish?(Don't remember I try not to concentrate on mph and more on the road and rpm going that fast, lol) Maybe it was just driver error, idk.
All I know is that this car has treated me right for the last 3 years and it's time for me to treat her. For an LS I've been told it was pretty peppy, which I really liked because people would ask if it's a gsr even when it was full interior. But then you get all sad because it's really just an LS and you know it. Lmaoo, but I don't take it back. A stock LS is still a hell of a ride, and a blast to drive one you get a little weight off the chassis. I can't wait to get this thing on the track to see the 1/4 times!
So TI if you've made it even this far I thank you for your time. I appreciate it and I really can't believe you went through all that, haha. But anyway, I need some advice. My dad's been introducing the idea for me to pick up a "daily.." as my "daily" of 3 years is starting to not be so daily like anymore. And I couldn't agree more. He's brought up the idea of a TSX and I was thinking that something like a TSX would be really nice. But I need some advice, nothing mech specific but just a personal question. I'm not quite sure what I wanna do with the b20 yet. I have a b16a head that I picked up from a fellow TI member on here, and I still need to piece together about a grand to finish the main components to a reliable lsv/b20v, you guys know the drill. I'm not sure if I wanna boost the stock motor or just make it an all motor beast and crank up the compression with pistons and some nice cams. Anyway, should I just save up a drop the grand on the head getting installed? Or should I just save for awhile and drive as is until I get a real daily first? And what do you guys think about the route for this build? I'm open to ideas.
And before anyone cries I've been around these forums for about 5 years, don't let the join date fool ya.. almost everything lsv/b20v and turbo I've read. Yes I know the b20 blocks crack "easily," it's no good for boost, bla bla bla, we've all heard it before. But that's not really the question. I'm asking what would you do in my case? What would be your priority, daily first or race car first? Regardless I wouldn't want a turbo on this thing without having a daily first, so I guess what I'm asking is... Shall I stock b20v this baby for now? Or just save up for a daily, and then b20v? I know it's personal preference, but I want to know what's your cup of tea? I personally love a quick all motor, but the sound of a good turbo spooling are eargasmic. Would you wanna see this b20v an all motor beast or boosted? What's your favorite? And what would you do?
Senior Member
Join Date: Apr 2013
Location: Oregon Valley Area
Posts: 275
Feedback Score: 0 reviews
Personally, I would go b20v just because it has really good potential and it's way cheaper than going boosted and because you already have a b16 head to work with. I daily drove my integra for a couple months after being boosted and it doesn't make any difference daily driving. The only reason I stopped dailying it was because I put racing seats, harnesses, roll bar, and a sparco wheel on it which made it too uncomfortable to drive on a daily basis. You have no reason to not daily this car. Also a light flywheel goes a long way for any setup.
Almost time for B20v guys! Head checked out of the machine shop great. All it needed was resurfacing and it's good to go. Just need a few more miscellaneous gaskets and seals and it's time to do this! ?