danteisme's 1996 DB8-Found and Rebuild Thread
---
TABLE OF CONTENTS

Dante and car, reunited!
Inspection and initial tear down
A floating GSR and MOAR Tear Down
Chassis Saving the...ummmm....Chassis
Chassis Saving Continued and Undercoated!
Moving Day!
Coated Fuel Tank and Misc. Pieces
Engine Tear Down Part 1
Subframe Pulled, Stripped Block Threads Repaired
Rattle Can Engine Bay
New Fuel Lines, Brake Lines, and Coolant Hoses
Subframe Back in, Transmission Out
ITR Oil Cooler Install, Evap Canister Re-Install, Speed of Science LMA Install
Timing Belt and Water Pump Kit, Valve Lash, New Fuel Meter and Fuel Pump
Valve Cover, Cap and Rotor, Plugs and Wires, New Drive Belts, Start of Body Work
Re-install Intake Manifold, Throttle body, misc vacuum and fuel lines, and start slicing the body!
Front Wheel Arch Repair Completed, Alarm Work, and Security Measures
No Good Bodywork Update + Shaved Door Mouldings and Front Bumper Repair
The Beginnings of an Electrical Nightmare and MOAR Bodywork
Minor Painting and Passenger Wheel Arch Replacement
Passenger Rear Wheel Arch Replacement Complete and Rear Bumper Install
Electrical Demon Captured!
First Start and Front Bumper Install
Uninstalling things I have already installed....diagnosing poorly running motor
Misc. Underhood work and Exterior Work
ECU Wire Harness Repair = Success + First Trip Out of the Garage in 2 years
So close....then it came crashing down...literally.
Out and about!
For rust repair and working with rusty parts, just reference every page here...
First i'd like to warn people up front. This will probably be the longest, slowest moving build thread ever. I just bought a house that needs some attention to say the least, so the car will have her turn when i'm sure the roof over my head is secure.
Anyways, here is my story. I'm not sure how many people on here even would remember me. I bought my 96 DB8 with 64K miles on the clock back in the spring or early summer of 2003. put well over 100k miles on the car and then i decided to part ways with her in 2009. i had just graduate college, had a "real" job and the integra with 172K miles on her was starting to concern me. i sold the car, and i picked up a 2009 Tacoma. Well, maybe a year after that i started really regretting my decision selling that car but i was in no financial status to go out and buy another one.
Here is my old for sale thread, you can see all of the hard work i put into her.
FS: 96 gsr sedan, $4500 SOLD
This year and some of last year i've been telling my fiance how much i regretted selling that car and how rare it was and how i would never find one again. with our wedding coming up this fall, $$$ is tight so even when i did find something that peaked my interest, reality set in and i realized it would have to wait.
So lets fast forward to this past Friday. I have my usual routine at work. Get in, log in the computer, check woot and craigslist just to see what is out there. For whatever reason, i searched for integra. The first ad that popped up said 1996 Gsr $2500. I started thinking, same year as mine...i should look at it. I clicked the ad and HOLY CRAP. There was my car. I immediately started texting the seller. Sure enough,he bought the car 2 years ago from the guy i sold it to. I HAD to get her back, this wasnt just some other car that i could make like mine. This was my old car. I talked to the future wife, and she said she would be really upset if I didn't go get it. Worked out a deal with a small personal loan, and yesterday i brought her home.
Needless to say, i was grinning from ear to ear all day yesterday lol.
I do have my work cut out for me. She has been neglected and needs some TLC. motor wise though, she runs great. still pushing great oil pressure, no terrible sounds, no knocks etc... 214K on the clock now, transmission still shifts great (noticed it definitely needs new shifter bushings). the body is where it needs the most attention.
Here is a few pics of what she looked like when i picked her up. These are the sad pics...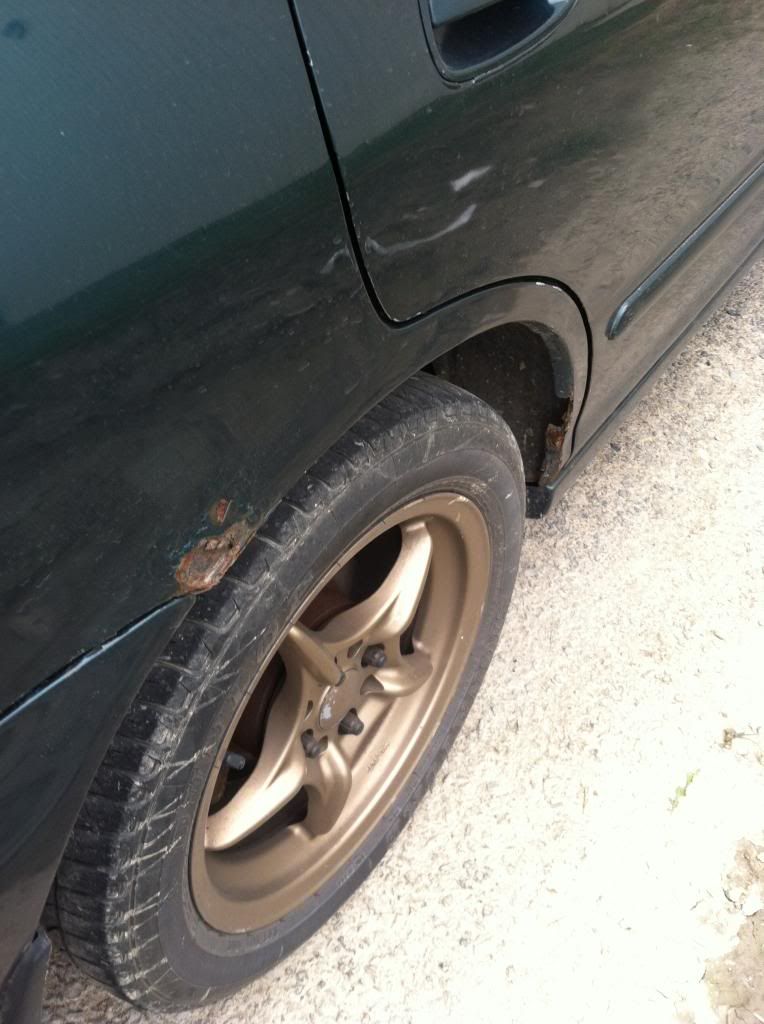 You can see my tacoma in this one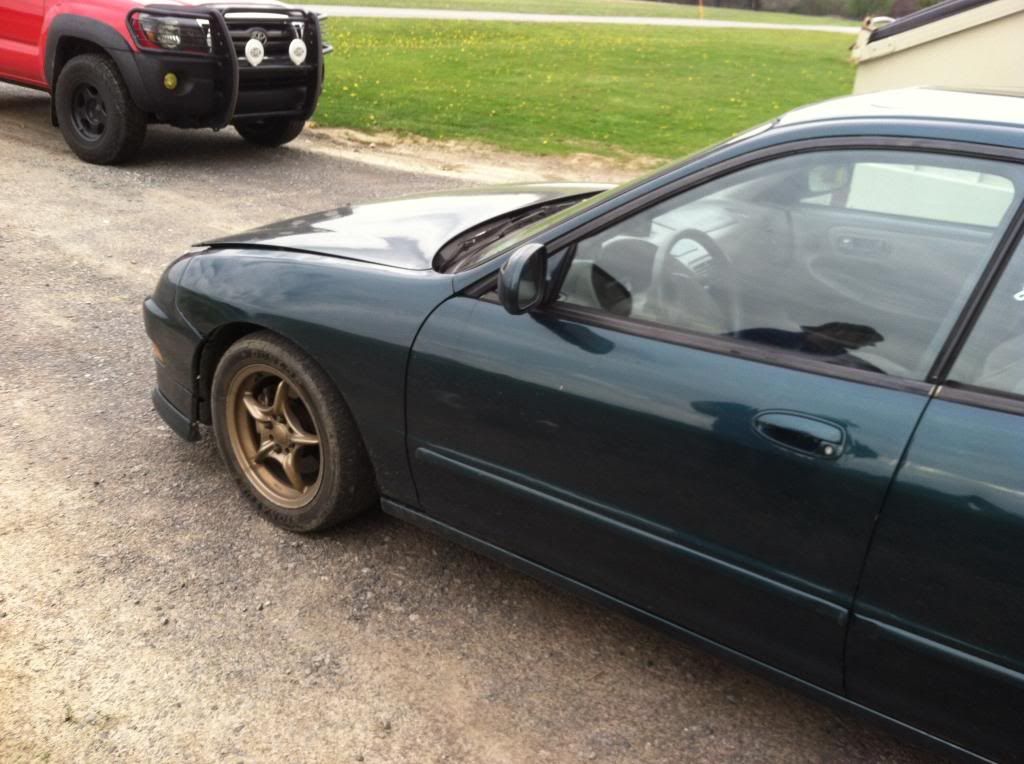 ---
1996 DB8 Bought 2003--->Sold 2010--->Bought Back May 2014
Restoration in Process!!
so as far as my plans, nothing crazy. obviously need a hood and bumper, want to keep it all 94-97. i need to fix the rust, and a few misc odds and ends that were at the end of their lifespan when i sold it 5 years ago.

id like to swap out the rear leather for cloth, i actually sold the car with the extra cloth seat but who knows where that is now.

i may look into putting the power steering system back in the car if i can locate someone selling the whole system.

The car runs great but has a CEL on and it idles high (+/-1200 rpm).

Also, my tastes have changed a good bit since i bought the car when i was 20 lol. i may look into a quieter exhaust (this is the one i had made for the car, but i suspect a leak somewhere) or maybe even find a stock mid pipe and a type r or rsx axleback for the rear.

This won't be may daily driver, but its no race car thats for sure.

Since i have my house to deal with among other projects, i think the first things i'll do will be the free ones. like, clean up the engine bay, remove my ridiculous home made ground wire kit, clean up the interior, change the major fluids, remove any unecessary wiring that the car might have now that 2 other people have owned it, start rust proofing the under side and start grinding away the bad metal in the rears. stuff like that.

thanks for looking, i'm so excited to have this car back in my life again. May sound stupid, but this car holds a lot of sentimental value to me.

so, get ready for the slowest build thread ever lol
Wow that thing went downhill after you sold it! Glad to see it will be getting the care it needs!
CGP
alright, not necessarily a worthy update but i had a chance today to get a closer look at things. i located a 94-97 bumper today that needs painted. its red now, $50 so i'll be picking that up tomorrow.
when i get into the rust removal phase, i'll be removing the front and rear bumper. i see a couple areas that look suspect so it will just be easier with all of it out of the way.
and the trim pieces on the doors that support the windows...i think i need 4 new ones. i dont think they are keeping water out of the door properly and i noticed on all 4 doors there is rust bubbles at the bottoms of the doors. i've never tried to fix a door before, i don't know if its worth trying or if its better to just locate 4 doors that hopefully dont have the rust at the bottom. heres a few more pics...
the top end conditions: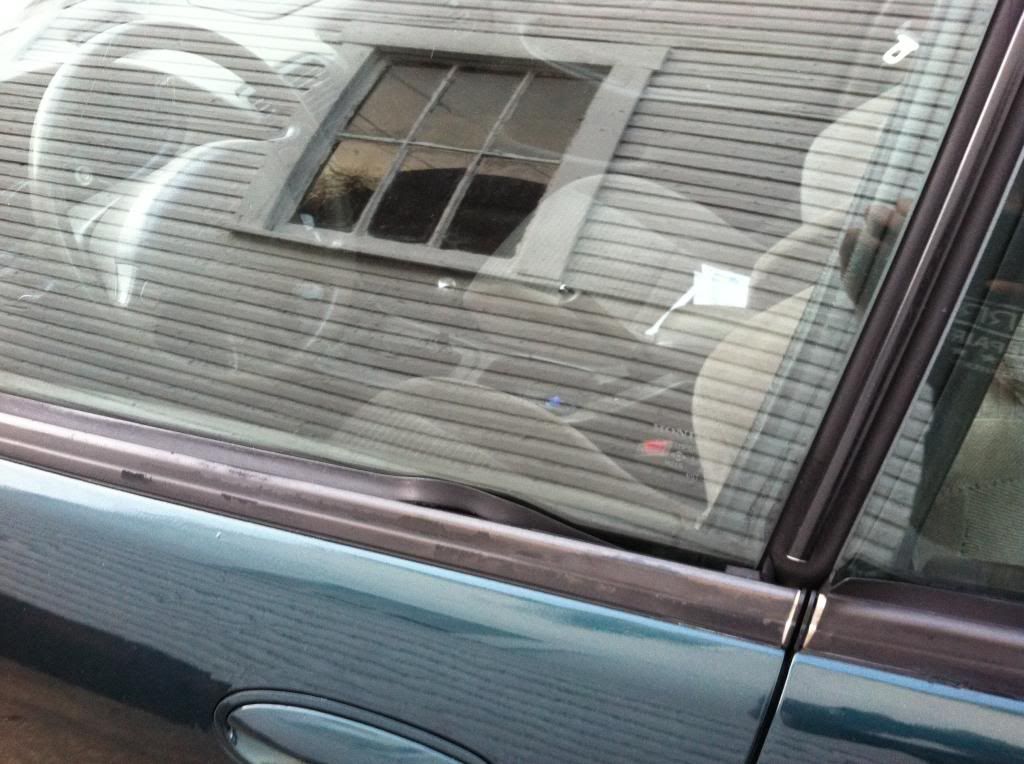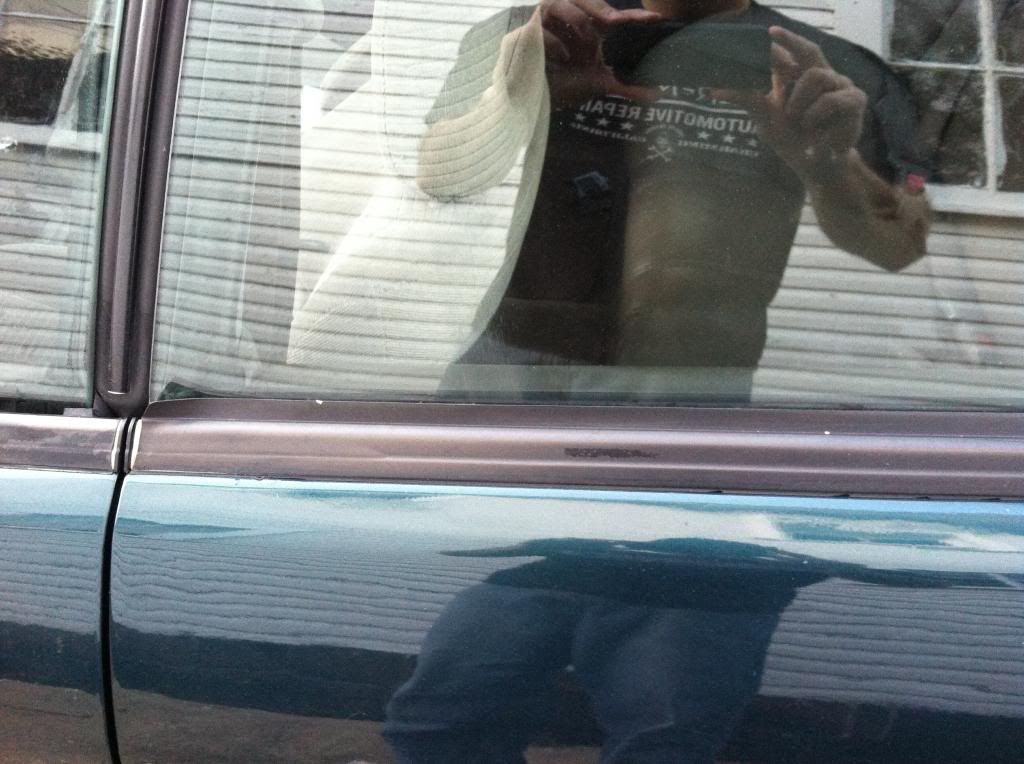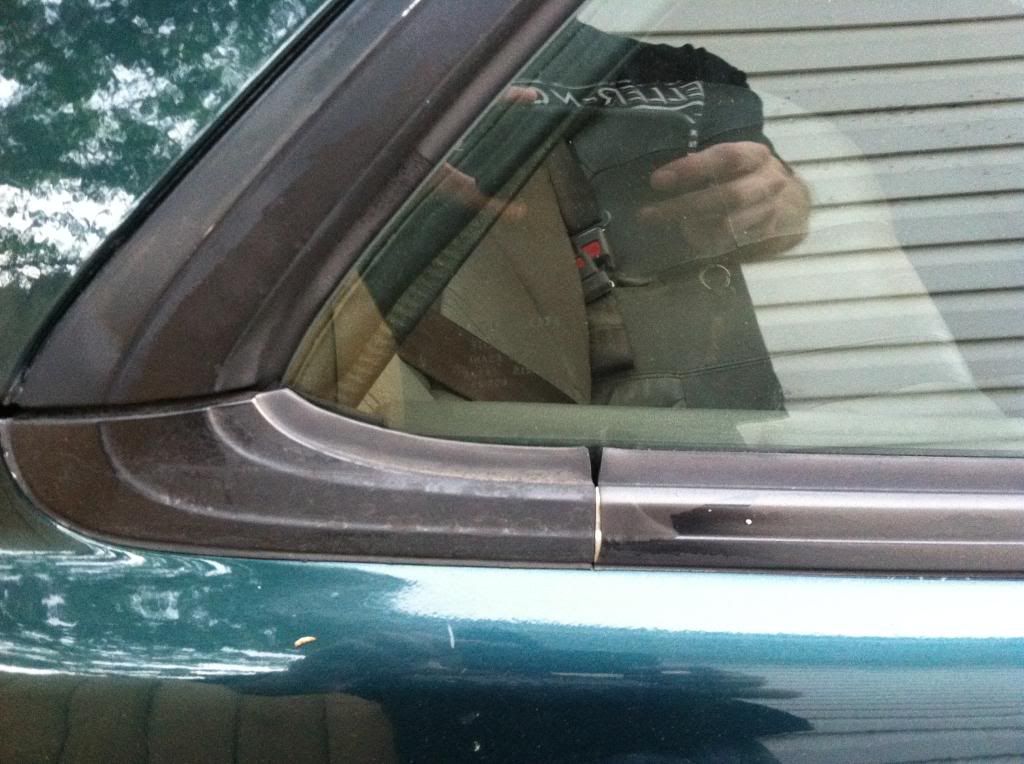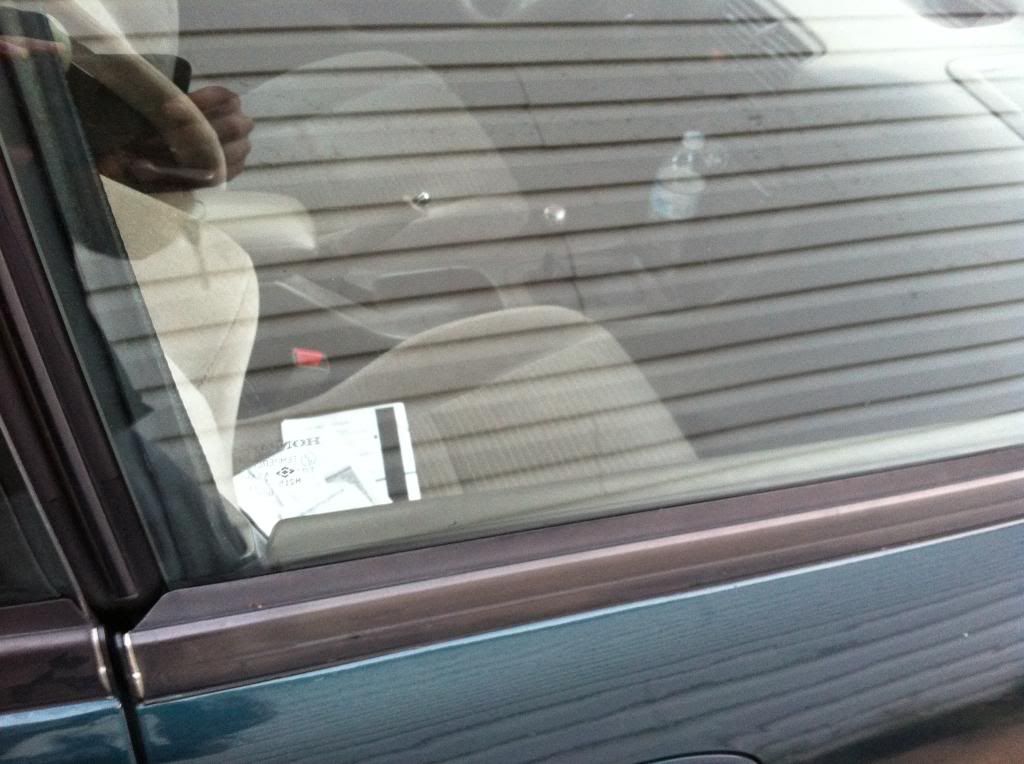 this last one doesnt look bad but has the worst rust.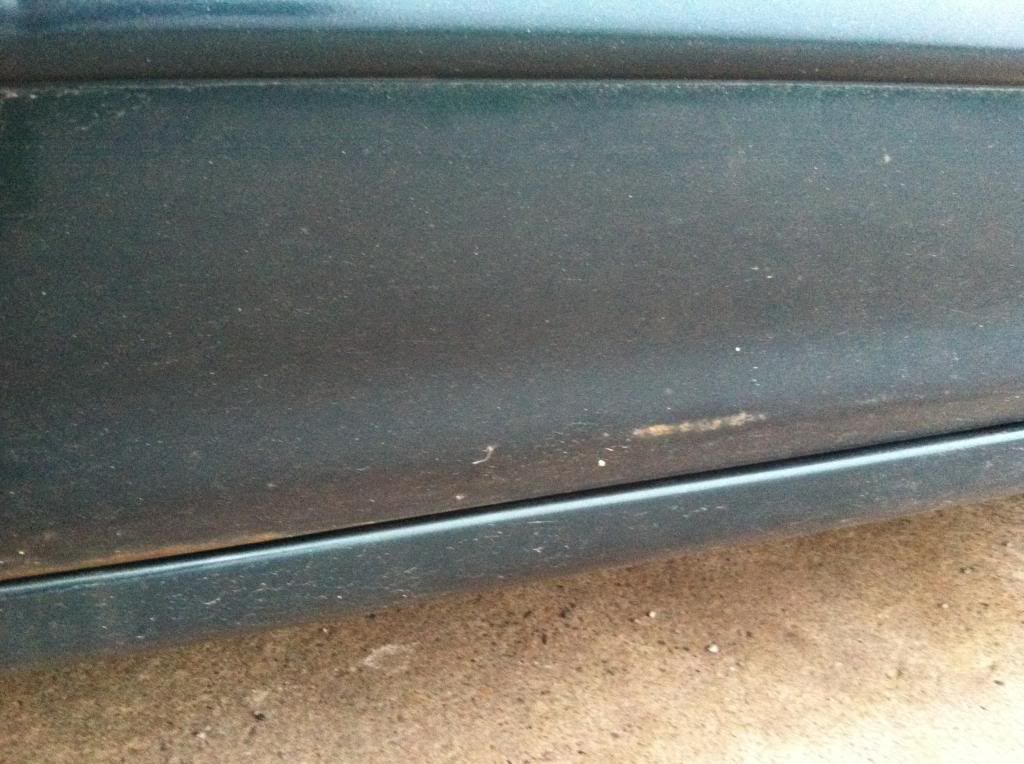 thats not mud that's rust coming through up pretty high on the door.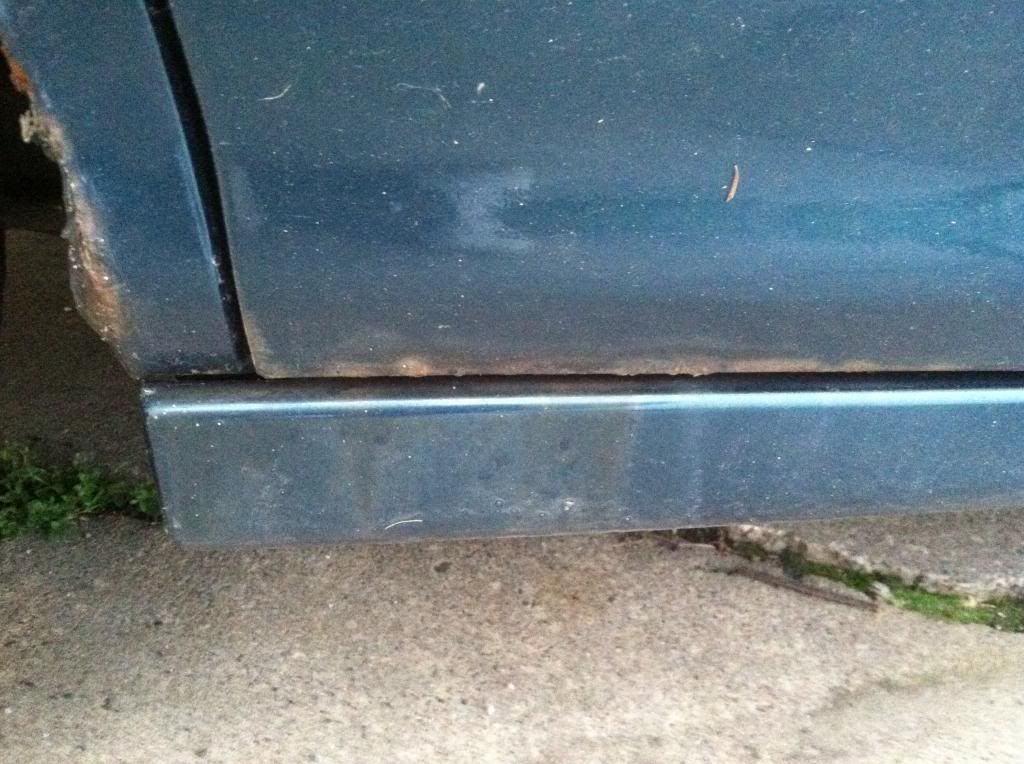 passenger rear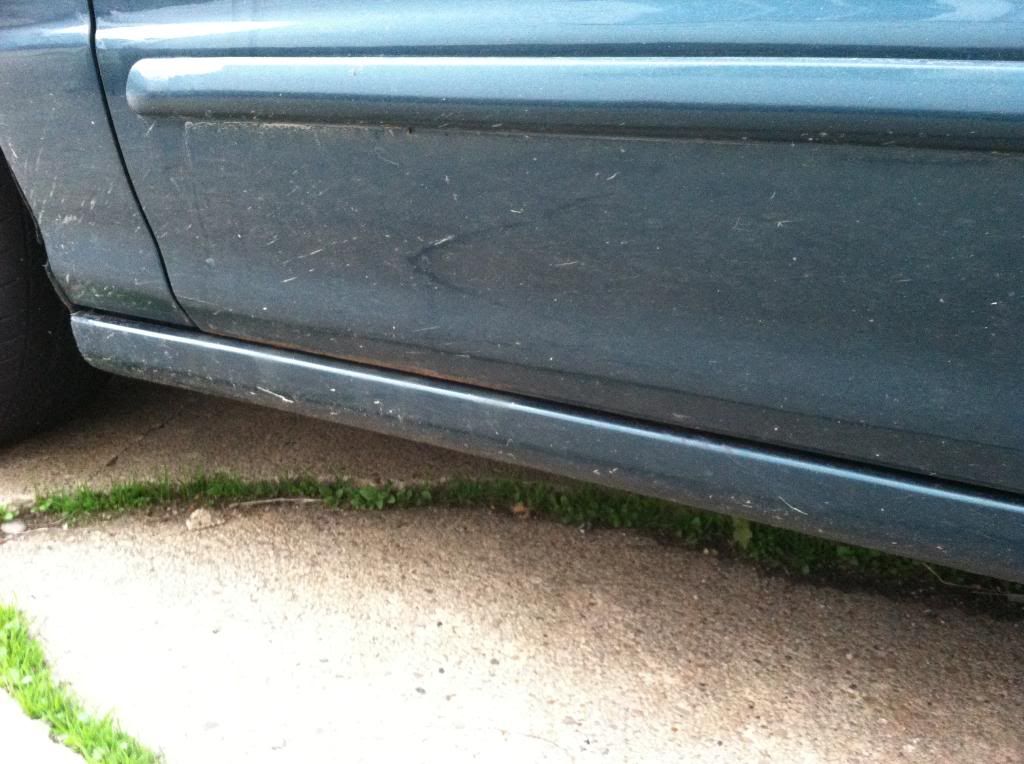 driver front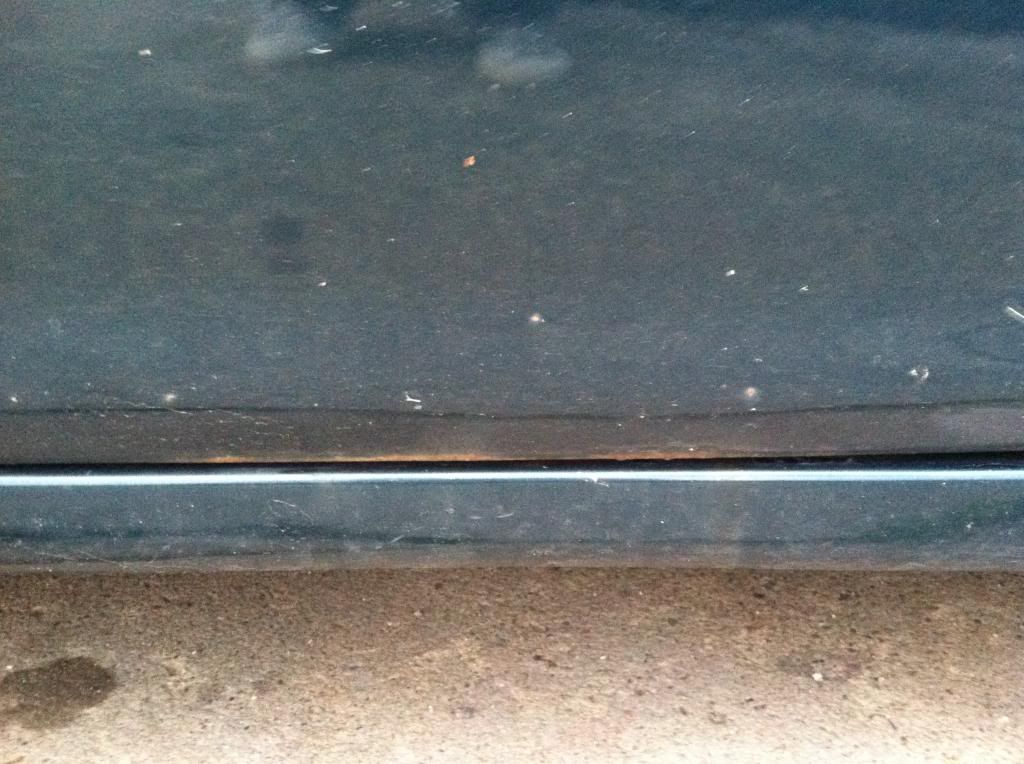 driver rear.
the passenger rear is actually probably the worst. i shoudl get a pic of the door open, you can actually break the rust off. is this fixable or should i start looking for better doors?
my younger brother let me borrow a car cover so i can try to stop more water from getting down inside of the doors until i can get this all figured out.
i priced new window trims off an online honda dealer too. not terribly priced
good find. glad to see it getting some love again
welcome back!
those doors are toast. itll be easiest and cheapest to replace and repaint at this point. doors just arent terribly expensive for tegs and rust is.
good luck w the restoration
---
JDM from the womb to the tomb
echelonwarrior: i love how you just go down the highway at 100 sticking out of the sunroof shirtless
Every time matt works on my car he hands me a few bolts and tells me "here, you didnt need these" and sometimes his clutch foot doesnt work properly
Mutt's Log
Super BunchaNumbers
Join Date: Feb 2002
Location: rightbehind you, WI
Posts: 14,075
Feedback Score: 11 reviews
Saw in your other thread that you found your old car and that's pretty damn cool. Agreed about the doors being toast. Don't bother trying to replace them. Ditch them, at least with new doors and rust removal elsewhere you can get everything including the front bumper and hood repainted all at once.
---
Do me a favor.From now on don't care what other people think about your car. Do what YOU want to your car. Who gives a damn what other people think about it.
good point, do you guys think thats what caused the issues with the doors? The so-so looking window trim?

she'll be goofy looking for a while, i located a red bumper so far. i hope the hood is a different color than that, and then when i start repairing the rust it will be primer. so many different colors. probably wont get painted until next year, lots of other things on the list but at least she won't need to see winter ever again lol
Super BunchaNumbers
Join Date: Feb 2002
Location: rightbehind you, WI
Posts: 14,075
Feedback Score: 11 reviews
Most of the rubber looks like sun damage to me except that first one, that looks like someone trying to dig into the window for some reason. imo
Senior Member
Join Date: Mar 2014
Location: Home
Posts: 664
Feedback Score: 0 reviews
Cool thread! Every once in a while you see these kind of situations to where the owners sells it and comes back around to you. I honestly hope I never sell my teg cuz I don't think many would take care of it like Team Teg owners do.
well i showed my friend that i got the car back, and while i was showing him i noticed a lot of things that really made me scratch my head. Stuff that i did correctly that now is anything but. when i put the car on jack stands on saturday (weather pending) i'll snap some pics. i probably still won't get any actual real work done since i'm so far behind on my garage project and thats where this car is going lol. much rather get the garage finished before i start tearing into something else
Senior Member
Join Date: Nov 2013
Location: NYC
Posts: 194
Feedback Score: 0 reviews
So freakingoiwjfioqej awesome that you got it back. Congrats
As far as rust, right now my car is a bunch of different colors as well, primer grey/pink body filler..It's pretty funny seeing weird looks from people.
well since $$$ is tight, i figured it would be best to give the car a real good once over to see what they've done to my car lol. i have a ton of pictures, if my laptop is cooperating later tonight i'll upload the carnage i found.
i'm going to be welding in some metal to say the least. there is a lot of under carrige rust. i pocked around, nothing seems to be completely penetrated with the exception of the one rear quarter and the one part up under the drivers side front fender. that spot is bad. i may re-position the car and start dissassembly to get get ready for treating this mess of rust. i'll end up pulling the exhaust, steering knuckles, coil assemblies, control arms if i can, front and rear bumpers, and hopefully drop the gas tank. then i'll start treating this cancer.
the rear metal bumper support is completely eaten away to nothing, it looks like a shark got back there.
under the hood is ridiculous, it was definitely not like this when i sold it.
oh, and they re-routed the brake lines i think.. dont the brake lines on these cars travel in the cavity above the exhaust?
i also checked the CEL. i just used the jumper wire method, i dont have access to a code scanner. its putting out code 67 for the CEL and 12 for the ABS light.
here is a couple pics (i took many more):
my ITR manifold and valve cover need some attention
i'm sure this is suppsoed to be plugged in to something... you can also see they did something with my p/s removal? i used to have i think it was hondatech member padawan(?)'s kit. really nice kit, nice small reservoir. i dunno what is going on here.....
probably needs a cam seal, and the vtec solenoid wire fell off when i brushed up against it.
rust bubble coming through by the drivers tailight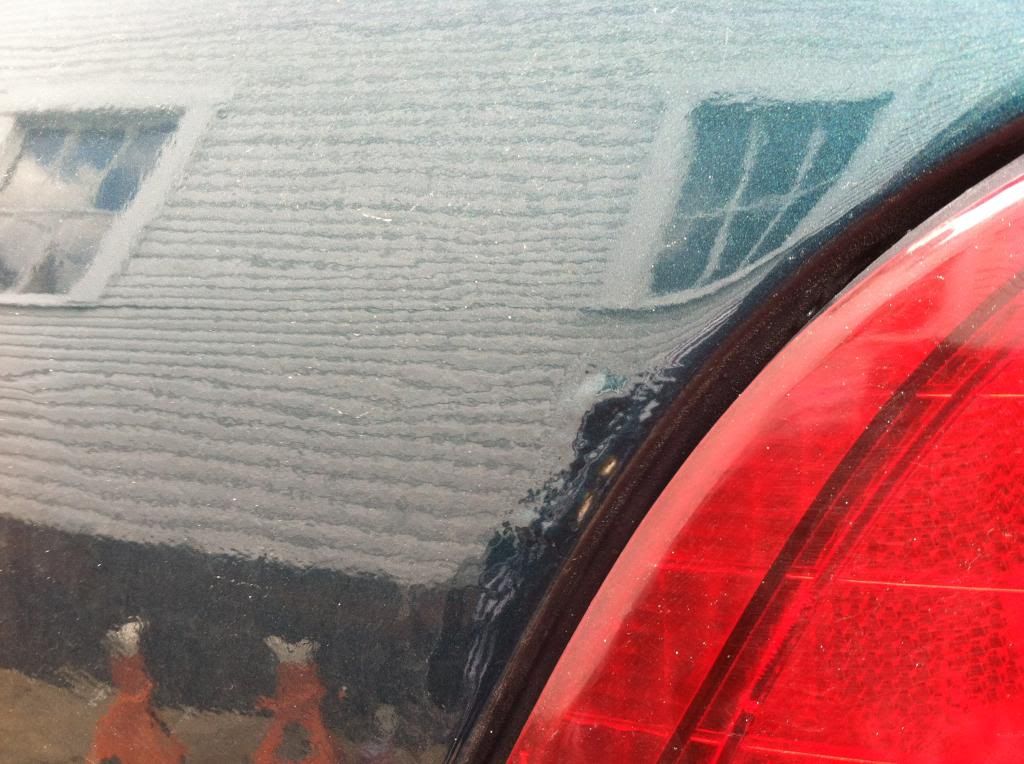 for the most part his looks ok. i'll be taking out these skunk 2s and put in stock ones. i dont need the skunk 2s with ITR coil springs.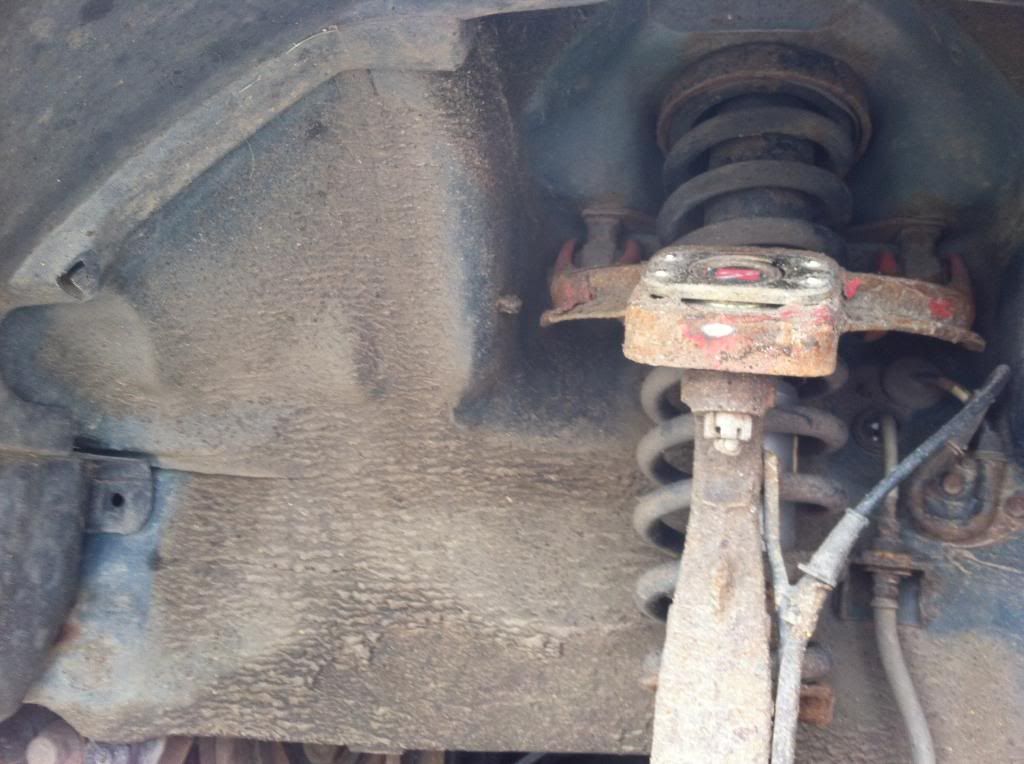 re-located brake lines??
and the first spot that needs a metal patch. its ugly.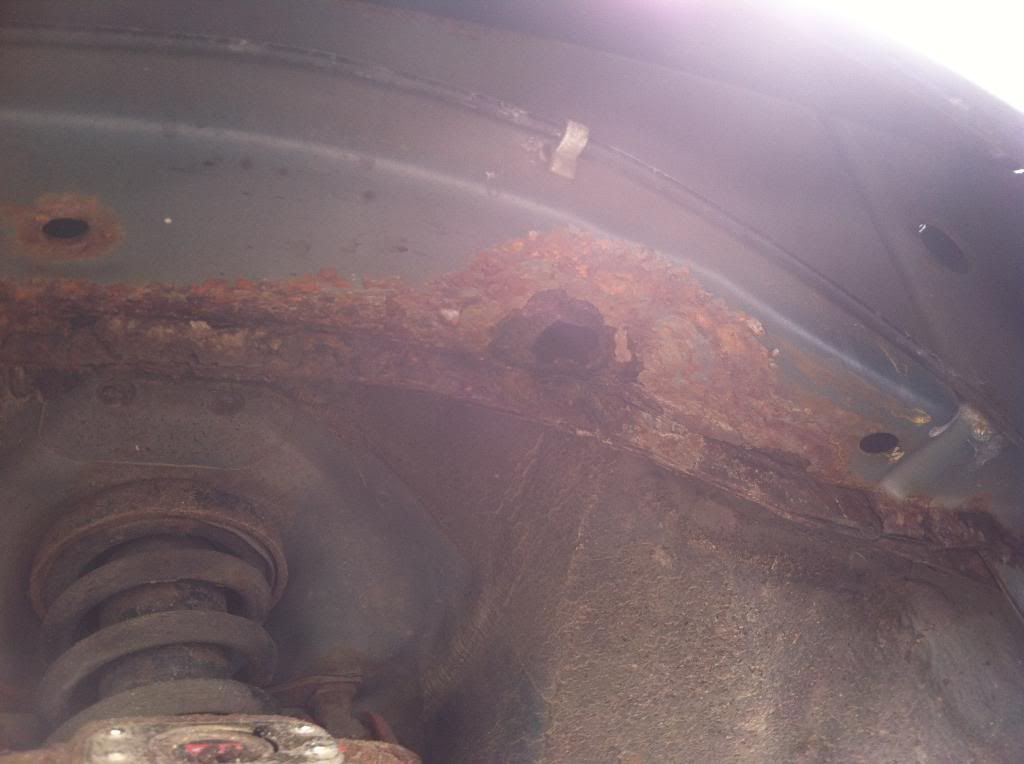 it looks like that hole that holds the fender liner blew out, i'll just grind and weld a patch there and shoot in a screw. all of which will be coated in chassis saver or por 15. that lip is mostly solid, if i find out otherwise when i start grinding then it will be gone lol
i'll post the rest of the underside carnage later...
alright these next pictures can get nasty....i envy you guys that live where winter and road salt is a non-issue...
wheel wells need a good scrubbing before i apply the chassis saver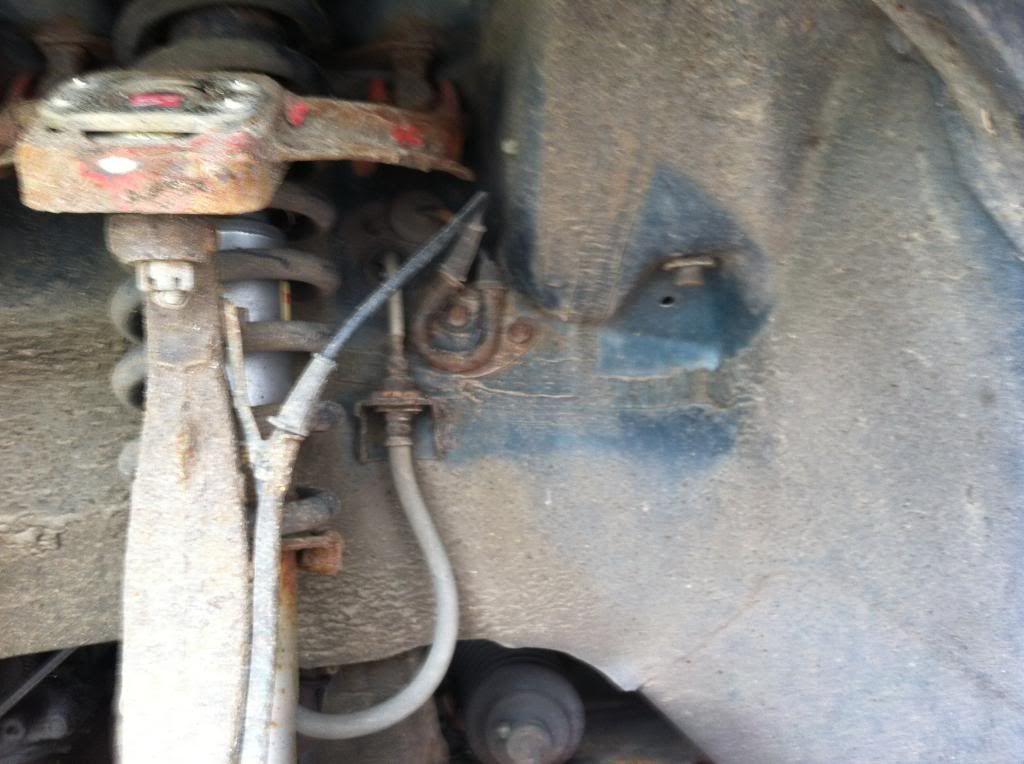 What did they use to coat this car from the factory? with the exception of a few spots where something broke throuhg, the majority of these areas under the car are fine
rusty hook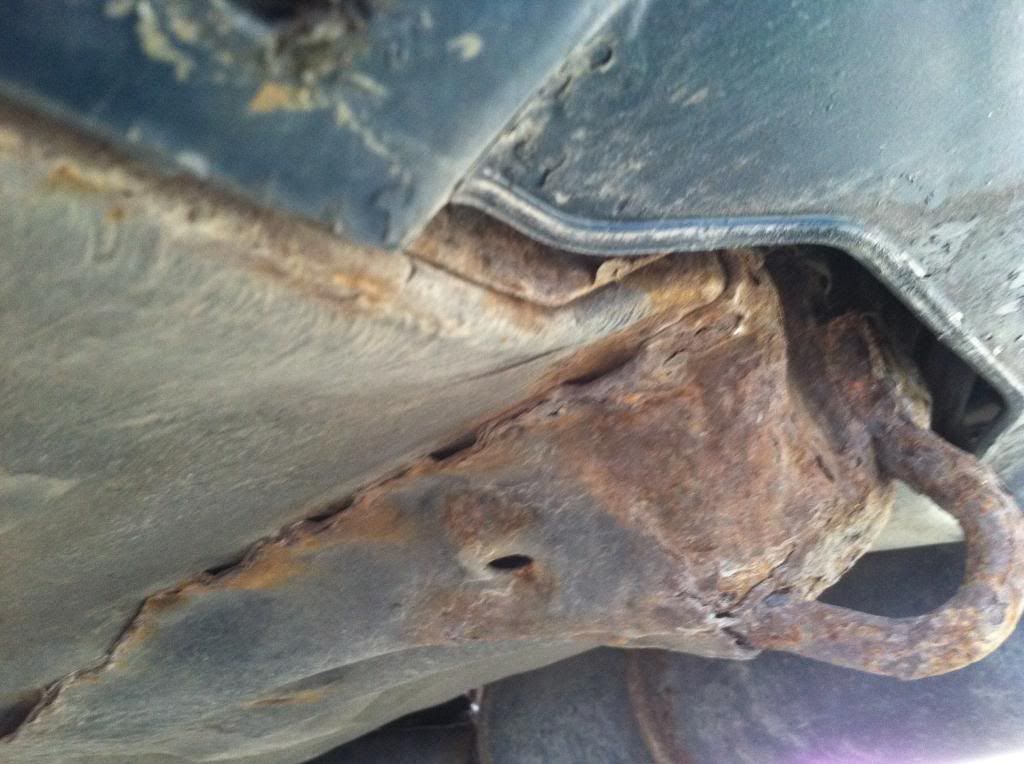 bumper support is getting rustier as we go up..
bam! need a new one of these for sure, hope they are still available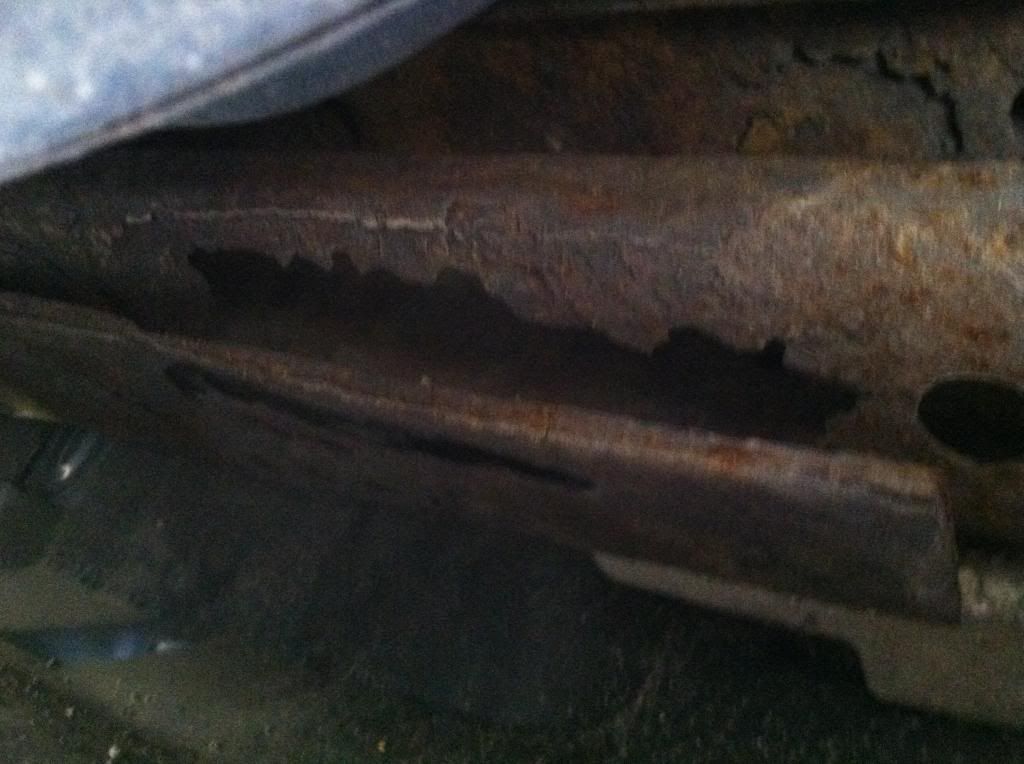 i was definitely glad to see these spots looking very solid.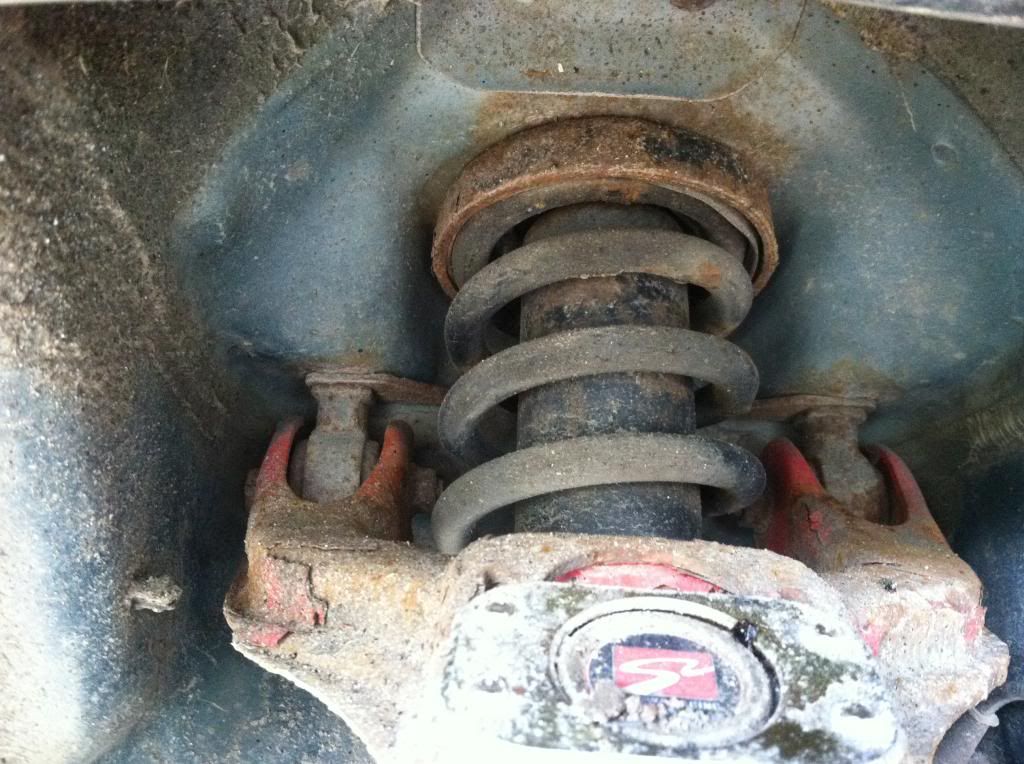 one of the three seized calipers...this rotor has seen much better days
i attempted getting a picture of the rust spot on the rear driver's quarter. its not terrible.
same spot
this is in the center channel where the exhaust goes and the brake lines are supposed to be
this looks worse than it is i think. the metal is all solid, the shifter is super loose. not sure if its the actual shifter or if the bushings are shot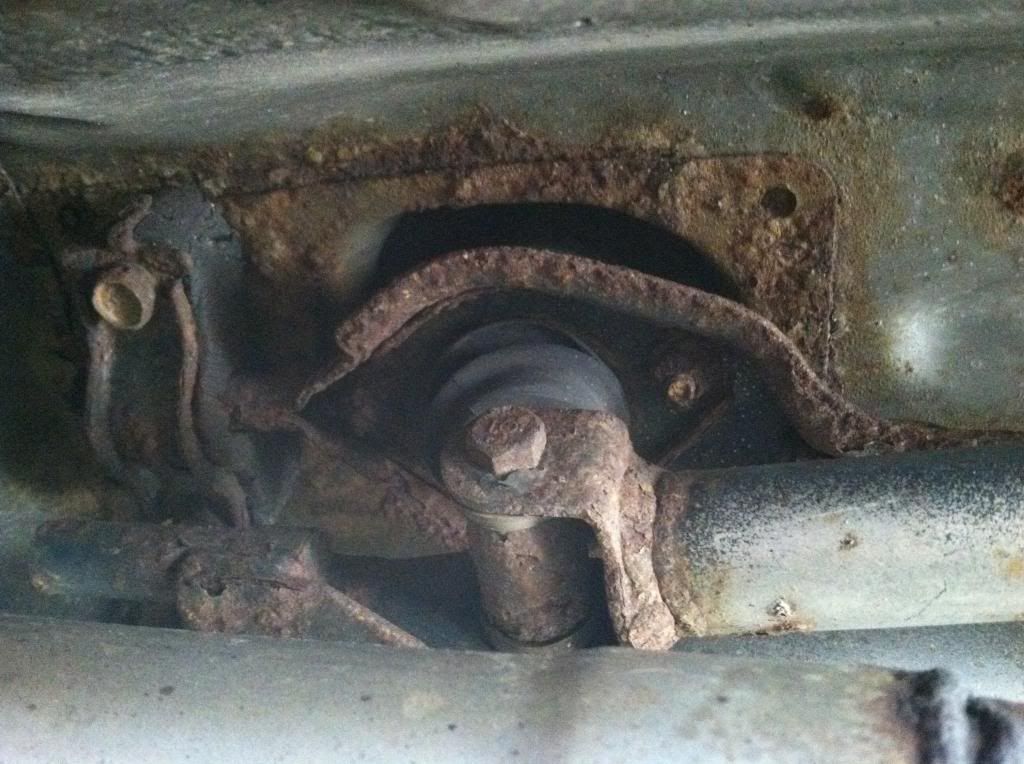 again i'd say 75% of the underside looks like this
passenger front, i think the control arm has seen better days, its solid but i hate rust
rust in the exact same spot as the driver's side, guys up in the north east that drive your cars all year round, pull your wheel liners and check this spot before it looks like this!!!
other than that, this is looking like a good spot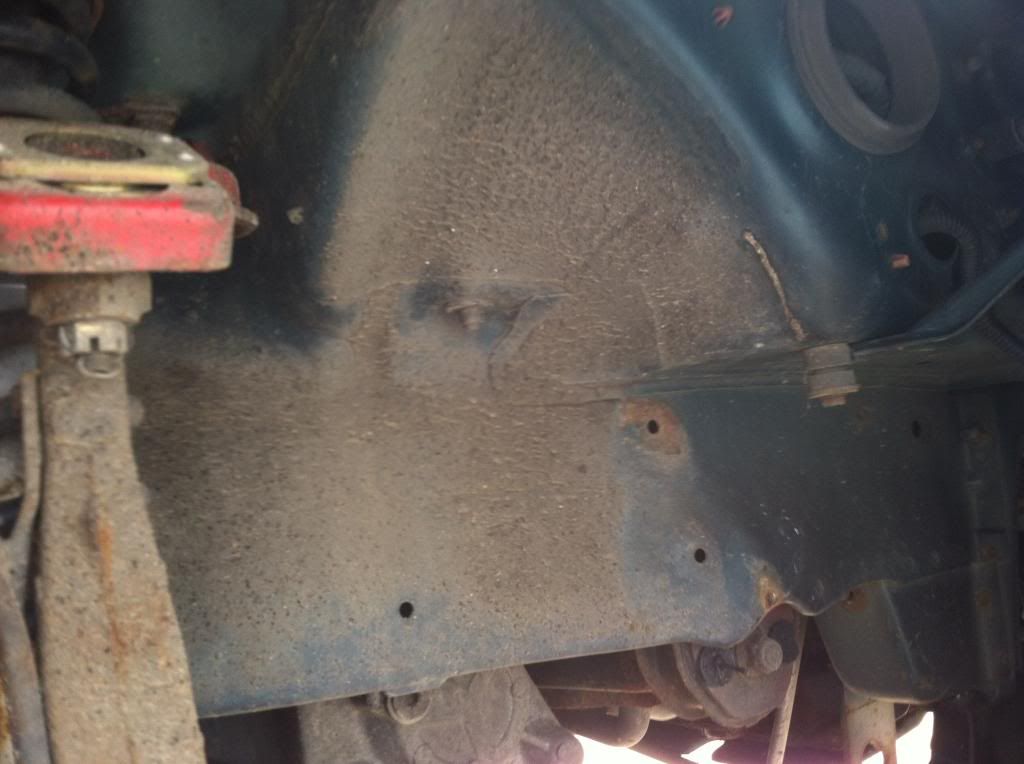 alright, now onto the worst parts of the car, the passenger rear. there is one area back here that has me worried, not 100% sure how i will address this. open to ideas.
rear passenger 1/4 - not super concerned here.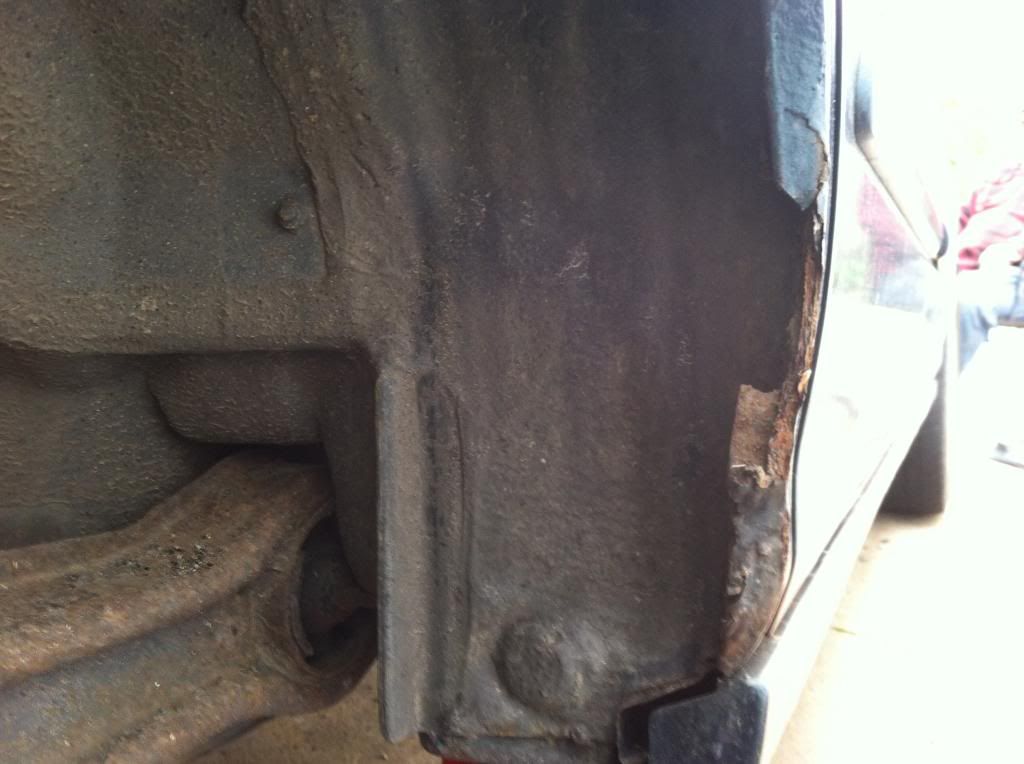 the rest behind it looks good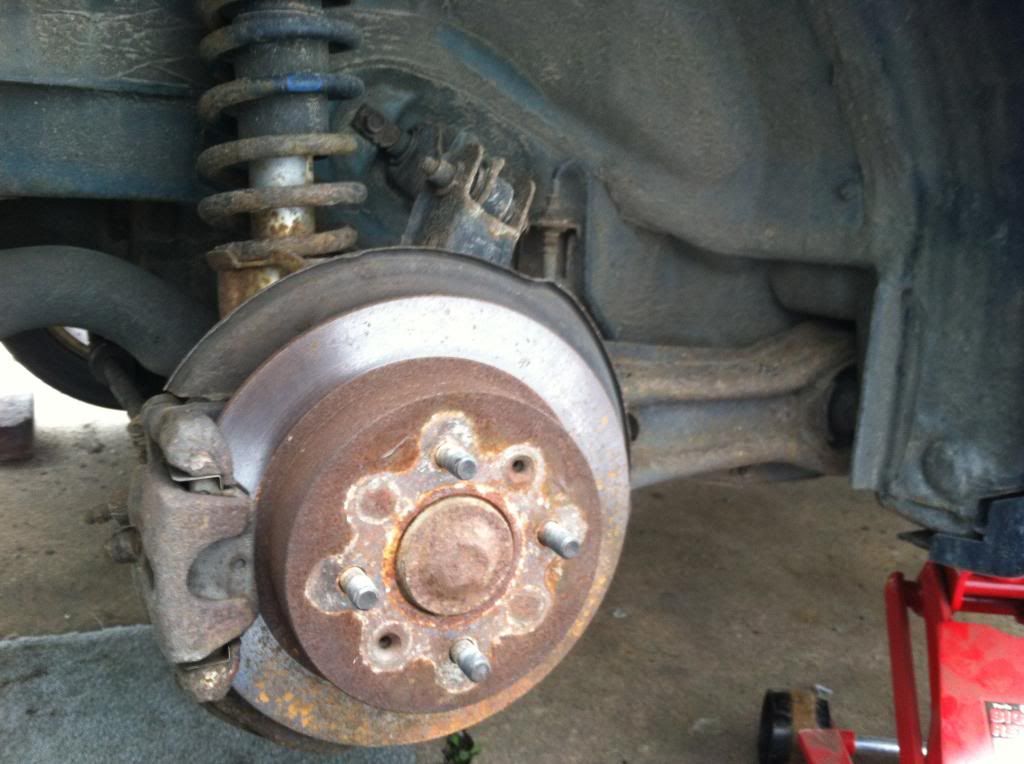 i'm not sure if this will come off, i think i'll need a few gallons of pb blaster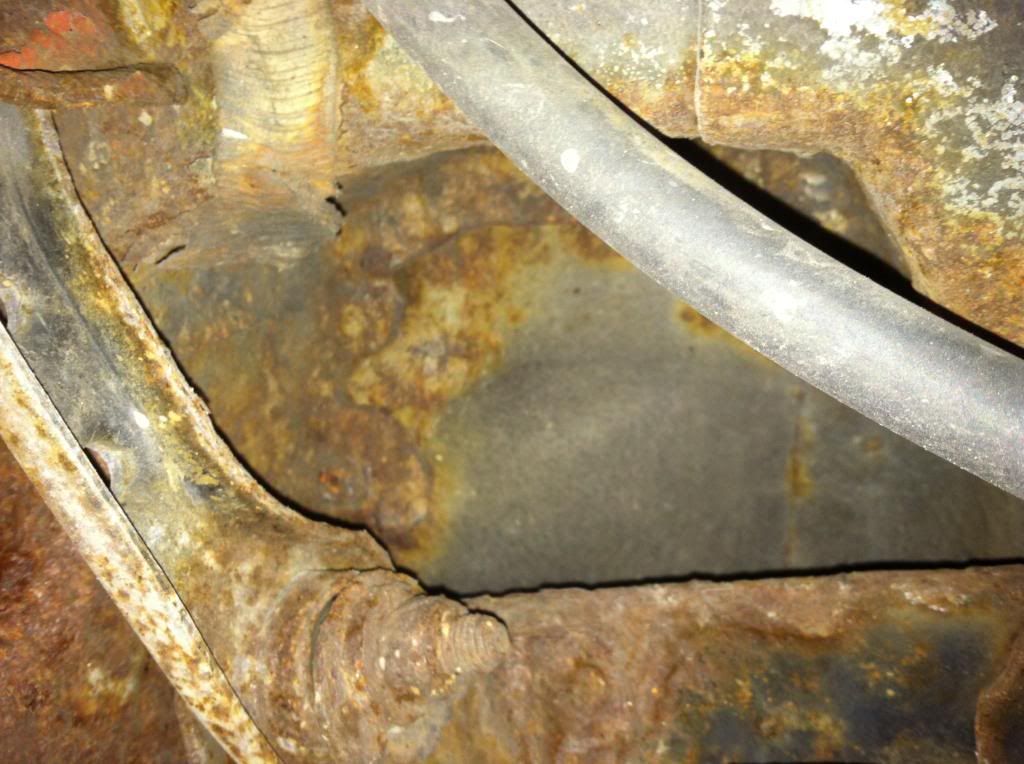 ehhh, not great but i'll work with it
this spot has me pretty worried. it seems solid, i couldnt poke through it but its really bad in this back corner. i hope roughing this up with a wire brush and then hitting it with the chassis saver puts a stop to it. i'm afraid to take a grinder to this spot, that metal probably isnt the thickes to begin with. any suggestions?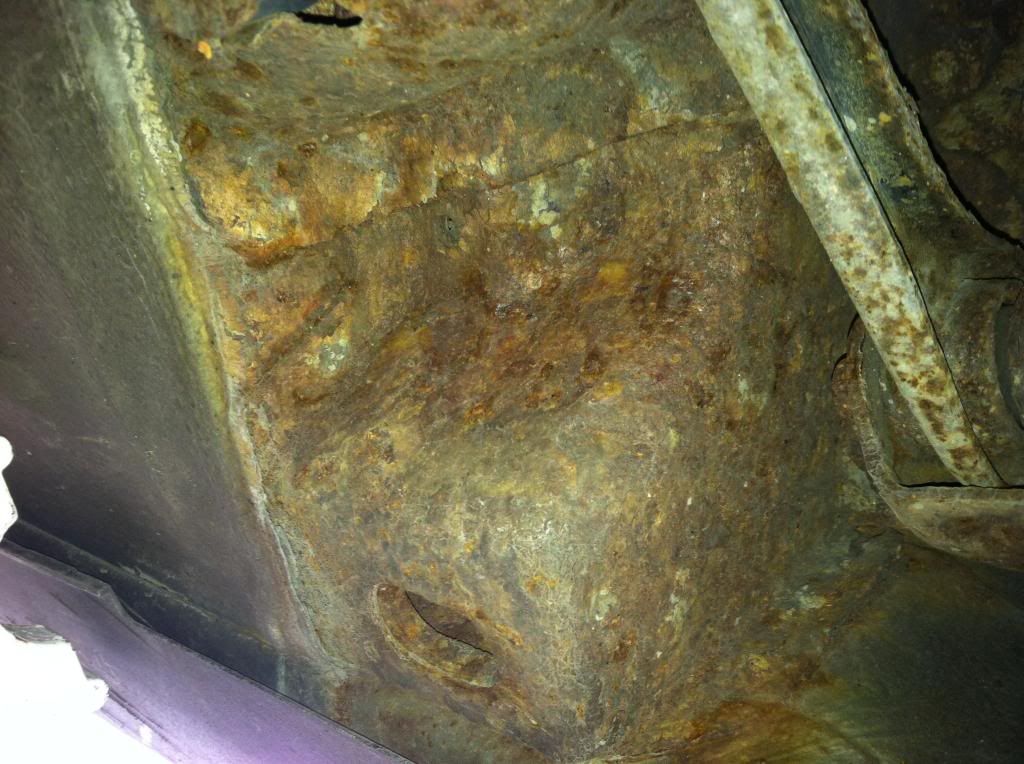 so this is where i'm at now. i've already assumed this car will not be back on the road this year, i've got a lot of work ahead of me just in the chassis prep and repair let alone fixing all of the stuff the other owners did. i intend to save my car!
Wow! That rust looks pretty bad.