Running Log - atkinsonar's GSR
---
Table of Contents
2013-01-24 -
Intro / Car acquired
2013-01-25 -
Exhaust
2013-03-28 -
Car Audio Round 1
2013-04-22 -
Suspension Round 1 (315 f, 250 r)
2013-08-15 -
GSR Blades + Proxes R888's
2013-08-29 -
Bushings + Wheel Well Recoat + Clutch
2013-11-01 -
Front end Lighting Round 1 (6k HIDs + Fogs)
2014-05-21 -
Electronics + Carpet
2014-06-28 -
Tow Hitch + Harness
2014-09-28 -
Big Brake Upgrade, plus lines, master cylinder and booster
2014-11-04 -
Stock Clock Mod
2014-12-17 -
New Motor Acquired
2015-01-20 -
New Upper Control Arms, new springs (400 f, 315 r)
2015-03-07 -
RSX Seats
2015-04-10 -
Rear Seat Delete
2015-06-15 -
Valve Cover / Intake Manifold Coating, Vent Shade Install
2015-07-02 -
GSR Head Assembly
2015-07-21 -
Front End Lighting Round 2 (4300 HIDs, Yellow Highs, + Fogs)
2015-08-18 -
Stock Motor = OUT
2015-08-28 -
B20VTEC = IN
2015-09-21 -
Motor "Fixed" (fixed leaks + new head gasket)
2015-10-22 -
Front End Lighting Round 3 (new Switch Backs + Accents)
2015-10-23 -
Transmission Died
2016-02-12 -
Dyno Tune, 191 HP, 147 TQ
Current Modifications
Motor
B20-VTEC (B20B Block + P72 GSR Head)
Stock GSR Intake Manifold
GSR Transmission
KY Stage 3 6-Puck Clutch
ARP Rod Bolts & Head Studs
Supertech Dual Valve Springs & Retainers
Type R Cams
AEM TruTime Adjustable Cam Gears
AEM Short Ram Intake
All gaskets / hoses / belts replaced
Mishimoto Radiator & Fan Shroud
Mishimoto Catch Can
New Heater Core
PS Delete
FITV Delete
Chipped P72 ECU with Phearable Basemap
Exhaust
Megan Racing 4-1 Stainless Header, 2.5" Collector
Magnaflow "Hi-Flow" Cat
Magnaflow 2.5"x22" Resonator
2.5" Stainless Cat Back Piping from Tru-Bendz
Apexi WS2 Muffler
Suspension
Koni Yellows
Ground Control Coil Overs, 400lb Front, 315lb Rear
All new bushings, bearings, hubs, tie rods, axles, ...
Skunk2 Pro Series Front Camber Kit / Upper Control arms
BWR Rear Toe & Camber Kit
Stock Sway bars
Brakes
Type R Calipers Front / Rear
Mini Cooper Rotors Front / Rear
Techni-Fit Brake Lines
Stoptech Performance Pads
ABS Delete
New GSR Booster + Master Cylinder
Interior
Black Leather RSX Seats
Custom fabricated rear-seat delete
Grey leather door panels + matching center console
Black Carpet
Red Cluster & Climate Illumination
All LED Interior bulbs
Electronics
Viper 5704 Alarm & Remote Start
Window & Sunroof Modulators, Nite Lite System + Other gadgets
Pioneer DEH-X9600BHS Headunit
Acura Legend Steering Wheel Controls
2 amps + 12" Pioneer Slim Sub, recessed into custom trunk floor
Pioneer 6.5 Components up front, 6.5 Coax's in rear
Gauge in clock housing (Volt + Temp + Clock)
Aesthetics
98+ Rear Tails
Cheap Vent Shades
Tint (15% Doors, 5% Rear & Windshield strip)
GSR Blade Wheels
Clear Bumper Lights, with LED switch backs
All exterior bulbs are LED
4300 HIDs
Yellow High Beams
Intro
Hello all...
I recently posted an intro article with a couple of pics of my car. A year ago (Jan. 2012), a friend of mine made one of those offers you can't turn down. She had acquired a Laundromat, and was in desperate need of help in turning the place around. She proposed that in exchange for my help, she would sign over her 1995 Acura Integra GSR to me. I have had my eye on this car for a few years, as she was the original single owner, the car had been garage kept, and meticulously maintained. So we agreed, and after a few months of work, I'm a happy "new" owner of an Integra.
I had previously owned a couple of EF Civics and really missed having something compact and relatively easy to work on. I just turned 30 last month (Dec. 2012), and have a son (who is 8) who's interest in the garage is rapidly growing. My real reason in wanting a car like this was to have something we could take our time with, more or less to tinker on, and eventually do a full frame up rebuild. This is not a daily driver for me, and its sole purpose is to have fun with, and to use as a tool to keep my son and I occupied. My timeline for this car has no real goal, and I'm not quite sure what those goals entail just yet. I've matured enough now to know I want to do things right the first time, and am in certainly no rush to do anything half-ass.
I look forward to keeping this log current of our work, and am sure I will have many questions to ask. The forums have already proven very useful.
So, without further ado, here are a couple of pictures of the car as it was received.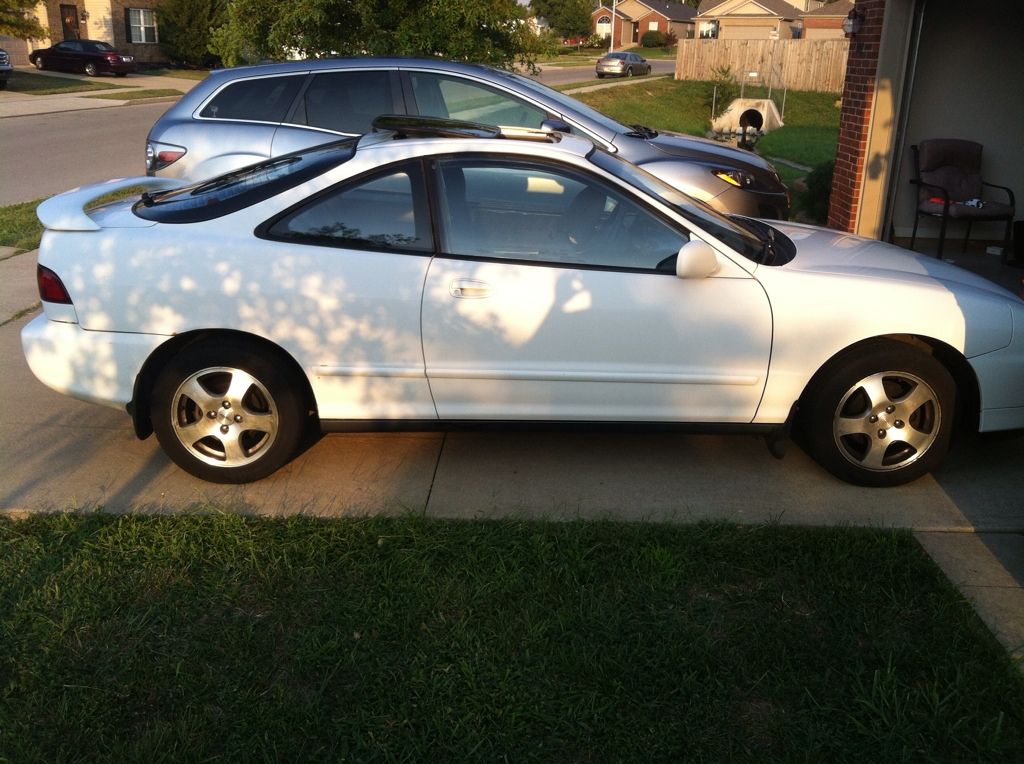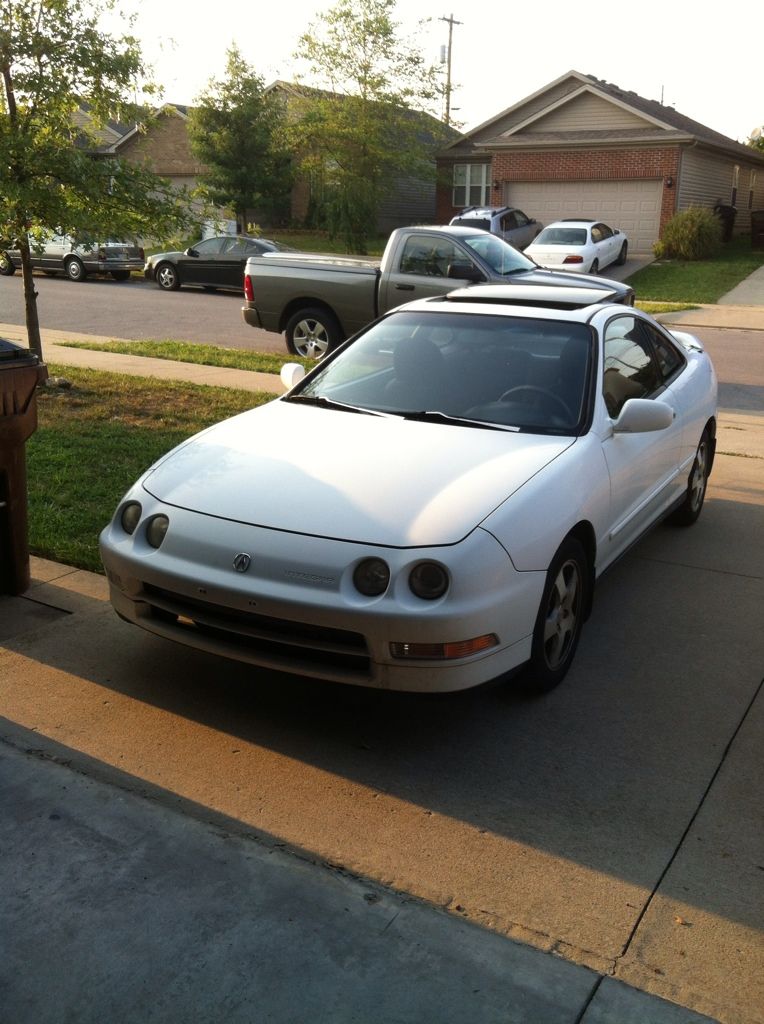 Looks like a solid car, hard to find these stock and clean. Good luck, looking forward to seeing what is in store for the ol' gsr.
So a couple of more details I meant to include in the opening post... car was female owned and driven, garage kept, and came with the receipts for every scheduled factory service visit as recommended by the owners manual. Saying she was meticulous with the car is a bit of an understatement. At the time I received it, it had 208k miles, still running on the factory clutch.
Our first "project" was to do away with the tint film installed on the car. It proved to be a real bear. Its amazing how stubborn 15+ year old multi-layer tint film can be removed. The owner told me the film was installed in a multi-layer process? I'm not sure if that is the case, or if the film had delaminated over the years. Nonetheless, it was starting to bubble, windows were very hazy, and certainly made seeing out of the rear of the car difficult at times.
Learning from mistakes of prior cars, we took our time, and tried to be patient using the "Black Magic Tin-Off Adhesive Removal Fluid" (available at Wal-Mart for less than $7). This remover actually worked decent. I know a mixture of ammonia would have probably worked better, but I'm a bit leery of handling harsh chemicals when my boy is actively engaged in the process. The hard part was trying to keep the film in sheets big enough to peel off (i.e. not letting the boy rip a corner, to try to find another corner to start on), and letting the fluid do its work. Razor Blades and fine steel wool were the remaining two tricks to the job. I regret not taking more pictures, but have a couple of my boy with the passenger door.
When all was said and done, and it took us a few days... tackling one window a day... all tint is now off the car. I'm proud to say we didn't damage any of the rear defroster lines. I did ensure to test each line once we were done with the back glass.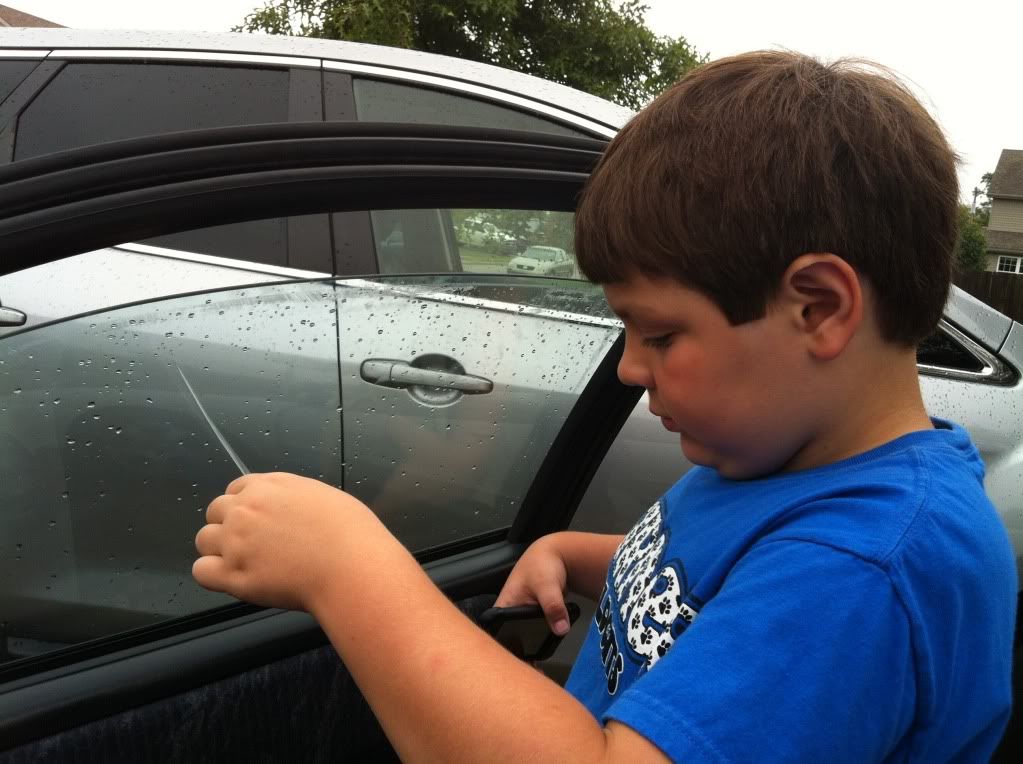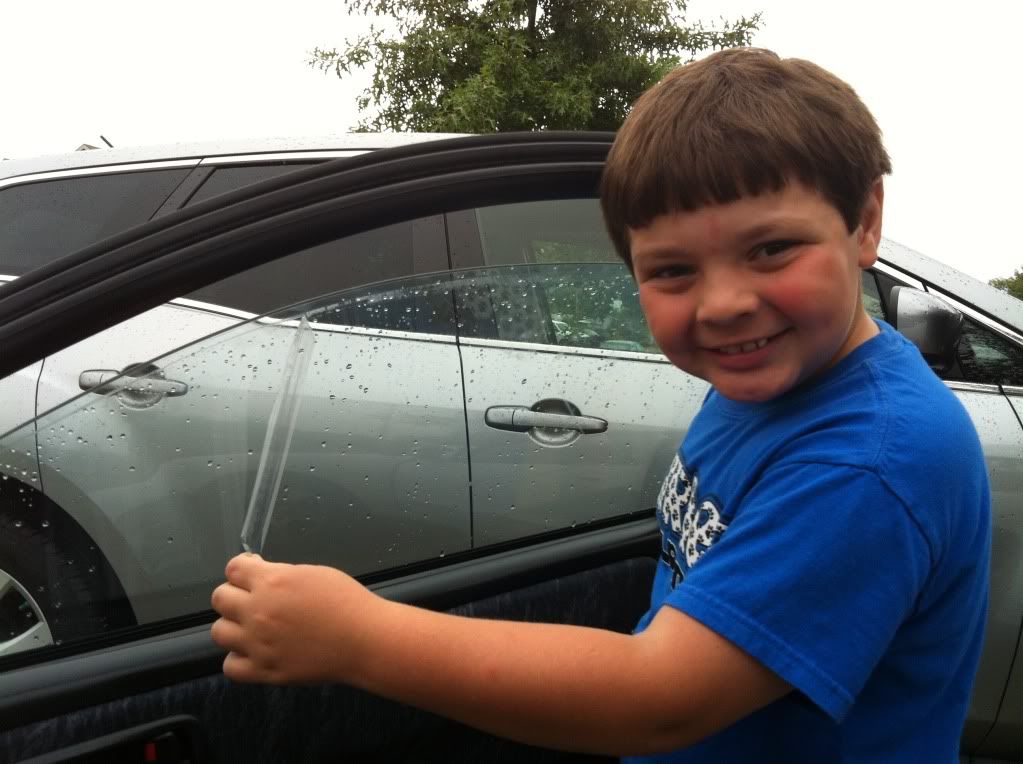 Fast forward a few weeks, and I was finally motivated to give the car a "good" detail. I tried almost everything to restore a bit of shine to the rims, and was not having any success. I know eventually I will replace them, not sure with what yet, but I wanted to give the car a different look, and have some cleaner looking rims in the process.
Off to Autozone I went, and picked up some VHT Primer, Wheel Paint, and Clear Coat. We did a very thorough job of cleaning, sanding, more cleaning, etc, leveraging a few of the threads posted here. Whoever came up with the idea of index cards to mask off the tires earned a few brownie points with me that particular weekend.
Yet again, I don't have any pics of the during, but here is a good before and after. Certainly not perfect, but I think much better than the dull factory look, and no more pits in the surface. It'll have to do for now.
Was interesting to have my son help with this one. He was very excited to get his hands dirty, and stayed right with me as we scrubbed them down. When it came time for primer / paint / clear, he also wanted to spray some. I'm not sure there is a good way to teach an 8 year old how to spray paint, but he certainly had his go with shake can paint.
Only noticeable imperfection, is a pretty solid scuff mark / ding on the passenger side... I had my son help put the rims back on the hubs... as he was rolling one over to the car, he let it tip over, and the newly dried finish dropped on top of our four way. He wanted to cry more than I did, lol.
A sample before...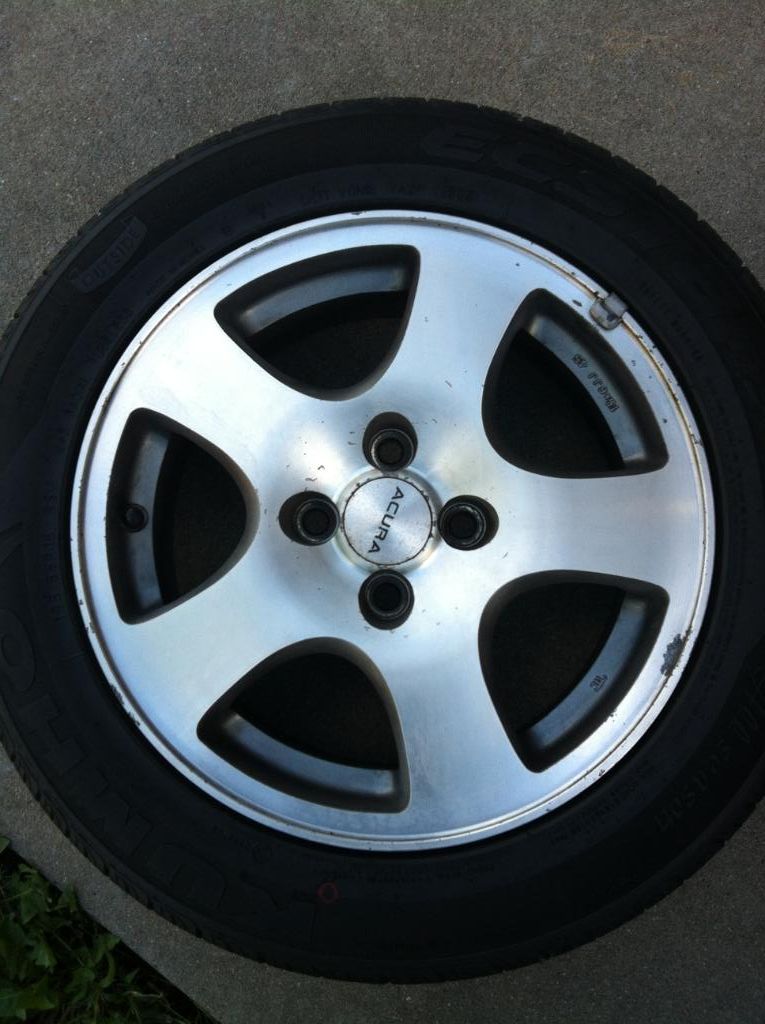 A sample after...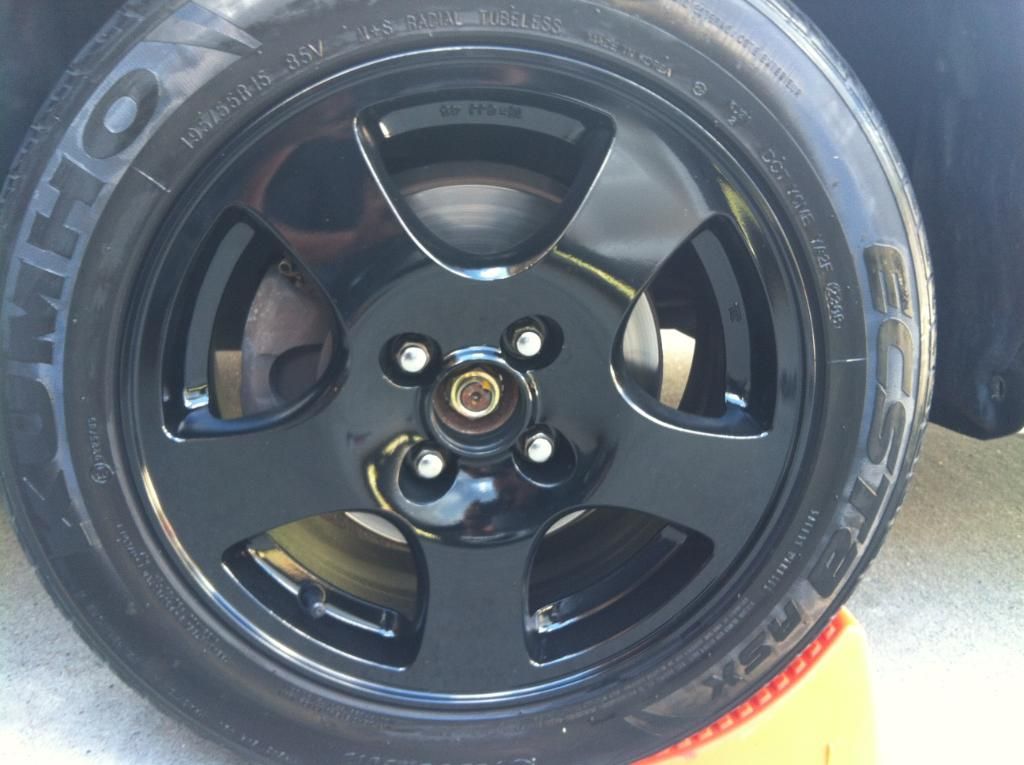 And mounted on the car...
---
Last edited by atkinsonar; 01-24-2013 at

06:47 PM

. Reason: Change IMG codes
These next couple of updates, I can't guarantee are in chronological order, but, are progress nonetheless.
I've kept my eyes open on Craigslist in the local area for import parts, and have had a couple of good finds. I found a younger import fanatic who had a body kit for sale at an embarrassing cheap price. He had a sob story about the car he had originally bought it for, but will save you the headache. Regardless, decided to meet him, and he had a few Civics of his own, and a few other "buddies" over with some other imports.
I'm not convinced this kit is the look I'm going for, but for the price, I simply could not turn it down. Only flaw is with the front bumper, it has a crack above the headlight. Its not necessarily a bad place for a crack, as the front bumper will need to be "stretched" a bit for the body lines to line up.
Spent a few hours with my son just to have a quick "test fit". Later this summer, I plan to do some body work to get rid of the couple of rust spots and dings, and intend to get the full car painted. I've not decided on a color (I'm leaning towards a brighter pearl white), and have not decided if the body kit will be a part of this cars future.
Stock bumpers and skirts have been re-installed pending warmer KY weather.
Thoughts?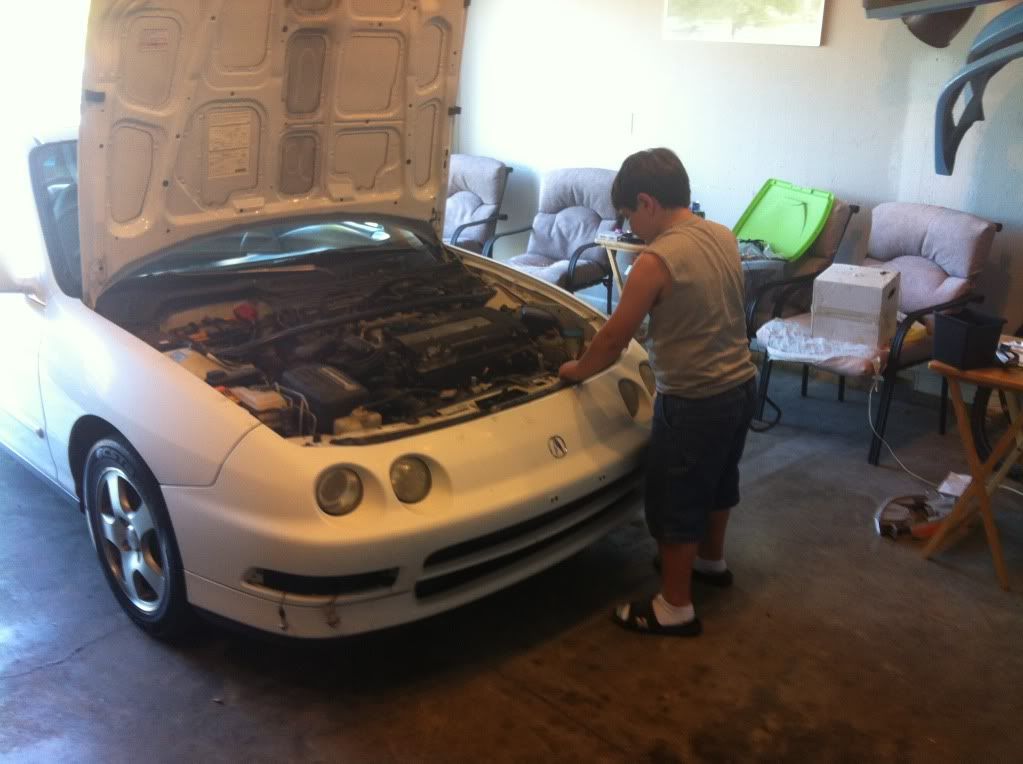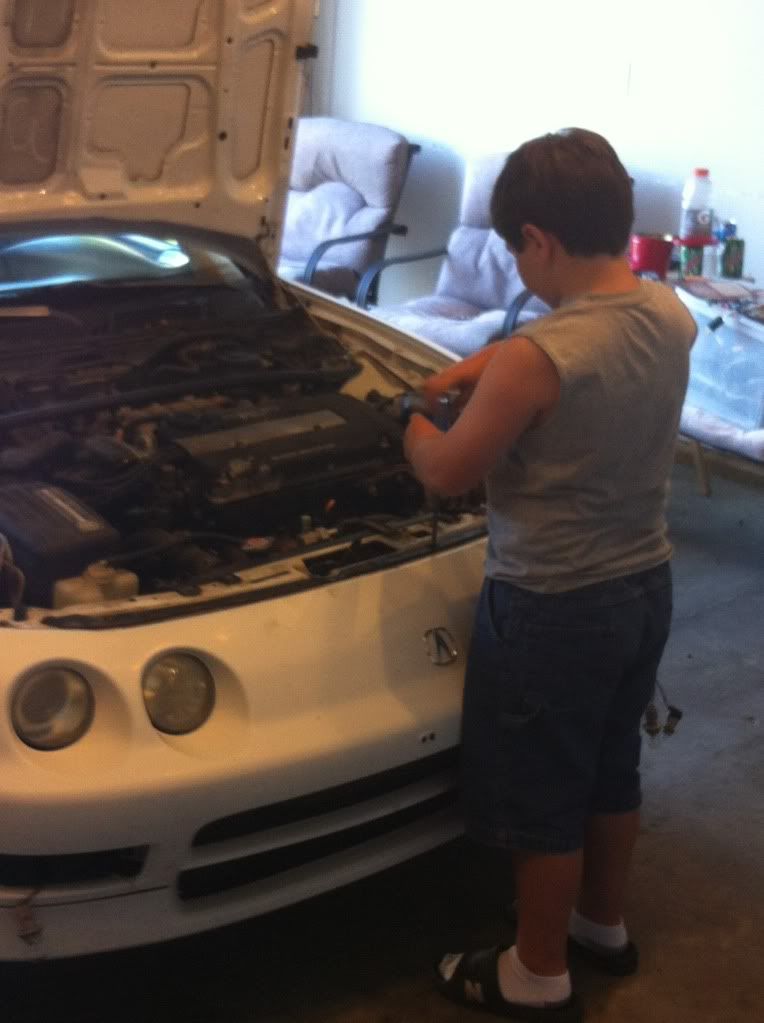 Looks like your raising a future Team-Integra user!
The car looks pretty good. I would ditch the bodykit though. If you are looking for a more aggressive look a simple front lip and some lowering of the suspension will completely change the look. You can also upgrade to the 98+ bumpers if you want to add even more of a look.
You can check out this thread to give you some more ideas on the look you wanna go with.
Post White Integra Pics
The Enforcer!
Join Date: Sep 2002
Location: San Antonio, TX
Posts: 5,801
Feedback Score: 23 reviews
Quote:
Looks like your raising a future Team-Integra user!
The car looks pretty good. I would ditch the bodykit though. If you are looking for a more aggressive look a simple front lip and some lowering of the suspension will completely change the look. You can also upgrade to the 98+ bumpers if you want to add even more of a look.
You can check out this thread to give you some more ideas on the look you wanna go with.
Post White Integra Pics
co-sign
---
join my clubs
N.F.C = No Foglights Club
N.A.T.O = No Altezza Taillights Organization
wu's turbo build
460.79whp 311.92tq @ 18lbs (new tune)
(old tune) 1/4 mile = 13.36 @10lbs @120mph (on all seaon tires, 2-3yrs of age)
Quote:
Jr, I have never seen justyncredible be gentle with a thread like this and I understand why.
Senior Member
Join Date: Feb 2008
Location: I <3 Olivia Wilde, WA
Posts: 2,110
Feedback Score: 7 reviews
Quote:
Stock bumpers and skirts have been re-installed pending warmer KY weather.
Definitely leave the stock bumpers on.
Like previously stated a nice lip kit and lowering the car does wonders for the cars look.
---

My red JDM front log.
Check out my
Flickr
For Sale Thread!!!
Quote:
Looks like your raising a future Team-Integra user!
Thanks... Since he was old enough to walk, he has been along my side any time I am in the garage. By the age of 6, he had completed his first independant oil change on our old Ford Explorer. He now has gotten really efficient with a jack, and loves to take rims on and off for the fun of it. It's amazing what an 8 year old can do with an extra long cheater bar.
I will take a further look through that thread (Thanks for the link). Body work, paint, etc are atleast a good 6 months out. We'll see what the future holds for this endeavor.
Quote:
Definitely leave the stock bumpers on.
Like previously stated a nice lip kit and lowering the car does wonders for the cars look.
I've seen some pretty sharp cars, and have noticed the influence of the stock look through this site
. We will see what direction I (we) decide to go...
Tackling the leaky exhaust was one of our next projects, and I'm still trying to fine tune it a bit. It appeared to still have a full stock exhaust. I'm surprised the cat had lasted that long, and same with the muffler. Not sure if either were replaced, but if they were, OEM parts were definitely re-installed. It was starting to leak at a welded seam around the resonator (which was about perfectly centered under the e-brake
), and the outer shell of the OEM muffler was peeling away.
So far, below is a list of what is installed.
Megan Racking Stainless One Piece Header
2.5"x6"x10" Stainless Flex Pipe
Magnaflow 91006 Catalytic Converter
TruBendz Exhast pipe, with a 14" Magnaflow Resonator welded inline, all 2.5" Stainless
Joints are slip-fits, secured with Stainless Steel Band Clamps
I didn't want to go with one of the off-the-shelf cat-back kits. I had a SVT Focus for a few years that I had installed a TruBendz kit on, and was really impressed with the bends, the accuracy, and the ease of installation. For the Integra, it gave me a solid base of pipe, where I could easily add/remove components to the exhaust at will, and was willing to give them my business again.
For the muffler, initially I had picked up a DC Sports "muffler" from Advance Auto... one trip from KY to SC in the car, and I was actively searching for something else. The exhaust drone on the interstate was horrendous.
While I was down, I found a 3A Racing muffler for $30 on Craigslist that had never been installed. It certainly sounds much much better, but is a bit too large for the rear of the Integra. It "fits", but I'm not happy with how it looks, and I could still go for something with a bit less drone.
Finding the right muffler has become one of those low priority things at this point. Still too many nagging projects that I need to get caught up on. Atleast for now it doesn't leak, and doesn't sound as obnoxious as it did with the DC muffler.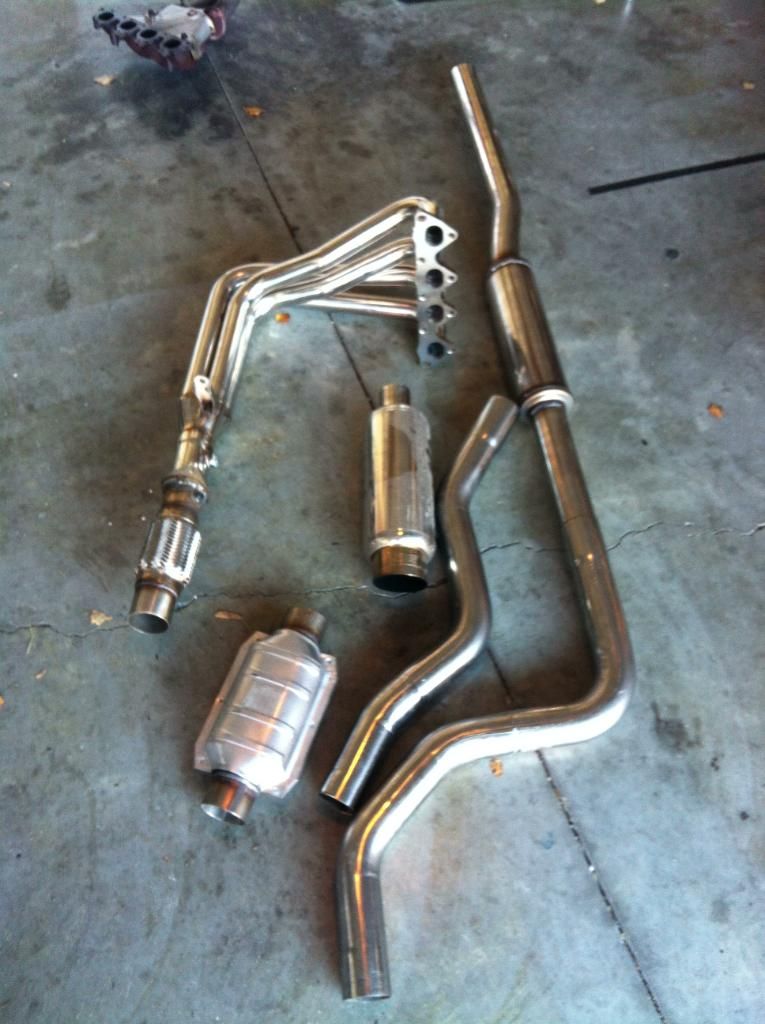 Since you are starting out with a really good base (stock unmolested gsr) a nice drop on a good suspension and a nice exhaust system is a great place to start. Keep it clean.

Props on the father son car bond!
On every other vehicle I have owned, I've installed a Viper Alarm/Remote start system, not long after acquiring them, and this Integra was no different. I regret not taking any pictures during the install, but do have copies of my "cheat sheets", and will detail the functionality I integrated. Should anyone have any questions, I can certainly go back to my install list, and can snap a few pics for those interested...
For the Integra, I went with a Viper 5704. Nice thing about these newer units, is the brain is considerably smaller than they had been, and you now get an accessory shock sensor, which is easier to tweak and mount, then the former integrated shock sensors. Additionally, the integration for manual transmissions is a lot better, so with how I have it wired, I feel very comfortable with it installed. The two way paging and extended range is awesome.
Also, while I had the interior partially disassembled, I worked to replace all of the interior illumination, bulbs detailed below (all acquired from Superbright LEDs). A few had gone out, and a few were "on their way out".
3022-CWHP4 - 4 LED Festoon - Map Lights and Trunk
UPCB-CWHP30-FED - LED Panel - Dome Light
Following this thread,
DIY: Maplights on with door ajar (+ pics)
, I integrated the map lights in with the dome lights. Love the functionality, I just think I may have gone a bit over kill with the brightness of the LED bulbs. It is nice to be able to flip on a map light and actually see. When you turn on the map light, it's almost blinding when your eyes have adjusted to the dark. The only reason I haven't "dimmed these" with replacements, is the alarm install (more below).
WLED-xHP5 (Natural White) - Gauge Cluster
NEO4-WHP (Cool White) - AC Controls
NEO3-RHP (Red) - Defrost Button (indicator light)
NEO3-WHP (Cool White) - Hazard Button Illum. + Cruise Control Illum.
74-WHP (Cool White) - Cig. Lighter Illum. Ring
74-RHP (Red) - Ash Tray
3022-CW4 - 4 LED Festoon - Glove Box
The interior looks considerably "cleaner" now at night. The gauge cluster is a clean "bright white" now. I couldn't get matching bulbs for the AC Controls and Buttons, hence why everything else is a "Cool White". You can definitely tell a difference, and the cool white has a more blueish hue to it, but I think it looks good. I opted for the Red Ash Tray and Defrost Indicator "just to be different".
The only bulb I'm missing, is the illumination for the defrost button itself. After much research, it seems this is a specialty OEM part? Its on my list to get soon, as its really irritating me at night to have everything else lit up nice and clean, and "that one button" is still in the dark.
So now to the alarm install. It helps that my brother used to be a master installer for Best Buy, so he and I were able to talk through the install, and he was able to help during one of my SC trips on buttoning a few things up. I'll detail the basic functionality and what we did that isn't part of a "normal" install.
Lock / Unlock
Hood Pin (soon to be replaced with a Tilt Sensor)
Tapped into the Trunk Open status
Remote Start, in Manual Transmission Mode (MTS). Requires a combination of the E-Brake and Brake pedal, and then a sequence of the key fob and door open/close to enable remote start, to convince the car you have left it in neutral. Otherwise you simply can't start it via the remote.
Rear defroster is interfaced. If the interior temp is less than 50 deg., the rear defroster will automatically be kicked on during a remote start.
Auxiliary channel used for an installed trunk actuator. Now I can pop my trunk from the remote.
Alarm Horn installed inside the passenger fender. Unless you do some major interior removal and or body panel removal, you're not easily accessing the horn wire. I removed the factory baffles / cold-air intake components out of the fender, as eventually I'll be putting a new ram air intake on the car. This made a really clean place out of sight for the horn, and really allows the sound to escape the vehicle when the alarm is going off.
Dome light supervision. Essentially turns your dome light on when you unlock the car. From system programming, you can also enable "ignition controlled dome light", so the brain will kick on your dome lights when you turn the car off, and will turn the dome lights off when you start the car. Since our cars have a single wire for the door-trigger and for the dome light (its the same wire), it got a bit tricky to enable this. So I installed a relay, so that the normal state is a pass through from the door trigger wire to the door trigger input of the brain. When the dome light supervision energizes, the relay engages, turning on the domelight circuit, and breaking the input to the door open input. This actually works really slick. For everything else to work as intended, I had to disable the ignition controlled dome light. So now, when you unlock the car, the dome light turns on for 30 seconds. This has also proven to be a nice way to integrate, as you have 30 seconds from unlocking the car before the car "sees" a door open signal. Usually when a car is in MTS that has been "set", opening a door immediately disables the MTS state. With the output/relay/delay, I have 30 seconds from unlock to open the door and "do something" (usually I forget to turn a light off, or leave a phone on the seat, ...). Added bonus, when the alarm goes off, the interior lights flash out of sequence with the parking lights. With as bright as the LEDs on the interior are, this gets some attention at night.
I'll try to snag a couple of pics of the interior lights soon, and will post those up.
Next under taking was the cam seal, as it had the typical leak as has been frequently posted on here. While I had the valve cover off, I decided to give painting a shot, so I stripped the valve cover, thoroughly cleaned it and ruffed it up a bit, and tried a multi-tone paint scheme. I think it turned out "decent", but the weather was way to cold outside, and I was having a hard time keeping my garage warm enough and ventilated enough. I wasn't able to get the finish I wanted with the paint due to the temps and the slow dry process (you can see the unintended wrinkles in the pics, esp around the oil cap).
I'll re-visit this for another go this spring/summer. At that time I plan to also paint the headers now that they are "burnt in".
As I had the valve cover off, and was in between rounds of paint, I decided to deal with the degrading ground and primary power cables. The grounds were in sad shape, and I wasn't happy with how the positive terminal was terminated. As some stereo upgrades are in my plans, I went ahead and installed "good" 4 GA cables, terminated "right", and left myself with some room to grow on the battery terminal. I don't intend to do anything "crazy", but plan to upgrade all the speakers, glass a sub in the back, and will have probably 800 W or so of amplifiers.
As part of the valve cover installation, I went with a Password JDM cam seal, their cam cap bolts, and valve cover bolts. All other bolts were replaced with stainless cap head screws, acorn nuts, and washers.
Certainly looks a lot cleaner, just not sure if that's how it'll be for the long haul.
New Battery Terminals + New Primary Ground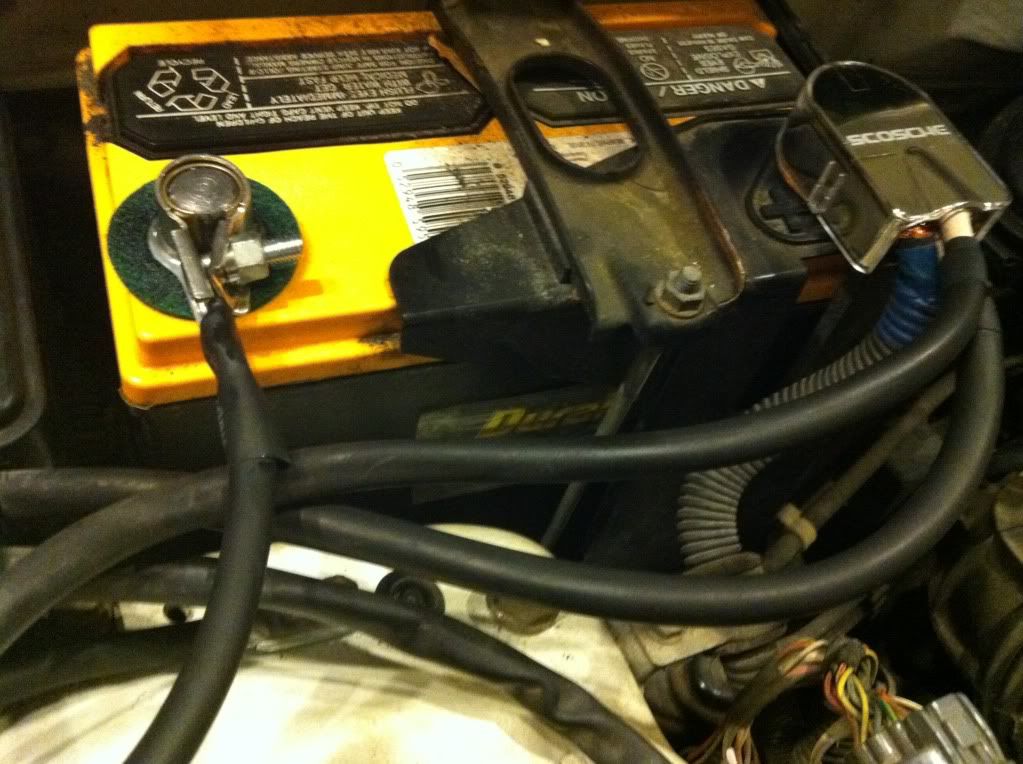 New Transmission Ground
New Block Ground
Valve Cover (before)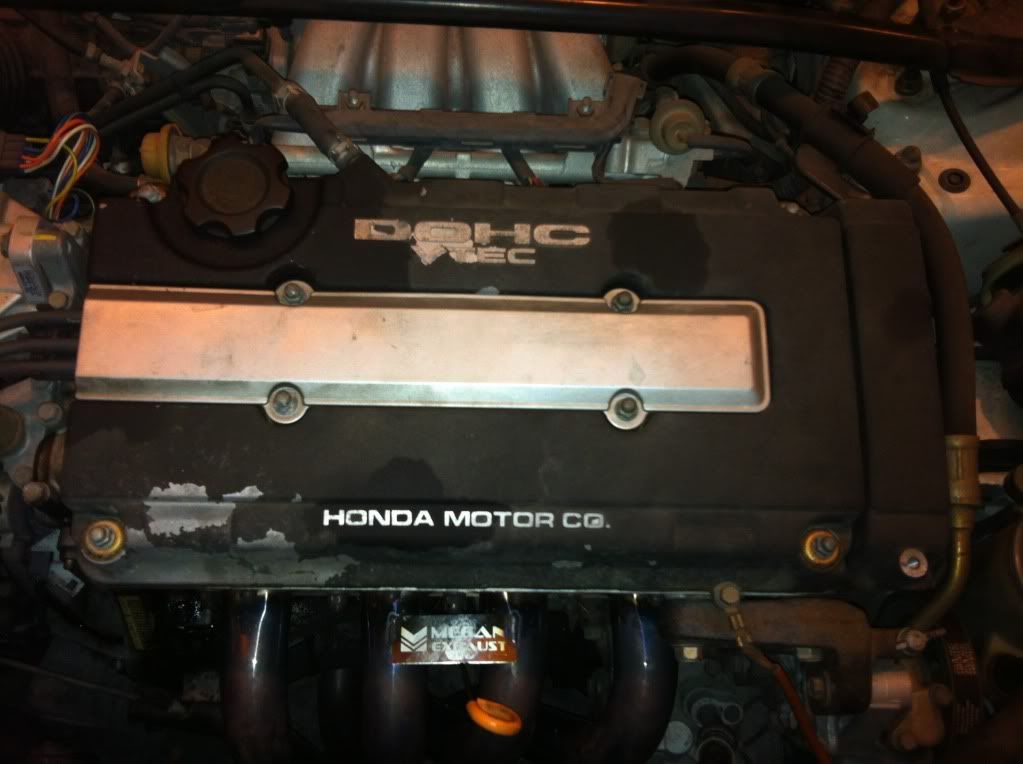 Valve Cover (after)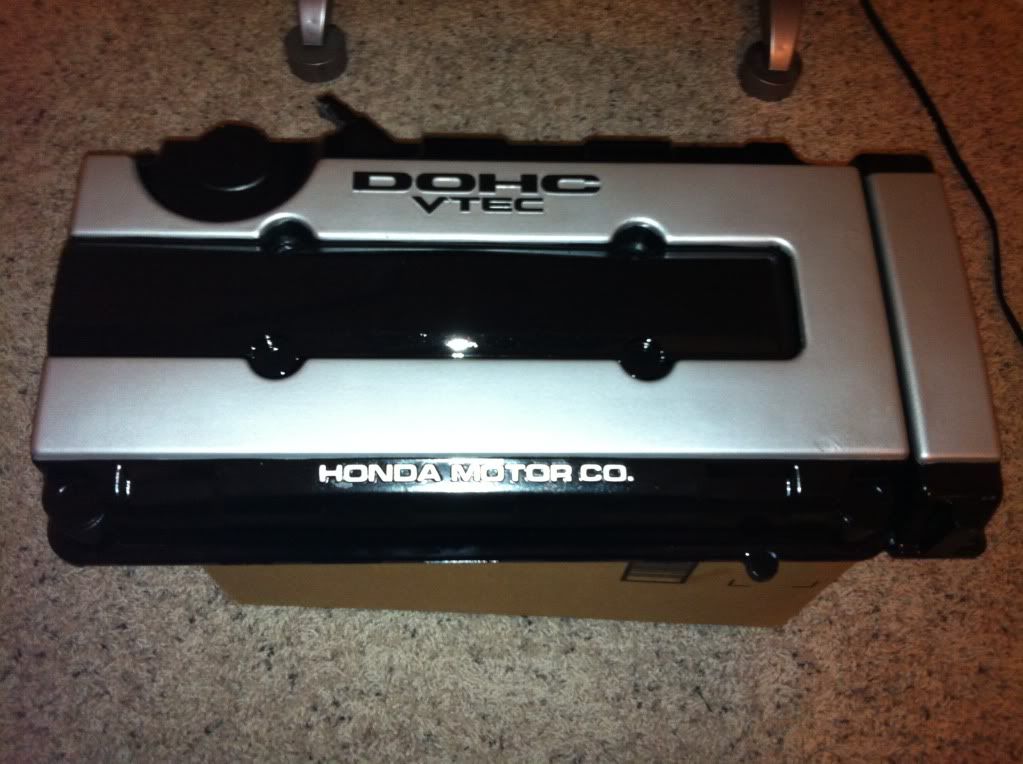 Valve Cover (installed)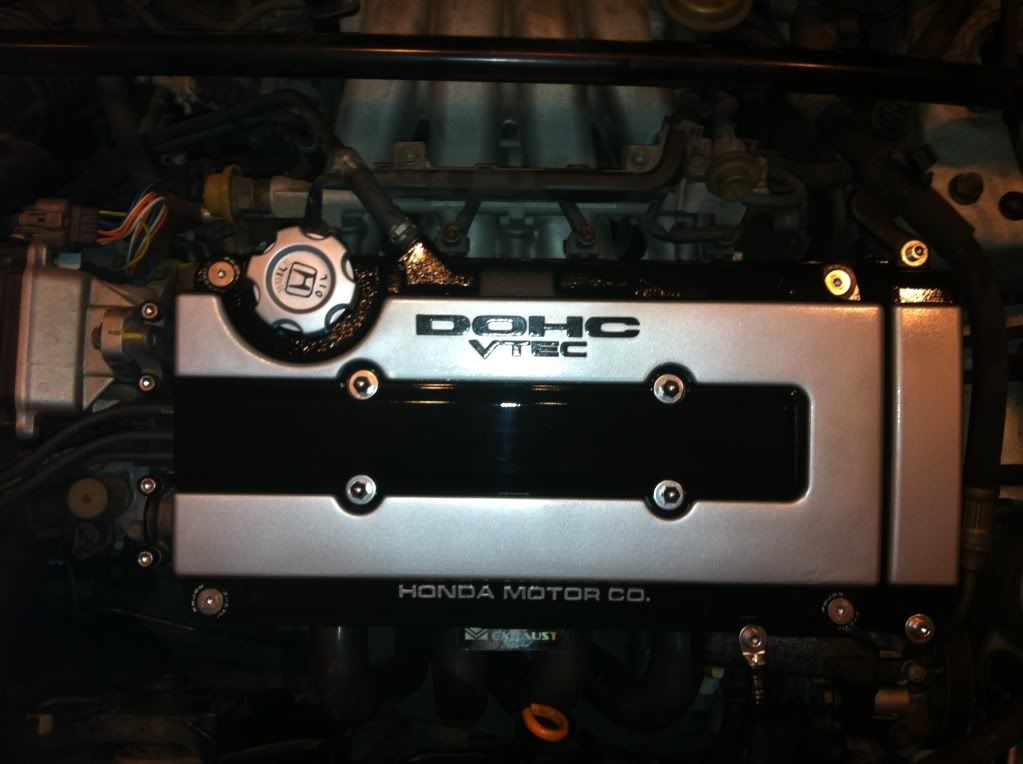 Valve Cover (installed)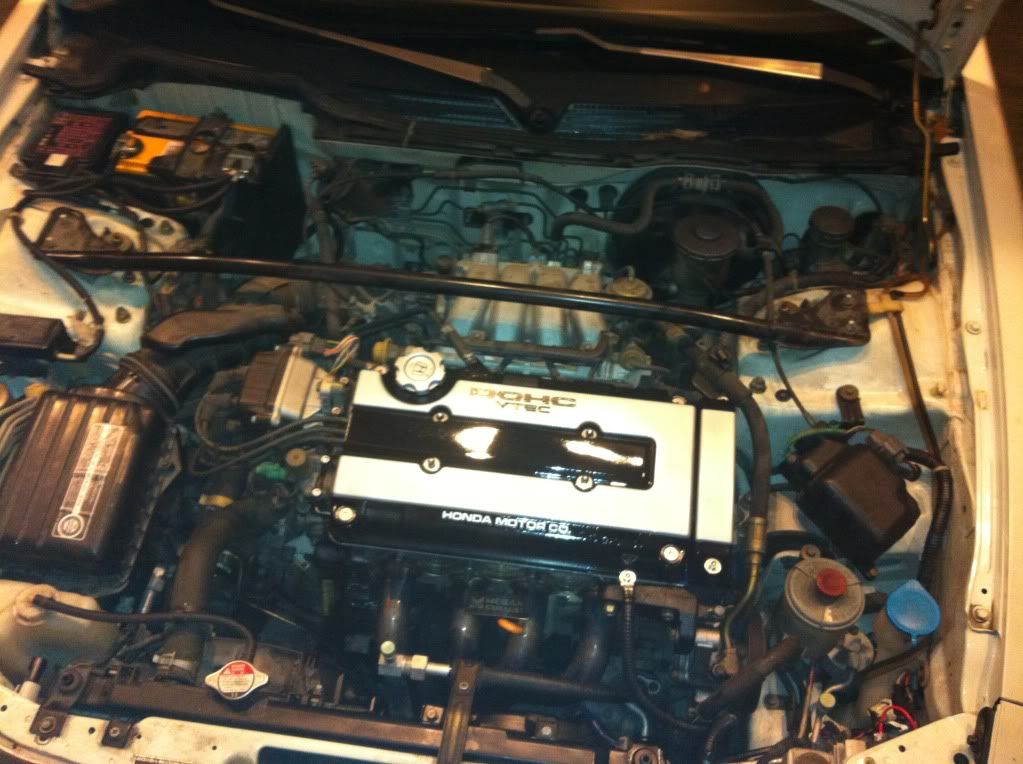 Valve Cover (installed)