That's some sweet MPG!
---
1213 AFFILIATION - JDMKIDS | CALI LOVE | AS1 FAMILIA
1213 AFFINITY - Integra Log | NITE GRIND TRANSMISSIONS | GRIPSET | NASTIE GARAGE | CALI LOVE CLOTH. |
4+ Months since the last update, guess I have some catching up to do.
I didn't really drive the car at all between May and the Dragon Run (literally, less than 200 miles, last fill up before I left for TN was in April).
Made a whirlwind trip to the Dragon, just a one-nighter, and beat the car pretty hard into and out of Fontana Village. Those extra few HP with the new motor were VERY noticeable pulling out of some of the curves. I absolutely cooked my brakes during this trip, so picked up replacement pads, and ran those for 5-600 miles after I got back.
Long story short, I went from the ITR pads to the TSX pads on the front (with the famous "no bs big brake upgrade", and the over lap on the inner rotor face with the TSX pads (compared to where the ITR pads stopped) was just enough that I had a never ending brake rubbing sound that I could not get to go away. Ended up picking up a set of new rotors, and again new pads (fortunately employee pricing at Advance helps quite a bit), and have no more noise. Figure I'll hang onto the old rotors, get them turned at some point (as were the upgraded, black coated rotors), and have them on hand for when I need them again.
Last few days, finally tackled something that's been on my list.
Replaced my dying factory horn with a pair of Wolo Loud One Horns (both High and Low Tone)... https://amzn.com/B000BRFGGA ... The pair are obnoxious compared to the factory horn. Either tone horn on its own would have been a substantial upgrade over stock.
Added in a OEM fog light switch to the center console
Cut off and capped the wires that used to run to the ABS fuse box / pump
Re-purposed the ABS fuse block for some accessory power (new relay for horns, new relay for accessory lights, tied in the battery charger)
Re-loomed everything in the area where the ABS pump used to be
Sometime in the coming weeks, I'll be getting the car up to a friend of mines shop, where we'll be tacking the exhaust into place. I got a 2.5" stainless Cat-back setup, that's all slip-fit with band clamps, and a couple of the joints keep slipping, which ends up causing the muffler to rub against the trailer hitch (it'll hold for 500 - 1000 miles, and the vibrations come back). I've tried like hell to hold it still, and can't. We're going to snug everything back up, re-work a hanger or two, and then put a tack or two on each of the joints to help hold them in place.
Pics from this weeks adventures, will update again once I have it in the air and the exhaust fixed.
"Before", the ABS plugs were bugging me
"During", just about buttoned up
"After"
New Horns, mounted on the bottom of the center radiator support
Wire loomed and tucked away
New switch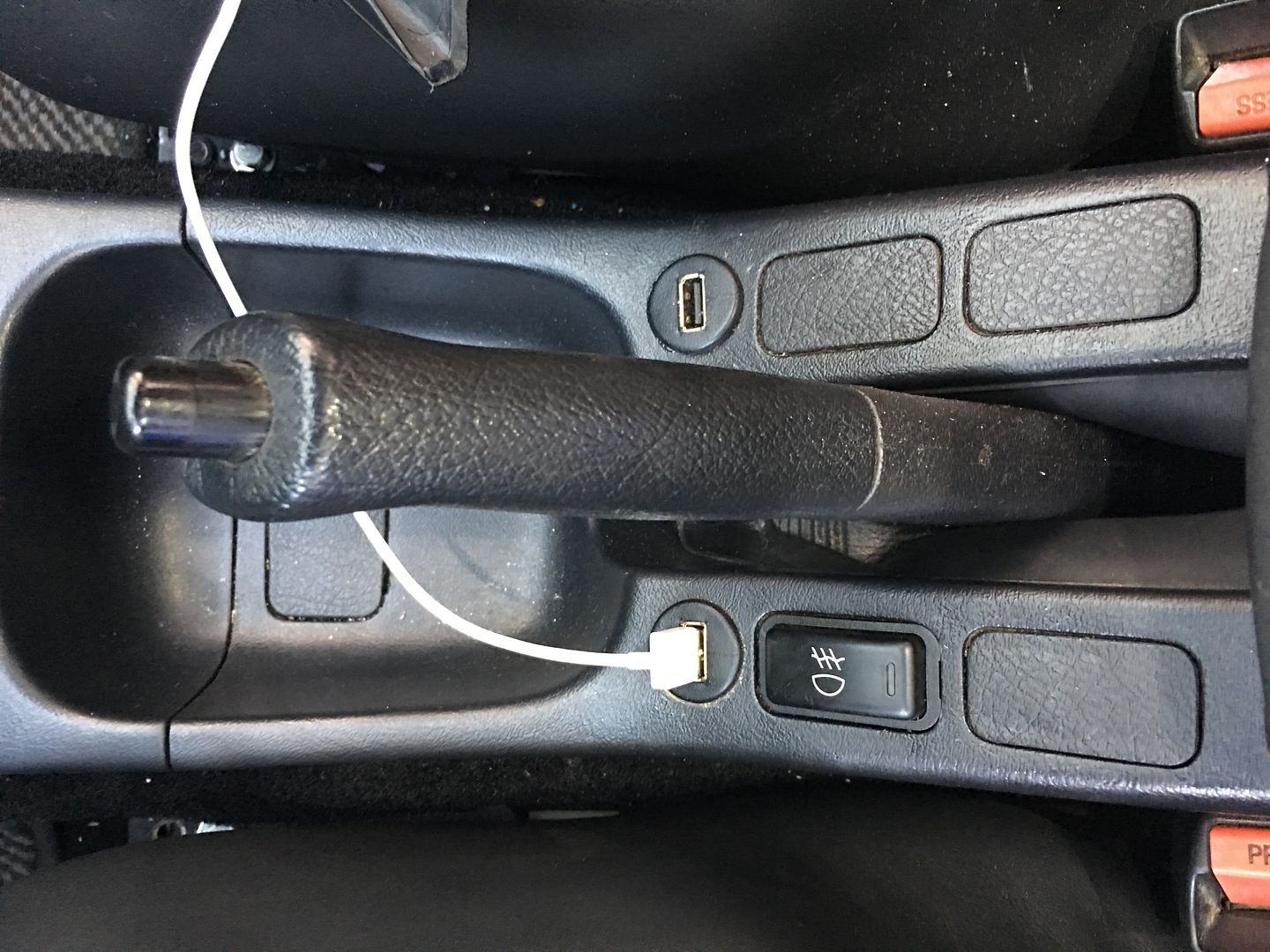 Properly tapped into the dimmer circuit (just about impossible to get a LED replacement that fits those miniature "stemmed" bulbs they use for switch illumination
Red LED status light to match the rest of my cluster illumination
I've contemplated this exact idea, just not sure where I want rig it up. I keep toying with the idea of a GrillCraft bumper insert, which would defeat the purpose of "just inside the bumper opening".
Sent from
AutoGuide.com Free App
Since the last update, haven't really done much with the car other than drive it here and there, and it's been running great!
Then... this past week happened...
So the weekend before Thanksgiving, I drove the car close to 500 miles from KY to SC, and had a blast driving it. Everything was smooth, car felt great, drove it a lot harder on the interstate than I should have. Car didn't seem to complain at all. I parked it for a week in my grandmothers garage, and shuttled her back up my way for a week for the holiday. Saturday after Thanksgiving, I drive back to SC, go to move my car out of her garage, and... queue the music... come to realize I left my car keys in KY. By the time I realized it, it was too late into a Saturday to get over night Sunday delivery of anything. I also could not find a local lock smith to come out and cut me a new key until sometime Monday.
Thank goodness I didn't arm my alarm while I was gone, or it would have made things 1000x more interesting. Long story short, managed to figure out how to "steal" my own car, and drove it back to KY with the use of a screw driver. Car still ran great!
This Tuesday, I'm driving locally here in town, on my way to a closing shift at Advance Auto, and the car just without warning dies, will not fire back up. I had to leave it in the median of heavy traffic, and dealt with it after work. My phone blew up all evening, as it seems half this town knows that car. Still no crank after work, so had a buddy drag me back with a tow strap under local police escort.
Was able to quickly verify timing looked good, belt hadn't broken (easy to see with the cam gear cutouts), still had pressure on the fuel rail, so started to take apart the distributor... ended up finding the set screw for the rotor button backed off, destroying itself and the inside of the cap.
Picked up replacement parts last night, installed today, still no start. As I was afraid of, either the coil or ICM went out with it. Did the resistance and voltage testing, and narrowed it down to the ICM. I just pulled one down off a spare distributor, and should have it running tonight. At the end of this story, I'm just glad it happened locally, and not 100's of miles from home as I was two days prior.
Once I get it running, need to pickup two screws, and re-assemble my interior, and hopefully all will be well for a while again.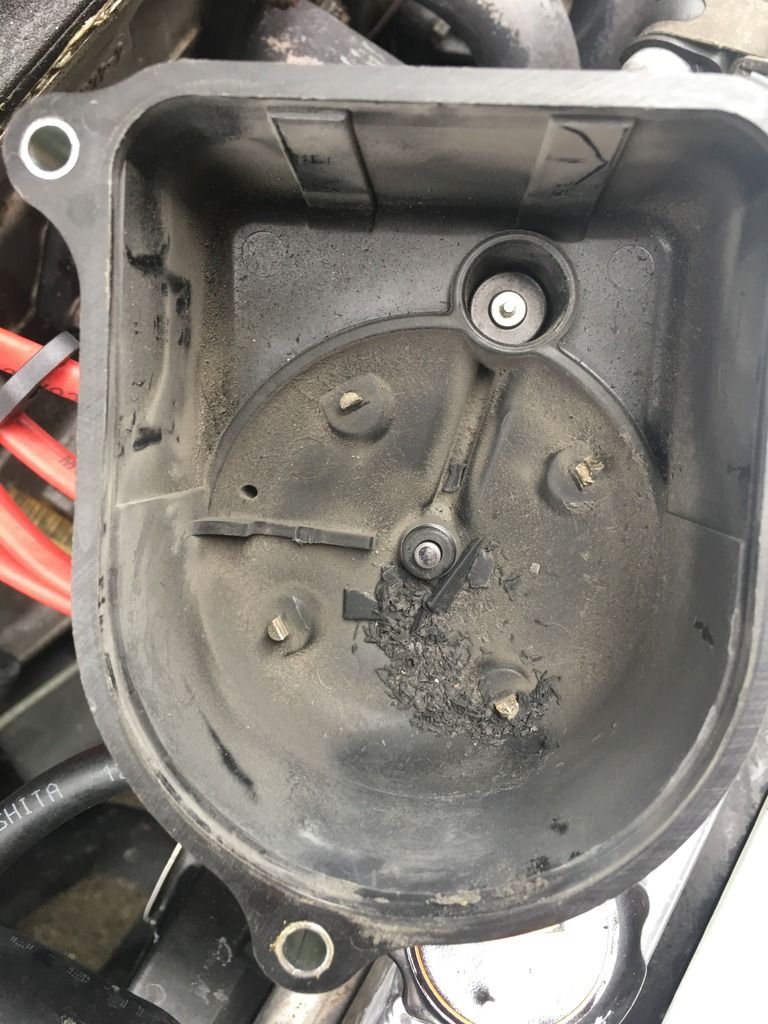 ouch! man sounds like you had a hell of a time. im cracking up imagining myself in a situation like that and how furious i would be. at least you were resourceful enough to jack your own car haha. whats crazy is that exact same situation with your distributor happened to me about ten years ago in my old hatch. i was about a mile from home charging a back road and the car just shuts off. i thought id run out of gas or something. my dad ended up pulling me home with a strap
And the car lives! Got the ICM swapped over last night from a spare distributor, and it fired up at first turn of the screw driver. Idled a little rough for the first few seconds, which I'm attributing to having a little extra fuel in the cylinders or something. As soon as it got over its initial sputter, purred like a kitten, and drove like a champ up to my local Lowes. I now have what I need to re-assemble the rest of the interior, which will be today's project.
Quote:
im cracking up imagining myself in a situation like that and how furious i would be. at least you were resourceful enough to jack your own car haha.
Yeh, totally, was a mixed bag of pissed off and "wtf do I do now" kinda thing. I was pressed for time, and my nerves were already shot from the drive down (driving a Toyota Yaris on the interstate with two older German women as passengers was enough to earn a drink). Its scary how easy it was to "jack my own car", and did so in a way that I'm completely able to re-assemble with only having to use two new screws I acquired. I'll admit, had to phone a friend to get some better clues on how to do it, but took me maybe half an hour?
Yeah our cars are obviously some of the easiest for thieves. When my hatch was stolen I was expecting to find a damaged ignition cylinder but that was not the case. The only thing that was permanently damaged was the clutch switch. Still confused on that one.


Sent from my iPhone using Tapatalk
Site Founder/Administrator
Like everything in life, it's great to have friends to lean on in frustrating times
Im glad you figured it out and it wasn't too bad of a fix. Have you thought about installing an anti-theft system with starter disable? I mean, it would have hurt this time, but can prevent such easy theft in the future. Im going to follow this DIY and install my own here shortly.
http://civic-eg.com/causeforalarm/dc_integra/index.php
I've got quite a in depth Viper Alam and Remote Start system on the car, with a handful of auxiliary sensors, along with some other tidbits I picked up along the way, all part of an install that would be a nightmare to reverse engineer. I took the time and made things even more "hidden" when I did my motor swap and had the dash out to replace the heater core last fall.
When I parked my car in SC, it was locked in a pretty secure garage. I left the hood up, and had plugged an extension cord into the battery tender to guarantee the battery would be fresh when I got back (still fighting some parasitic draw issues). All that said, I didn't arm the alarm when I left it, which turned to be a huge blessing when I needed to hijack my car to get it home.
Thank God for that small miracle! Haha I can't imagine the string of words you wouldve shared had you armed it!


Sent from my iPhone using Tapatalk
Little project I took on this week... Before you guys flame the Optima battery... I work at Advance part time, and my store manager bought a pallet of these Group 35 Optima red tops as "aged inventory". I picked one up for $45, figured I'd find a use for it somewhere if I could get one that cheap.
I've mentioned a few times I'm still fighting some parasitic draw, and my car has always seemed slow to start on cold mornings, so curiosity got the better of me. Took a few measurements, looked at things really hard, and it seemed the Group 35 Optima would come close to fitting in the stock battery location. Given the base layout of the Optima, I ended up trimming a few areas of the "base plate" to get the needed clearance around the firewall port for the AC lines and around the shock tower. I don't think you'd have this wiggle room with other batteries in this group size. The "column" layout for the cells in the battery are smaller than the battery base plate, so you've got close to 1 - 1 1/2 inches of excess plastic to play with in areas on the Optima battery that you probably would not have on others.
I got it dropped in place, now I just need to come up with a better base plate mounting solution (currently is just sitting on top of the factory battery tray), and also need to come up with a better tie down solution (currently just used a piece of a metal bracket I had laying around, drilled a new hole, just enough to hold it in place for now). Here in the next week or so I'll get the base plate in place to hold it, and scoot it a bit more "left" toward the fuse box. Its kind of just sitting where it "fell in place", and is definitely secured by that bracket (it's definitely not going anywhere). I just want to get it looking cleaner than it currently is.
It's got a considerable jump in output from my previous Duralast Gold (from 625 to 910 cranking amps at 32 deg F... from 500 CCA to 720 CCA). Starter definitely seems to be responding better (which, could be my stock battery wasn't putting out what it should have been, haven't tested it yet), volt meter in my dash now seems to be reading more consistent voltage (again, could be something as stupid as my old battery too).
We'll see how the battery holds up, this just turned into one of those projects where I wanted to see if I could make it would work, more so than trying to make things better.
Out of curiosity, did you get your window regulator situation straightened out?
---
1996 DB8 Bought 2003--->Sold 2010--->Bought Back May 2014
Restoration in Process!!