Got a few minutes over my lunch break today to play with the lights I picked up. Seems like this little project is going to be a piece of cake, and a lot easier than I initially thought. I had anticipated that I might have to fab up some sort of bracket, or re-engineer the supplied bracket to get them to fit where I wanted.
I knew fitment was going to be close, but I didn't think it'd turn out nearly as "perfect" as it did out of the box. In the pics, they're just temporarily snugged into place (so don't pay attention to them being non-centered). It seems using the supplied mounting bracket, I'll be able to drill into and secure them to the support bar behind the bumper.
I'll get some more pics of them mounted and powered up when I get to it tomorrow. I hooked up a power lead to both of them as I played with them, and they are BRIGHT. They are WAY brighter than my headlights. I do not intend to use these as fogs / running lights. I'll have them hooked up to an independent switch, so I can flip them on / off as needed when I'm heading down dark roads on my own.
Dimensions
Box
Housing with supplied bracket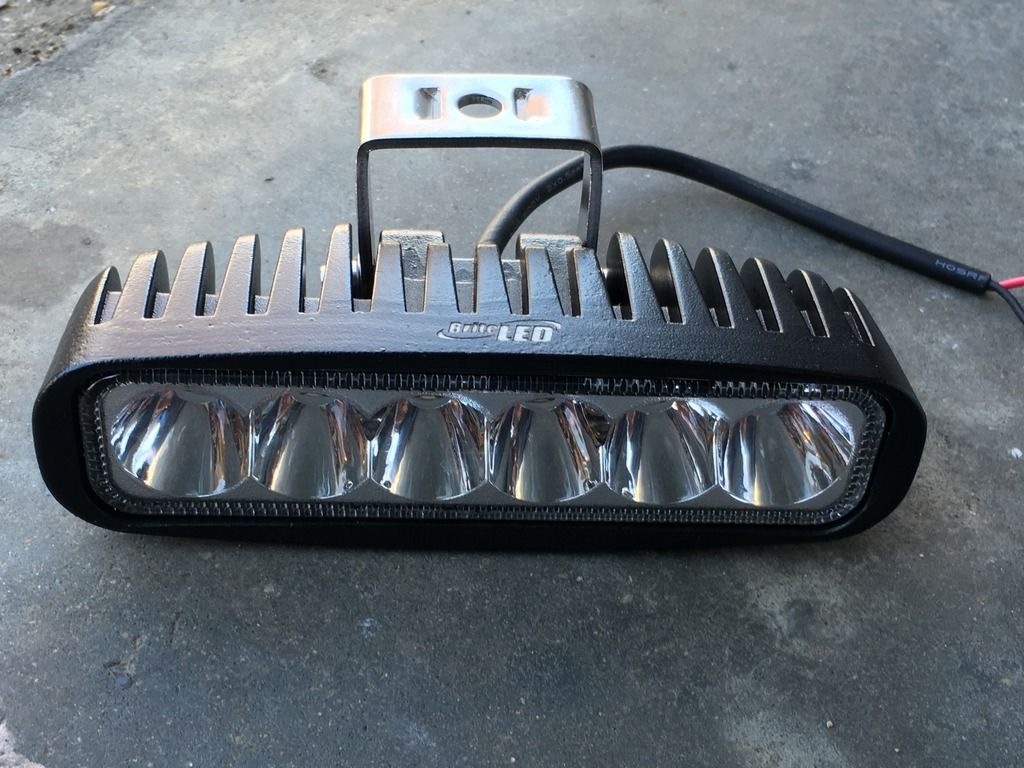 Test Fit
Mounting Point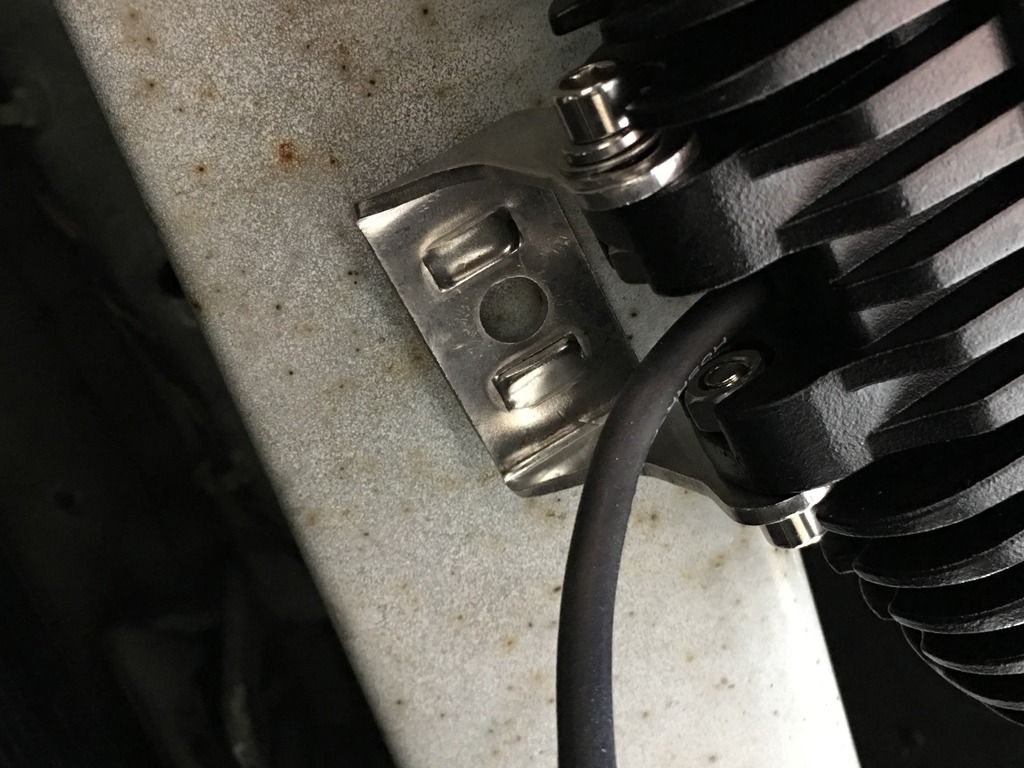 Site Founder/Administrator
that support bar is a MAJOR LEAGUE PAIN IN THE ASS to drive into


.
---
.
-
Running Log, the trials and tribulations of building a car
echlonwarrior: "Hondabond saves lives"
K2sInteg98: "the best thing to do is keep spending and not keep count....lol"
dpaton: "The road to hell is paved with good intentions"
Light Project = Complete
Really wasn't that hard to complete. I did end up having to extend the "slots" in the provided brackets, just so I could get some more downward adjustment on the light focus. Drilling through the bumper support wasn't terrible.
For now, I've got them wired off the ignition circuit into a surface mount switch that I stuck to the side of my steering column. Over the next month or so, I'll figure out how I want them to act permanently, and wire them in via an OEM fog light switch either where my cruise button is or in my center console.
Here's a few more pics of the project, and of the freshly washed car.
Slots extended (don't critique my lack of metal cutting skills)
Bolted in place (drilled a hole, bolt through the hole, nut with a lock washer)
Lights (independent)
All forward lights on
Freshly washed
Had yet another successful day of it today.
Worked out a deal with a guy I know, and got him to let me get my car on a lift. Between a mishap at the Dragon last year, and dropping the exhaust with the motor swap, the exhaust hasn't been quite squared up. I've had some occasional nagging issues with rattling against the bottom of my shifter and against the bottom of the trailer hitch. Was able to get those resolved. It's so much easier being able to walk under the car, than laying on your back guessing with the car on jack stands.
Afterward, spent a few hours hanging with @
bmarksb18
. Had a few neighbors tripping, as our cars look nearly identical at a first glance.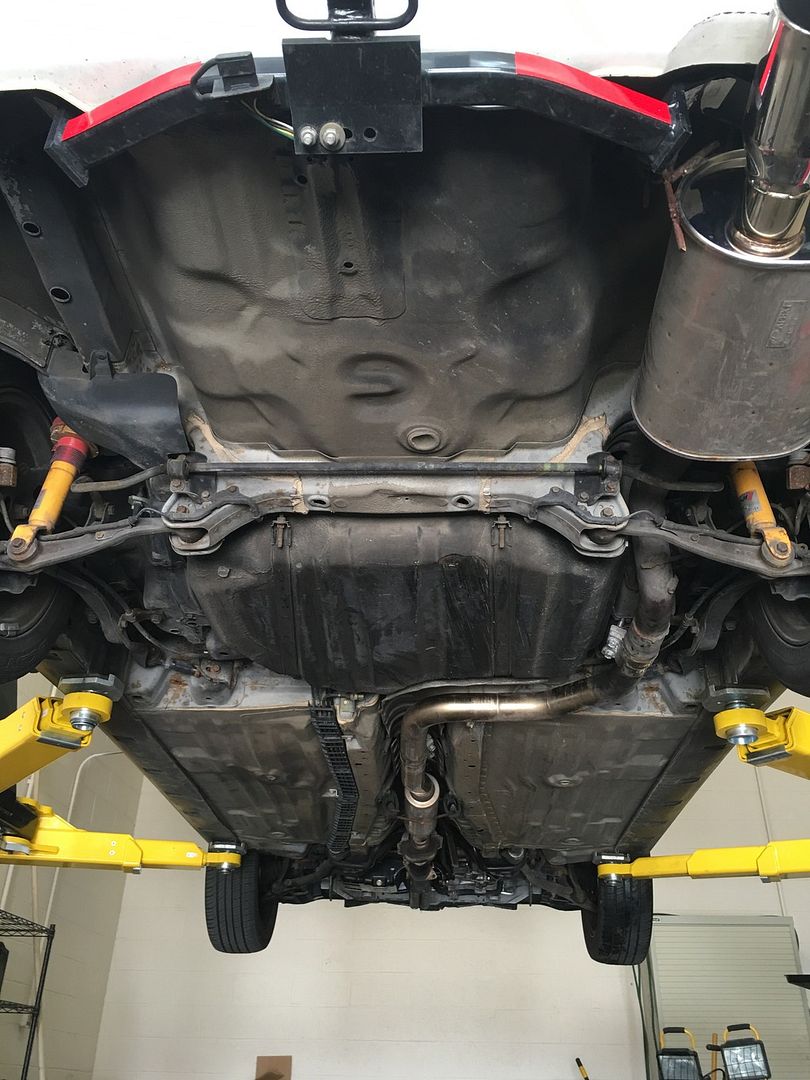 No real significant updates to post. I've been wide open with life and work, and car really hasn't needed much, so haven't had much to report here. Updates within the last couple of months...

- polished & waxed the exterior. Really took my time with it, and brought a bit of luster back to the paint.

- polished the muffler and some of the aluminum bits under the hood

- swapped over to the R888's I've had. Wanting to run the rest of the tread off of these so I can get another set of more street-able summer tires. The R888s I have I picked up a couple of years ago on a stupid good deal with the blades, and are just really aged tires. They're not dry rotted, just not as sticky as I think they should be, and just want to get something different before next summer comes around.

- Somewhere along the line of the swap, I misplaced the bolt that holds the tensioner pulley assembly for the A/C. I haven't worried about it much, and was hoping I'd run across it at some point in the garage, which hasn't happened. I got a new one in from Acura, and am taking the car up to a buddies shop in the morning to have the system vac'd down and re-charged. I broke the system open when I replaced the heater core, and just haven't done anything with it since.

- Picked up a OEM fog light switch for the center console. Plan to get this installed over the next few weeks at some point, to run the bright-as-hell lights I put in the front bumper a few posts ago.

- Just did an oil change this week. Oil looked clean, magnetic drain plug looked clean (was prob close to 2,000 miles on it). Looks like I developed an ever so slow oil leak between the head an block, seems to be around the front (exhaust) corner near the timing belt. Also seeing some residue around the timing cover. Will have to investigate that at some point. Not really consuming oil at an alarming rate. Exhaust doesn't seem to smoke at all since the tune, so what I'm losing must be to that leak area (and it's not anything in a measurable quantity, just know that I am losing oil at some rate, and have a mess starting to form in mentioned corner).

- Radio has started showing its a$$ to me lately. I haven't done much digging, as usually enjoy listening to the sound of the car. Seems the connection of radio to face plate is having a problem, and I think the radio's output over RCA is starting to have problems of some sort. Once I get some other things caught up, I'll look at getting a new double din of some sort (thinking App Radio maybe?), and dig into it with the new unit.

- Looking to take the car on a road trip later this week to SC, so it should finally get some decent miles on it.

Overall, its just been nice for the car to be dependable when I want to drive it, and not be rushed to do anything with it. Hoping this trend continues for a while now.
Senior Member
Join Date: Oct 2008
Location: Straight Roads, IL
Posts: 1,225
Feedback Score: 3 reviews
When you install the bolt for the tensioner pulley for the A/C belt, you may want to use Loctite on it. I've had mine back out twice on me, despite being torqued properly. Luckily, no damage was done to the belts, though some on here have had the same happen with less than desirable results.
---
"The Value of Life can be measured by how many times your soul has been deeply Stirred." - Soichiro Honda
[CONEV8R] 10:52 pm: blowjob gasket
[CONEV8R] 10:53 pm: err.... i mean, head gasket
Kaelorr: "It is, to this day, the only Honda I've ever seen roll coal."
Car made some decent power, are those dyno's pretty accurate?
---
1213 AFFILIATION - JDMKIDS | CALI LOVE | AS1 FAMILIA
1213 AFFINITY - Integra Log | NITE GRIND TRANSMISSIONS | GRIPSET | NASTIE GARAGE | CALI LOVE CLOTH. |
Running Log - atkinsonar's GSR
---
Are those dynos pretty accurate? Don't know, but have learned the dyno is just a tool. Number wise was close to what I was expecting based on reading other builds and results, so I guess was close to accurate.
Curve was smooth, car runs great, and is noticeably stronger than it was in stock form, which is what really matters. I wasn't looking for a number to brag on, just a quick car that's fun to drive, which I've got now
Sent from
AutoGuide.com Free App
Well put. Your absolutely right I was just asking because it was on the higher side which is always good. hehe.
Got a few things tweaked out last couple of days...
Sunday had my buddy draw a vacuum on the AC system. It was leaking from the left side AC line connection on the condenser. Long story short, I broke an AC line at some point when I swapped motors (don't ask how, I honestly don't remember how). The retention bolt reamed off attempting to remove the broken line from the condenser. It would not come out. Ended up drilling it, getting the remnants out, re-tapped it, and attempted to secure the new line to the condenser. I replaced the broken line with a new one from Carquest at that time. It wasn't strong enough of a hold I guess. Fortunately, same buddy had his old condenser laying around from his turbo car and just gave it to me. I cleaned it up, swapped it in Sunday night, and had a different shop vac the system down (it held fine) and re-charge it. Have ice cold AC now.
Got the idle adjusted back down to spec. Never fooled with it since the tune, just been one of those things I'd eventually get to. Before I got it tuned, I screwed around with the idle adjustment screw on the throttle body trying to tweak out the idle problems. After tune, it wanted to idle right around 1,000 rpms. Got it down to purring like a kitten right at 750 now when warm.
Fixed a couple of annoyances with the rear bumper. Somewhere along the line, the screw and clip that holds the 'front' of the rear bumper to the rear quarter on the drivers side just fell out (can't explain it). That corner of the bumper has been 'flapping loose' for a while now. Ended up having a stainless bolt, nut, small fender washers, and a thick nylon spacer laying around that was good enough to at least get it secured back in place. I'll worry about getting new OE clips and such for it when I get around to dealing with the rest of the body work and fresh paint.
Fixing bumper problem above worsened a really annoying squeaking sound (was very intermittent before, was constant after). For whatever reason, it sounded louder inside the car than it did outside, I always assumed it was something to do with the floor I built for the back rubbing against the plastic panels or something. Ended up finding the two license plate screws were ever so lightly rubbing against the rear bumper support bar. Cut the tips off of two rubber vacuum caps I had laying around, slid over the back side of the two screws, no more squeak
Radio problems...
The Pioneer DEH-X9600BHS headunit I have has been showing its ass big time lately (mentioned above). The face-plate to chassis connection seems to be real flaky, so often times the face plate will start randomly changing colors, and frequently am unable to use the volume knob / skip buttons unless I screw with pushing the face plate back in and waiting a few secs. I've tried cleaning the terminals, and doing different 'creative' things to wedge the face plate in place to no avail. Once I get some other priorities taken care of, I'll be in the market for a new double-din that supports the Apple Car Play.
Additionally, been having on going issues somewhere between my fuse distribution block by the battery and my capacitor. I replaced the fuse block once already. Every once and a while, my amps will stop cutting on... pulling the main fuse for the amps and re-inserting it will fix it for a while. Fuse always feels snug. I went so far as to pull the cover over the top of the sub and amps I put in (first time I've done that since I installed it... actually removed pretty easily)... capacitor was flashing 0.0, and only measured 5.5v at the terminals on the amps (but had a strong 12.x at the fuse under the hood). Pulled fuse, put fuse back in, and bam, had the full 12.x at the amps again, and cap started reading 12.x also. I'll have to investigate this more later. Not sure what to take away from todays findings, other than maybe a suspect cap.
Also got the interior fully detailed. Not sure why, but the car always seems to run better when its clean. Should be all set to roll with it this week for a road trip.
Had a heck of a trip over the last week with the car. This was really the first time I've driven it any considerable distance since the rebuild, and it held up like a champ. Racked up close to 1,400 miles over the last 10 days, and everything was smooth, was a blast to drive, and very happy with everything.
Averaged right at 34 mpg on the highway. To date, since the rebuild, I've only driven it around town, short distance type runs, and have been very hard on it when I do drive it, so have only been getting mid-20s.
Broke the 260k barrier. I missed a picture of this by "just that much".
Met up with an old friend of mine, who used to have a 94 LS. We went out and beat the snot out of mine for a good half hour on some very rural roads, had a blast. He was very complimentary of how it handled, how balanced the power felt, and I had a good time riding along with someone else pushing it to its limits.
Main purpose of driving my car for the trip, was to pickup a U-Haul trailer, and drag back some of my brothers stuff. Didn't have anything that heavy, so trailer wasn't overly weighted down. Was fun in a few spots dragging the trailer from SC back to KY (which means through the NC/TN mountains). Overall, was able to keep up with traffic, and the car didn't complain too much. Just go figure, as is my luck, twice in two areas, I encountered some of the worst "out of nowhere" bad weather that I've hit while driving [ever]. Both cases, traffic bailed for the side of the highway because of the wind and rain (I literally could not see out of the car it was coming down so hard). With a trailer in tow, made it that much more stressful.
Knock on the proverbial wood, haven't had any issues with the radio since my last post. A/C is so cold I had to turn it off a few times. The irritating "bumper squeaks" are no longer.
As is par for the course with a car this old, it seems every time you fix one noise, another surfaces. I've now got a couple of vibrations between the dash and headliner I want to chase down, and have a squeaking noise coming from the passenger front shock tower. I've chased the shock noise a couple of times, but as soon as you lift the car up, I can't reproduce it, and it takes days for it to return. With the car lowered, I can't see or get close to the noise to figure out where it is coming from.
I'm working on freshening up the Fat-5's with some satin black wheel paint, and otherwise am just trying to keep the car clean.
I think I'd previously mentioned it, but had been taking my time getting the Fat-5's cleaned up and resprayed. My son helped me paint these black originally in 2013, and we rushed it, and he was real heavy with the spray can. Considering that, they've held up really well for the last 3 years. Just over time, they'd gotten chipped and scratched, so wanted to freshen them up.
This go around I used 3 good coats of a Duplicolor Satin Black wheel coating. It's got a bit of a sheen to it, without being full gloss or flat black. While I had everything masked off, I also used a Dupicolor Tire Paint (part numbers TP100 and TP101, for a black and a clear). This got the tires a really nice true black color, with a really nice shine, that is completely dry to the touch. We'll see how this holds up.
For masking off the rims, 3 years ago I did it with index cards, which worked great with the 195 tires. With the 205 tires, the lip was a lot tighter, so ended up figuring out old playing cards locked in pretty tight.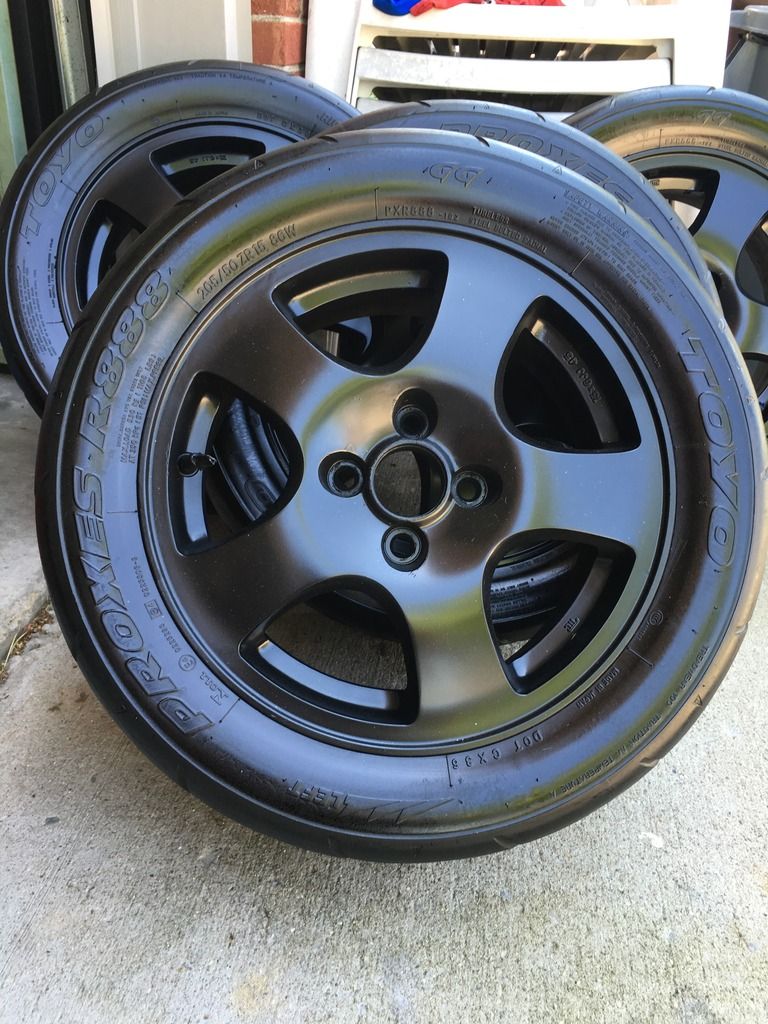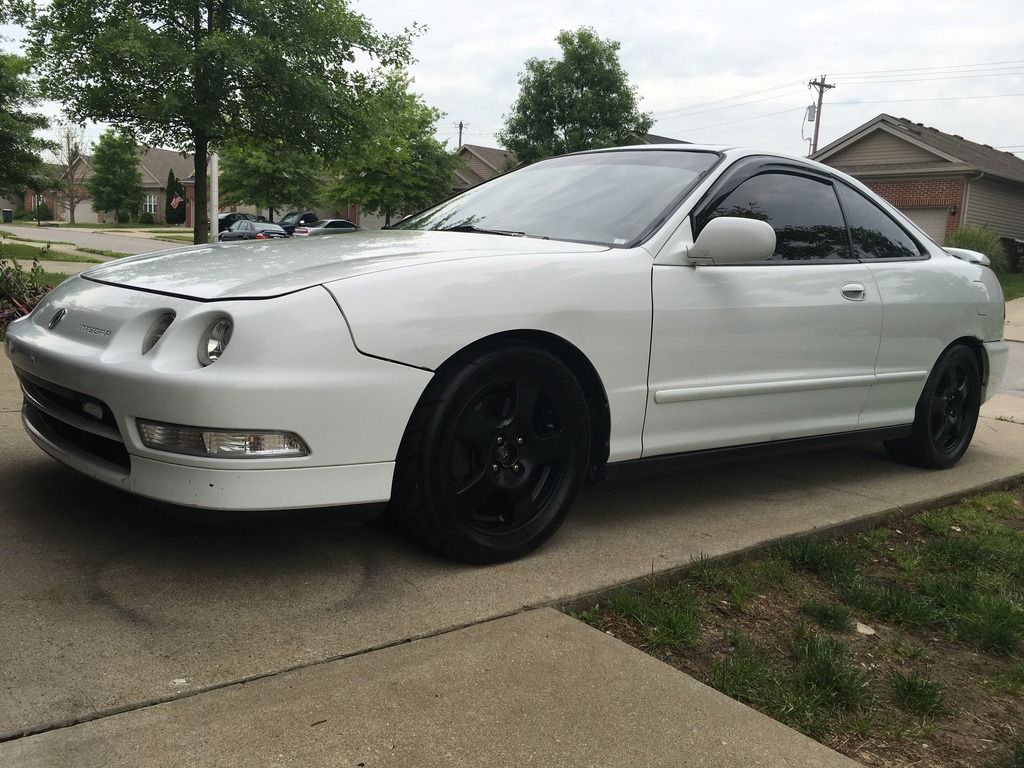 what's your preference, Fat 5's or the Blades? speaking purely from aesthetics, not taking into account the types of tires on the wheels
---
1996 DB8 Bought 2003--->Sold 2010--->Bought Back May 2014
Restoration in Process!!
Quote:
what's your preference, Fat 5's or the Blades? speaking purely from aesthetics, not taking into account the types of tires on the wheels
Hard for me to pick one over the other, they're just styled so different, and look so different on the car. I definitely like the "clean" look of the polished blades. The fat fives painted black on the white car just look more aggressive in my opinion.
Now that summer is here, I plan to hopefully run the tread off the tires on the black rims. They're just really aged, want to get something different, can't really see just trashing something with good tread. Hopefully attending a couple of SCCA events this summer will help that endeavor.
I'm planning to strip the blades down while they're off the car, give them a better polish on the face, and spray the "inners" with some sort of a dark grey, to really make them pop.