hope you got that cheap because you got some work ahead of you, but good luck on your build bro
Quote:
hope you got that cheap because you got some work ahead of you, but good luck on your build bro
Yeah the price was pretty good for what it needs.
So today I stopped and had my step dad take a look at the damage to the front end. He said that it wasnt too bad. The biggest part would be welding the core support back on. I guess when it was damaged it just broke off so its just hanging on right now. He also said that I could also use a new bumper.
He took a look at the paint he had and found some paint from my old 97 GSR that was the exact same color. So we have all of the paint supplies needed just got to get the parts.
So instead of just getting another 94-97 I plan on upgrading to the 98+ front end. I would also like to get a type r lip and spoiler painted at the same time.
After that I went to the car wash and did some cleaning. You can tell it hadnt been washed in a while. The paint doesnt look too bad though pretty glossy just has alot of little scratches here and there. Should be able to touch up most of that when I get a chance.
Then I started doing the brakes. The fronts werent in too bad of shape but the backs were horrible. The back had deep gouges on the rotors where the squealer had dug a nice deep groove in them. Definitely glad that the brakes are out of the way. I ran out of daylight so I didnt get a chance to bleed the lines and replace the fluid but ill probably save that for next weekend.
I also noticed that there is a small oil leak. Looks like its at the oil pan gasket. When I replace that I will probably get a header too since it looks like its alot easier to remove it and I might as well replace it with a aftermarket one.
Probably for now just fixing it up so it looks and drives decent. I dont really plan on doing much with it until I get a house with a garage. Right now I live in a apartment and I dont like the fact of putting too much money into a car thats just sitting out in the open.
Should be able to get a house within 6 months though
So I decided to just stick with a 94-97 front end. 98's are hard to find plus they cost quite a bit more than what I would want to pay. I dont mind the 94, looks pretty good with a lip.

I picked up a extra bumper today with headlights for pretty cheap. I plan on doing a HID retrofit with the spare set of headlights later on.

Im also going back on forth about whether I want to get a type r spoiler or whether I should just go wingless. Any input?

When I get all my parts together im gonna get the side skirts painted too. Just makes everything cleaner.

I ordered my oil pan gasket off of acurapartsworld.com and will be here next week. Also added a couple bolts, nuts and studs to the order in case anything goes wrong.

Also ordered a couple cans of VHT wrinkle red paint from Jegs to paint my valve cover. The PO painted the valve cover like a phillipino flag which doesnt work for a white guy like myself lol.

This weekend im doing emissions and transferring the title into my name so that will take care of that stuff. Maybe do some prep work on the bumper and fender if I get bored.
So this weekend didnt go according to plan at all.
Friday went to take my emissions and discovered that the PO had pulled the bulb for the check engine light
Got my piece of paper saying that I failed due to there being CEL codes. Went home and checked the codes to find out which 3 codes I had. Turns out the codes were for a O2 sensor and a misfire on cylinders 3 and 4. Fixed the O2 sensor code by crawling under the car and just plugging it in lol. Still had the misfire codes so I decided to clear them and see if they came back.
Went on a drive to see if the codes would come back. Pulled over and popped the hood to listen and check some things (left the motor running), started noticing some steam coming from the back of the motor. Went to go shut the motor off and the CEL was flashing
My temp gauge hasnt really been accurate since I bought the car and didnt show that it was overheating. Checked the radiator and noticed that the coolant was a little milky and that there wasnt as much pressure in the cooling system as there should be.
Looks like I am going to be installing a new head gasket
Ill be ordering the head gasket, timing belt, water pump, and tensioner from Honda and should hopefully do the install next weekend. Ill also be upgrading to ARP head studs for a little piece of mind.
Tomorrow im gonna start prepping the bumper and fender for paint. Ill have to wait on ordering a lip and ITR spoiler till next payday since I get to spend that money on a head gasket. I cant wait till all the issues are fixed and I can start enjoying the car
Did some prepping on the bumper and fender today. Took a couple quick pics but they are ready to prime. I also decided to shave the front license plate holes (not in pic) for a cleaner look.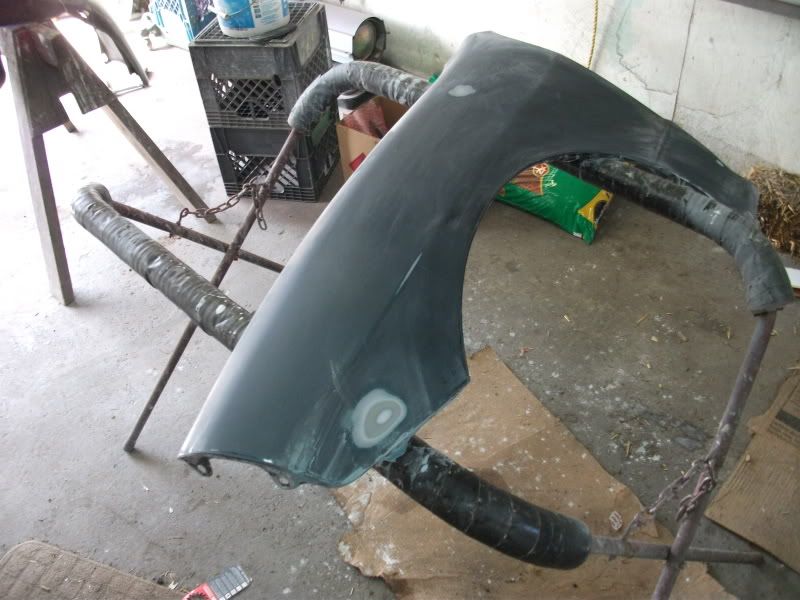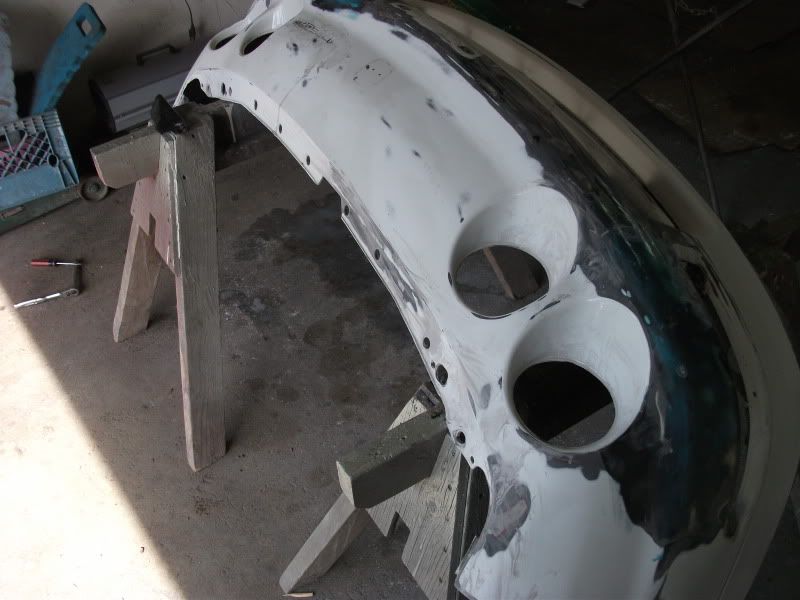 I also went on a small shopping spree online lol. Heres what I bought:
*OEM thermostat
*OEM timing belt
*OEM tensioner
*OEM tensioner spring (not sure why this thing isnt included with the tensioner)
*OEM head gasket
*ARP head studs
*ITR replica spoiler
*ITR replica lip
Should hopefully get the parts late this week which is why I bought everything off ebay because I know that they had the parts in stock and ready to ship out. Most dealerships would probably have to special order the parts.
I plan on doing the head gasket this weekend as long as everything comes in time if not ill work more on prepping for paint.
dam that car went through hell lol good to know its being rescued, I love projects like this good luck
Quote:
dam that car went through hell lol good to know its being rescued, I love projects like this good luck
Yeah it was in pretty rough shape. Hopefully I already found all the bad things. When I replaced the cap and rotor the rotor didnt even have the screw holding it in. There was also a couple marks on the inside of the cap where it looked like the rotor had came off and made contact with the cap.
Im pretty determined to turn this back into a clean reliable car that it once was.
Got some packages today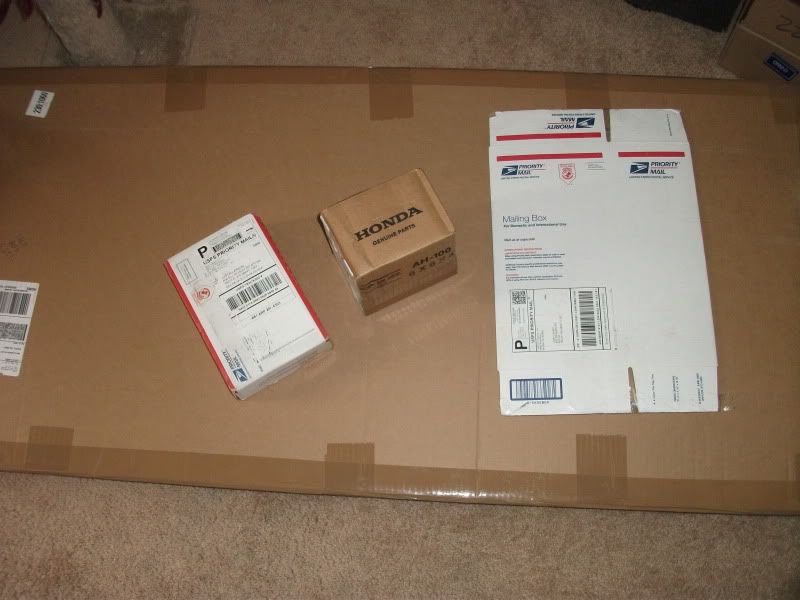 Got a free hat from Jegs with my order. I love free stuff
They had the cheapest cans of VHT wrinkle red at the time. Its hard to get small things like this for a low price online. Shipping and handling always kills you at the end.
Heres my ITR replica lip that I got off ebay. Seems like pretty good quality. It came with the hardware and it has brackets riveted on the bottom. Plus they dont fold the lips like most of the places do when they ship which leaves creases. It came in a perfectly sized box to fit. So far I am pretty happy with the seller. Well see how the fitment is when I get to the install. The seller I got it from is bestracingmotors and was only $45 shipped.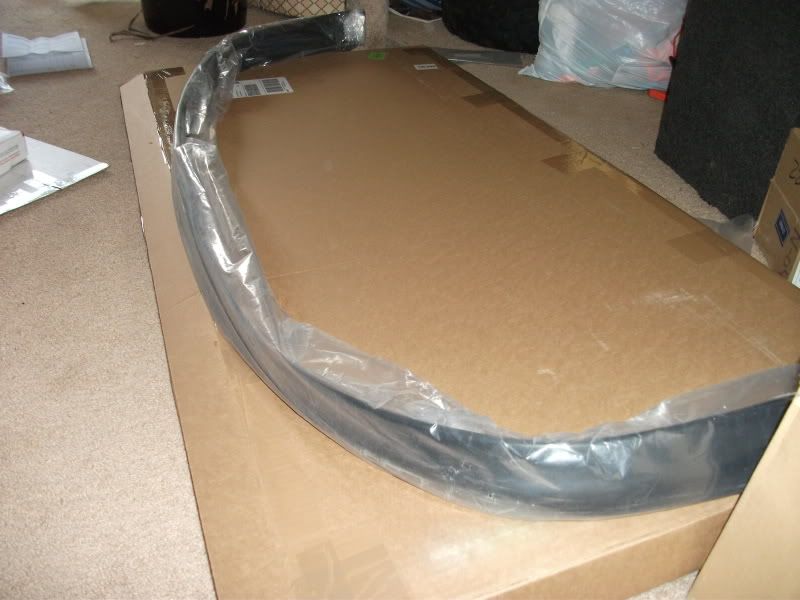 ARP head studs
OEM oil pan gasket. Also ordered a extra stud, some nuts and bolts just in case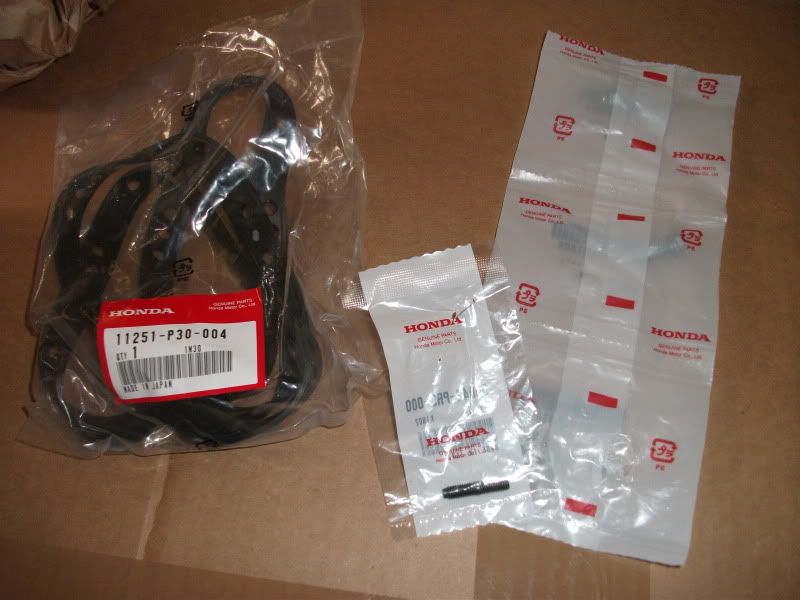 OEM head gasket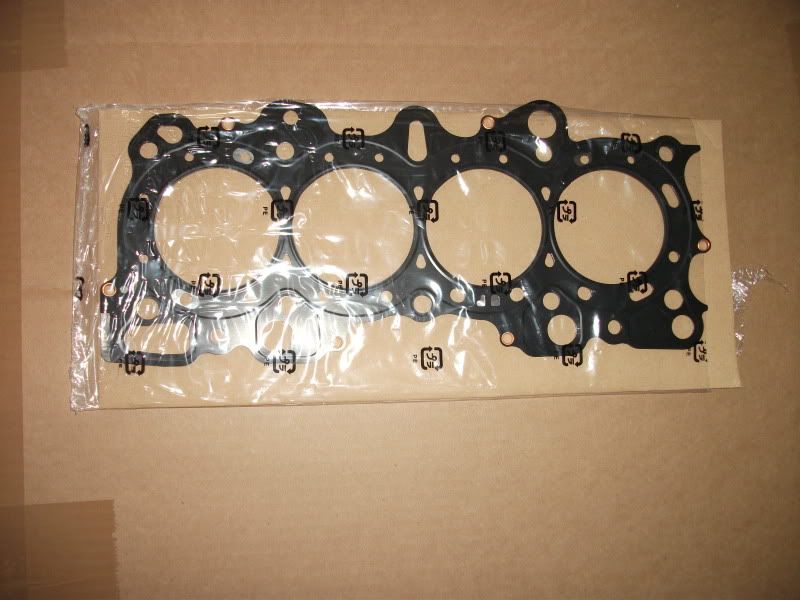 Should be getting the rest of the stuff tomorrow. Im thinking I will start Friday night then hopefully finish Saturday afternoon. If everything goes well I should be driving the car Saturday night to watch the big fight between Jon Jones and Rashad Evans
damn looking good man....i'll have to look into the lip want to see how yours fits and looks cant wait to see it on
Banned
Join Date: Apr 2011
Location: Fort Walton Beach, FL
Posts: 343
Feedback Score: 4 reviews
I did the ITR lip and spoiler as well on my cypress green sedan. Check out my thread in my sig. Your car will look great man loving the parts and progress already!
Banned
Join Date: Apr 2011
Location: Fort Walton Beach, FL
Posts: 343
Feedback Score: 4 reviews
Also when installing the lip there's a great thread on installation just search it. It tells you how far below the bumper split line to mount it correctly. If I get a chance I'll post it in a minute for you.
Edit****
here ya go this is the page with the best info and it needs to be mounted 2 5/8" below the split line of the top and bottom half of bumper. Get pics asap!
ITR Lip Installation
---
Last edited by 96GreenDB; 04-19-2012 at

12:38 PM

.
Thanks for the link Tim! Definitely looks like the same type of brackets and stuff that my lip has.
I also looked at a delivery confirmation for my lip from yesterday and this is what it says
So it appears that the ebay user Bayson that everyone was saying had great fitting front lips is now bestracingmotors. I was looking for Bayson on ebay but couldnt find anything. So for anyone who is looking for a Bayson lip order it from bestracingmotors.
Alright so today I got a couple more things in the mail today. First thing is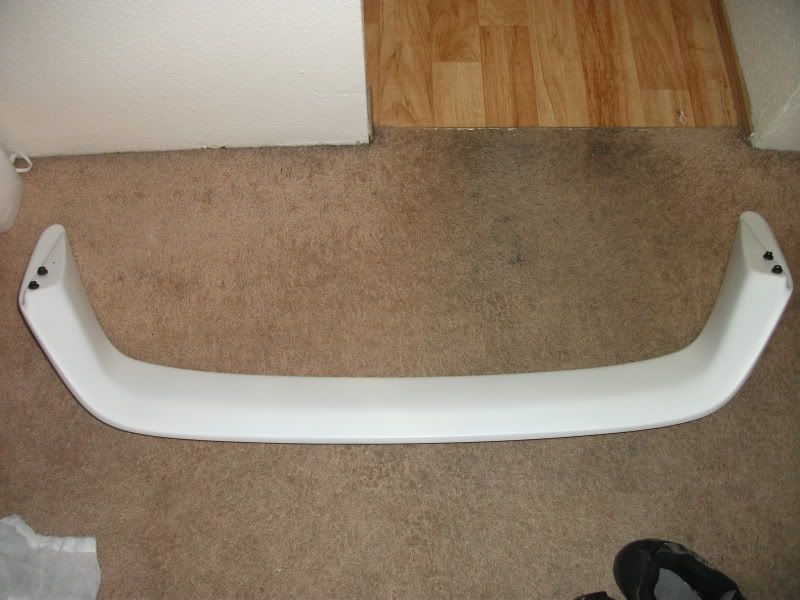 Got this for $85 shipped on the K2motor.com site. They sell on ebay but I found out that if you get it off there website it will save you like $5 plus they had a promo code for something so I got 5% off.
Overall the spoiler looks alright, a lot lighter than I expected but well see how it holds up. Also noticed that there is something loose inside like a piece of plastic or something. Probably wont notice once it gets mounted though so im not worried.
Next up is: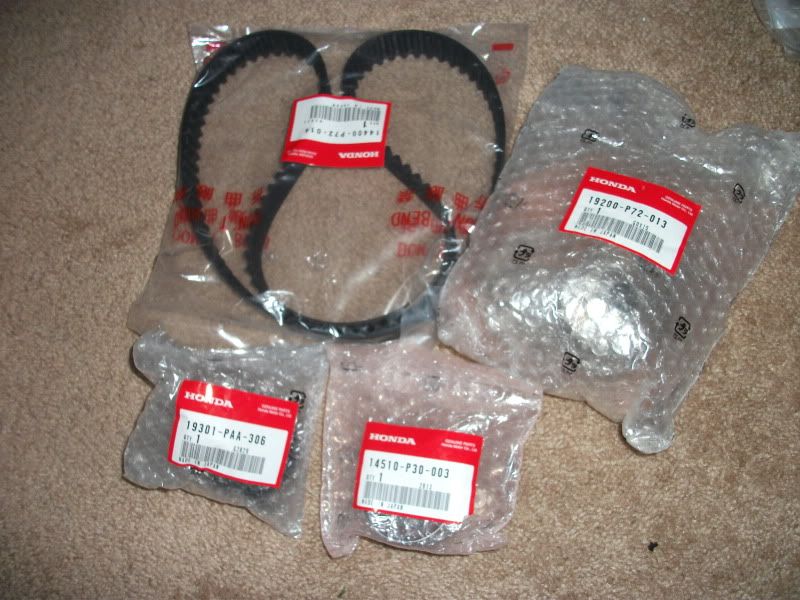 My OEM timing belt, water pump, thermostat, and tensioner.
The only thing that I am missing now is the tensioner spring which will be here tomorrow just in time for the big day.
---
Last edited by drmix; 08-03-2012 at

11:20 AM

.