Nick's SSBP GSR Log- End of Summer Update
---
hey guys! so a few weeks.... months... ago I posted about how my '95 Black GSR was totaled from being rear ended. Here's a link for those who didn't see
http://www.team-integra.net/forum/20...otalled-2.html
On Easter, I got ahold of a clean 1998 SSBP Shell from the southside of Chicago, towed her into storage and now she's ready to take my GSR swap. Here's a few Teaser Pics: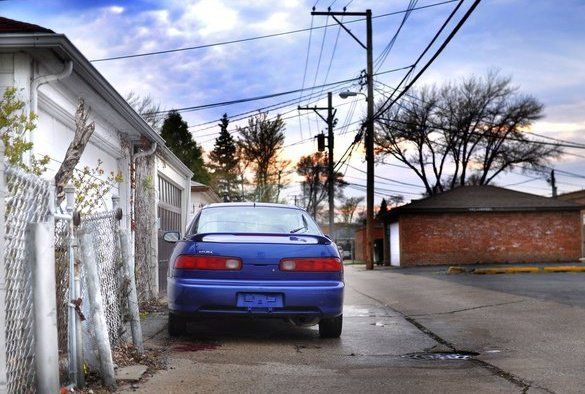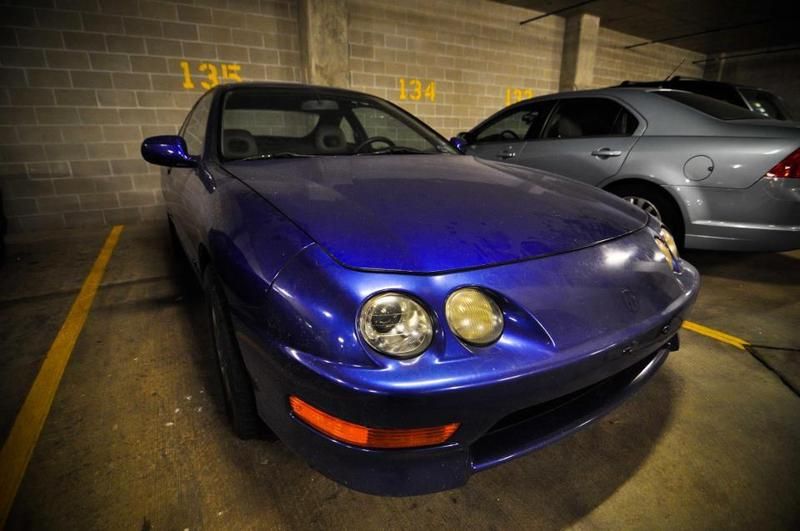 I didn't take more pictures because the interior looks like shit. it's all there, minus the rear seats and some shitty civic seats, no biggie. Oh and a tan dash that I'm going to have to swap out and put my black dash into. This is probably one of the cleanest shells I'll probably be able to get my hands onto, if anyone knows Chicago they'll know all the tegs here on craigslist for sale are terrible, and the good ones are overpriced.
I'll look forward to getting her running and working in the next two weeks hopefully before my birthday.
-nick
---
Last edited by thenickster5792; 02-20-2017 at

04:44 PM

.
Super Moderator
EXCELLENT! I was wondering if you finally picked it up.

I'm ready to swap when you are! We'll have it running in no time.


Oh and your photographer sized images are taking a century to load, might want to throw up some lower res ones
lol, i'll text you about this later Casey!
I could've sworn I MMS texted you a picture of it when I got it on Sunday... guessed you didn't get it.

And I'll resize my images.
---
Last edited by thenickster5792; 04-26-2011 at

03:58 PM

. Reason: added text
Congrats man,
ps, this picture is kick ass.
---
Integra
Haha, it's nothing special, I just washed her, grabbed a quick shot and went mad with the dodge/burn tool in photoshop. It's not true HDR
Promise I'll do more shots once she's all cleaned up and running.
Super Moderator
From the teaser pics the shell looks 100% better than the other crap you sent me pics of.

Should be a great looking car when we're done with it.

Is it better looking than your 96? Pics sure look like it is.
---
Last edited by MeltMan; 04-26-2011 at

05:11 PM

.
So today began the swap of taking my GSR engine from my wrecked teg that's been sitting in my backyard for a while now. I have the help of the almighty Casey aka Meltman to help me out on my project.
At the end of the day it came pretty close but it came to a stop when the driver side axle spindle nut was too rusted and broke 2 1/2 drives. Here's a pic of the broken tools.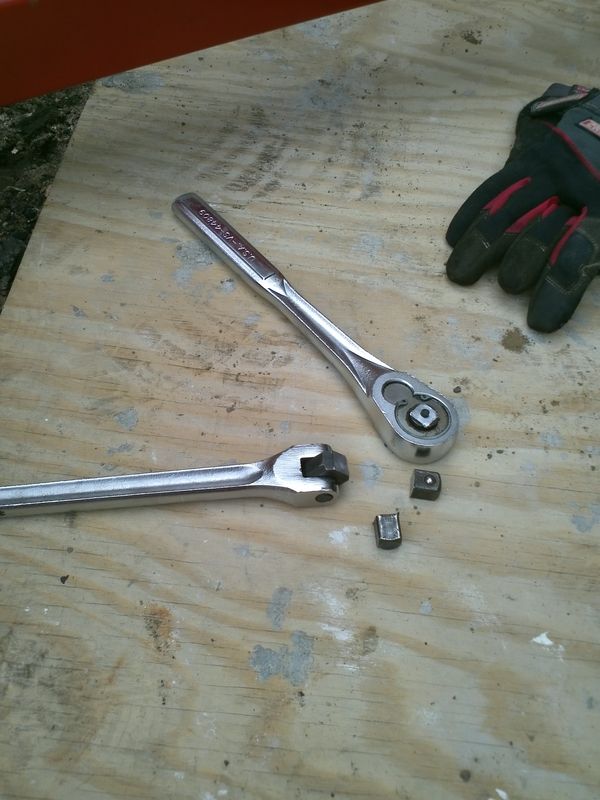 "I will admit, this teg's quite one of the rustiest I've ever worked on."
and here's the car at the end of the day.
We'll proceed to continue this tomorrow morning and hopefully next weekend.
Can't wait to have a SSBP running integra
---
Last edited by thenickster5792; 10-17-2015 at

05:47 AM

.
Super Moderator
Yeah, axle nut of DOOM man. Round two will include a blowtorch
Your new cell phone takes AMAZING pictures man! Damn.
Super Moderator
I know you've done some work Nick... where are the pics?
okay okay!
but for those that don't know too much about my log, casey and i have been trying for the last few weeks with an axle nut that's been rusted in and wouldn't come out. i'm trying to get the engine swap over to the new shell this weekend, so i had another friend come by and help me out. (didn't wanna take up casey's week nights)
here are the pics of her finally coming out today, she's been putting up a pretty hard fight!
finally out!
and because we were working on dirt and not a hard flat surface, the engine hoist wheels kept sinking into the ground. so we had to use this to help get the engine indoors to avoid rain.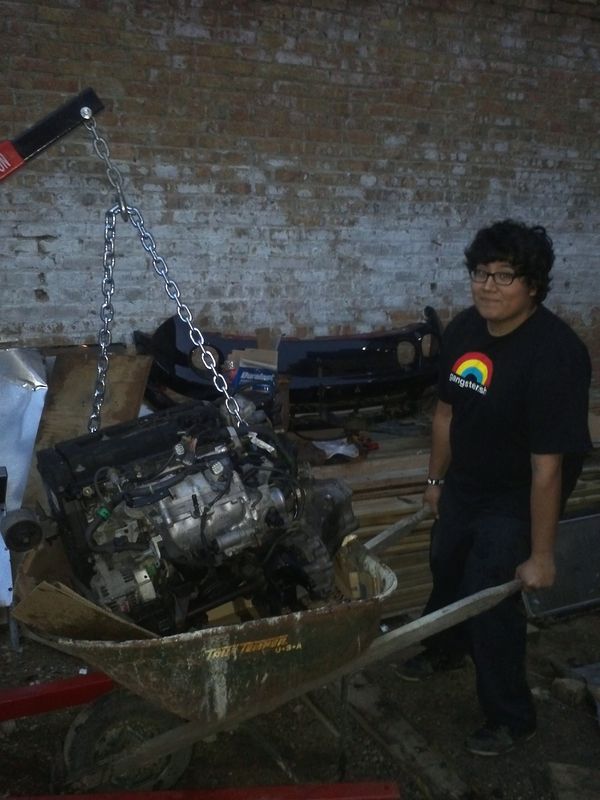 overall, kinda ghetto workplace, but hey sometimes you gotta do what you gotta do; using the resources you've got and what you have available.
more progress to be made on sunday!
---
Last edited by thenickster5792; 10-17-2015 at

05:49 AM

.
Senior Member
Join Date: Aug 2006
Location: Look @ Me, FL
Posts: 291
Feedback Score: 0 reviews
awesome come up on the new teg shell..looks clean..i wish i was in chicago..i would've love to help ya guys outs to put the new teg together..keep us updated
Senior Member
Join Date: Mar 2011
Posts: 209
Feedback Score: 0 reviews
im pumped to see this blue integra come alive, god i love blue! looking good man. keep it up!
Super Moderator
Lol. The wheelbarrow is awesome
so there hasn't been too many responses to my thread, it's okay i know it's somewhat boring.
so to jazz it up a bit, and since i know you guys love pictures. i decided to take a few pictures of some of the things i have going onto the new GSR.
enjoy!
header gasket! bought at Top Speed Auto Sports in Chicago.
muteki lugs! also bought at Top Speed
Exedy Stage 1 Clutch... yes you guessed it, also bought at Top Speed
Red stitched type r shift boot, bought from some dude off Honda Tech
(also got good condition floor mats, but no pics of them)
blox lower control arm's! bought it off craigslist a while ago, just never put them on. i'm considering not using them though and getting skunk2 lca's with replaceable bushings.
skunk2 coilover sleeves! i also bought these off craigslist a while ago.
locustom antenna!
and last but not least, a skunk2 short shifter! also from Top Speed autosports. i've wanted one of these for a long time. no shifter bushings though, i'll need to pick up some.
that's all for now. i have quite a few more aftermarket parts and just ordered some $400 worth of parts from the Honda dealer that won't be in until tuesday.