Senior Member
Join Date: Jun 2002
Location: very near power, NJ
Posts: 2,961
Feedback Score: 4 reviews
Senior Member
Join Date: Nov 2003
Location: R-81 in, TX
Posts: 3,087
Feedback Score: 0 reviews
trade you my car for your car [hehehe]
~P2P
---
T-I.net's Ulterior Mission Statement
: It is the duties of the Team Integra community and all its resources and members, to ensure a dollar earned is not a dollar wasted.. ~P2P ''Red the Line'' ~P2P
Member
Join Date: Mar 2005
Location: K-Town, CA
Posts: 33
Feedback Score: 0 reviews
wow!!! i juss read all of your amazing postings.. this is one crazy but genious project i have yet to come across! mad propz man.. i will be following along... keep us updated!!!
---
01 Liquid Silver Celica GT **SOLD** DC2 B18b **Work In Progress**
Senior Member
Join Date: Feb 2005
Location: Houston, TX
Posts: 1,333
Feedback Score: 7 reviews
what color are you going to paint it?
---
Senior Member
Join Date: Sep 2004
Location: Crystal Lake, IL
Posts: 358
Feedback Score: 0 reviews
damn, just... damn. you are a brilliant mind for figuring out all these things. everything, i mean EVERYTHING in this is custom. wow, im just so amazed in the skill you have. i cant wait until i have enough money to take on a task like this.

im looking at going into engineering as a living, which would help sooo much in a task like this. im sure you are an engineer of some sort. you have to be to know all this.

cant wait to see her finished, ive been reading this very often and waiting for your updates. good job :thumbup: you sir, are a geneous
---
4AGE powered.
Senior Member
Join Date: Sep 2002
Location: NC swamp
Posts: 1,898
Feedback Score: 4 reviews
haha Dave went to the greatest Engineering school in the country! NC STATE! hopefully in four more years after graduating from the same program he was in I will have half of his knowledge and know how.
---

14.19@99 and counting Sig courtusy of Matt.
my car
Member
Join Date: Mar 2005
Location: Mech Ville, VA
Posts: 71
Feedback Score: 0 reviews
Oh mY GawD! when i saw the pics of the engine in it I seriously almost had a heartattack. after reading all 43 pages of this thread I am glad to come across it. Keep IT UP!! We all want to see it completed! and for a name. how about ...Integra TYPE-X ? I am from Va and anytime to need a B*tCh to help get your tools to you to make this thing go any faster. I will be there
and maybe you can help me with a LS/VTEC install .. haha
or if it had a SC you could call it a SUPRSLPR ..for license plate. You have all my support for this project please keep us updated.
C MAC
Member
Join Date: Mar 2005
Location: Mech Ville, VA
Posts: 71
Feedback Score: 0 reviews
Oh and I bet you get some great insurance rates for your 94 Integra
Whoa .. you are crazy man .. I can't believe it. Fantastic undertaking though. Too bad you live so far I would love to see the finished project I am going to keep an eye on this one
---

Love = Obsession - Proud to be an ON chapter member
SheDevilRacers.com
Senior Member
Join Date: Jan 2005
Location: nowhere, NY
Posts: 105
Feedback Score: 0 reviews
Senior Member
Join Date: Dec 2003
Location: Burgaw, NC
Posts: 1,111
Feedback Score: 1 reviews
Post #DC2H22-30
The shifter mechanism is finished! It feels great. Nice and tight! Shifter throw at the knob from neutral to
third is 1", and the side-to-side gate selector mechanism has been shortened the same proportion. I removed
the fuel tank to make it easier to work on, which also makes it easier to see how the cables are routed in the
pics below.
The next 3 pics show the bracket and keepers made to hold the cables to the plate above the trans…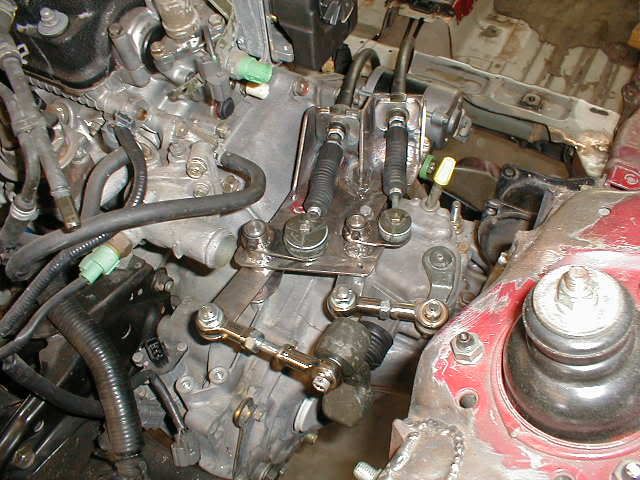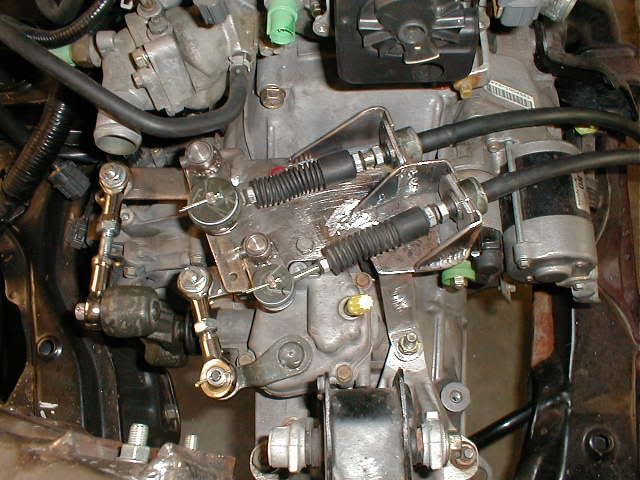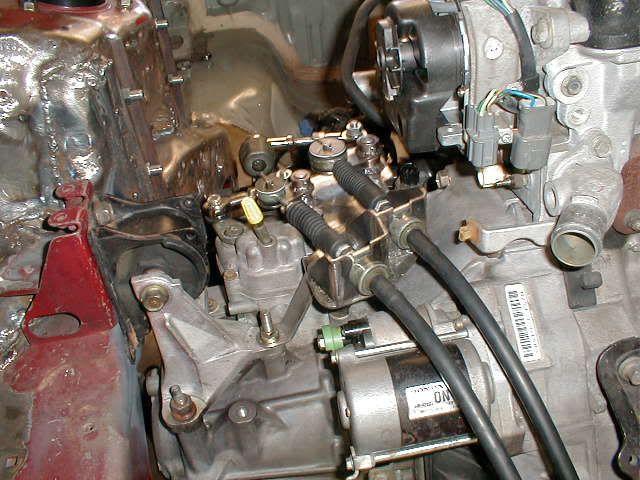 This view shows the whole system…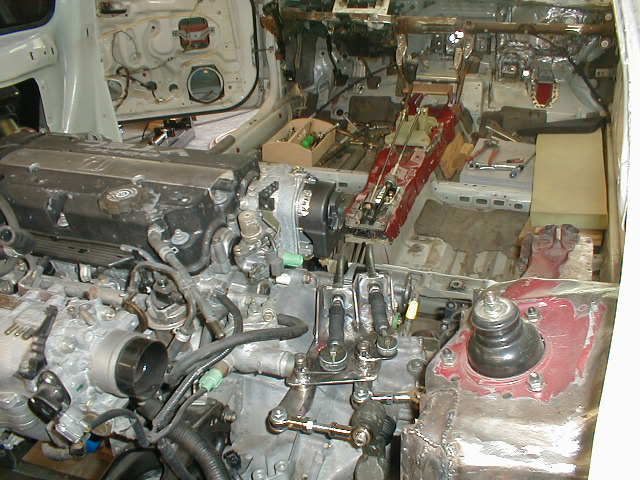 The shifter end over the tunnel. The red piece I removed from the Prelude a long time ago.
The shifter from above…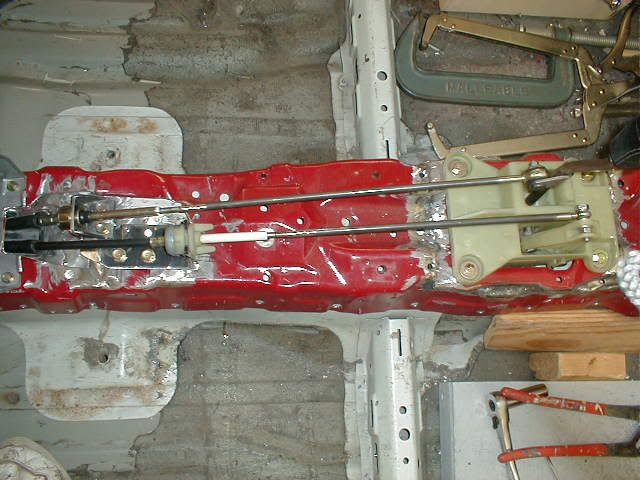 Here you can see the cables coming up through the tunnel, using the original Prelude mounting plate and
rubber seal. The bracket at the left holds the rear of the Prelude console. The bracket I made to hold the
cables is 2 parts bolted to the tunnel, which are actually made from 11 separate pieces of steel. The round
holes along the bottom of the red piece are where spot welds were drilled to remove it from the Prelude.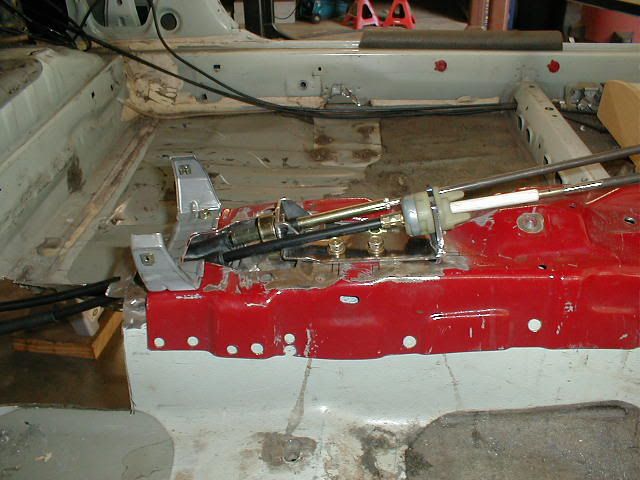 The shifter was sloppy with the original rubber mounting bushings, so I made some from aluminum. The
base of the shifter is not symmetrical, and the welding you see, below where the shifter bolts on, is where I
cut the mounting out, turned it around to face the rear, and welded it back on.
This view shows how I relocated the select rod (on the right) using a bolt to move it closer to the center of
the tunnel. I needed some clearance around the parking brake handle. To extend the cables, I cut off the
ends and welded in some steel tubing.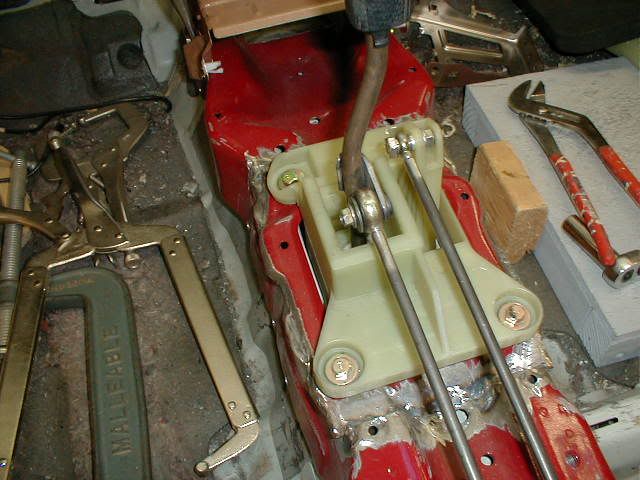 I'm now working on the E-brake system, and will have a comment on the design for that soon.
Thanks,
Dave
---
94 GSR mid-engine RWD H22A4
Sponsored by:
Senior Member
Join Date: Dec 2002
Location: Commerce, MI
Posts: 6,975
Feedback Score: 0 reviews
coming along great Dave!
Can't wait to see the finished product. You are truely an inspiration to many
---
[SIZE=4]Team Tuna[/FONT][/FONT][/B]
Senior Member
Join Date: Mar 2004
Location: Aurora, ON
Posts: 636
Feedback Score: 1 reviews
holy shit
---
Senior Member
Join Date: Nov 2003
Location: R-81 in, TX
Posts: 3,087
Feedback Score: 0 reviews
"The things that we can't even possibly dream of he dabbles in." - p2P

!P2P