Senior Member
Join Date: Jun 2003
Location: McHenry, IL
Posts: 387
Feedback Score: 6 reviews
nice project man! What do you do for a living? I would have to guess a tech of some kind. yea please update.
---
Teg is Sold ;-( Now i got an accord
Senior Member
Join Date: Mar 2004
Location: Fayetteville, AR
Posts: 506
Feedback Score: 0 reviews
man this is insane!!! can't wait to see the finished product
Senior Member
Join Date: Apr 2002
Location: central, TX
Posts: 962
Feedback Score: 3 reviews
thats crazy man!!!! gonna be great to see it when its finished.......
0h by the way... .when u get done can you do mine also????
Senior Member
Join Date: Nov 2003
Location: A.V., CA
Posts: 243
Feedback Score: 3 reviews
that is awsome do you have any numbers your going to try and achieve? sick project man!
Edit- you should make a how-to: article on this lol
Senior Member
Join Date: Dec 2003
Location: Burgaw, NC
Posts: 1,111
Feedback Score: 1 reviews
Post #DC2H22-5
Interesting info related to previous question about weight distribution:

The Integra shell less engine, trans, axles, radiator battery, seats, door panels, console, spare tire, interior trim panels, and fuel empty weighs 1715 lbs. Total front weight is 956 lbs. and total rear is 759 lbs. for a 55.7% front weight distribution. The engine and trans with all acceseries except power steering pump weighs 479 lbs. I've removed about 65 lbs. of structure from the Integra and will be adding about 106 lbs. of structure from the Prelude.

Body Stiffness: The front structural members I'm adding from the Prelude are much beefier than the structure I've removed from the Integra. The attachment points between the engine/transaxle sub-structure and the Integra are definitely reinforced. If you look at the rear wheel well pictures, you can see where the GSR wheel well has been cut away to make room for the Prelude spring buckets, which will become the top portion of the wheel well. You can also see the structural member from the Prelude arching over the lower control arm, below the opening cut in the wheel well. Keep in mind that the engine/transaxle/rear suspension assemble is a structural unit unto itself and the Integra body just "sits" on top of it. There is a hidden structural box section inside the Integra C-pillar which will be welded to the top of the spring bucket, which will carry some of the body's weight. The frame pieces from the Prelude are welded to the Integra shell all along their entire length and will be fully reinforced when the very solid Integra wheel wells are welded to them. I will also be reinforcing the stressed areas of the shell to counteract engine torque and thrust loads.

Thanks,
Dave
---
94 GSR mid-engine RWD H22A4
Sponsored by:
Senior Member
Join Date: Apr 2003
Location: around in, NJ
Posts: 937
Feedback Score: 5 reviews
wow...that's just simply amazing and even those words dont' do it justice...haha. now that you're at it with the bare frame and everything, are you gonna weld strength points all around the shell and make the strength of the frame comparable or even better than the type- frame?

and like someone else said...continue to keep us updated on everything you do...i would love to tackle a project like this one day.
Senior Member
Join Date: Dec 2003
Location: Burgaw, NC
Posts: 1,111
Feedback Score: 1 reviews
Post #DC2H22-6
I can't thank you all enough for your responses and questions! I'll try to keep up...
Body Stiffness: See previous post where I've detailed some of the structural issues.
Numbers to Achieve: My main goal is more qualitative than quantitative. If the car handles, rides and stops well, I'll be satisfied. Performance numbers will be a byproduct of the design rather than a design goal. I can always add more horsepower
Do mine?: Interesting you would say that as one of the reasons for doing this project is to use it as showcase for a custom fabrication/motorsports business I'm planning. Hopefully one day I'll have a showroom and you can walk in and buy one, or maybe have one made for you.
For a living: I was layed off from my job as a product development engineer at ABB 2 years ago and haven't looked back since. Right now I'm supported by my savings and my extraordinarily wonderful parents who are gratiously providing their garage for this project. Future income potential may depend on people like integradriver13 above. My plan is to do these kind of projects for a living ASAP.
Thanks again,
Dave
Senior Member
Join Date: Aug 2003
Location: SLC, UT
Posts: 241
Feedback Score: 3 reviews
Wow! Fooking crazy, man! This has got to be the coolest Integra project I've seen. Good luck, and thanks for being generous with the pics and info.
---
Senior Member
Join Date: Jan 2003
Location: Virginia Tech, PA
Posts: 577
Feedback Score: 3 reviews
That is awesome!!!
Please keep us updated, I want to see this thing finished!
---
2005 Honda S2000 - 1994 Acura Integra LS 1989 Honda Civic Si - 1987 Acura Integra LS
My AutoX Videos
Senior Member
Join Date: May 2002
Location: 03 TL-TypeS, NY
Posts: 16,250
Feedback Score: 57 reviews
It's really nice to see someone not affraid to tackle such a difficult project. I really hope all of this works out exactly the way you want it to with all the effort and time/money you have put into it.

I definatly want to be kept up to date with this. Great work and I can't wait to see it finished. I'm sure your car will be featured in magazines as well.
Senior Member
Join Date: Dec 2003
Location: Burgaw, NC
Posts: 1,111
Feedback Score: 1 reviews
Post #DC2H22-7
Here are some pics of the adjustable upper control arm mounts. Then comes the spring buckets. I'll have more pics of that later this week.
P32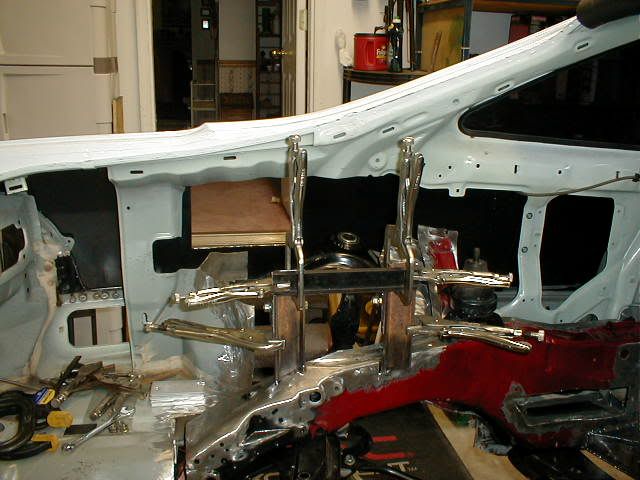 Shims allow for up to -2.5 degrees static camber. Brackets are adjustable up and down for camber gain and roll center adjustments.
P33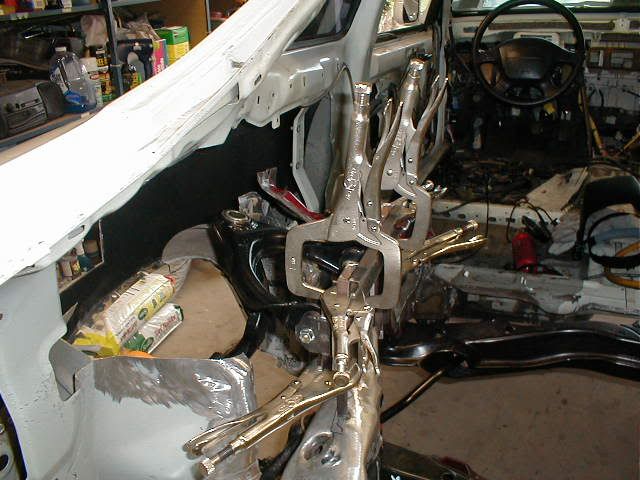 Note -1 degree static camber with three 1/8" thick shims. Camber gain is to -3.5 degrees at full bump and +1.5 degrees at full droop.
P34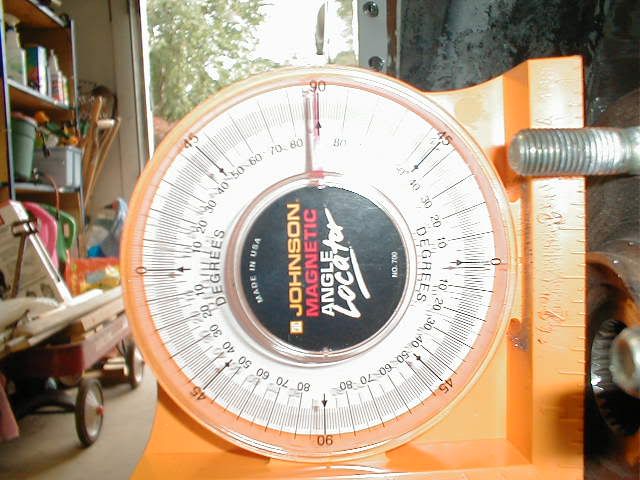 Thanks,
Dave
Senior Member
Join Date: May 2003
Location: Tulsa, OK
Posts: 887
Feedback Score: 0 reviews
DAMN YOU!!!! i had that exact same idea, i was just waiting to gather up so extra cash to do it, except my plans were to use an NSX motor
while it would take up quite a bit more room, it would allow for a nice small sporty, comfy cockpit, and it would weild incredible performance numbers. but it would require complete re-tuning of the suspension. but none the less, good work!
*edit* did i just say 'good work'? scratch that! i meant incredible work!
Senior Member
Join Date: Apr 2002
Location: Dueling Banjos, OR
Posts: 6,059
Feedback Score: 2 reviews
Extremely extremely f**king impressive. This kind of work requires balls and alot of knowhow, props props props.

Where are you doing this? Where did you get the frame/unibody experience to locate this sh*t?

A few concerns I have that you've probably already addressed:

A: if you're using prelude brakes out back, how are you going to balance the braking?

B: Please, if at all possible, put some kind of limited slip diff into the tranny first. That RWD conversion teg, while front engine, was useless because of its lack of an LSD.

Crazy stuff man, keep us posted.
---
Drinking dark liquor, tellin white lies.
Senior Member
Join Date: Aug 2003
Location: LA, CA
Posts: 2,089
Feedback Score: 8 reviews
this is awsome man keep it up dont give up if people tell you its impossible well f**k them!!! i wanna see this happen and im sure everyone does and im sure no one wants it more than you do it!!!! doo it!! do it!!
---
The future belongs to those who prepare for it today. - Malcolm X Fast. Cheap. Reliable. IF U HAVE A BRAIN U CAN HAVE ALL 3. If u have a wallet u can only have 2.