Super Moderator
Join Date: Oct 2006
Location: Indianapolis, IN
Posts: 5,712
Feedback Score: 24 reviews
DIY: The No BS Bolt on Big brakes for RS/GS/LS/GSR
---
Quote:
Abstract:
Doing some highway pulls in my 500whp car and having the brakes fade with race compound pads was unnerving. I decided it was time to upgrade the front brakes. After looking into the idea for months, I stumbled across a combination of ideas. Type R caliper remans can be had for dirt cheap <$30. This is nothing new.The problem was always finding rotors that would work or needed to be drilled and machining the caliper bracket to clear. I felt, along with my colleagues there had to be a rotor that would fit the bill somewhere.


I found a thread on Honda tech where someone had used a Mini Cooper rotor and it bolted up no problem. The hub bore was exactly the same as our Hondas and the 11" diameter fits the bill for the caliper. I bit the bullet I guess you could say and ordered Calipers, Rotors, Pads, and Stainless lines. I was super happy when the ONLY modification needed was trimming of the dust shield to clear the bigger caliper. No machining of the bracket is neccesary to center the pad either. These combined with EBC reds just destroy my tires at threshold braking which I don't remember being able to do even auto crossing.
Quote:
Testimonial from HondaTech User:

Results? I am running Rock Auto Centric rebuilt prelude calipers, semi loaded on full race prep 98 EK coupe.,2400lbs loaded, me in it. Mini Cooper Autozone blanks. Raybestos race pads. Have run three events. No issues. I will say that the Mini rotors are smaller diameter and the brake pad edge extends a 16th or 32cd of an inch past the rotor and a line will form on the pad edge.

There was NO noticed performance issues that I detected. (in comparison to the Prelude rotor with same caliper that was machining to properly space it, note: no machining needed for Mini rotor clearance) The set-up was run very hard at Infineon for a break-in session in Time Trials followed by a weekend of race with NCRC at brake eating (for me) Thunderhill. The Centric caliper and Mini- rotor set up is legit and works very well. I am pushing this system as hard as most of you guys will. The calipers and rotors got wicked hot at Thunderhill on a 90 degree day an no melting internals, no warping or other stuff. You can rest assured that it is a quality system, no issues and met expectations so far.



Revision 4/9/2015:

[quote]A fellow user on Honda tech has discovered that 04-08 TSX brake pads will actually fit with NO PAD OVERHANG! So that makes this setup even more hassle free and truly bolt on! See link below:
ITR Mini front brake upgrade. Look here for an update! - Honda-Tech
Quote:
Rims confirmed to fit (many w/ pics!!):
===============================
- SteveV91: 96 Snowflakes (
pic
)
- Arodgsr2: "YESSSSS FINALLY CONFIRMATION!! All 15x6 Honda wheels have a +45 offset including ITR wheels"
- dadon1: "Ok turns out 15" gt3s fit with out any spacers!"
- stealth penguin: "Confirmed that this brake upgrade will fit behind OEM 15x6 2004-05 Civic steel wheels." (
pic
)
- mohawk42: "Fits my 15x7" wheels" (
pic
,
pic
)
- asianzt: "They also fit beautifully behind my set of 15x8 +36 949Racing 6UL"
- hungry718: SI 15x6.5" (
pic
)
- known: "I was running them on my 15 inch Kosei K1s. They will need spacers or grinding of the calipers to fit on an RPF1."
- EXITENDZ: (
pic
)
- LightningTeg: Drag DR16 16", Drag DR31's 16", Fat fives 15" (
pic
)
- Arodgsr2: GSR Blades: (
pic
)
- shafto: with his 16" rims (
pic
)
- i heart my DC2: "Fits on: Drag Dr-29 15x7 and 2003 Mini Cooper stock rims ( really small clearance )"
- Kaelorr: mesh 15 7.5 +15 (
pic
)
- Beater: PIAA rims (17" i think) (
pic
)
- 200k95gsr: fat 5's (
pic
)
- MorningZ: 17" Motegis (
pic
) and 15" Meshies (
post
, little too close for my tastes, using spacers as a result)
- dhabell: meshies (
pic
)
- dannymad: SI wheels (??) (
pic
)
- tlangy: these fit under 16x7 Rota Boosts with no issue (
pic
)
- mutt8588:
pic with Enkei RP02 16x7+35
and
stock steelies
- nick-flanders:
15x7 +27 kosei k1 with no spacers fit perfectly
- drmix:
Advanti Racing Storm S1's - 15x8 +25 offset
Bleeding sequence:
94-97, RR, LF, LR, RF
98-01, LF, RF, RR, LR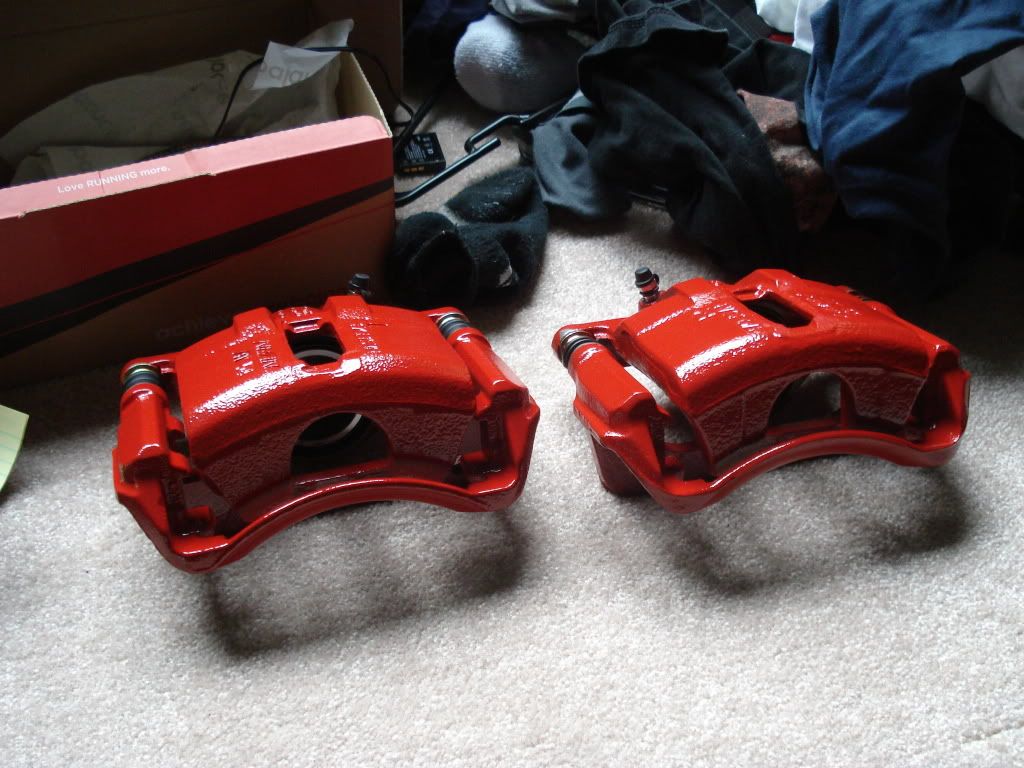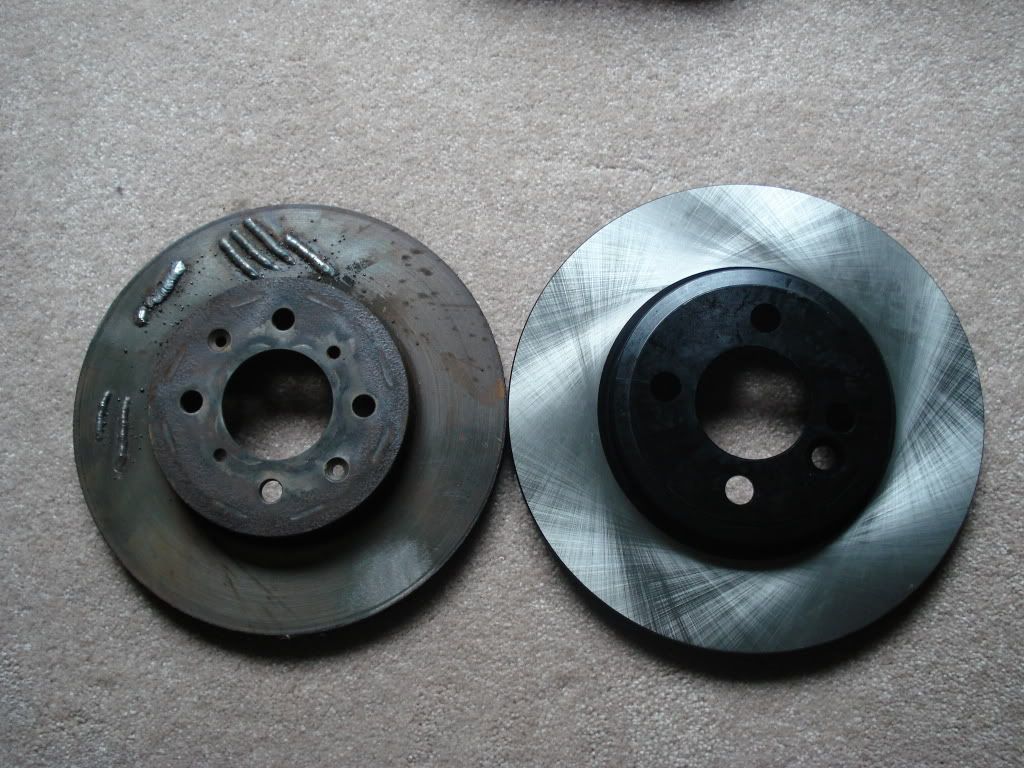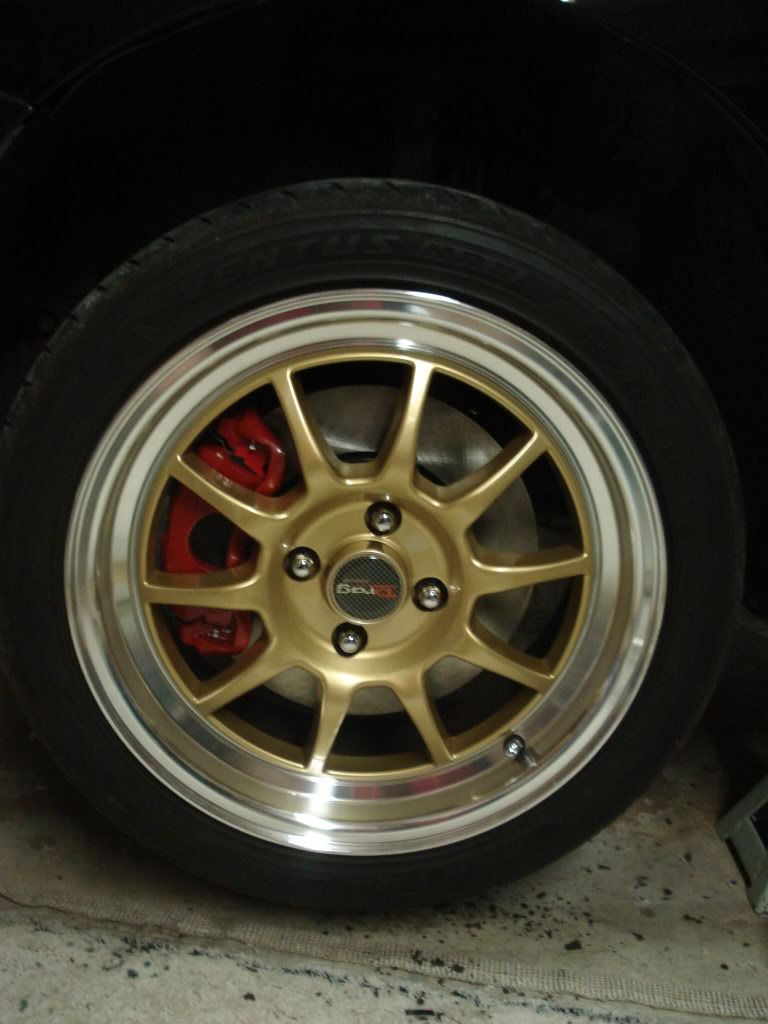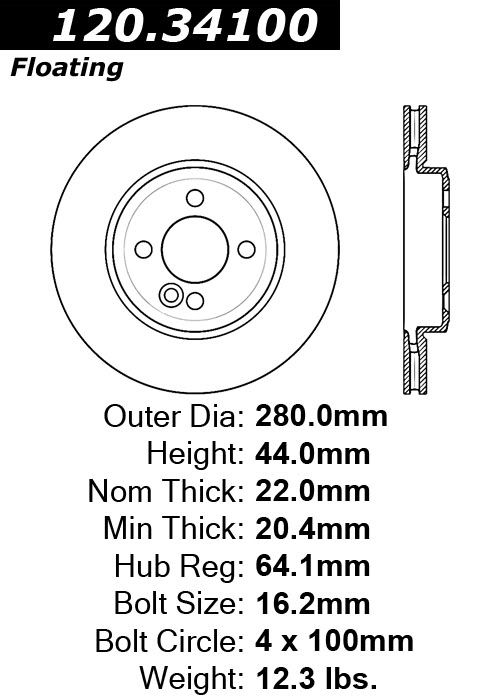 Quote:
I have to agree- not pretty...and looking back, I'm pretty rusty (hahahaha) being that this is the most welding I've done in some 6-7 years. But hey - function > form
Indeed!! This has got to be the easiest, most straight-forward big-brake upgrade, ever. And with OEM parts to boot! Here's everything mounted - it just looks plain good:
I was honestly a bit worried about the bolt holes - I think they're 1 or 2 mm larger on the Coop rotors than the Integra's - but then I remembered that the center diameter is exactly the same, so no worries.
Here's the hardest modification you'll need to make - you can see here that the Type-R calipers are clearly larger and interfere with the dust shield:
Just break out the old angle grinder and cut here:
And here you can see fitment is good after the two cuts:
Still need to order the pads and the SS lines...but it's certainly coming along.
Quote:
Rear Brakes
Calipers: Use RSX/EP3 (or ITR if you can find them for cheap) calipers. All are the same pad (ITR)
Rotors: Use early EP3 SI 4x100 rear rotors

Unbolt and swap your ebrake arm from your existing calipers. RSX/EP3 calipers get sides swapped to bolt on so they must be bled upside down. ITR have the bleeders in the correct position but they are unique calipers. No other honda uses them so the cost an arm and a leg.

It's all bolt on, no modification needed other than moving the ebrake arms from your existing calipers.


This is all confirmed, not speculation. I'm running this exact setup now (but with RSX rotors since I'm 5-lug). It all applies to the 4 lug setup though.
---
08'
TSX
98' Integra LS Previously
283whp/300ft-lbs
; Now
602whp/453ft-lbs, Non-Vtec
E85. PB 12.7 @ 128mph
"His Noodly Appendage hath blessed the B-Series"
---
Last edited by MorningZ; 09-08-2016 at

10:29 AM

.
Senior Member
Join Date: Feb 2002
Location: Rocket Ranch, CA
Posts: 7,384
Feedback Score: 11 reviews
Hmmmm, may have to try those with my nsx calipers. Make the swap even easier and just toss the heat sheild instead of trimming it.
---
On any given raceday, more mazdas get in the way of hondas than any other car out there. [URL=http://racing.honda.com/hpd/] Honda Performance Division
Prima Racing; Little guys doin' big things
"You never press the gas pedal until you know you never have to take it off." --Jackie Stewart"
Senior Member
Join Date: Jan 2003
Location: Canada, ON
Posts: 10,386
Feedback Score: 9 reviews
Nice, i'm going to grind those stupid dust shield lol never thought about it (since i hate to cut anything OEM hehe...) But i thought you need to get the bracket from fastbrakes to line it up? Otherwise you will get uneven wear? Could be wrong. I had to get a bracket for my NASX calipers.
Super Moderator
Join Date: Apr 2002
Location: Chicago, IL
Posts: 21,509
Feedback Score: 36 reviews
Senior Member
Join Date: Mar 2009
Location: Panorama City, CA
Posts: 766
Feedback Score: 9 reviews
I've been waiting a long time for someone to figure this out lol Koodos.

Just to be clear, do you know the model/year of the mini cooper that these are from? the 2010 Mini Cooper S perhaps?
---
95 Auto LS - Lost in a race, got mad and sold it.
95 JDM Front B20 - Someone hit me, parted out
00 RS - Dragon Slayer, Sold
08 BMW 335xi - 2dr awd twin turbo 400hp

The Only Canadian to ever to do the Dragon 5 consecutive years.
Super Moderator
Join Date: Oct 2006
Location: Indianapolis, IN
Posts: 5,712
Feedback Score: 24 reviews
2007 Mini cooper, non S. Just check the diameter
Banned
Join Date: Apr 2011
Location: Fort Walton Beach, FL
Posts: 343
Feedback Score: 4 reviews
Awesome thread. I may sound like a newb but whats the difference in the LS,GS,RS,GSR calipers to Type R?
Senior Member
Join Date: Feb 2002
Location: Rocket Ranch, CA
Posts: 7,384
Feedback Score: 11 reviews
Senior Member
Join Date: Oct 2006
Location: RA1 In, NY
Posts: 4,006
Feedback Score: 13 reviews
Know if it applies to rear brakes as well?
---
Meltman:We here at TI all appreciate you trashing a perfectly good ITR engine because you're dumb.

Forced induction is NOT a fix for bad VE

B18Ch1ck: I am making noodles,they probably handle better than a DC5
Super Moderator
Join Date: Oct 2006
Location: Indianapolis, IN
Posts: 5,712
Feedback Score: 24 reviews
Quote:
Know if it applies to rear brakes as well?
You know Id be damned, the rear type R brakes are 10.25" and the rear mini brakes are 10.23". So yeah, it would probably work.
Problem is the rear calipers are not so common and are $100 a pop without cores.
Super Moderator
Join Date: Oct 2006
Location: Indianapolis, IN
Posts: 5,712
Feedback Score: 24 reviews
Quote:
Awesome thread. I may sound like a newb but whats the difference in the LS,GS,RS,GSR calipers to Type R?
Pad is bigger and rotor is 11" in diameter vs 10.3".
Senior Member
Join Date: Jan 2008
Location: 818 valley, CA
Posts: 168
Feedback Score: 14 reviews
I read somewhere that you can use rear 2002-2003 civic si rotors and si/rsx rear calipers or vigor rear calipers (not sure). I think you just have to swap the right to the left and flip the caliper. Only thing is your bleeder will be upside down.