ok..so i just swapped my dashboard yesterday from tan to black and it took me quite a while. before i did i searched t-i for a thorough how to on dashboard removal but couldnt find anything that really covered all aspects, so i've decided to supply that "something." i dont have pics RIGHT NOW but i will be taking some close up pics of everything tomorrow (well..most things, im not removing my climate control again...) and i'll get them posted up with the step by step. here goes!
Removing Dashboard:
tools required:
-patience (yes its a tool; yes its needed)
-8, 10 and 12mm sockets..deep socket for the 12mm at least, the other two should be fine regular
-phillips screwdriver with magnetic tip (#1)
-very small flathead for prying
-something to mark what wires plug in where (i used tape and paper)
-sandwich bags and a marker to put parts in (organization is key!)
1. first things first you want to remove the seats, and center console (using the articles) to have more room to work. if you can remove the steering wheel as well it will only make things easier. im lucky enough to have a quick release so i just popped the wheel off. also, unhook your battery as whether you want to or not you will be messing with the airbags and you dont want them blowing in your face. everything removed and ready to go:
2. GLOVEBOX:
there are two 8mm screws underneath that are really easy to see and then a phillips screw on the side as you open it:
8mm screw
phillips screw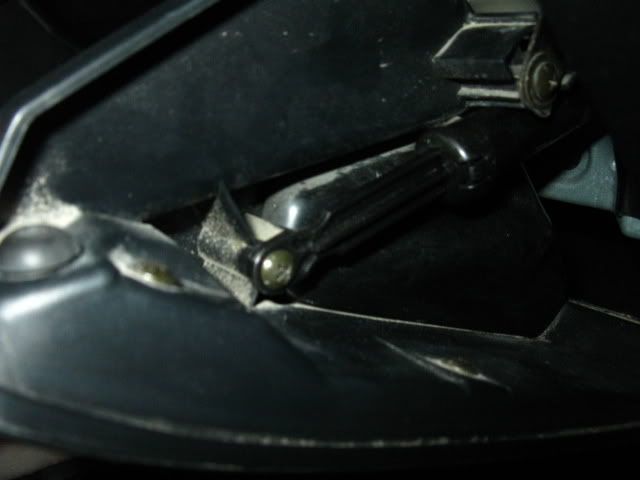 undo the 8mm screws, open the glovebox, and undo the screw on the right side to undo the hydraulic (or spring) arm. after this you'll see a metal bar behind where the glovebox was. its 3 8mm bolts and a 10mm. undo them and take the bar out.
bar: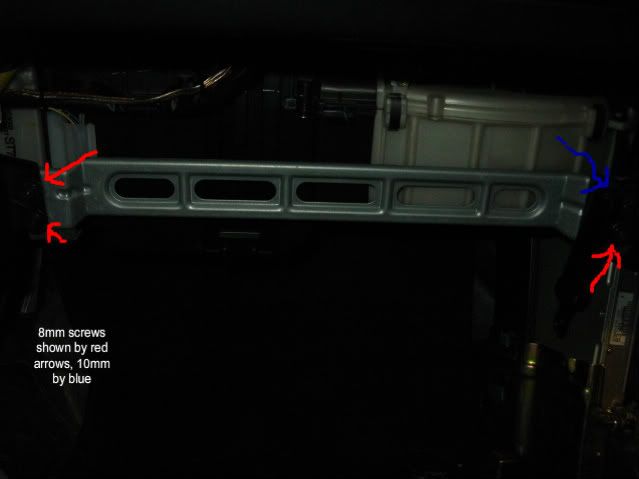 better shot of 10mm side:
3. KNEE BOLSTER:
next up you want to remove the knee bolster and cover. the cover has 3 phillips screws, one on each side, and a 3rd one hidden by the coin holder tray. just remove the 3 of them and it should pop right off.
on the back side of the trim cover is your maintenance light reset button..simply unplug the wire and remove the knee bolster trim from the car.
to get the actual knee bolster out, is 3 10mm bolts that simply unscrew. super easy.
4.STEERING COLUMN:
since your here at the moment you might as well grab the 12mm deep socket and undo the 2 gold bolts you see. theyre the only two 12mm bolts under the steering column and once removed..allow the column to be lowered enough to pull the dash up and over the turn signal/wiper levers. the two bolts are located directly underneath the guage assembly.
5. GUAGE BEZEL/GUAGES:
next up lets pull the guages out. first things first is the bezel. if you dropped your steering column this is easier. undo the two phillips bolt in the top of the bezel and pull it out. there are two clips holding it at the bottom that are easier to pull out when you can get your hand under the piece. after that are 3 gold phillips screws holding the guage assembly in. undo those and pull the guages out and you'll see 2 blue plugs and a yellow one. simply unplug them. if this is the first time pullin these out you might have a zip tie holding the wires to your cluster..just cut it as its not needed.
use this article here for this part
6.CLIMATE CoNTROL: (read all before starting)
a)hardware: up next is my favorite part...NOT. i hated this part. start off by prying out the hazard and defroster switches from underneath. be careful and they should pop right out. quickly undo the wires and make sure to label them. next up remove the radio. i had my alpine one in so i used the keys to pull it out and undo the plug at the back stock radio will be different but theres an article on it. there are two screws now behind where the hazard/defroster used to be. these are the only two screws holding the climate control in so take them out makin sure not to lose them.
i dont have pics of this part, its really easy though. pry the switches out and theres only two screws behind them.
b)wiring: first off you want to undo the air mix control cable. theres a little pin with a wire looped around it underneath the passenger side dash on the left behind the stereo. pull the loop off the pin and then gently bend the bracket the wire is in with your hands until the cable can be removed easily. now the air-mix cable is free.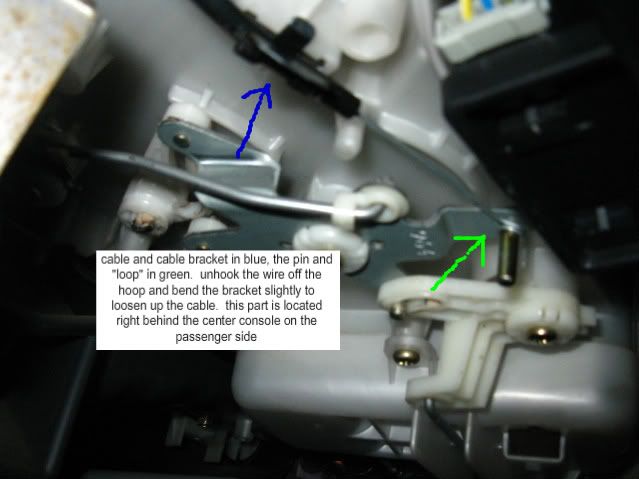 after that is a plug and two plastic "locky things" as im goin to call them underneath where the radio was on the metal bracket. carefully push the plastic locks out and undo the plug on the bottom one. the other plastic lock just holds the cables down. these locks stop the plugs on the back of the climate control from coming out further.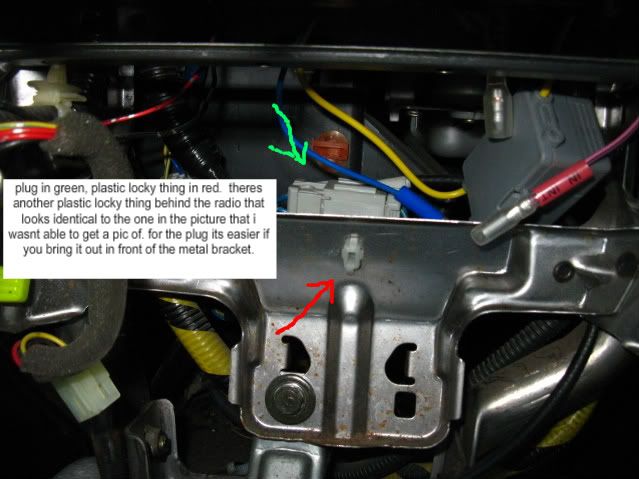 now gently pull the climate control out a little bit. if you look up from underneath you should see a green plug and you can actually reach up with a screwdriver and push in the tab and remove that plug without pullin the whole CC out. the next (and last) plug is the worst. its a little white PITA and the cluster needs to be completely pulled out to get it. just go gently and you can get it. this part i think took me the longest.
after all the wires are undone the CC should just come right out. TAKE SPECIAL NOTE not to bend the air mix control wire and know how it gets routed through the dash. you dont want to lose control of your heater after this hehe.
for full climate control removal click here and scroll down, other info here as well
7. CLOCK/AIRBAG:
start with the clock..it pries out at the top left corner, really easy. just pry it out and undo the plug. your done there. on the airbag you'll first want to undo the yellow srs connector (now you know why you unhooked the battery). im not 100% sure if this is necessary, but i removed all 4 gold 10mm bolts by the connector and srs piece on the airbag. necessary or not it took all of 5 mins for both the clock and the airbag.
i couldnt get a pic of the airbag but look straight up underneath it and you'll see a yellow plug and 4 gold 10mm bolts. just undo them all.
8.DASH: (finally).
a) get your 10mm socket ready cuz now its time for the main part. there are 5 bolts holding the dash on..only 5. one on each end of it hidden by the doors (and little plastic covers):
one under where the knee bolster was:
one behind the clock (dont have a pic, but its right there), and one on the metal bracket under the radio:
they all loook the same so you should have no trouble spotting them. also nows the time to take out the drivers side air vent. take the cover at the bottom out and then the phillips screw behind it. the vent should just pop out after that and the dash will be quite loose now (you should be able to shake it quite easily. if not make sure you havent missed a bolt).
theres a how-to on the vent removal in the pdf link posted above
b) WIRING! the last bit of wires that need to be disconnected are all discussed here. the guage wires are routed through the dash underneath to the fuse box. there are 4 plugs. you can actually follow the wire harness down with your hands to undo them but if you cant find them its all 3 plugs at the top of the fuse box (a grey, green, and blue one if im not mistaken) and then theres a much smaller grey one to the right a bit. feed these wires up through the dash and through where the guages would go to fully free them from the mess of wires that lies under the dash.
thats it thats all..once everything is disconnected the dash should pop right out. if i missed anything someone PLEASE chime in and add it. i know i've learned a lot here and thought i could give back to the community. also, i apologize for some of the pics, and that i couldnt get everything, but everything i used is here and it went off without a hitch.
extra pic, after all is said and done, here's what your car looks like!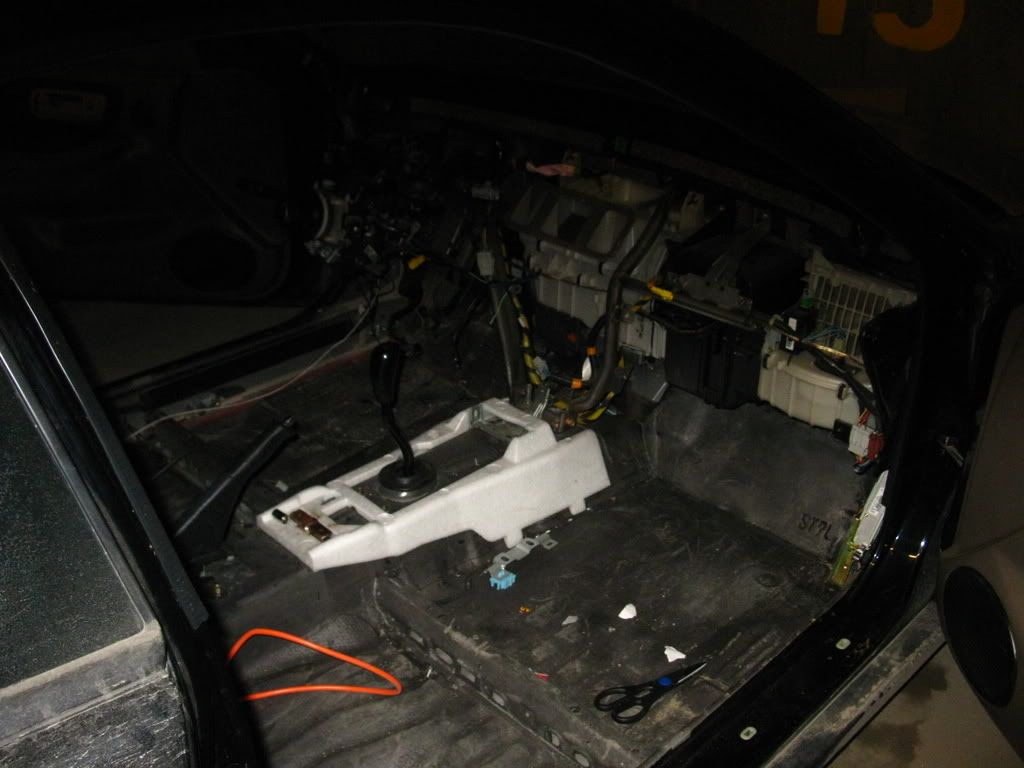 Senior Member
I like the post JaredP, you did a verry good job.
Senior Member
Join Date: Aug 2007
Location: No teg, WA
Posts: 2,088
Feedback Score: 3 reviews
common topic worthy for sure, this comes up alot
---
"Hellaflush wheels are more aggressive than Vin Diesel and Chuck Norris put together. I'm surprised they don't reach out and punch you while they roll on by."
thanks guys. there was a much much much shorter version of that in one of the many dash removal threads i found but it didnt cover any of the wiring. i was goin in blind on that one when i did it. still took me 6 hours to do everything with about an hour of chat and driving (didnt have a deep socket). i'll get as many pics up as i can tomorrow and hopefully this will help t-i'ers in the future
Senior Member
This is a big help and ihope i speek for all of ti when i say thank you.
just glad to give back to the awesome community i've learned so much from
Senior Member
Join Date: Jan 2003
Location: Canada, ON
Posts: 10,387
Feedback Score: 9 reviews
Pictures worth 1,000,000 words... tho this article is good, it would be nice if you can add in detail pictures.
Senior Member
Join Date: Sep 2006
Location: Kitchener, ON
Posts: 2,094
Feedback Score: 2 reviews
who made this official?
Nice writeup. I was expecting to see lots of pictures though!
Senior Member
Join Date: May 2005
Location: In the garage, FL
Posts: 1,420
Feedback Score: 4 reviews
As said, pics would be nice.....but either way, Nice writeup, Jared!!
---
If Acura ever decides to go searching for its soul, it's out in my garage.
Super Moderator
Join Date: Apr 2002
Location: Chicago, IL
Posts: 21,509
Feedback Score: 36 reviews
I've pulled so many dashes. I just keep forgetting to take pictures and write it up.
pics will be up today after i take them. i just didnt have pics last night as i decided to do this writeup. by no means am i gonna pull the whole dash for some pics though. i will be as detailed as i can dont worry guys, i hope to answer any remaining questions one might have after reading that with the pics
Senior Member
Join Date: May 2005
Location: Winter sucks in, CT
Posts: 782
Feedback Score: 4 reviews
Awesome! Thanks for taking the time to add the pics and circle/label things. Makes this thread even more useful.

This is great man.
---
comparitive driving is not illegal 2000 gsr
My Build
2006 civic si (daily driver) -stock
it took a while, i just wish i got more pics as i was taking things apart...cuz once i got it back together, the last thing i wanted to do was take the climate control out and undo the fuse box plugs lol. hope this helps people who, like me, havent done much with cars and wanna try a swap