Senior Member
Join Date: Oct 2009
Location: Media, PA
Posts: 118
Feedback Score: 9 reviews
Hey I have a question about the syncros your using. Has there been a incease/decrease in transmission braking. How about noise. Is it different sounding, louder, etc. Thanks.
Member
Join Date: Jan 2015
Location: Kansas
Posts: 52
Feedback Score: 0 reviews
Hey melt what clutch is in the car now? Still the stage one? Cause the paper with the write out of mods says it's a stage four. I don't know if it was you that made up this folder of paper work or if somebody else typed out the mod list and lied about the clutch. My friend asked what I had in it since he's about to get a new one. Thought I would turn to you like it seems like a lot of people do haha.
---
because there aint no rest for the wicked, untell we close our eyes for good.
Junior Member
Join Date: Oct 2015
Location: Wapato Wa
Posts: 23
Feedback Score: 0 reviews
Awesome write up!!!
---
Last edited by Bg33pDc; 01-01-2016 at

02:43 AM

.
Junior Member
Join Date: Feb 2016
Posts: 3
Feedback Score: 0 reviews
Don't mean to bring this thread back from the dead, but Meltman you are the S*** i've just finished my 94 auto to 5 speed, ls to gsr swap, and your whole thread has been very helpful and got everything i needed to work. Thanks again!
Senior Member
Join Date: Nov 2005
Location: Wrong side of the tracks, VA
Posts: 2,535
Feedback Score: 9 reviews
Quote:
well, the dogteeth gears were mashed flat from the previous owner grinding the hell out of reverse. Reverse isnt a high tolerance gear. I just wanted to make sure it would go in nicely instead of butting against a flattened gear. I just reshaped the flat spots to be points.

From what I cant tell it had definite benefit as reverse goes in like buttah.
Hey MeltMan, I finally got around to getting a used 94 LS trans. Everything looks pretty good inside the case except the reverse gears. I took apart mainly because I did not know its history and wanted to check it over and replace the common ISB before I had to yank it out too soon. I read that you reshaped your reverse gears. Could you comment on mine if I can maybe reshape or do I need to replace? Im trying to be on a budget. If it was a GSR trans I would be all for replacing, but not sure how long I will have this trans. Thanks in advance. Mac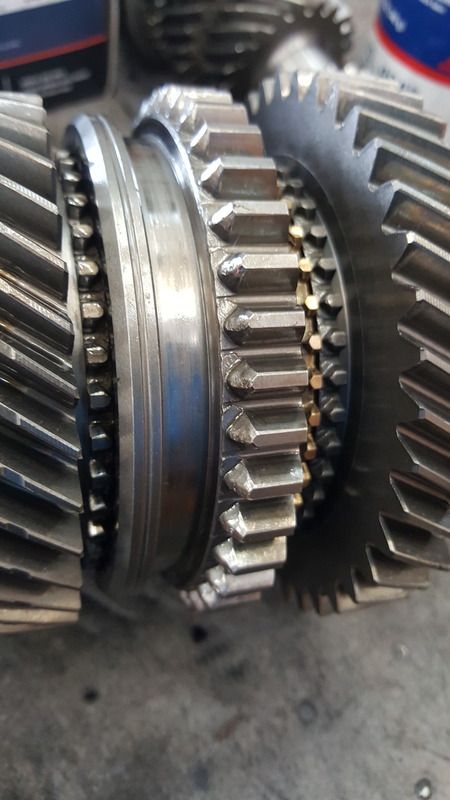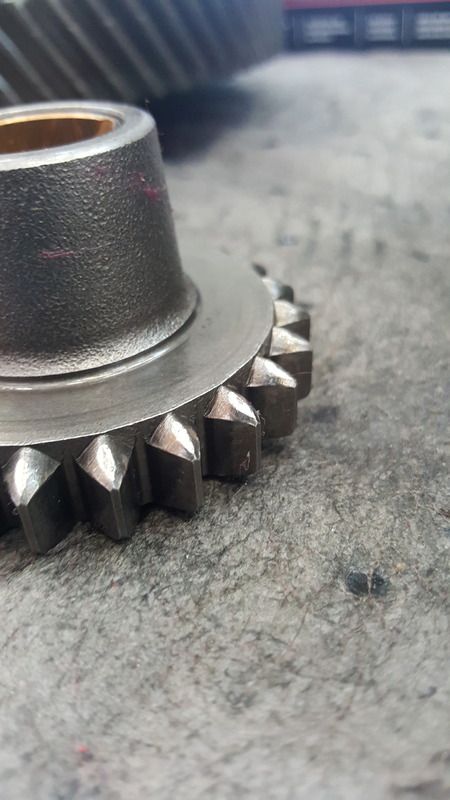 ---
Water leaks fixed for now. Working on getting body back to OEM.
Super Moderator
Join Date: Apr 2002
Location: Chicago, IL
Posts: 21,509
Feedback Score: 36 reviews
I just took a dremel and made the pointy edges of each gear "pointy" again.

Mine looked much like that. It just makes it easier to get into reverse.
Senior Member
Join Date: Nov 2005
Location: Wrong side of the tracks, VA
Posts: 2,535
Feedback Score: 9 reviews
Thanks, it look as I may be doing that myself. I was going to buy a revese idler gear for LS trans and it is discontinued by Honda. Best I can do is buy a 1/2 sleeve from gearspeed that has external gear and dremel the idler gear. I think I will save some money and dremel both. Thanks again.