Senior Member
Join Date: Jul 2003
Location: At Acura in, MD
Posts: 3,732
Feedback Score: 5 reviews
Well today Brian(VR4Morris) and I, yes we are both Brian's, with black integra's, we know, we know..
Meanwhile, deciding to install his CTR IN cam, i decided to make an article on camshaft installation in his 95 GSR, being that there is no article on TI pertaining to Camshaft Installation. This article provides steps to install cams into a b18c1 95' gsr. ALl steps apply to IN and EX side.
This can also be used to replace your timing belt.
Begin, shall we?
Parts if you would like to get them to install when having everything out.
OEM Honda Timing Belt
Cam seals
Dist. O Ring
Crank Seal
Timing belt tensioner and spring
water pump
Part Explosion For Reference: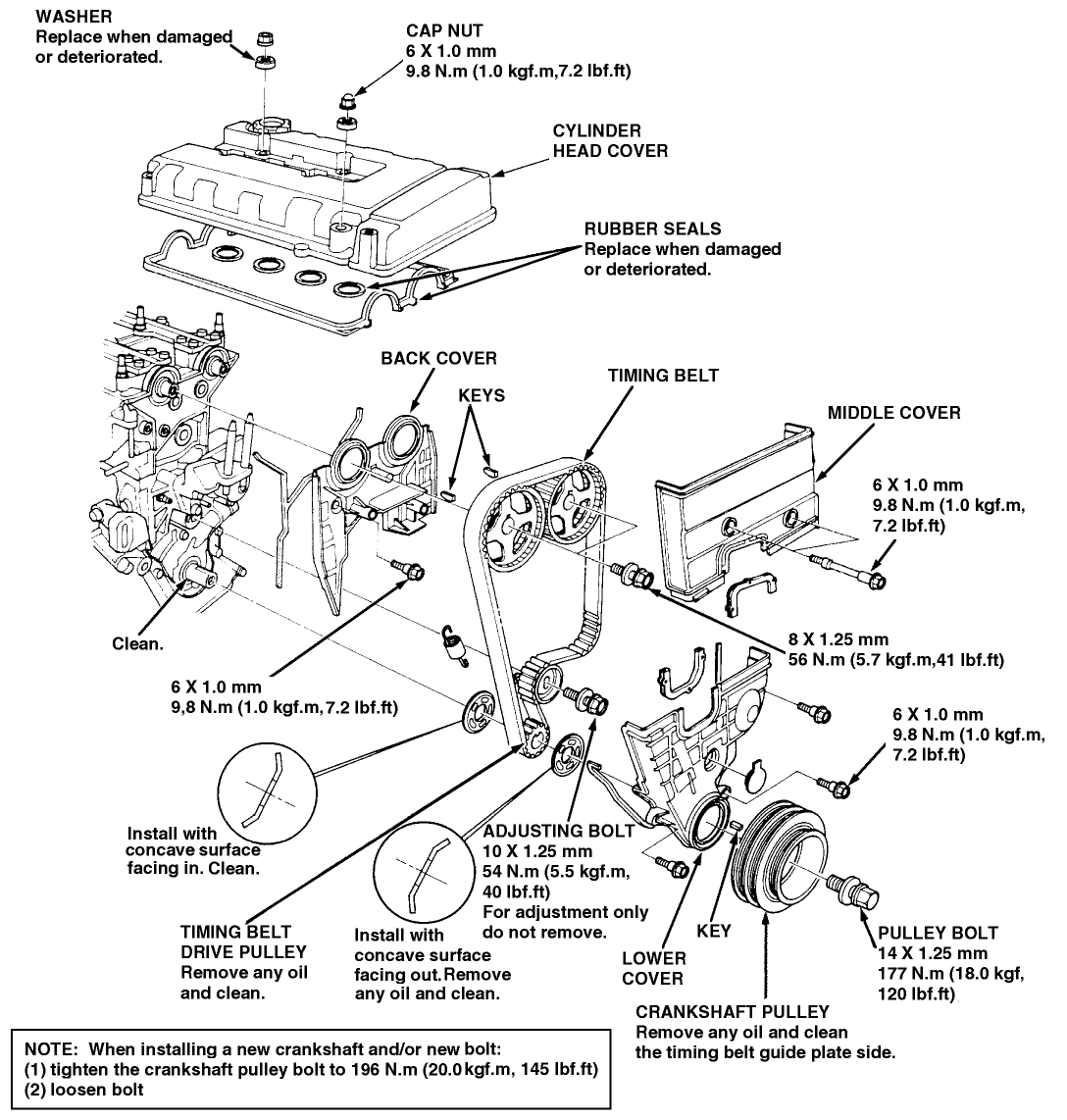 Tools Needed: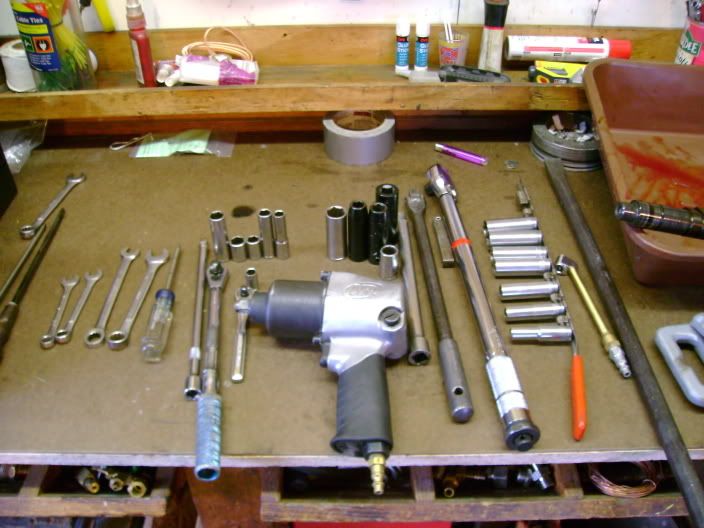 3/8" Drive Sockets:
3/8" Drive Ratchet, long and short handle.
- 10mm Deep
- 10mm Shallow
- 12mm Deep
- 12mm Shallow
- 14mm Shallow
- 19mm Deep
- 3/8" Long Extension
1/2" Drive Sockets:
1/2" Drive Torque Wrench
- 19mm Deep Socket
- 12mm Deep Socket
- 1/2" Drive Impact Wrench
- 10 Gal. Air Compressor
- Prybar
10,12,14mm Ratchet Wrenches
-Screwdriver, flat head, and or Phillips Drive.
- 1/2" Drive Breaker Bar
- Long 1/2" Extension
- Assembly Lube
- Feeler Gauges
Procedure
1, Disconnect Negative Battery Cable
2. Remove Air Intake Tube
3. Disconnect 4 plug wires from v/c and dist.
4. Remove Valve Cover Nuts
5. Remove Valve Cover, sometimes you might have to pry up on the V/C with a large flathead screwdriver.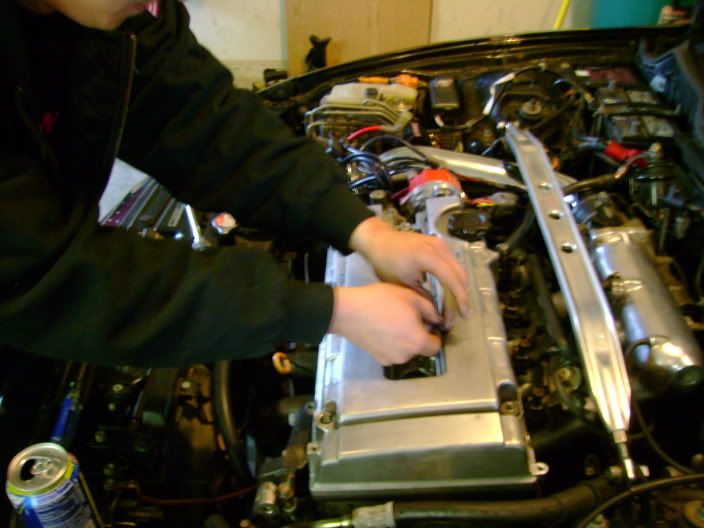 6. Remove 3 12mm Distibutor Bolts, place Distributor
aside.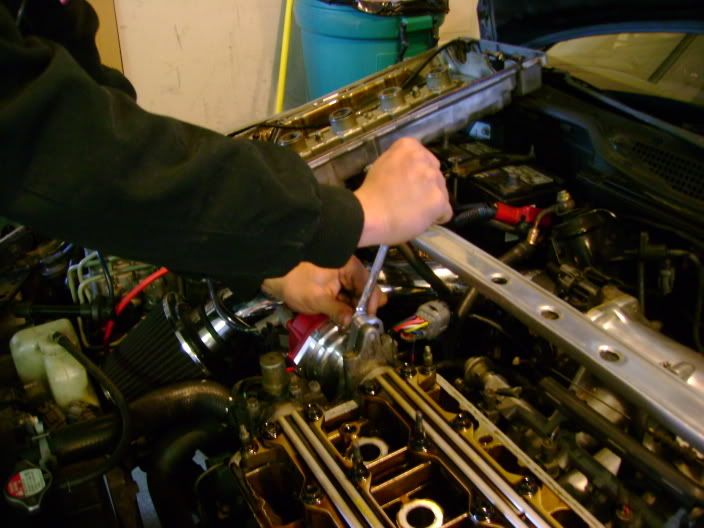 7. Next Remove 3 10mm Bolts attaching cruise control to body, place aside.
8. Loosen 2 12mm Power Steering pump to attaching bracket bolts.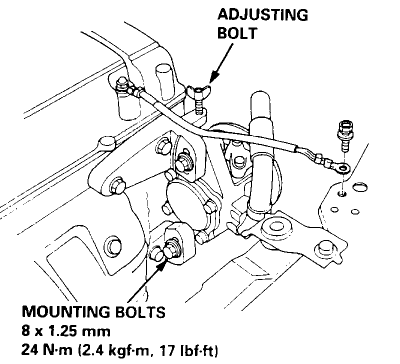 9, Turn Wing Nut Counter clockwise to release tension on belt, remove belt.
10. Loosen 12mm Nut on top of alternator. Take Pry Bar and place between mounting bracket and alternator and pry alternator towards front of car. remove belt.
11. once the belts are removed, proceed to removing top timing cover bolts. 2 10mm bolts that fasten the cover to the head.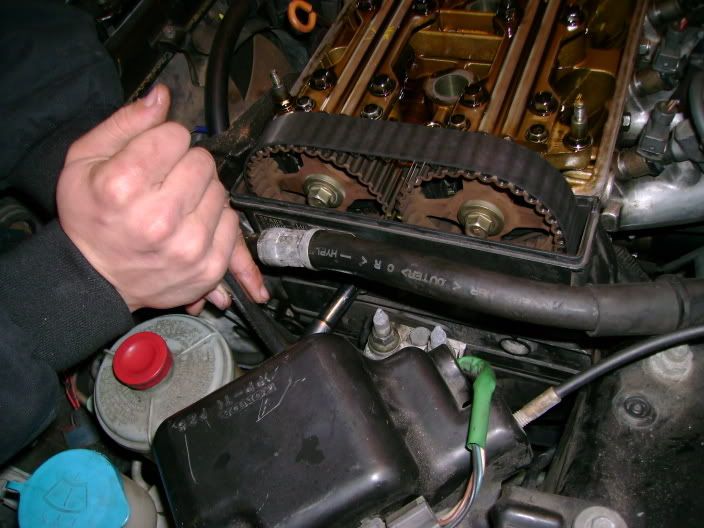 12. once Cover is removed time to remove crank pully bolt, use the 19mm impact socket with air impact wrench to remove the bolt. DO NOT LOSE CRANK KEY. Place key where it cannot be lost.
13, Proceed to remove the lower timing cover. There are 4 10 mm bolts that fasten the cover to the block. Remove all 4 bolts and remove lower cover. Remove the large timing belt guide washer as well.
14. Install crank pully bolt with impact semi tight, just enough to hold it in there.
15. Rotate the Crank COUNTERCLOCKWISE until timing marks are lined up. There is a line on the Crank gear that lines up with the aarow on the oil pump directly behind the gear.. once that is lined up make sure the cam gear timing arrows are UP and the lines in the timing belt cogs are lined up horizontally.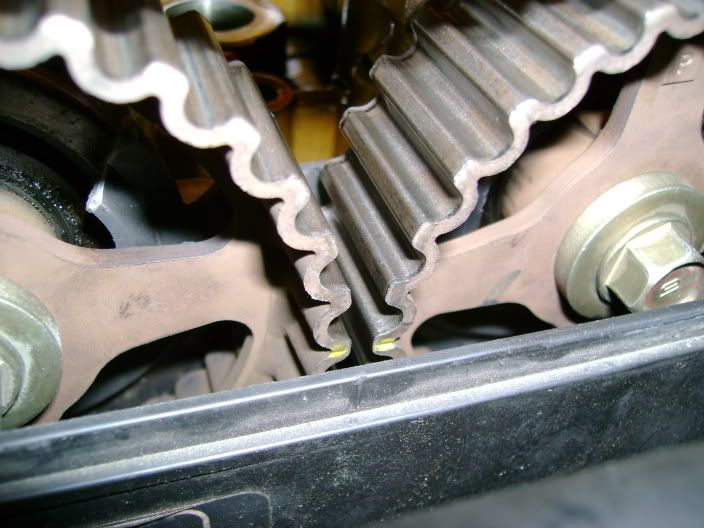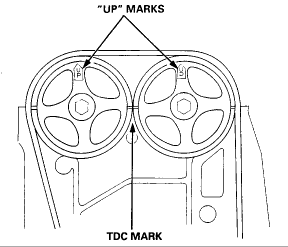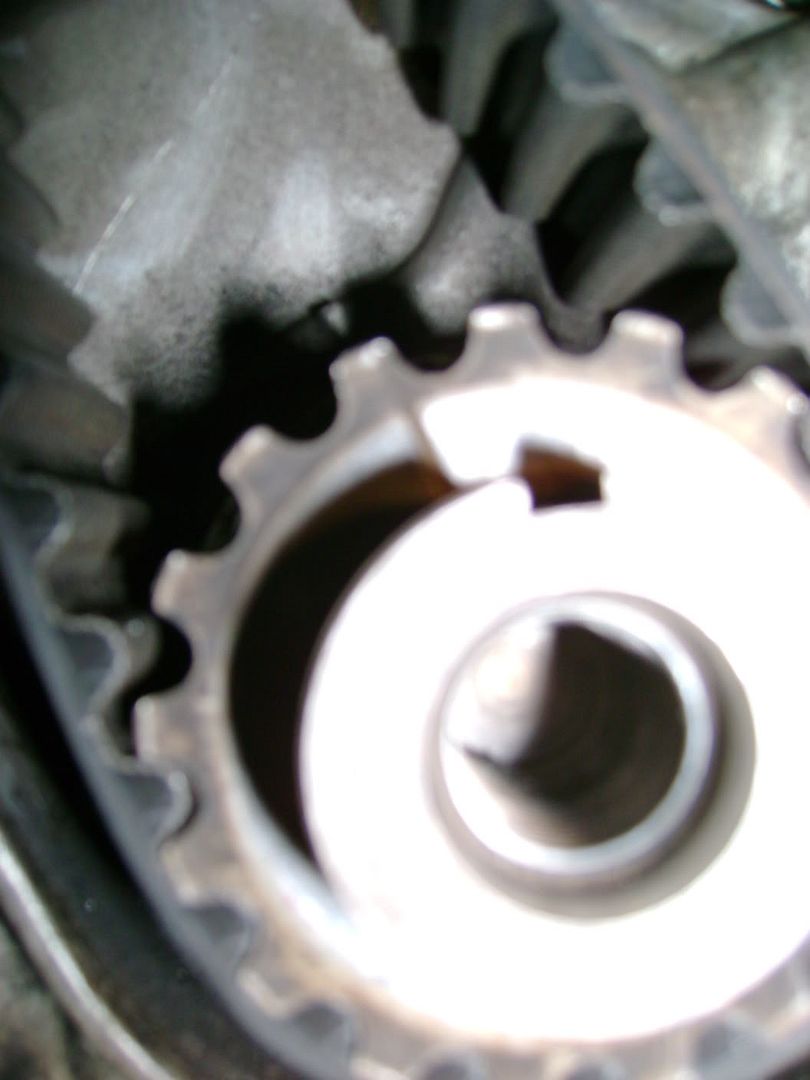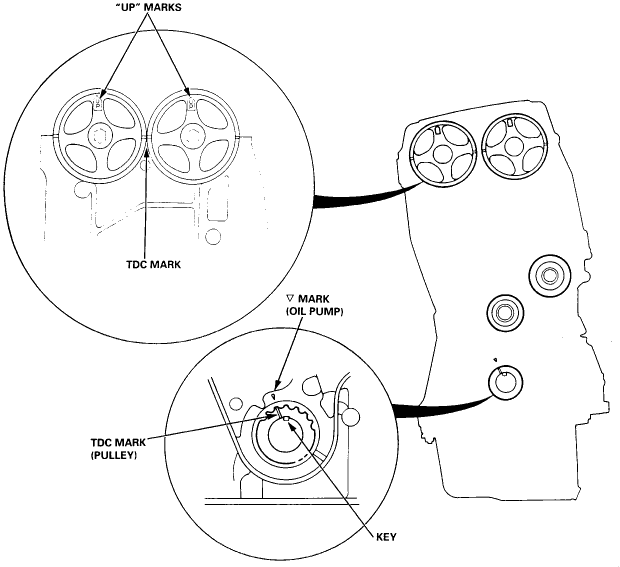 16. Loosen 14mm Timing Belt Tensioner bolt ,4 complete turns. After that, push tensioner towards firewall and retighten the bolt.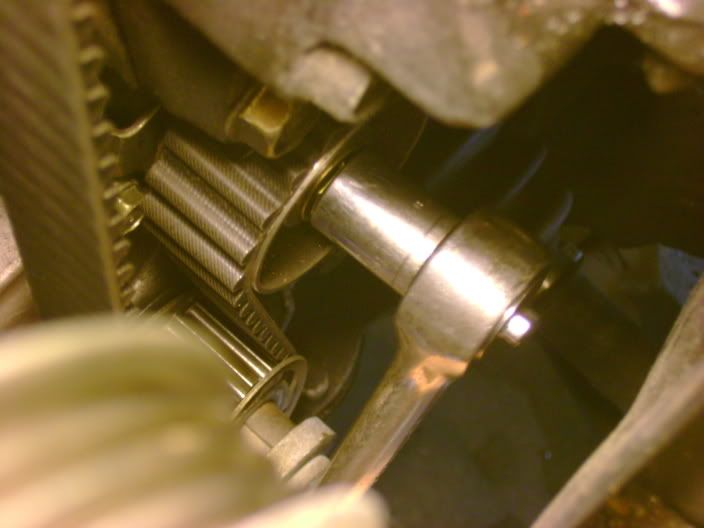 17. Remove timing belt from cam gears.
* IF REPLACING TIMING BELT YOU MUST REMOVE THIS MOUNT SHOWN HERE*: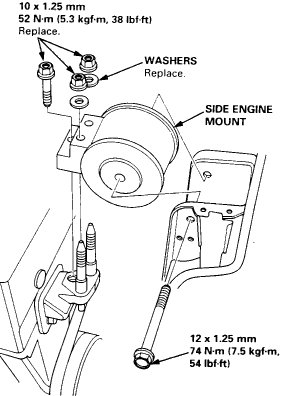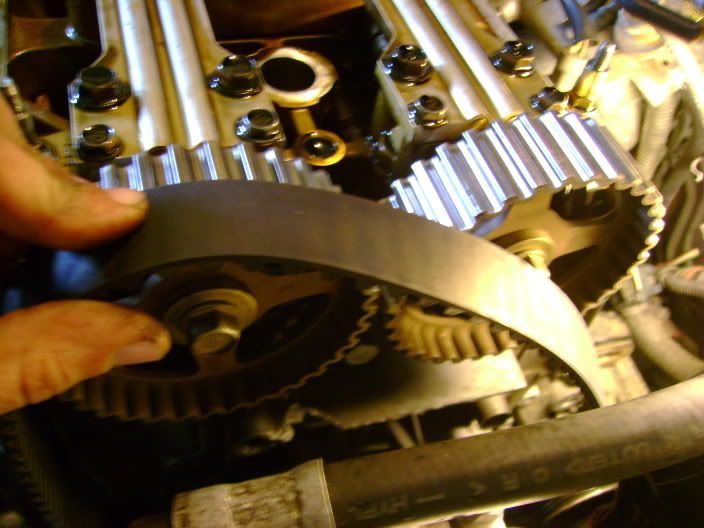 18. Next Is removing the Cam Gear Attaching Bolt. use impact gun with 14mm impact socket to remove as shown: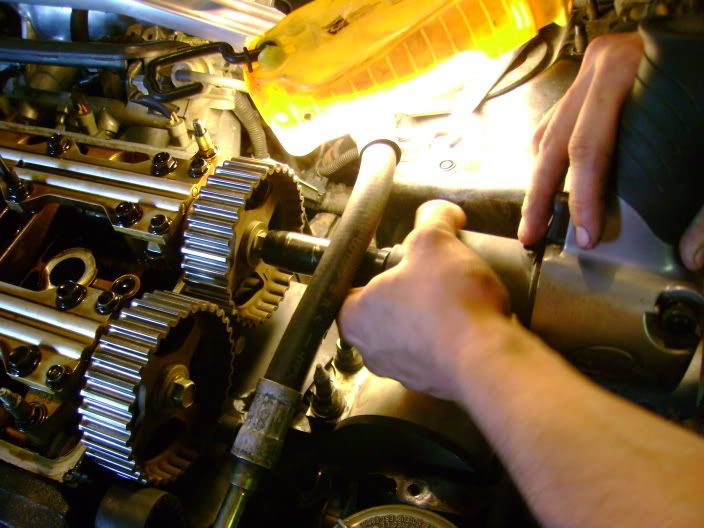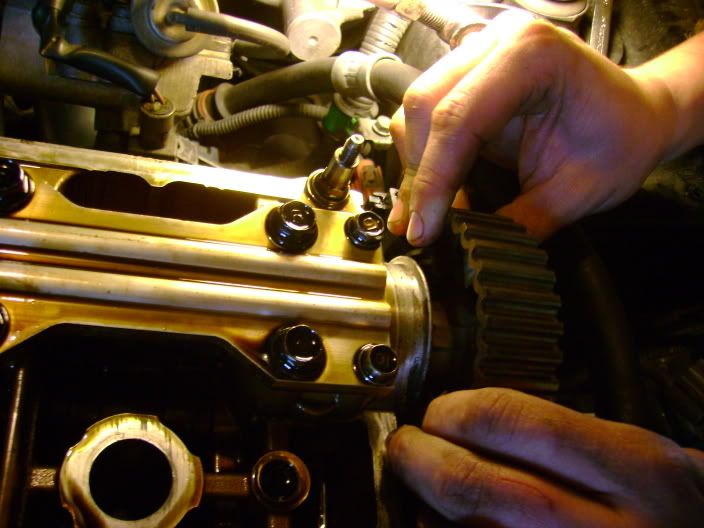 19. Loosen, but DO NOT remove all 14 Bolts on IN side Cam oil rail. 10, 12mm Studs/bolts and 4 10mm Bolts.
20. once All bolts are loosened, pry up on oil rail with a flathead screwdriver to remove.. When lifting up, keep all bolts with rail and place on table as if you are looking at the head from the front of the car.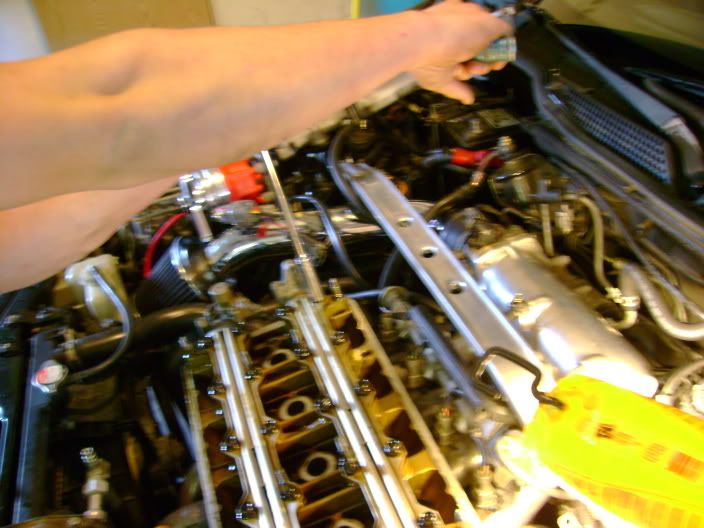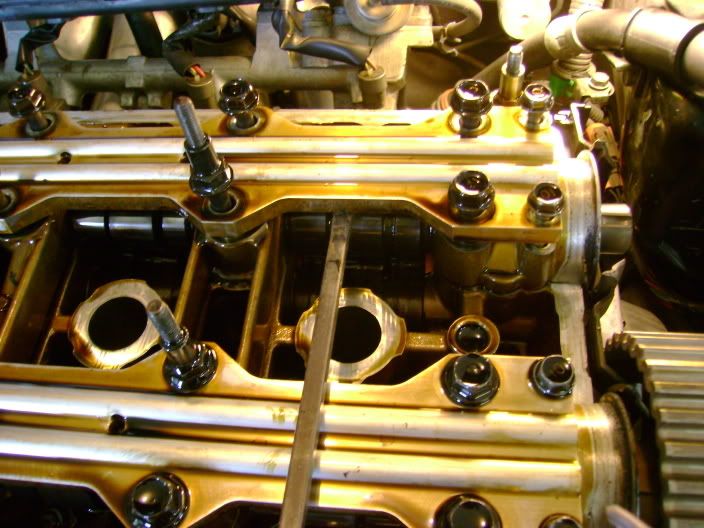 21. Remove Driver and Passenger Side Intake Caps from head, pry on them with a screwdriver or tap them with a rubber mallet to remove them from head.
22. When removing middle 2 3 4 cam cap girdles, use a flat head screw driver and insert it into the middle of the cap girdle and move side to side to loosen cap.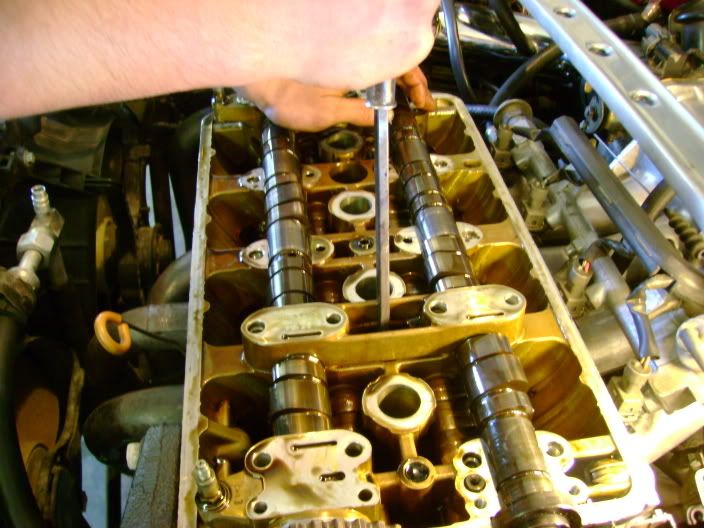 * Be sure to remove cam seal and place on new cams if you did not buy new ones*
All Caps removed in order to remove IN cam.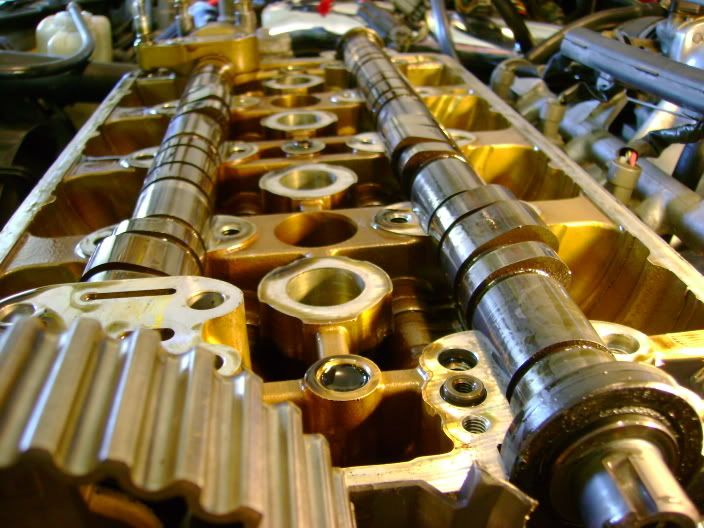 Cam removed: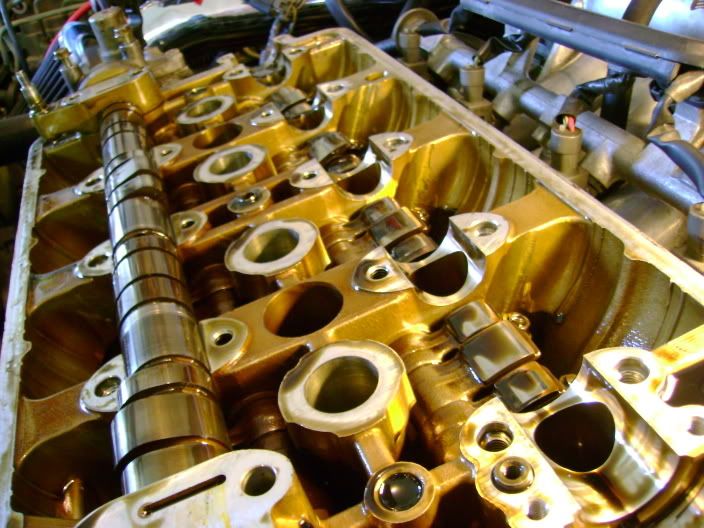 25. Make sure to lube up all surfaces the cam will ride on with assembly lube..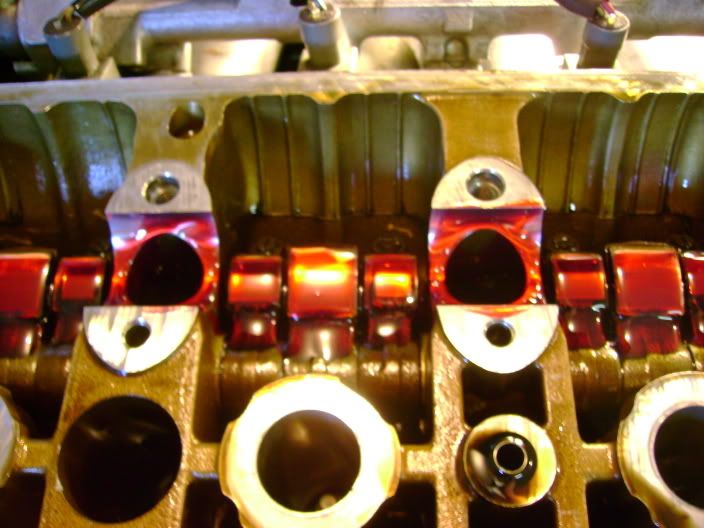 26. Wipe down entire cam with assembly lube before you drop the cam into the head.
27. Install the cam into the cam journals on the head as shown. Make sure to have Keyway in cam facing up as close as possible.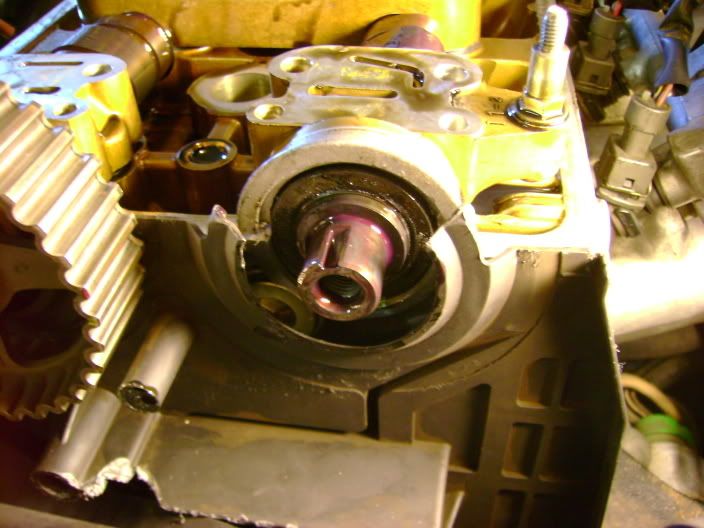 28. Install cam caps as shown.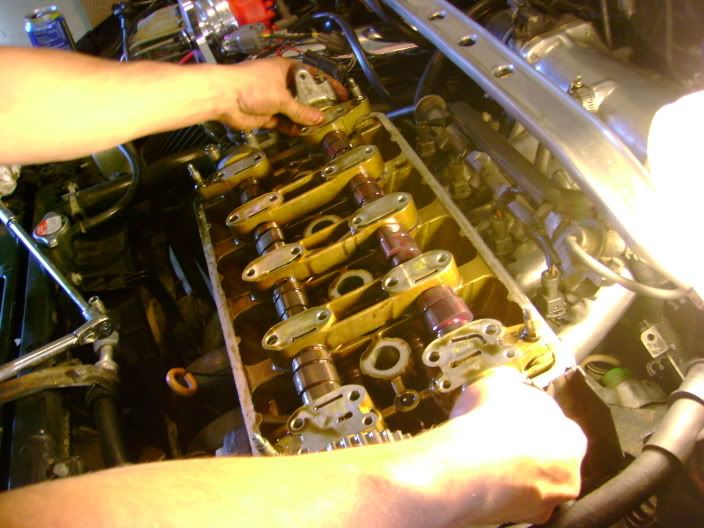 29. Then the Oil Rails w/ Bolts, studs installed.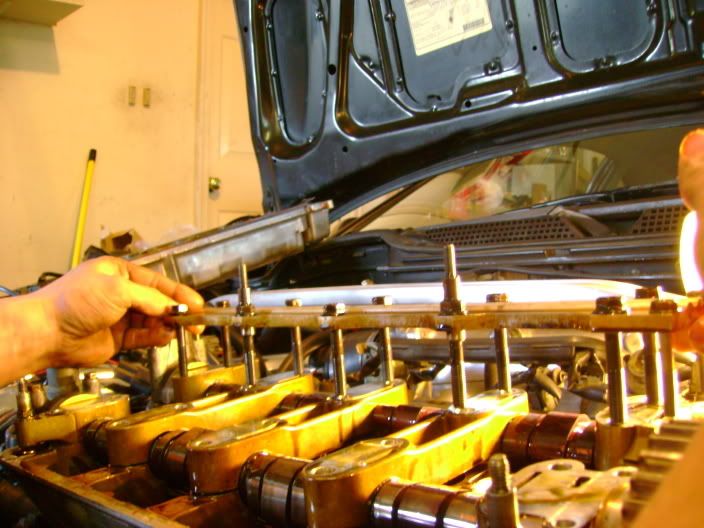 *UPPER ENGINE TORQUE SPECS*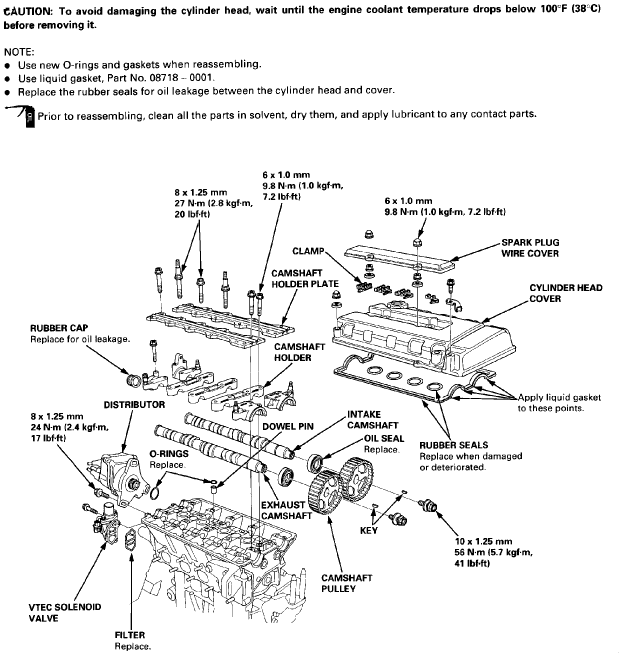 30. Torque all 12mm Bolts to 20 ft/lbs in this order: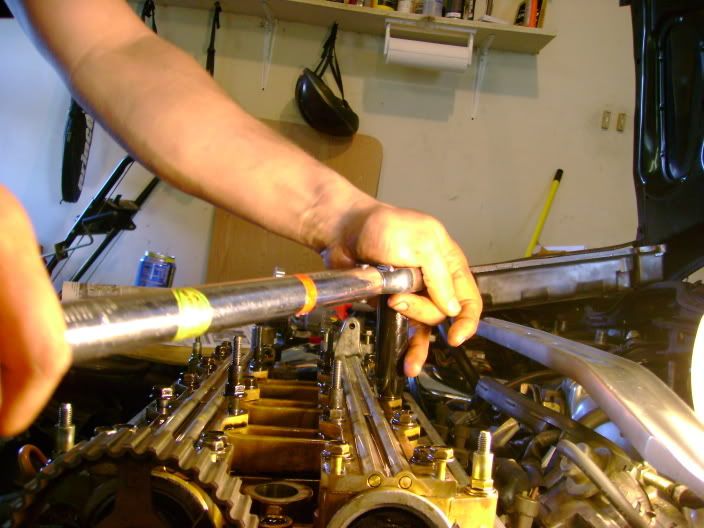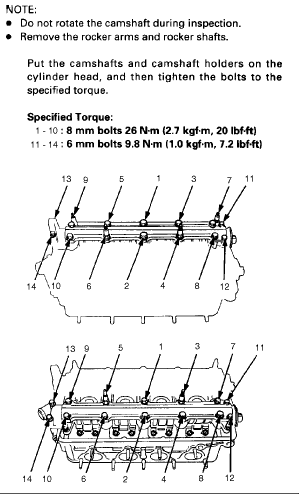 31. Reinstall cam gear and key into cam. torque to 40ftlbs. or just use a imapct gun. works great.
32. realign the cam timing marks.
33. Reinstall timing belt, wrap the belt around in this order:
(1) Timing belt drive pulley (crankshaft)
(2) Adjusting pulley
(3) Water pump pulley
(4) Exhaust camshaft pulley
(5) Intake camshaft pulley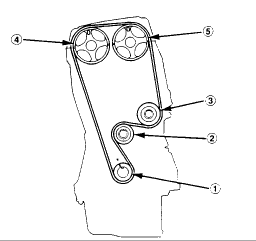 34. make sure all timing marks are dead center.
35. Release tensioner bolt 4 turns again.
36. Turn crank past tdc counterclockwise 2 crank teeth. IE. the rear edge of the crank sprocket cog will be lined up with the pointer on the oil pump.
37. once that is achieved, check for good tension on the long side of the belt, and tighten the tensioner bolt to a good 40 ft lbs. once turning over the two complete revolutions by hand, recheck timing marks to make sure it is dead on.
38. Reinstall camshaft guide washer with bevels facing outward.
39. Reinstall Upper and lower timing covers.
40. Install crank pully with crank key. Both alternator and p/s pump belts as well. 160 ft/lbs. just use the impact.
Valve adjustment.. We lucked out majorly here, valve lash was dead on @ .006" IN. Check out the valve adjustment article here on TI for more info.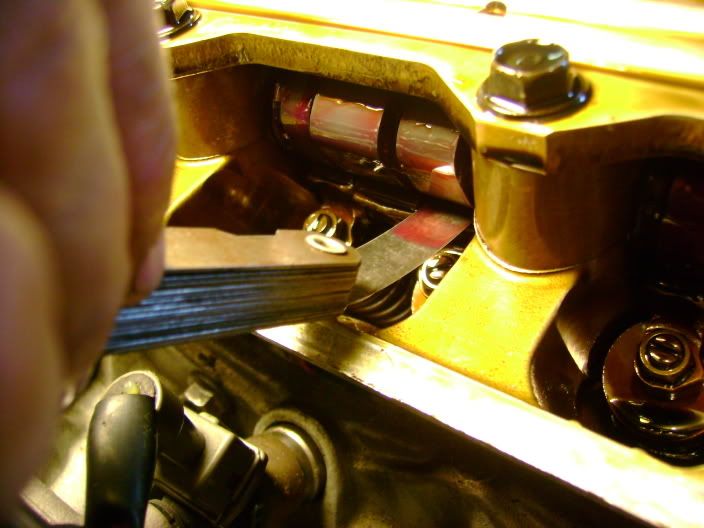 41. Reinstall cruise control box
42. Install valve cover, torque bolts to 9 ft lbs starting in the middle and work out in a criss cross patern.
43. install distributor, only goes in one way, cannot be 180deg out.
44. 1-3-4-2 firing order from bottom left of dist. 1, is timing belt side.
45. make sure to re-check ignition timing. check out the article here on ti as well for more info.
46. Camshaft Break- In procedure..
2000 rpms for at least 20 mins..
We use the , pull the IAC plug, wont go over 2500 rpms even if you floor it.. so we drive around for about a half hour like that, reinstall IAC plug and go have fun!.
CHEERS.
---
02' S2000 T4/T67 546whp/336wtq @ 20psi 93 Pump 92' Integra LS - Beater 98' H2B LS 13.93 @ 100.6 SOLD 94' 2.0L GSR t4/t67 SOLD OUT.. -Acura Factory Trained/ASE Certified/ADV L1 Tech
Senior Member
Join Date: Dec 2005
Location: Cincinnati, OH
Posts: 1,555
Feedback Score: 0 reviews
nice write up...good job
Senior Member
Join Date: Jul 2003
Location: At Acura in, MD
Posts: 3,732
Feedback Score: 5 reviews
as you guys can tell im writing this in a few posts so if osmething happens, like power outage, i wont lose all my work
Senior Member
Join Date: Jul 2003
Location: At Acura in, MD
Posts: 3,732
Feedback Score: 5 reviews
FYI: This article is for camshaft install on a 95' gsr b18c1.

we were installing a ctr IN cam. the steps provided applys to IN and EX cams as well..
Senior Member
Join Date: Jul 2003
Location: At Acura in, MD
Posts: 3,732
Feedback Score: 5 reviews
done..will be updating tomorrow with more text..
Senior Member
Join Date: Sep 2002
Location: St. Louis, MO
Posts: 721
Feedback Score: 0 reviews
Is this guy (H2BluByYou) not helpful enough? Send me your address so I can send you some cookies.

Two thumbs up for a nice article, that I may use in the future.
Hell, have reference to even.

-Hoots
Senior Member
Join Date: May 2006
Location: L-Town, KS
Posts: 2,115
Feedback Score: 7 reviews
wow man... awesome write up...
---

89 Supra Turbo ~~~~ 500rwhp (sold) 00 Integra GSR
(work in progress)
Senior Member
Join Date: Jul 2004
Location: htown, MD
Posts: 1,023
Feedback Score: 4 reviews
yeah we do kickass, we had this cam in and the car running in about an hour and a half and that includes the time it took to stop and take pics. w00t to us and yambor writing up this sweet article.
Senior Member
Join Date: Aug 2003
Location: , CA
Posts: 174
Feedback Score: 4 reviews
nice writeup! What were your impressions of the cam? Correct me if I'm wrong, but the ctr cams or itr cams supposed to yield about 10whp right? How about increasing torque?
thanks for this writeup! Good job!
Senior Member
Join Date: Jul 2003
Location: At Acura in, MD
Posts: 3,732
Feedback Score: 5 reviews
Quick Review:

Needs a Re-Tune for sure..

A/F's Right after vtec hit were mid 14's..

starts to dip into the high 13' s WOT.

We chose to run the car with the vacuum line off the FPR for safety sake until we get a re tune.

Timing Is about 24 BTDC Base
VTEC transistion is not smooth at all, will need to be changed.

but she does pull up top quite well..

so im not gonna say much till a re-tune but the butt dyno is strong with this one,. lol.

he is running uberdata 1.7 and is trying to get retuned next week.

his car went 14.20's @ 96.7 mph
Thanks for the write up, very detailed!
Senior Member
Join Date: Jul 2003
Location: At Acura in, MD
Posts: 3,732
Feedback Score: 5 reviews
hell yea no problem..ill be sure to update it with some part numbers for everything listed..
Senior Member
Join Date: Sep 2003
Location: Parkin' hard in, CT
Posts: 2,667
Feedback Score: 16 reviews
So you put a CTR cam in a stock GSR head?!?!
I hope not....
Senior Member
Join Date: Jul 2003
Location: At Acura in, MD
Posts: 3,732
Feedback Score: 5 reviews
Quote:
Originally Posted by tepid1 on Oct/29/06
So you put a CTR cam in a stock GSR head?!?!
I hope not....
We sure did..its been done quite a few times..
you know, thats why it was only the IN side..
have u researched it yet?