Junior Member
Join Date: Jan 2017
Posts: 2
Feedback Score: 0 reviews
wont rev passed 4k under boost
---
i got a 97 integra ls with a ctr b16b swap. i recnelty got a great deal on a turbo set up from a friend. well i got all my little parts needed to install this on my car and it runs fine aslong as im not in the boost once i get in the boost though it refuses to rev passed 4k rpms and im at 7psi at the moment my friends seem to think its my map sensor or tps sensor but the car feels like its missing really bad once i start to reach around 3 psi of boost. i have checked for boost leaks its not going lean according to my wideband. the wastegate is operating smoothly and opening when i hit around 7 psi like it should what could be the problem now when i keep it out of boost it will rev to 9,500 rpms just fine im thinking ignition like its loosing spark or in my tune.

im looking to buy a new map sensor and a tps sensor this week map sensor from hondata just wanting to see what other thoughts are out there

car is a 97 ls
b16b swap
p28 ecu with hondata v3 chip
440cc injectors
250 walboro fuel pump
yanaka cat back
test pipe inplace of cat
68mm blox throttle body
blox intake manifold
and a few other little parts
Senior Member
Join Date: Sep 2006
Location: Mechanicsburg, PA
Posts: 3,240
Feedback Score: 8 reviews
I see no mention of a wide-band anywhere.... This car has been properly tuned by a professional tuner?

And yes, your symptoms sound like your MAP sensor. The OEM sensor can only read a certain amount of positive pressure?
---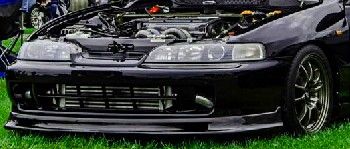 770whp/500wtq @31psi E85
2013 Carlisle P&S 1st Place Acura Integra Class Winner
2011 Carlisle P&S 1st Place Acura Integra Class Winner
2010 Carlisle P&S 1st Place Acura Class Winner
2009 Carlisle P&S 2nd Place Acura Class Winner
2007 Tuner-Evolution 1st Place Acura Class Winner


Click Me: Check Out My Build Thread - From Stock to 770WHP
Junior Member
Join Date: Jan 2017
Posts: 2
Feedback Score: 0 reviews
it has a inovate lc2 wideband bosch 4.9 sensor and no it hasnt been tuned by professional id have to make a 3 hour trip to the closest tuner to get the car tuned was wanting to get a decent street tune on it then take it and have it finished was debating on haveing vit viper tune the car iv seen some of his work on my cousins k20 si and it was impressive the differance from before and after
Senior Member
Join Date: Sep 2006
Location: Mechanicsburg, PA
Posts: 3,240
Feedback Score: 8 reviews
There very well could be a rev-limit set purposely on the Hondata software until it gets tuned. You WANT it to do this if you're not tuned yet. Most tuners will load a basemap with a rev limit to keep it from going into boost before it gets tuned. This saves your engine.

The fact that you're attempting to "full-throttle" a turbo'd vehicle without having it tuned is discouraging. Why in the world would you want to take the chance of having an engine catastrophe?