Senior Member
Join Date: Sep 2006
Location: Mechanicsburg, PA
Posts: 3,221
Feedback Score: 8 reviews
I don't believe I ever posted my dyno sheet in this thread. Anyways, here are a list of mods, and the plots:
780whp@35psi


JDM B18C block
Dan Benson Racing sleeves
84mm Wiseco pistons, 9.5:1 compression (200-wall pins)
Carrillo Pro-H rods (3/8" bolts)
New OEM oil pump
OEM Honda bearings
ARP L19 head studs
O-ringed cylinder head
Brian Crower valves
Skunk2 ProSeries springs/retainers
OEM Honda Integra Type R camshafts
Unported GSR cylinder head
Victor X intake manifold
Skunk2 Alpha throttle body
Full-Race T4/MV-S divided top mount exhaust manifold
BorgWarner S366, .91AR, billet compressor wheel
Twin Tial 38mm wastegates (x2)
IMW-Spec 3" downpipe/exhaust APEXi
3" World Sport muffler (universal)
IMW-Spec backdoor intercooler
3" charge piping
Full-Blown twin 340lph fuel pumps (x2)
8AN feed, 6AN return
Injector Dynamics 2,000cc injectors
FueLab regulator
GM ethanol content sensor
Hondata CPR (coilpack retrofit)
Hondata 4bar MAP sensor
Hondata S300v3
Competition Clutch twin-disc clutch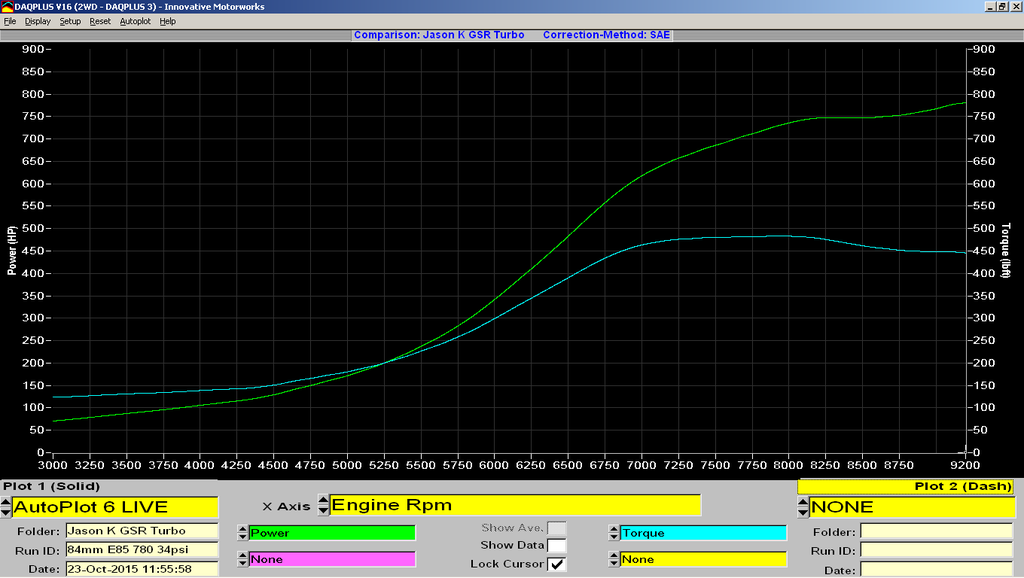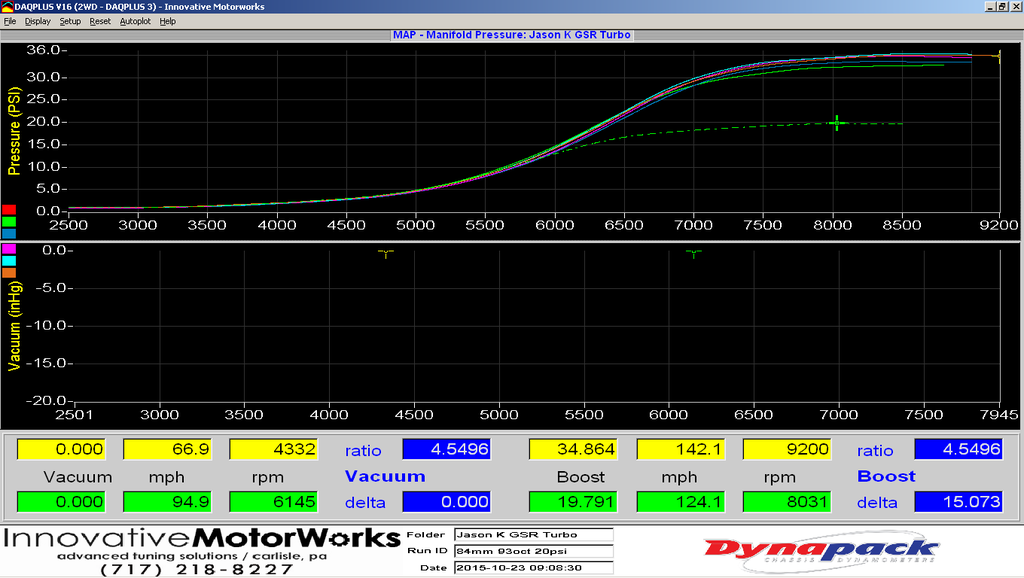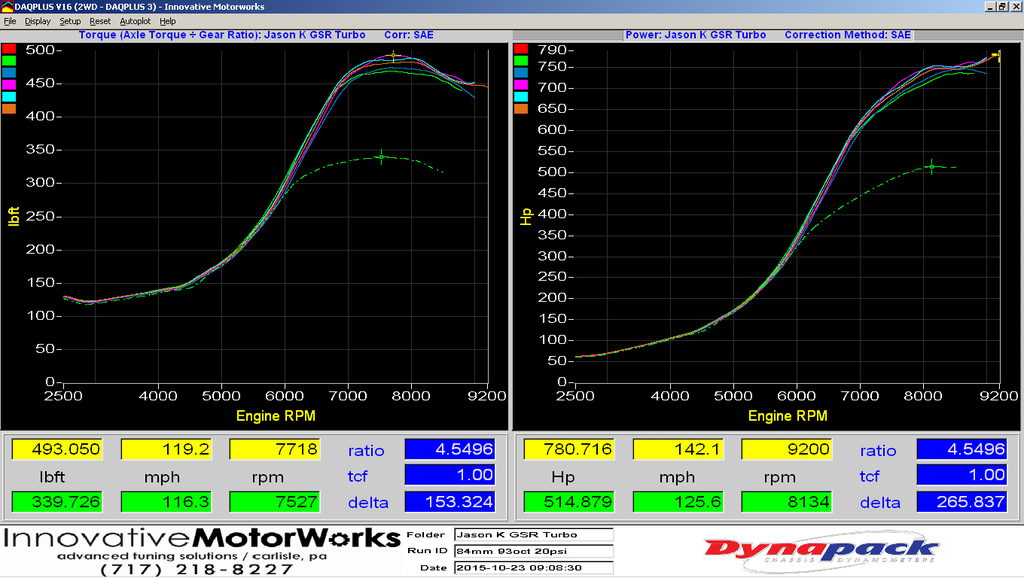 ---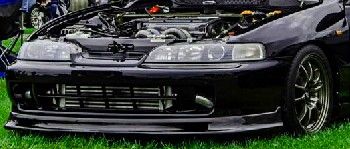 770whp/500wtq @31psi E85
2013 Carlisle P&S 1st Place Acura Integra Class Winner
2011 Carlisle P&S 1st Place Acura Integra Class Winner
2010 Carlisle P&S 1st Place Acura Class Winner
2009 Carlisle P&S 2nd Place Acura Class Winner
2007 Tuner-Evolution 1st Place Acura Class Winner


Click Me: Check Out My Build Thread - From Stock to 770WHP
Super Moderator
Join Date: Oct 2006
Location: Indianapolis, IN
Posts: 5,712
Feedback Score: 24 reviews
I need to update =)
Engine:
Benson B18B 84 x 89
CP Pistons (10:1 calculated)
Eagle Rods
ARP Headstuds
GSR Head
CTR Cams
Edelbrock Performer X
FID 2000s
Wablro 450
Fuel Lab -6 Micron filter
AEM Fuel Rail
Aeromotive A1000 Regulator
Spoolin Performance Quick4
TurboSmart Hypergate 45 11lb spring
Custom Made exhaust and charge piping by yours truly
STC Interceptor Mk II Ball Bearing

E85

626whp / 445 ft-lbs on 30psi
423whp / 306 ft-lbs on 14psi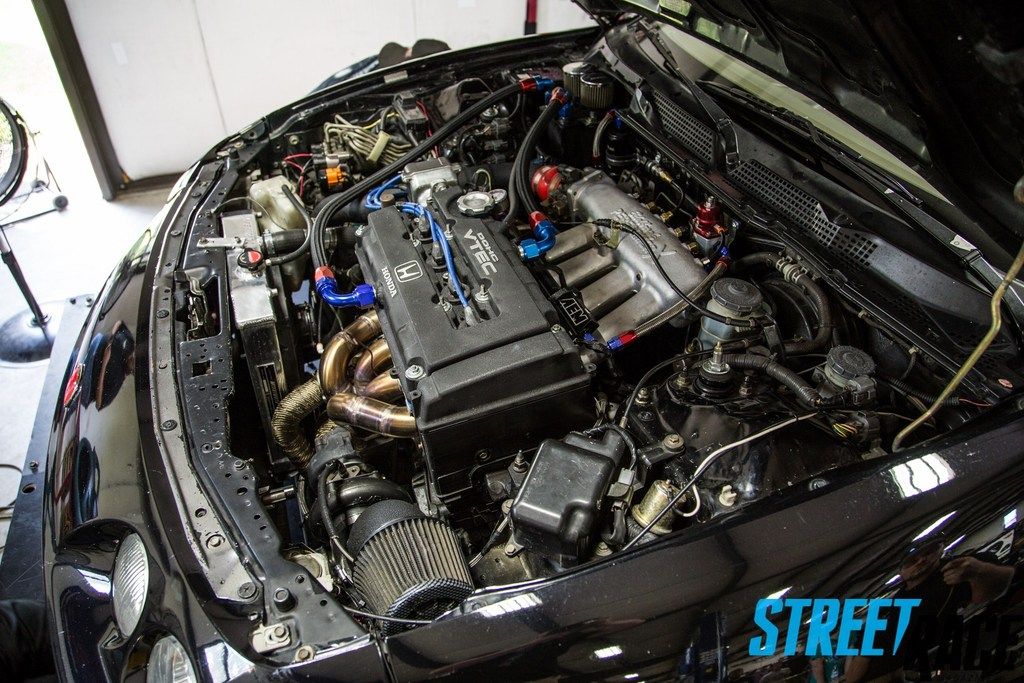 https://www.youtube.com/watch?v=deCKg0Mnv5A
---
08'
TSX
98' Integra LS Previously
283whp/300ft-lbs
; Now
602whp/453ft-lbs, Non-Vtec
E85. PB 12.7 @ 128mph
"His Noodly Appendage hath blessed the B-Series"
---
Last edited by LightningTeg; 05-16-2016 at

09:22 PM

.
- B18C1
- CP 11:1 pistons
- CTR cams
- Titanium valvetrain
- Skunk2 Pro IM
- DC 4-1 w/ 2.5" collector
- 2.5" exhaust
- Weapon R intake
- Blueprinted and balanced
- Tuned on s300 by AJ @ Performance In-Frame Tuning
176 whp
125 lb/ft
(Mustang dyno)
---
---
Last edited by MorningZ; 05-17-2016 at

01:02 PM

.
Figured seeing this tread revival again, I'd throw mine up.
B20VTEC
Stock High Comp. B20 Block, w/ ARP Rod Bolts
GSR Head
ITR Cams
Supertech Valve Springs & Retainers
ARP Head Studs
Stock GSR Intake Manifold & Throttle Body
AEM Short Ram
Megan Racing 4-1 Long Header, 2.5" collector
2.5" Stainless exhaust, w/ Magnaflow Universal Cat, Apexi WS2 Muffler
Tuned by
DK Goodrich
(@T04EGSR;)
Mustang Dyno
Final Numbers after backing off a hair
191 HP / 147 TQ
Site Founder/Administrator
I wonder if you'd hit 200 whp on a DynoJet... Mustang dynos are known to be on the low side

.
---
.
-
Running Log, the trials and tribulations of building a car
echlonwarrior: "Hondabond saves lives"
K2sInteg98: "the best thing to do is keep spending and not keep count....lol"
dpaton: "The road to hell is paved with good intentions"
Quote:
I wonder if you'd hit 200 whp on a DynoJet... Mustang dynos are known to be on the low side

.
We started hitting the max of my stock injectors, so backed off a hair to get it where it is. I want to say we were right at 204 at one point. At the end of the day, its just a number, and I'm real happy with how it runs right now. I'll save the numbers for the Boosted B18C1 motor when I get started on that.
I too shall play.
Assembled and Ported by Me
Tuned by Import Auto Pros
B18a1 Block
NPR PR3 Pistons 81.5
Stock Rods
Arp rod bolts
P75 head mild port
B16 inner valve springs
BC0022 Cams
Unknown Cam Gears
Stock IM mild port
Stock TB
Comptech intake
CLS V1 TRI-Y
2.5" piping
Greddy DT muffler
PLX WIDEBAND
Chrome Chip
Made 176whp & 142 TQ - Tuned on a Dynomite
---
1213 AFFILIATION - JDMKIDS | CALI LOVE | AS1 FAMILIA
1213 AFFINITY - Integra Log | NITE GRIND TRANSMISSIONS | GRIPSET | NASTIE GARAGE | CALI LOVE CLOTH. |
Junior Member
Join Date: Mar 2016
Location: California
Posts: 12
Feedback Score: 0 reviews
B18c1 block
82mm P30 pistons
Eagle rods ( had them laying around so decided to throw them in)

B18c1 head
Skunk2 tuner 2 cams, degreed to +2,+2
Supertech dual valve springs
Rsx type s retainers

68mm skunk2 throttle body
68mm skunk2 Im port matched to head
Short ram velocity stack intake
190 walbro fuel pump
410cc RDX injectors
Running on e85
Plm smsp tri-y replica open header (not the 2 piece one)

193/141 on a dynojet
Don't have the dyno sheet but I do have a crappy pic of the dyno screen I'll post up.
It seems like I should of got higher numbers but idk. Tuner blamed it on the rings, I but I think I need another tuner lol.
Other than that car feels strong, but oh lord the vtec transition is something else lol
---
Last edited by 98gsr-r; 10-12-2016 at

11:20 AM

.
Junior Member
Join Date: Oct 2016
Location: San Francisco
Posts: 4
Feedback Score: 0 reviews
1997 GS-R

CTR cams on both sides, unknown year

ITR Dual intake valve springs
GS-R dual intake springs moved to exhaust side

Stock B18C1 block with a fresh rebuild
Stock GS-R Intake manifold
K&N drop in filter
DC 4-1 Headers (CARB LEGAL)
Yonaka catback 60MM (For LS but welded in ~6 inches of piping)

One hour tune on a Dynojet, 162.86 WHP 119.69 TQ
Junior Member
Join Date: Dec 2016
Posts: 2
Feedback Score: 0 reviews
Quote:
Originally Posted by
2001BlackIntegraGSR
View Post
It's very depressing to see that especially for very mild basically bolt on set-ups the stock GSR motor is barely making it above 170 whp.
AFter so much money invested to even have only put up those kind of numbers... very depressing...
Such as my numbers.
94-95 Integra GSR
around 140k Miles
Skunk2 IM
DC Ceramic headers
Denso Iridiums
Straight pipe to a no name straight through exhuast
I believe it has a "chip" in there, thats what I was told from the seller from when I bought it. I never got around to investigating it.
CAI
Exedy Clutch
Findaza flywheel, I can't remember what weight, I believe around 12 lbs or there of.
In my hay days of "racing"... it beat alot of cars I didn't expect it to, even a turbocharged sohc civic on a 40 roll(but then agian, it's a sohc right?)
In any case when I finally was able to throw it up on the dyno this was the results.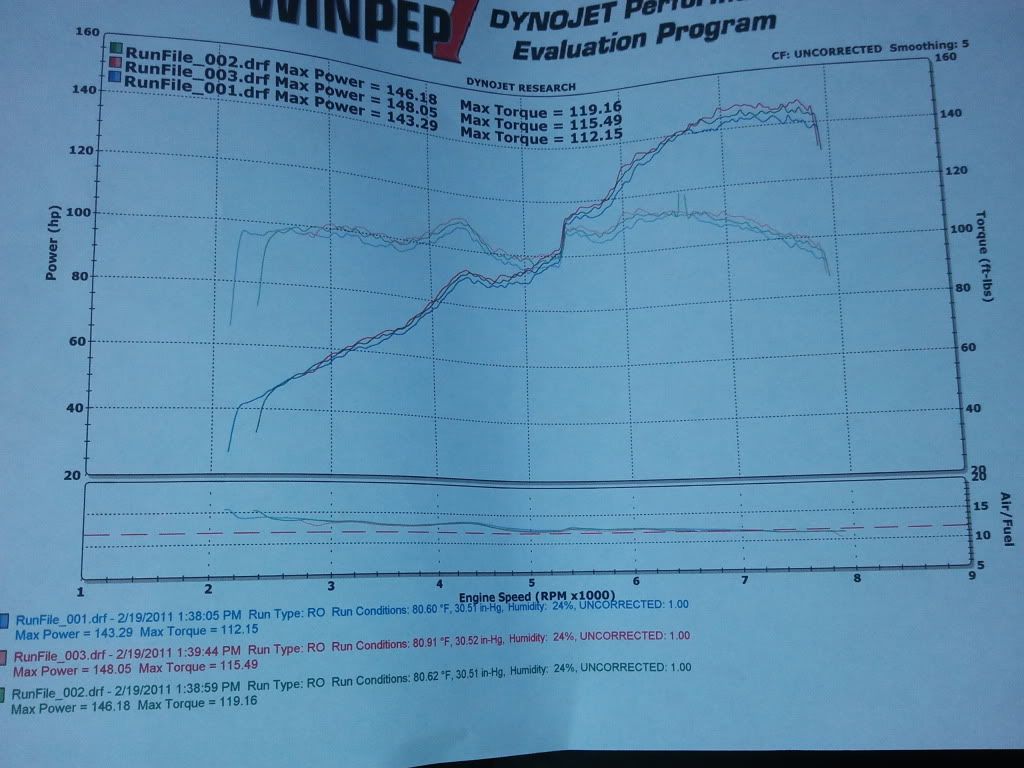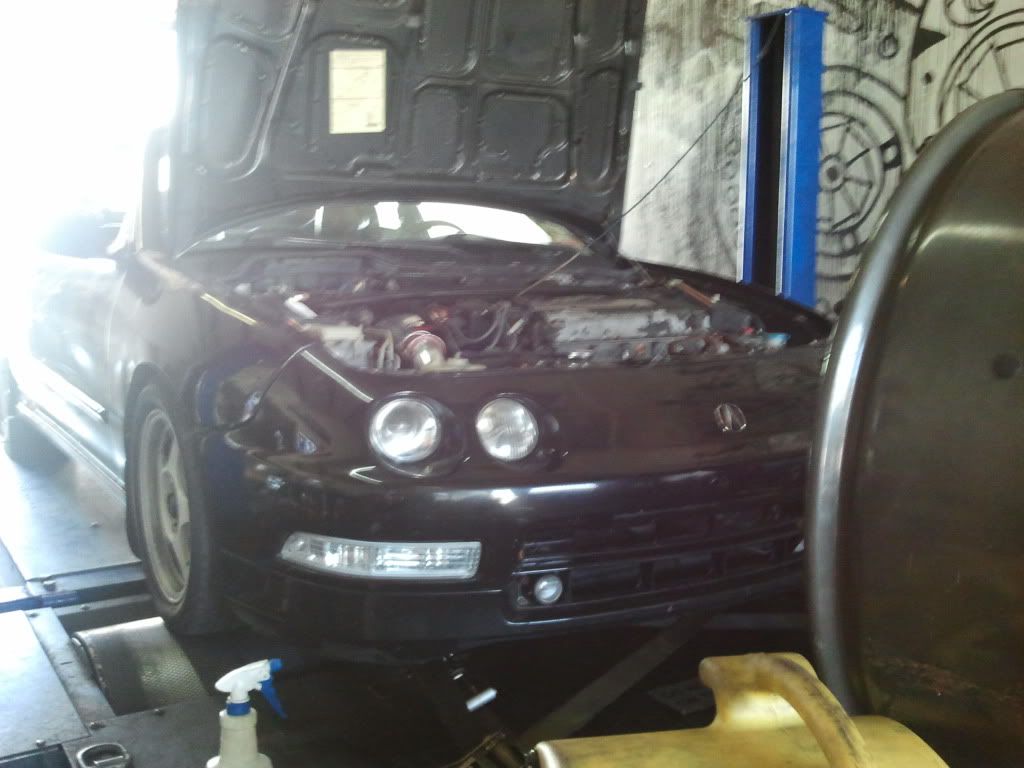 Don't mind the clear signals, they came on the car when I purchased it and this was 6-7 years ago.
148whp max? Wow... With drive train loss that's barely the stock 170 hp! I was shocked and hopeless.
I think for us NA guys who are going with the mild bolt on are better off buying a b18c5 and just dropping it in and calling it a day.
If you look at your air/fuel ratio it's way too damn rich. It's dipping down into 12's or high 11's afr. That's dipping into Boost afr territory. That's why it runs like ass. Aim for a constant 13 afr @ wot for N/A. That should bring your car about into 160ish whp. Your map on the ecu chip is crap just by looking at your torque curve. It's suppose to be a smooth incline. Your better off running a stock gsr ecu or converting it back to stock if your running a chip gsr ecu. If not get it properly tune cuz I wouldn't run that chip smh...
Junior Member
Join Date: Dec 2016
Posts: 2
Feedback Score: 0 reviews
B18b LS engine
I/H/E
B16 pistons
Crower 404 Cams
Ls Trans
Tuned on Crome by Me
157.6 whp
133.3 ft-lb tq
https://www.youtube.com/watch?v=Dl3Xxepy45Y
94 GSR
190whp @ 8500rpm (Power was still inclining but stop due to stock block)
130ft-tq
Intake/PLM header/2.5" Catback
Sk2 manifold & TB 68mm (port matched)
Blox Type C cams
Ferrea Flat valves
Sk2 cam gears (+2, +2)
RC 310cc Injectors
Tune on Crome
100% Stock Block (GSR)
---
Last edited by jjkz24; 12-04-2016 at

05:16 PM

.